Have you recently come across a 1910 penny? Do you regularly wonder about how much it's worth? Would you like to know about its history?
If so, then this is your lucky day; today's post is going to do a deep dive into the 1910 penny value, its history, and its key features.
1910 Penny Details
Category: Lincoln Cents
Total Mintage: 152,846,218
Minting place: Philadelphia, San Francisco
Weight: 3.11 g
Diameter: 19 mm
Edge: Plain
Face value: $0.01 (1 cent)
Composition: 95% copper, 5% zinc & tin
Engraver: Victor D. Brenner
The Obverse Design of the 1910 Penny
The obverse of the 1910 penny bears an image of Abraham Lincoln facing right. That's why it's also commonly called the 1910 Lincoln penny or the 1910 Lincoln cent. On top of Lincoln's head, along the edge of the coin are the words "IN GOD WE TRUST."
Also, the word "LIBERTY" is inscribed on the left, between his back and the left edge of the coin. On the lower right between Lincoln and the right edge of the coin, the date 1910 is inscribed.
The Reverse Design of the 1910 Penny
The reverse of the 1910 penny has the words "ONE CENT" and "UNITED STATES OF AMERICA" inscribed in the middle. The latter is inscribed just below the former. On each side of these inscriptions is a stalk of wheat.
This design choice made sense because wheat was largely grown in the US at the time. To top it all off, the words "E PLURIBUS UNUM" are engraved on the top edge of the coin. These Latin words are the United State's motto and mean "Out of many, one."
Other Features of the 1910 Penny
Design aside, the 1910 penny has other interesting features. For one, this penny is quite small; it has a diameter of 19 mm and a thickness of 1.52 mm. Also, it weighs 3.11 grams, just a little heavier than today's pennies which are 2.5 g.
Its composition is what makes it heavier; it's made of 95% copper and 5% zinc and tin. On the other hand, today's pennies are just copper-plated zinc. They are 97.5% zinc and 2.5% copper.
Also Read: Top 20 Most Valuable Old Pennies Worth Money (Penny Collection)
1910 Penny Value Chart
1910 Penny Value Chart
Type
Good
Fine
Extremely Fine
Uncirculated
1910 No Mint Mark Penny
$0.20
$0.61
$3.13
$11
1910 "S" Penny
$8.17
$15
$43
$81
1910 Penny Value and Varieties Guide
1910 No Mint Mark Penny Value
Type: Lincoln Cents
Mint Mark: None
Minting place: Philadelphia
Year: 1910
Edge: Plain
Mintage: 146,801,218
Designer: Victor D. Brenner
Face value: $0.01
Current value: $0.20 to $11
%Composition: 95% copper and 5% zinc & tin
Mass: 3.11 g
Diameter: 19 mm
The Philadelphia mint produced 146,801,218 1910 pennies. This is the highest mintage of the Lincoln penny from 1909 to 1915. None of the coins produced had a mint mark. Also, 2,405 of them were proof coins.
Due to the sheer number of the 1910 no-mint pennies, they are still in circulation today, particularly because 1910 isn't considered a special date. These coins are usually available in brown, red-brown, and red colors.
They are most affordable in low grades and the color brown; these are the most available. Red samples with a grade of MS64 or higher are rare and most of them have already been accounted for.
It's even estimated that there are at most 250 of 1910 no-mint pennies out there with a grade of MS66 or higher. Beyond that, there have only been 20 MS67 1910 no-mint penny coins found to date.
Such coins usually go for hundreds of dollars; some have even gone for thousands. But these aren't even the rarest 1910 pennies; the high-grade proof coins take this position. A red PR67+ can go for as high as $52,875.
However, the average 1910 regular strike penny in good condition will go for only 20 to 35 cents. On the other hand, an extremely fine one can go for 60 cents. Uncirculated coins go for a higher price; around $11.
1910 "S" Penny Value
Type: Lincoln Cents
Mint Mark: S
Minting place: San Francisco
Year: 1910
Edge: Plain
Mintage: 6,045,000
Designer: Victor D. Brenner
Face value: $0.01
Current value: $8 to $81
%Composition: 95% copper and 5% zinc & tin
Mass: 3.11 g
Diameter: 19 mm
The San Francisco mint produced 6,045,000 1910 pennies. These had an "S" mint mark under the 1910 inscription. This unique feature and the fact that these pennies are fewer than their no-mint counterparts make them more expensive.
But like the no-mint mark 1910 pennies, their prices depend on their condition and color. The red mint state ones are rarer and more expensive than the rest. The brown low-grade ones are the most affordable and readily available.
That's why a brown MS65 can go for $300 while a red-brown and red one can go for $396 and $1,800 respectively. Keep in mind that when we get to MS66 and higher, there are barely any brown 1910 pennies.
However, you can find them in plenty at the lower grades of good, fine, and extremely fine for $8 to $45. You can also find a number of them of M60 to MS64 grades at $80 to $200.
1910 Penny History
The Lincoln penny was first minted in 1909 to replace the Indian head penny; it's still used to date. This change was spearheaded by the president at the time, Theodore Roosevelt.
In 1904, he wrote to Leslie Shaw, the then Secretary of the Treasury to ask whether new designs could be made for the penny. He even went as far as stating that the penny of the time lacked artistic merit.
As such, he got the mint to hire a sculptor called Augustus Saint-Gaudens. Interestingly, the president didn't need to involve Congress in this decision because it had been 25 years since this coin was changed.
Unfortunately, Augustus got cancer and died in August 1907 before he could finish his designs. This led to the hire of Victor D. Brenner for the role in January 1909.
It is said that Roosevelt chose him because of an impressive Abraham Lincoln plaque he had made in 1907. Whatever the case, Victor quickly designed the 1909 penny and sent his designs to the mint.
Some speculate that Victor drew inspiration for his Lincoln from a photo he took with his son in 1864. Whatever the case, Roosevelt approved of Victor's final designs, even though the obverse side didn't have the "IN GOD WE TRUST" engravement that it now has.
But when Roosevelt left office and William Howard became president, the mint's director, Frank Leach, and the chief engraver, Chales Barber, voiced their doubts about Victor's designs.
Ultimately, they added the "IN GOD WE TRUST" inscription and showed the change to the president who approved. By the time the first 20 million coins were minted, people were excited to see the designs.
But controversy soon followed when people noticed that Victor had placed his initials on the reverse of the Lincoln pennies. After a bit of back and forth, it was decided that future Lincoln pennies wouldn't bear these initials, despite Victor's protests.
Changes Made to Date
There have been a few changes to the Lincoln penny to this day. One of them is a change in composition. This was first implemented in 1943 because of the increasing prices of copper and tin.
This year, the mint started using zinc-plated steel for its pennies. These had 95% steel and 5% zinc, something that earned them the name wartime steel cents. It also made them lighter; they weighed only 2.7 grams.
However, they quickly started corroding and staining. This led them to be discontinued in the same year and replaced with coins with 95% copper and 5% zinc. In 1982, these were replaced with the zinc-plated copper coins that we still use to date.
The reverse design of the Lincoln coin has also changed severally over the years. The first time this happened was in 1959.
This year, the words "ONE CENT" were moved to the bottom edge of the coin and the words "UNITED STATES OF AMERICA" were moved to the top edge of the coin with "E PLURIBUS UNUM" just below them.
But the most stunning feature of this reverse is the image of the Lincoln Memorial in the middle. This design remained this way until it was changed again in 2009 and again in 2010.
The obverse side has also seen some minor edits in the years since its inception.
The 1910 Penny Grading
The 1910 penny and other Lincoln cents can be graded into groups like good, fine, extremely fine, and uncirculated. They are usually put in these groups after being assigned a number on a scale of 1 to 70.
The higher the number, the better condition the coin is in. The coins that have a number of 60 and above are referred to as mint-state. These are the rarest and most expensive versions of the coin.
List of 1910 Penny Errors
1. 1910 Penny Repunched Mint Mark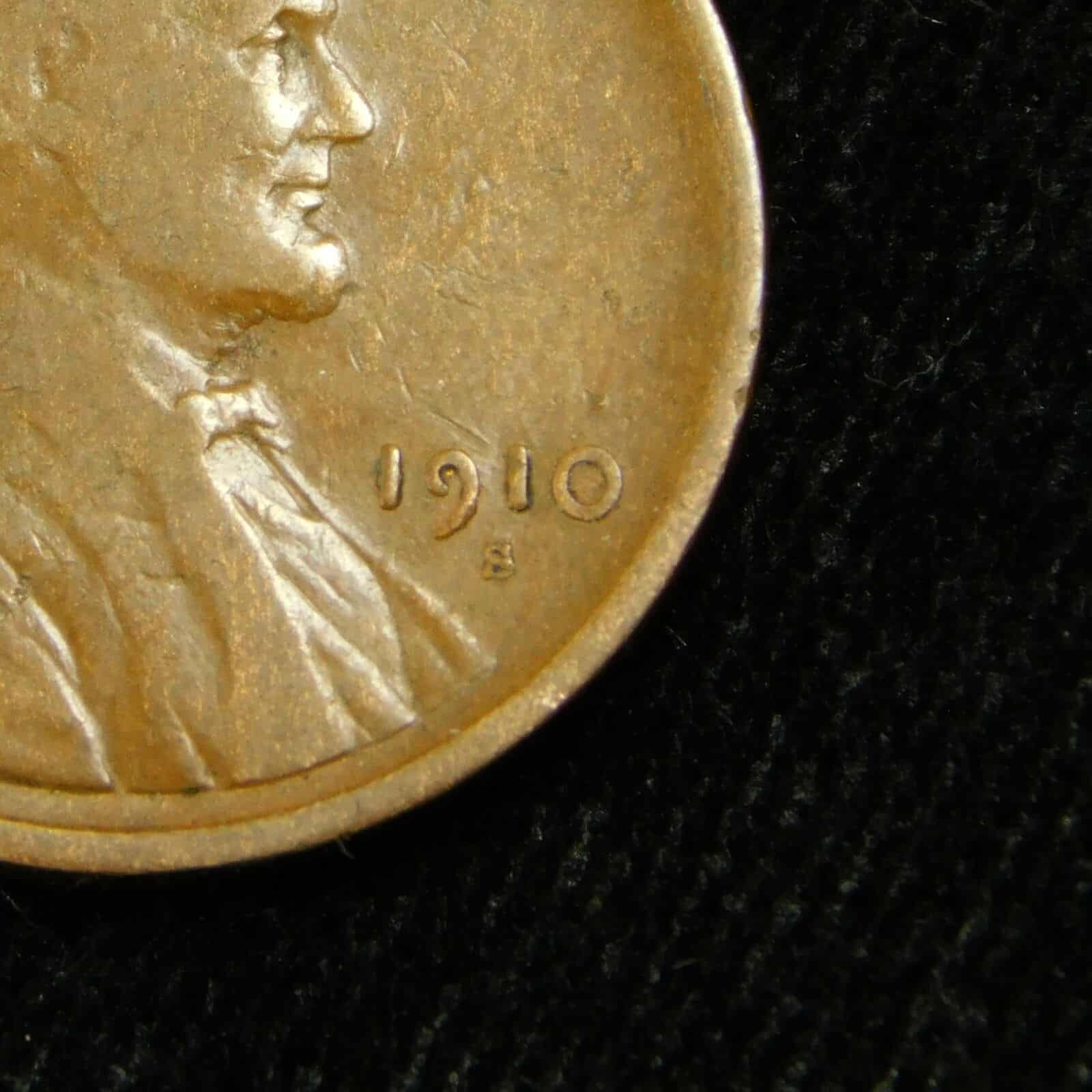 This error occurs when a mint mark is punched more than once on a coin. It can be seen as a mint mark showing up twice or a thick reinforced mint mark. In the 1910 penny, it only shows up in pieces minted in San Francisco (S)
As such, it's rare. An average uncirculated 1910 penny with this error can go for over $170 while an MS67 red one can go for over $43,000. However, those that have a grading of around XF45 go for only around $17.
2. 1910 Penny Double Die
A double die error occurs when the die being used isn't manufactured properly and as a result, bears a doubled image. So when it strikes the blank it creates two images instead of one.
In the 1910 penny, this error can appear as a thicker than usual "E PLURIBUS UNUM". However, this error is rare, making it hard to determine its value. All we know is that the same error in Lincoln cents of other years can fetch you at least $25 to $100.
3. 1910 Penny Off-center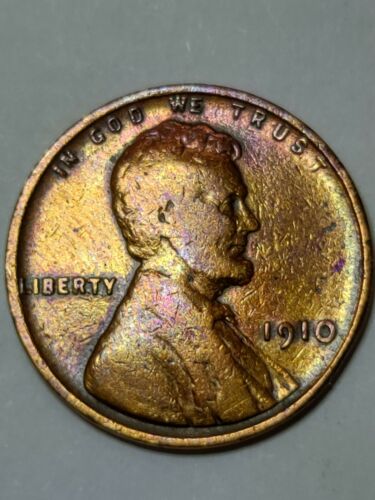 As its name suggests, this error occurs when the image that's supposed to be on the coin is not centered. This makes the coin miss some of the necessary design elements.
1910 pennies with this error are more valuable when their dates are fully present and other elements are partially missing. This is because you need their dates to accurately tell their age. Ultimately, off-center 1910 pennies can cost anywhere from $5 to $250.
4. 1910 Penny Die Cracks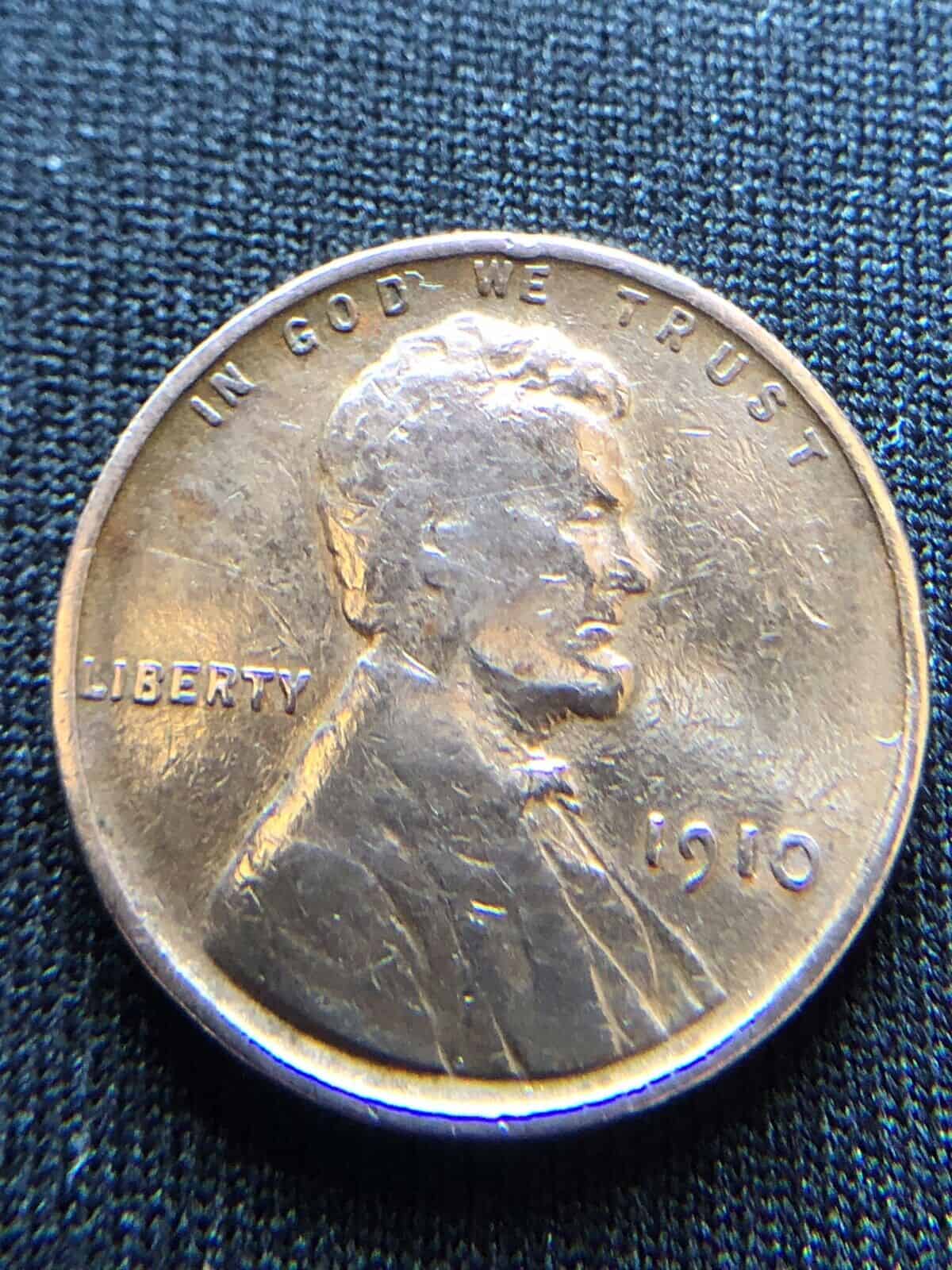 A die crack is a coin crack caused by a damaged/cracked die. As the dies used in the coin minting process age, they usually wear down and develop cracks. So when you use them to strike new coins, they transfer crack patterns to them.
These patterns usually look like raised lines. Dramatic cracks or those located in interesting areas of the coin such as on Lincoln's face are more valuable. Ultimately, 1910 pennies with die cracks can cost at least $5 to $10.
1910 Penny FAQ
Who buys wheat pennies?
A good number of collectors buy wheat pennies from other collectors, local dealers, auction houses, and online stores.
What is the rarest penny?
The rarest penny is the 1943 D bronze penny. It's rare because it was produced the same year the mint gave up on the wartime cent. There is only one piece of this type of penny known.
It is said to have belonged to the Denver mint employee who struck it. Since it has a stronger strike than any other 1943 bronze penny, there's a lot of speculation about how it was created.
It's therefore not surprising that this penny went for a whopping $840,000 at a January 2021 auction by Heritage Auctions.