Buffalo Nickels are one of the more recognizable collectible coins, and there are plenty out there for collectors and hobbyists to enjoy. The 1923 Buffalo Nickel is moderately rare, with the fewer minted S mark coins worth well over face value.
Nineteen twenty-three produced fewer coins than usual, as the Denver mint was focused on the production of Silver dollars. This, combined with unique errors, makes a 1923 Buffalo Nickel more valuable than some other years.
In this value guide, we explain the basic details behind the design to help you identify and generally grade your 1923 Buffalo Nickel. We'll also point out a few unique characteristics that mark a more valuable coin.
1923 Buffalo Nickel Details
Category: Buffalo Five Cents (1913 to 1938)
Mint: Philadelphia; San Francisco
Mintage: 41,857,000
Obverse Designer: James Earle Fraser
Reverse Designer: James Earle Fraser
Composition: 75% Copper; 25% Nickel
Weight: 0.17637 ounces (5 g)
The 1923 Buffalo Nickel resembled all others in this series.
On the obverse, you see a Native American facing the right side of the coin. Designer James Earle Fraser revealed that his portrait is based on the likeness of several Native Americans, including those from Two Moons, Cheyenne, Iron Tail, Big Tree, Kiowa, and Sioux tribes.
The portrait is struck in great detail, and well preserved coins still showcase cheekbones, hair texture, and defined feathers.
The year "1923" is stamped on the shoulder of the portrait, as well as Fraser's initials. The word "LIBERTY" is printed along the top right curve of the coin close to the rim.
The reverse of the coin depicts a highly detailed buffalo standing on top of a flat landscape. Central Park Zoo's beloved buffalo, Black Diamond, was the model for Fraser's reverse design.
The coins also read "UNITED STATES OF AMERICA" along the top rim of each coin, with the motto "E PLURIBUS UNUM" above the back slope of the buffalo. The coin denomination "FIVE CENTS" is at the bottom of the coin.
Also Read: Top 19 Most Valuable Mexican Coins Worth Money
Value Chart
1923 Buffalo Nickel Value Chart

Mint Mark
Good
Fine
Extremely Fine
Uncirculated
1923 No Mint Mark Buffalo Nickel
$1.30
$3.42
$11.00
$54.00
1923 S Buffalo Nickel
$5.00
$20.00
$130.00
$338.00
1923 Buffalo Nickel Value and Varieties Guide
Because the Denver mint was producing other coins in 1923, there are only two varieties of the 1923 Buffalo Nickel. This left Philadelphia and San Francisco to cover the entire workload, resulting in fewer coins than the surrounding years.
The total number of minted coins is estimated 41,857,000. For comparison, the Philadelphia mint produced 63,093,000 coins on its own in 1920 alone. This means that, while this year isn't technically a standout year, it's fairly rare when compared to others.
This is particularly true of the San Francisco minted coins. Let's look at the difference between them.
1923 No Mint Mark Buffalo Nickel Value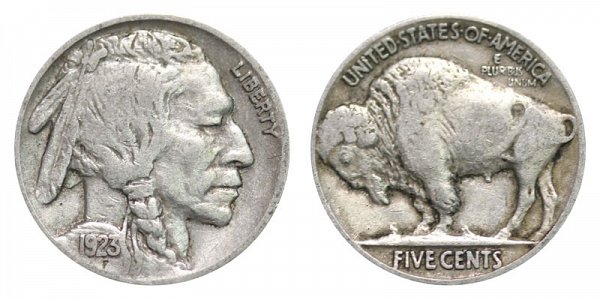 Type: Buffalo Five Cents
Edge: Plain
Mint Mark: N/A
Place of Minting: Philadelphia
Year of Minting: 1923
Face Value: $0.05
$ Price: $1.30 to $11.00+
Quantity Produced: 35,715,000
Designer: James Earle Fraser
The US Mint in Philadelphia, Pennsylvania produced the 1923 no mint mark Buffalo Nickel. This version is the more plentiful one, with about 35,715,000 of the coins rolling out from here.
While this is the "less valuable" coin, 1923 no mint mark Buffalo Nickel is still worth about $1.30 in "Good" condition. That's about 26x the face value of the coin, and that's before you get into finer grades.
These coins are often heavily circulated. No Buffalo Nickels were produced the year before, and the Philadelphia mint bore the weight of their production this year. Despite this, there are still plenty of "Fine" and greater coins available for collectors.
If you manage to get a hold of a "Fine" 1923 no mint mark Buffalo Nickel, they're usually worth about $3.42. This is almost 3x the value of a lower graded coin, and there may only be slight discernible differences between the two.
"Extremely Fine" coins start at $11, while "Uncirculated" 1952 no mint mark Buffalo Nickels are easily worth $54 and go up from there.
1923 S Buffalo Nickel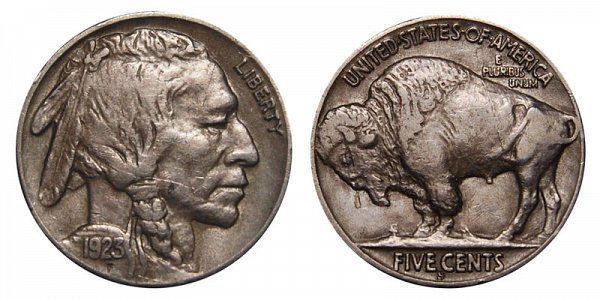 Type: Buffalo Five Cents
Edge: Plain
Mint Mark: S
Place of Minting: San Francisco
Year of Minting: 1923
Face Value: $0.05
$ Price: $5.00 to $130+
Quantity Produced: 6,142,000
Designer: James Earle Fraser
The S marked 1923 Buffalo Nickels were minted and marked in San Francisco. Only 6,142,000 Buffalo Nickels were minted during this year, and even fewer survive today.
In 1923, the majority of coin dealers and collectors were concentrated along the east coast. This led to a higher number of preserved coins from the Philadelphia mint, and the idea of collecting coins from different mints didn't take hold until later in the decade.
This makes the S marked 1923 Buffalo Nickel much more valuable. Even a coin in "Good" condition carries a $5 value (a 10,000% increase from face value).
Higher grades merit and even more incredible value. "Fine" 1923 S marked coins easily bring in $20, while "Extremely Fine" coins are often worth upward of $130.
If you find an "Uncirculated" 1923 S Buffalo Nickel, it's worth about $338. This is only a starting point. Coins from this year often had a higher strike quality than other years, but you may find highly pursued errors that any collector would be willing to pay for.
Also Read: Top 16 Most Valuable Old Chinese Coins Worth Money
1923 Buffalo Nickel History
The 1923 Buffalo Nickel came in only 10 years after the debut of the original, 1913 Buffalo Nickel. The series was replaced only 25 years later with the Jefferson nickel, but it's one of the most iconic and recognizable collectible coins.
The idea for the Buffalo Nickel design stems from Theodore Roosevelt's Renaissance of American Coinage. These years saw new designs of many U.S. coins, while sculptor James Earle Fraser is credited for the Buffalo Nickel design we recognize today.
While controversial, the design itself was intended to honor Native American heritage. Fraser had written to the Mint in 1911 when the design was first broached, claiming it was "purely American", and he ensured that the Native American on the coin would not end up as a "Caucasian in an Indian headdress".
There were some issues with the early Buffalo Nickel designs, and when the Buffalo Nickel finally rolled out, it still needed revisions.
The original design featured a raised mound underneath the buffalo, but this resulted in early wear of the FIVE CENTS inscription, and it was quickly changed to the flat platform we see today.
Still, Buffalo Nickels are particularly prone to wear, and it's sometimes difficult to find one in peak condition. The Buffalo Nickel was replaced in 1938 after reaching its 25 year minimum, but it's a favorite of many today.
Also Read: Top 11 Most Valuable Canadian Coins Worth Money
1923 Buffalo Nickel Grading
Professionals use the PCGS grading standards to determine the quality of all coins, including the 1923 Buffalo Nickel. These standards are built on top of the original Sheldon Scale designed by renowned numismatist Dr. William Sheldon in 1948, and they operate as a 70 point system.
While you should always have a professional grade your coins or consider a professional evaluation of any coins you're considering, you can do a preliminary assessment using your own skills.
This allows you to distribute coins into the generally accepted buckets: Good, Fine, Extremely Fine, Uncirculated.
Good
Coins in good condition have heavy wear. The top edges of the lettering joins with the nearby rim, blurring them together on the front and back of the coin.
Details of the Native American portrait and the buffalo are mostly gone, resulting in extensive flat areas (particularly on the head, shoulder, and hip of the buffalo).
Some coins may be deemed "less than good" in a general assessment if excessive wear has rid the coin of its date. This reverts the Buffalo Nickel to its face value because it cannot be properly dated.
Fine
Nineteen twenty-three Buffalo Nickels in fine condition have a generally pleasant appearance, but they also exhibit obvious signs of wear. They should retain full, bold lettering, and legend should remain separate from the rim.
Design details of fine coins are still visible, but they lack the definition you see at higher grades.
Extremely Fine
Extremely fine examples have a slight reduction in apparent details, particularly in high points or detailed areas like the feathers or the Native American's hair.
On the reverse of the coin, finer fur details become incomplete, usually on the upper back of the buffalo.
Uncirculated
Uncirculated Buffalo Nickels have no wear, appearing brand new. They retain their mint luster.
Despite this, slight transactional handling may have dulled the luster of high points such as the Native American's cheek or the buffalo's front leg and/or hip.
Also Read: Top 10 Most Valuable Foreign Coins Worth Money
List of 1923 Buffalo Nickel Errors
Apart from the Two Feather error (explained below), there are no widely known or accepted errors in 1923 Buffalo Nickels. You may still find them with common errors such as:
Off centers: when the design is struck off the center of the planchet; must also be struck out of collar and maintain a portion of its design
Broad strikes: when the collar that holds the coin does not fully engage and the coin is struck; flatter and wider coins; must show all design details
Clipped planchets: come in different varieties, but all involve part of the outer rim of the coin being clipped off
To classify as an error, the error must have occurred during manufacturing. Keep in mind that Buffalo Nickels are particularly susceptible to wear, and you're more likely to have a heavily circulated coin than a misprinted one.
Two Feather 1923 Buffalo Nickel
The "two feather" error is one that is common in 1923 Buffalo Nickels. This is considered a minting error, although there is no definitive explanation for why or how it happened.
Most numismatists believe that the third feather disappeared due to over-polishing in production.
When looking for a two feather error, the smallest, most shallow feather located to the right of the largest feather is the one missing. The small premium placed on this variety only exists for a completely missing feather; weak or 2.5 feathers aren't particularly pursued.
A Warning About "Restored Date" 1923 Buffalo Nickels
You may be able to restore the date of a coin using a drop of Nic-a-Date (ferric chloride) over the spot, but the acid roughens and stains the spot. It also fades over time, bringing back less and less of the year while further marring the coin.
Professionals are unlikely to trust a date restored using this method; it's too easy to manipulate the metal. You should be equally hesitant when dealing with a "restored date" coin, particularly those that claim a rare year or error.
The 1923 Buffalo Nickel is not a year as prone to losing its date, so any coins from this year who have lost their date have heavily circulated. They're often reduced to $0.06 value, and may be used for jewelry, shirt buttons, or other crafts.
1923 Buffalo Nickel FAQs
How Much is a 1923 Buffalo Nickel Worth?
The 1923 Buffalo nickel is worth anywhere from $1.30 to $338, depending on the mintage and condition of the coin. Buffalo nickel coins within an unidentified date (even a restored 1923 date) are usually priced around $0.25 to $0.50
Where is the Mint Mark on a 1923 Buffalo Nickel?
A 1923 buffalo nickel will either have an S mint mark under the FIVE CENTS denomination on the back of the coin or no mint mark at all. S mark coins were minted in San Francisco, while those lacking a mint mark were minted in Philadelphia.
What is a 1923 Buffalo Nickel Made of?
The 1923 Buffalo nickel is made up of Copper and Nickel, split 75% copper and 25% nickel.This alloy is also referred to as "cupronickel" and has been the standard composition for nickels since 1866.