When you think of the nickel, you might immediately picture the face of Thomas Jefferson. But before what is known today as the Jefferson nickel came one of the most beautiful and historically rich coins in US mintage history—the Buffalo nickel.
Back in 1929, the nickel depicted a respectable Native American chief and a robust buffalo back-to-back. It's a coin that isn't in circulation anymore today, but it's still well-loved by many numismatic enthusiasts and coin collectors.
But how much is the 1929 Buffalo nickel worth? What type of rarities should you look out for to see if their Buffalo nickel is worth the big bucks?
Today, we're talking about the 1929 Buffalo nickel value, its distinct features, and key errors. Keep scrolling to find out more about this historic coin.
1929 Buffalo Nickel Value Details
Category: Buffalo Nickels
Mints: Philadelphia, Denver, and San Francisco
Total mintage: 52,570,000
Obverse designer: James Earle Fraser
Reverse designer: James Earle Fraser
Edge: Plain
Diameter: 21.2 mm
Content: 75% copper, 25% nickel
Weight: 5 grams
The 1929 Buffalo nickel, made of copper-nickel, is famous for its beautiful design that represents the natives of the United States of America.
The obverse of the coin shows a regal, respectable Native American chief wearing a three-feather headdress to symbolize his power. On the right side of his face, the word "LIBERTY" is scrawled. And right below his neck, the date "1929."
What's awesome about this design is that in the past, Indian portraits on US mintage weren't accurately conveyed (they had Caucasian features and not Native American ones).
Meanwhile, on the reverse, you'll find an American bison, also sometimes referred to as a buffalo. Above the bison, you'll see "United States of America" in an arc formation, and "E pluribus unum" engraved right below it. At the bottom of the coin are the words "Five Cents."
Also Read: 15 Most Valuable Nickels Worth Money
1929 Buffalo Nickel Value Chart
1929 Buffalo Nickel Value Chart
Mint Mark
Good
Extremely Fine
AU50 About Uncirculated
MS60 Uncirculated
MS65 Gem Uncirculated
MS67 Superb Gem Uncirculated
1929 Buffalo Nickel Value for No Mint Mark (P)
$2
$17.50
$22.50
$50
$280
$8,000
1929 Buffalo Nickel Value for "D" Mint
$2.50
$35
$50
$85
$1,000
$12,000
1929 Buffalo Nickel Value for "S" Mint
$2
$22.50
$32.50
$70
$425
$10,000
1929 Buffalo Nickel Values and Varieties Guides
1929 Buffalo Nickel Value for No Mint Mark (P)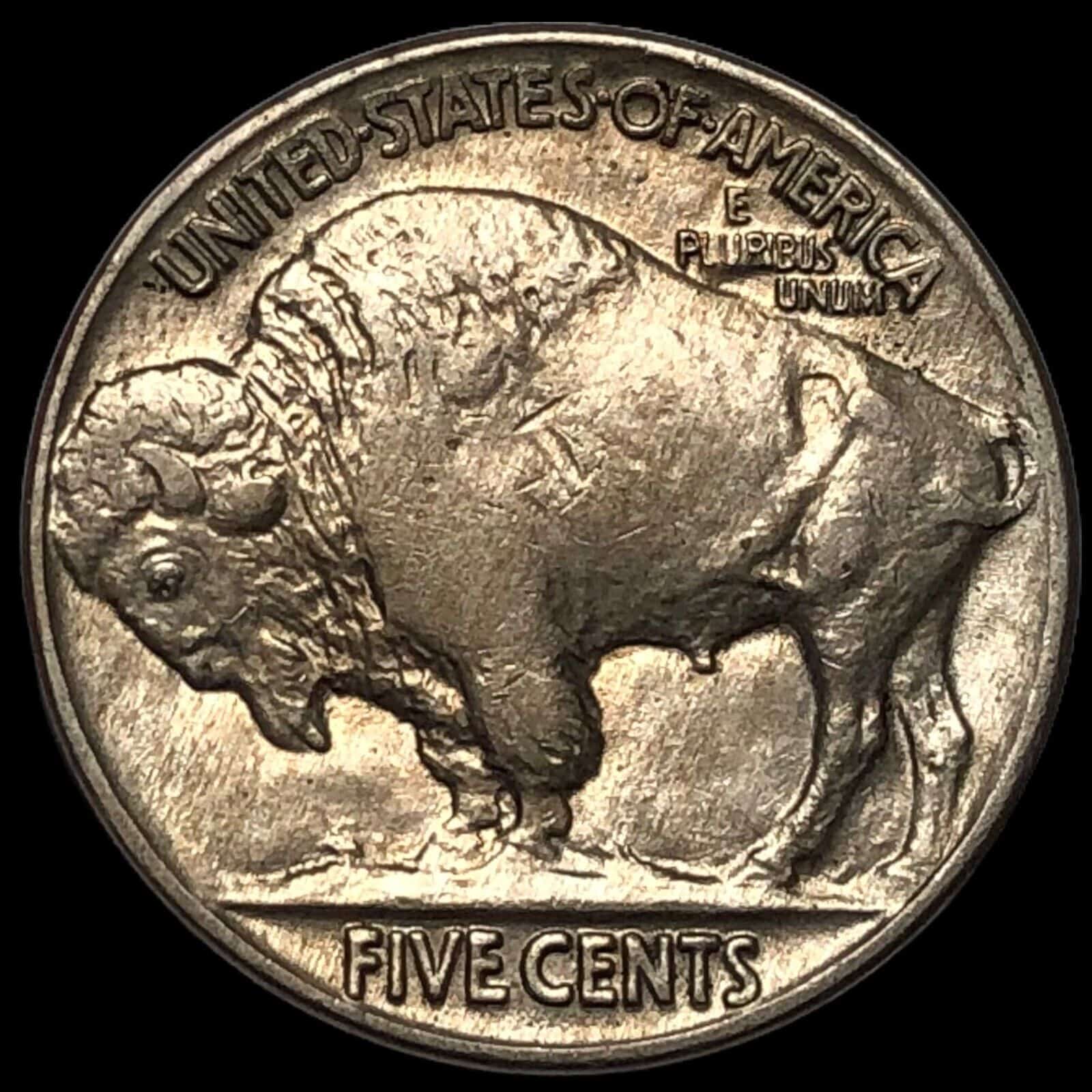 Type: Buffalo Nickel
Edge: Plain
Mint mark: No mint mark (P)
Place of minting: Philadelphia
Year of minting: 1929
Face value: $0.05
$ price: $1 to $8,000
Quantity produced: 36,446,000
Designer: James Earle Fraser
Over 36 million Buffalo nickels were minted in Philadelphia in 1929—the most coins in any mint that year. Due to budget constraints during the Great Depression, many of the coins are just shy of fully struck. However, these coins are still of great value, even in circulated condition.
In good condition, a circulated coin can be sold for $2, which rises to $5 in fine condition and $17.50 in extremely fine condition. About uncirculated coins with grades AU50 through AU58 can cost anywhere between $22.50 to $45.
Today, the 1929 (P) Buffalo nickel is plentiful in mint-state grades, specifically from MS63 to MS65, according to the NGC Census. This is where the prices get quite high.
An MS63 coin can be worth $90 today, an MS64 worth $130, and an MS65 worth $280. In a brilliant, lustrous condition and with a near-perfect grade of MS67, a 1929 (P) Buffalo nickel can be sold for a massive amount of $8,000 today.
Errors can also increase the value of this coin. MS61 coins of this issue are worth around $60, but as recently as 2019, one of them was auctioned off for $216 for being stuck 5% off-center.
1929 Buffalo Nickel Value for "D" Mint Mark
Type: Buffalo Nickel
Edge: Plain
Mint mark: D
Place of minting: Denver
Year of minting: 1929
Face value: $0.05
$ price: $1 to $17,500
Quantity produced: 8,370,000
Designer: James Earle Fraser
Meanwhile, in the Denver mint, 8.3 million 1929 Buffalo nickels were produced. These coins had a small "D" mint mark on them. There are a few circulated pieces of this issue from good to about uncirculated condition. However, there are more mint-state coins in current collections.
It can be hard to find gem 1929 D Buffalo coins because although they tended to have good luster, there were also many marks on these coins. These and the fact that there were fewer coins minted in Denver than in Philadelphia made the 1929 D Buffalo nickels rarer and more valuable.
For example, while an MS65 1929 Buffalo nickel minted in Philly is worth $280, the same coin grade can be worth over three times that at $1,000 if minted in Denver. Of the three mintages for the Buffalo nickel that year, the Denver issue seems to be the most valuable.
1929 Buffalo Nickel Value for "S" Mint Mark
Type: Buffalo Nickel
Edge: Plain
Mint mark: S
Place of minting: San Francisco
Year of minting: 1929
Face value: $0.05
$ price: $1 to $15,000
Quantity produced: 7,754,000
Designer: James Earle Fraser
The San Francisco mint doesn't usually produce as many as 7 million nickels each year, but in 1929, they did. This makes the 1929 S Buffalo nickel the most common one with an "S" mark across most grades, from circulated to uncirculated.
But because they're still so few compared to the Philadelphia-minted nickels, the 1929 S Buffalo nickels are still more valuable.
In extremely fine condition, you could sell one of these coins for $22.50. In the 1930s, many of these circulated coins were hoarded by collectors. It shows to be a bright idea because of how much they're worth today compared to the nickel's face value.
As for mint-state condition, prices for the 1929 S Buffalo nickel could range from $70 (MS60) to a whopping $10,000 (MS67).
Rare varieties of this coin are also very valuable. Something like a two-feather variety Buffalo nickel (where over-polishing results in a depiction of two feathers on the chief's headdress instead of three) can raise an AU50 coin's value from $32.50 to $165, as it did in an auction back in 2016.
Also Read: Top 110 Most Valuable Nickels Worth Money
History of the 1929 Buffalo Nickel
While he was president, Theodor Roosevelt expressed his desire to have beautiful, poetic, and classical-looking designs on US mintage. And although he passed away in 1909, the US mint's Chief Engraver Charles Barber still made it a reality in 1913 by introducing the Buffalo nickel.
The main purpose of the design was to show off the roots of the United States by honoring those who came before us—the natives. The tribal chief on the obverse of the coin was said to have been a combination of three different Native Americans who modeled for Fraser, the designer.
Meanwhile, the buffalo on the reverse of the coin was modeled after Black Diamond—a bison who lived in the Central Park Menagerie and who Fraser would visit to sketch (although he did confuse Black Diamond's home with the Bronx Zoo at some point).
Fraser's design was so beautiful and paid a grand homage to the Native Americans that even if some people had complaints that the elements seemed too large for a small coin, it still went into production.
This Buffalo nickel design became a favorite among collectors, both then and now. And after 25 years in circulation, it was officially replaced with the Jefferson nickel as we know it today.
Also Read: Top 19 Most Valuable Jefferson Nickels Worth Money
1929 Buffalo Nickel Grading
Perhaps the most important aspect of a coin when it comes to determining its value is the condition it's in. Judging the condition of your 1929 Buffalo nickel is also referred to as "grading."
If the date 1929 or the details and lines along the buffalo's body are very distinct and bold, you might have a high-grade coin, which can be worth a lot of money. And if your coin has more wear and the design elements aren't as clear, it will probably be worth a little less.
Follow this video to learn more about grading Buffalo nickels to see the true value of your coin:
1929 Buffalo Nickel Errors
1. 1929 Buffalo Nickel 6% Double Clipped Planchet Error
A planchet is a blank metal that a coin's design is struck on. And when a planchet is "clipped," it means part of its edge is incomplete, making it look like a cookie with a tiny bite taken from it. This happens when the planchet is punched out near the edge of the big metal sheet it was made from.
In 2015, an MS64 1929 Buffalo nickel sold for $250 at an auction because it was 6% double-clipped. Having one clip off the planchet is rare enough, so having two clipped-off edges made this coin in particular super valuable.
2. 1929 Buffalo Nickel Lamination Error
A lamination error is when the surface of the planchet cracks or splits, creating harsh, distinct lines over certain areas of the design. It's often caused by contaminants in the metal that force it to separate, making it look as if it's been torn apart.
Lamination errors can be visible on either the obverse or reverse of your 1929 Buffalo nickel. However, it's usually more obvious in the buffalo's features on the reverse. An error like this can raise the price of your coin to around $60.
3. 1929 Buffalo Nickel Double Die Obverse Error
Another known error for the 1929 Buffalo nickel is the double-die error, most often seen on the obverse. A double-die means that the design was struck on the coin twice. This error manifests in a faint image of a second stamp on the coin that overlaps with the main design.
One easy way to tell if your 1929 Buffalo nickel has a double-die error is to use a magnifying glass to check the date. If your "1929" inscription looks doubled, it might have this rare error.
A circulated, fairly worn coin with this error might sell for upwards of $130. This price increases when the condition is better, of course. For example, an AU53 1929 Buffalo nickel today is valued at $27.50. But in early 2013, one with a double-die error sold for $600.
4. 1929 Buffalo Nickel Off-Center Strike Error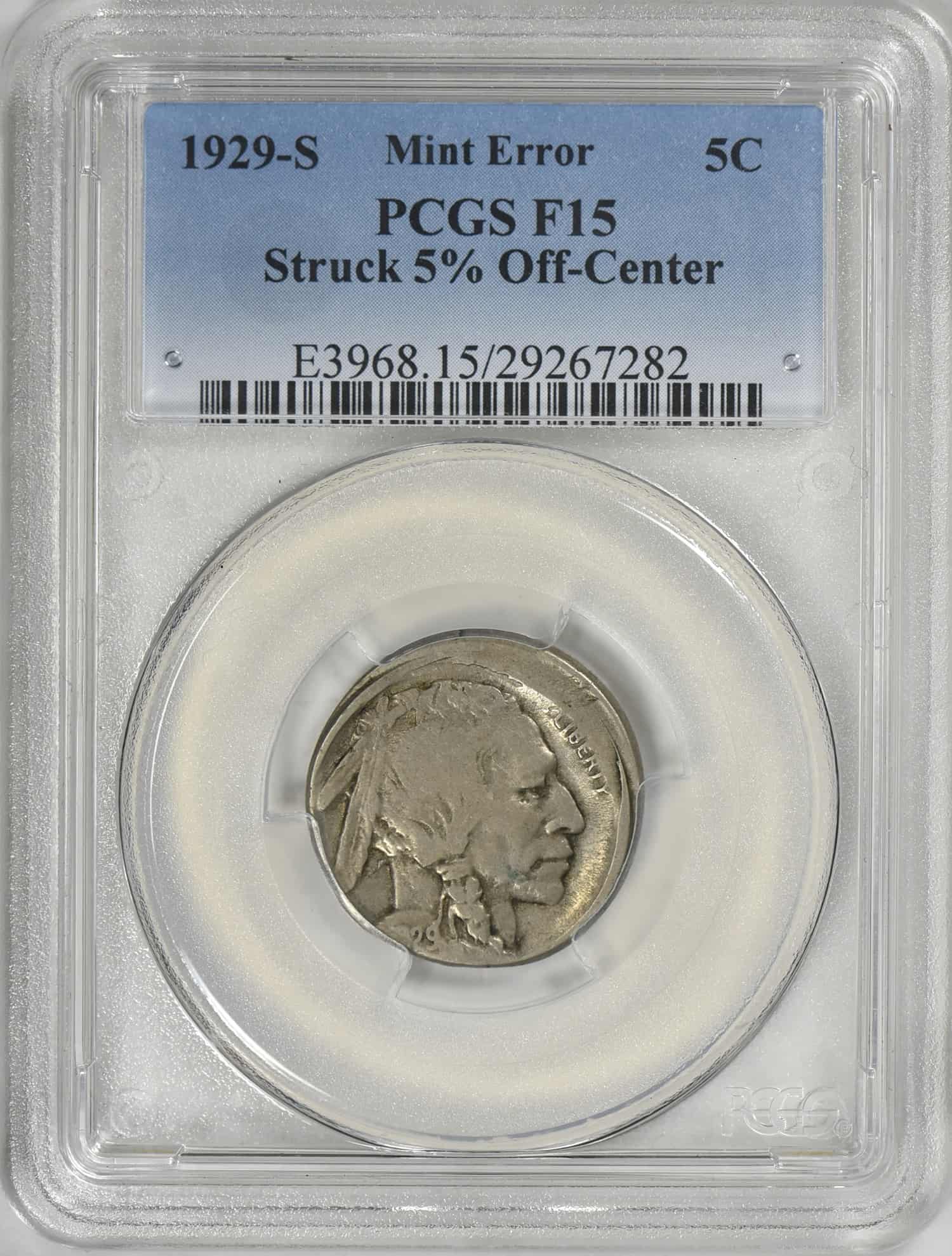 In 2008, an MS64 1929 Buffalo nickel was sold for a whopping $2,500. Why? For the simple reason that it was struck 40% off-center. Almost half of the planchet was blank, and you could only see two-thirds of the bison on the reverse and everything on the chief but his face in the obverse.
The more off-center a coin strikes, the more valuable it's worth. So, it comes as no surprise that this lightly-toned coin with a mint error sold for a huge amount.
Look through more rare errors in the 1929 Buffalo nickel by watching this video:
1929 Buffalo Nickel FAQs
Where is the mint mark on a 1929 Buffalo Nickel?
You'll find the mint mark of any 1929 Buffalo nickel on the reverse side, right under the words "FIVE CENTS." If your coin was minted in Denver, it will have a "D" mark, and if it was produced in San Francisco, it will have a small "S."
What year Buffalo nickels are rare?
Because they haven't been in production in 85 years, almost all mintage years for Buffalo nickels are rare and hard to find. Mintage years 1924-1927 might be the most difficult to find.
But perhaps the rarest date on a buffalo nickel is 1926, specifically the coins from San Francisco. The mint there only produced 970,000 of this coin that year.
Is a Buffalo nickel all silver?
Buffalo nickel is made of copper and nickel. So no, it doesn't have any silver at all in its composition.
What's the most expensive nickel?
The most expensive nickel in US history is the 1913 Liberty nickel. Only five coins of this kind were ever minted by the US Treasury, making them insanely rare. These impossible rare coins are valued at around four or five million dollars.