The Washington quarter has been around for almost a century. It is considered a quintessential, all-American coin because of its simple yet regal design honoring the first U.S. president.
Do you have a Washington quarter dated 1937? If you do, you're probably wondering how much you'll get by selling it today. But the answer is not so straightforward. The value of your 1937 quarter will depend on its condition, mint mark, and errors, if any.
Today, we'll give you the lowdown on the 1937 quarter and its value today. Read on to see more about this iconic coin, and how much you can sell it for in the modern age.
1937 Quarter Value Details
Category: Washington Quarters
Mints: Philadelphia, Denver, and San Francisco
Total mintage: 28,537,600
Obverse designer: John Flanagan
Reverse designer: John Flanagan
Edge: Reeded
Diameter: 24.3 mm
Content: 90% silver, 10% copper
Melt value: $3.78 (as of March 2023)
Weight: 6.25 grams
In 1932, the U.S.A. was set to celebrate the 200th anniversary of the birth of George Washington—the nation's first-ever president. President Hoover even gave an address about the year-long commemoration.
One of the country's ways to honor this legendary man was to put his portrait on a US coin, specifically the quarter. John Flanagan's design of the quarter isn't so poetic or artistic, but it's straightforward enough to recognize George Washington on it right away.
On the obverse of the coin, Washington is facing left. Above him is the word "LIBERTY," and below him sits the date 1937. On the left side of the obverse are the words "In God We Trust," engraved just under Washington's chin.
Meanwhile, the reverse depicts the American eagle with its wings spread. The eagle sits majestically on a bundle of arrows, signifying the nation's strength. Below this lay a wreath of two olive branches.
"United States of America" is written in an arc on the topmost area of the coin. Right below it and just above the eagle's head is the phrase "E pluribus unum." Then, at the bottom of the coin reads "Quarter Dollar." Any mint marks can be found underneath the olive branch wreath.
The 1937 issue of the Washington quarter has tons of mint-state pieces. Many known MS67 and even a handful of MS68—particularly those that were minted in Philadelphia—have been sold at auction.
Also Read: Top 15 Most Valuable Quarters In Circulation
1937 Quarter Value Chart
1937 Quarter Value Chart
Mint Mark
Good
Extremely Fine
AU58 About Uncirculated
MS64 Choice Uncirculated
MS67 Superb Gem Uncirculated
1937 Quarter Value for No Mint Mark (P)
$8.50
$20
$30
$70
$475
1937 Quarter Value for "D" Mint Mark
$9
$25
$50
$115
$900
1937 Quarter Value for "S" Mint Mark
$12.50
$60
$165
$315
$2,000
1937 Quarter Values and Varieties Guides
1937 Quarter Value for No Mint Mark (P)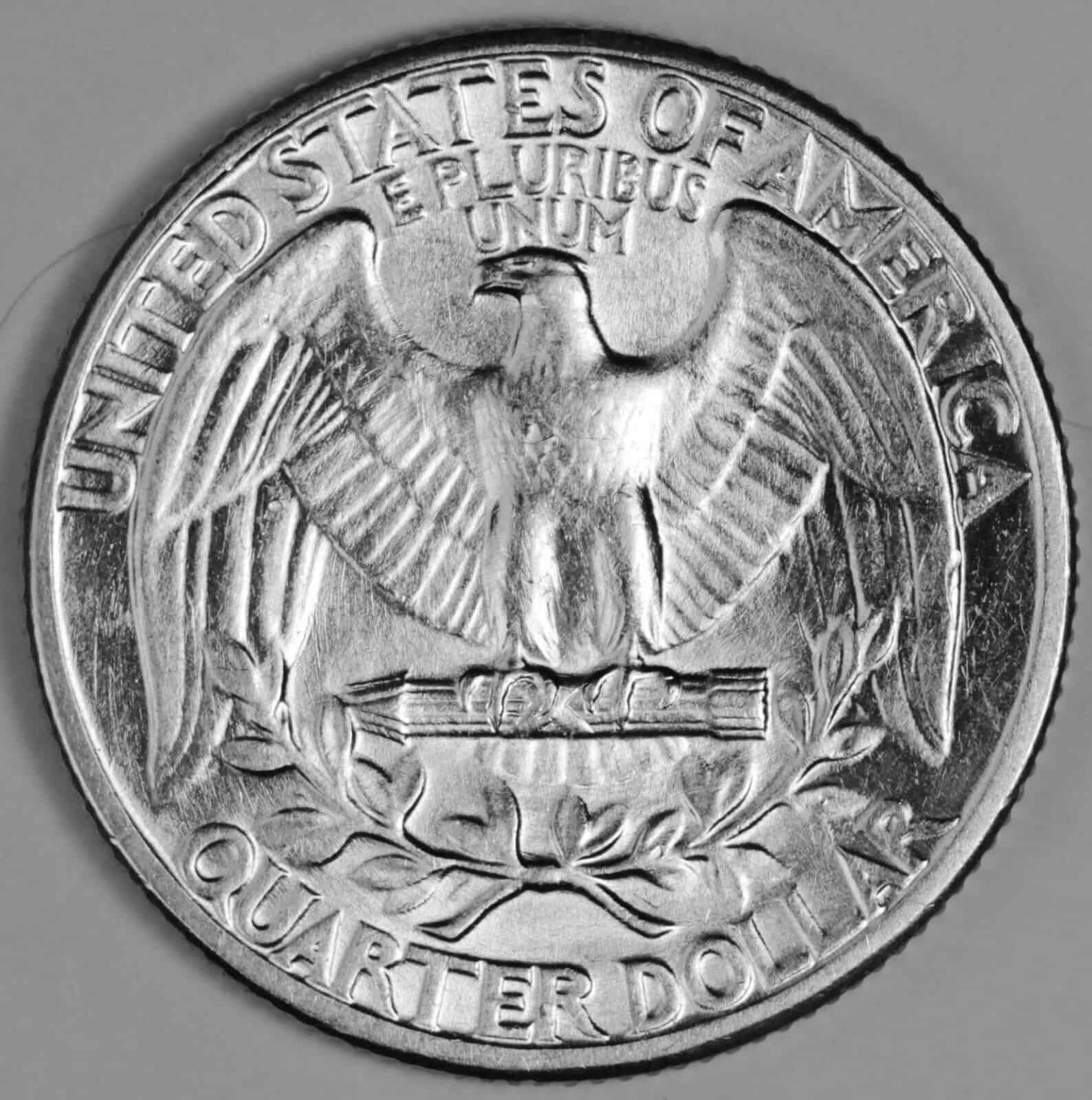 Type: Washington Quarters
Edge: Reeded
Mint mark: No mint mark (P)
Place of minting: Philadelphia
Year of minting: 1937
Face value: $0.25
$ price: $8 to $7,500
Quantity produced: 19,696,000
Designer: John Flanagan
In around 1934, it looked like the United States was getting back on its feet again after the Great Depression. However, in 1937, there was another short recession. This reduced commerce, thus accounting for a lower number of coins produced at mints.
Because of this recession and struggle with money, the Philadelphia Mint only struck 19.7 million Washington quarters—less than half the mint produced the year before. That said, it's still the highest number of coins made by any mint that year, making it the least scarce.
The Philly-minted Washington quarters of 1937 were overall well-struck with bold lines in the design and a beautiful, satiny luster. That makes them valuable even in circulated conditions.
Even in poor or average condition, a circulated 1937 (P) Washington quarter can be valued today at $8. In good condition, this value rises to $8.50, and then at $20 when in extremely fine condition. Circulated quarters with no mint mark can cost up to $32.50 (AU58+).
These quarters are also plentiful at mint-state, specifically in grades MS64 through MS66. These uncirculated quarters can be sold today for anywhere between $70 and $200. And if you get your hands on a rare, almost-perfect MS68 quarter, you're looking at a price of about $7,500.
1937 Quarter Value for "D" Mint Mark
Type: Washington Quarters
Edge: Reeded
Mint mark: D
Place of minting: Denver
Year of minting: 1937
Face value: $0.25
$ price: $8 to $3,850
Quantity produced: 7,189,600
Designer: John Flanagan
While the number of Washington quarters produced at Philly dropped in 1937, in Denver, it rose. That year, over 7 million coins were minted compared to the previous year's 5 million mark.
That said, it's still less than half of what was produced in Philadelphia, making the D-mint-mark coins rarer, and therefore, more valuable than their Philly-minted sisters.
Of the three mints that made Washington quarters in 1937, the Denver Mint made the most well-struck coins—a characteristic it would carry until the 1950s. Because the coins are so well-struck, it makes them even more valuable.
At good, circulated condition, a 1937 D quarter can be sold at $9—half a dollar more than a Philadelphia coin in the same condition. In extremely fine condition, the value increases to around $25. In about uncirculated grades AU50 to AU58+, you can expect to sell them for $35 to $55.
When it comes to uncirculated coins, there are tons you can find in grades MS64 and MS65, although they're still relatively plentiful in other grades from MS63 and above.
At MS64, the value of a 1937 D Washington quarter sits at about $115, while an MS65 will be around $145.
At MS67+, you can expect the price to rise to about $3,850. However, rare features that boost eye appeal can take it even higher. For example, one MS67+ coin with intense, vivid multi-colored toning sold for over $5,500 in 2021.
1937 Quarter Value for "S" Mint Mark
Type: Washington Quarters
Edge: Reeded
Mint mark: S
Place of minting: San Francisco
Year of minting: 1937
Face value: $0.25
$ price: $9 to $2,000
Quantity produced: 1,652,000
Designer: John Flanagan
As per usual, it was the San Francisco Mint that produced the fewest quarters in 1937. That means the S-mint-mark coins are the rarest and hardest to find, making them the most expensive of the three issues when put on sale today.
Similar to the situation in Philadelphia, the San Francisco Mint only struck half the coins it did the year before, no thanks to the recession. Many coin lovers back in the day saved rolls and rolls of these coins.
If their rarity among other issues isn't enough to raise their value, the San Francisco coins are typically very lustrous—almost proof-like. One might attribute this to a constant repolishing of the dies back in the Mint that year.
In good condition, a 1937 S quarter can sell today for $12.50—way higher than the price of a good-condition coin from Philadelphia or Denver, which never really goes past the single-digit mark. In extremely fine condition, the price shoots up to $60. And at AU58, a whopping $165.
This price becomes even more impressive when you reach the mint grades. At MS62, one of these coins can sell for $250. At grade MS67, the price is times ten of that at $2,000.
Also Read: Top 16 Most Valuable Modern Quarters Worth Money
History of the 1937 Quarter
In 1931, a competition was held to find the best quarter coin design modeled after the bust of George Washington sculpted by Frenchman Jean Antoine Houdon. This was in preparation for the 200th anniversary of Washington's birth, which was coming the following year.
Around a hundred designs were submitted to the Commission. But the best one by far was the design of Laura Gardin Fraser, wife of fellow coin designer James Earle Fraser.
Laura's design was artistic and had great eye appeal. Some even compared it to the allegorical coins minted during Theodore Roosevelt's time.
However, the U.S. government back then was not as feminist as it is today. Andrew Mellon, the Treasury Secretary, was not pleased that Mrs. Fraser's design was chosen.
He called for a second round of the competition and then chose John Flanagan's design as the winner instead. This design by Flanagan was used in the quarters until 1998.
There have been tons of changes in the quarter since it was first minted almost a hundred years ago. It was changed to copper-nickel in the 1960s. In some years, the denomination was moved to the obverse.
But the best change that has happened to the coin has got to be in 2021 when Laura Gardin Fraser's design of the obverse was finally put on the Washington quarter. This coin is still in circulation today.
The Washington quarter is one of the longest-running series in US mintage. But those minted early on in its production—including the 1937 issue—remain to be the most valuable today.
Also Read: 10+ Rarest State Quarter Errors Lists (Worth Much Money!!!)
1937 Quarter Grading
The value of your 1937 Washington quarter is conditional—literally! The price will be tied to whether it's in mint or circulated condition. The less worn and more lustrous a coin is, the higher its condition grade, which adds to its value.
To check for wear on your quarter, look at the high points of the coin, like Washington's cheekbone on the obverse and the eagle's legs and the tips of its wings on the reverse.
See the difference between a circulated and uncirculated 1937 quarter's condition through this grading video:
1937 Quarter Errors
1. 1937 Quarter Doubled Die Obverse Error
A doubled die error is when there is a duplication of the coin design print on the planchet. This happens when the die is misaligned or if the coin is not properly ejected from the machine after the first strike, resulting in a double image on one or more elements of the coin.
There are plenty of doubled die obverse errors among 1937 quarters, specifically in the Philadelphia issue. One such coin at grade MS65 has been known to sell for $7,000 because of this error.
That said, it can also be found on some circulated coins. In 2015, a VF35 coin with this error sold for almost $500, even if the condition wasn't the best.
2. 1937 Quarter Struck on a 5-Cent Planchet Error
Another known error for the 1937 quarter is how some pieces were struck on a five-cent planchet. That means it was minted on copper-nickel instead of silver, giving it a funny look. An MS63 coin with this error was sold for $4,600.
1937 Quarter FAQs
Is a 1937 quarter worth anything?
Yes, the 1937 quarter can be auctioned off today for anywhere between $8 and $175 if it has been circulated. Mint-state quarters until MS67+ can go for $35 to $3,850. And in the best, near-perfect condition of MS68, a 1937 quarter can be valued at $7,500.
And if your 1937 Washington quarter has a rare mint error, like a doubled die obverse, or that it was struck on the wrong metal planchet, it could be worth loads more—up to $5,000, in fact.
Is a 1937 quarter pure silver?
While quarters today are made of copper or nickel (or some combination of the two), 1937 quarters were made of silver. That said, it had a fineness of 90%. The remaining 10$ of the coin was made of copper. So, while most of the coin is composed of silver, it's not 100% pure silver.
What year is the most valuable quarter?
The Washington quarters minted in 1932—the year they were first produced—are seen as the most valuable quarter variety.
Although mintages for the Washington quarter were high across the years, the 1932 quarter is one of the only two years where under one million coins were struck at the mints. That makes it one of the rarest and most valuable quarters in existence today.