In 1953, over one billion wheat pennies with Abe Lincoln's face on them were produced. It was one of the last issues of this penny, which stopped being minted in 1958.
Pennies may sound useless to some, but depending on the coin you have, they could be worth hundreds and even thousands of dollars. Of course, this depends on several factors, including how red your coin is or if there are any errors within them.
Why is the penny minted in 1953 specifically more valuable than others? How much are they worth? Today, we'll take a deep dive into all of this and more. So, buckle up and read on to see how much money you can get out of the humble 1953 wheat penny.
1953 Wheat Penny Value Details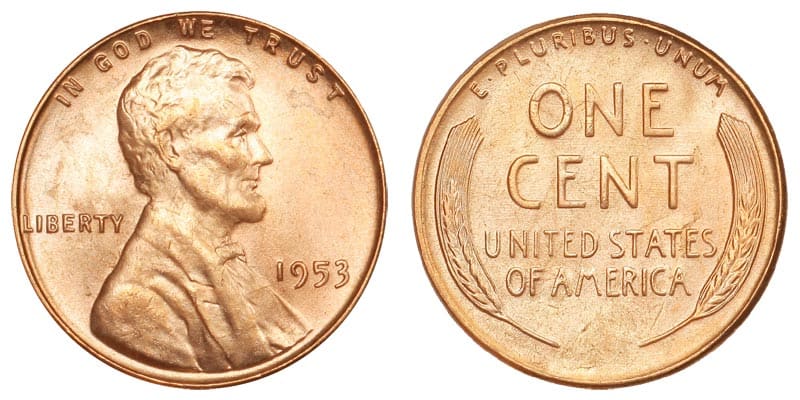 Category: Lincoln cents (with wheat reverse)
Mints: Philadelphia, Denver, and San Francisco
Total mintage: 1,139,233,800
Obverse designer: Victor D. Brenner
Reverse designer: Victor D. Brenner
Edge: Plain
Diameter: 19 mm
Content: 95% copper, 5% zinc or tin
Weight: 3.11 grams
The 1953 wheat penny carries the same obverse and reverse design the penny had when it was first struck in 1909. It honors none other than Abraham Lincoln, the 16th president of the United States of America.
On the obverse of the coin, you'll see the portrait of Abe Lincoln facing to the right. The designer, Victor Brenner, stated in 1909 that when he designed how Lincoln was to look in the coin, he pictured the late president reading to a child to depict that bright, stern, but still gentle look.
Right above his head is the words "In God We Trust" in an arc. The wheat penny is the first time this motto has ever been used. On the left of Lincoln, you'll see the word LIBERTY. And on the right, the year the coin was minted.
The reverse of the coin is quite simple as well. It depicts two sheaves of wheat that hold in their center the words "ONE CENT" and "United States of America." Above those, you'll find the United States motto "E pluribus unum" in an arc formation.
1953 Wheat Penny Value Chart
1953 Wheat Penny Value Chart
Mint Mark
Good
Extremely Fine
MS-55 About Uncirculated
MS-62 Uncirculated
MS-66 Gem Uncirculated
1953 Wheat Penny Value for No Mint Mark (P)
$0.05
$0.10
$0.20
$1

MS Red Brown: $2.50

$12.50

MS Red Brown: $22.50

MS Red: $170

1953 Wheat Penny Value for "D" Mint
$0.05
$0.10
$0.20
$1

MS Red Brown: $2.50

MS Red: $5

$12.50

MS Red Brown: $21

MS Red: $45

1953 Wheat Penny Value for "S" Mint
$0.05
$0.10
$0.20
$1

MS Red Brown: $2.50

MS Red: $5

$12.50

MS Red Brown: $19

MS Red: $25
1953 Wheat Penny Values and Varieties Guides
1953 Wheat Penny Value for No Mint Mark (P)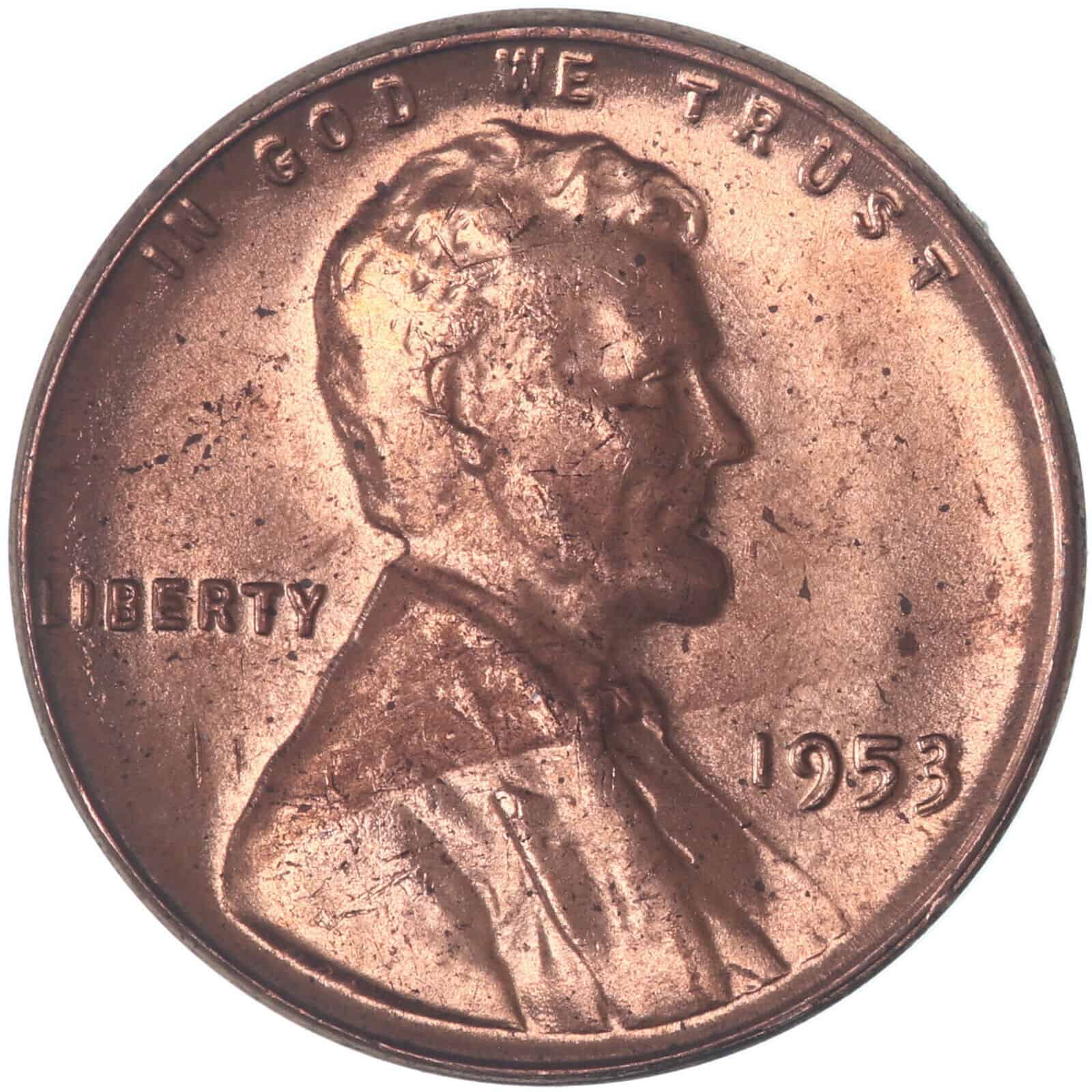 Type: Lincoln cents
Edge: Plain
Mint mark: No mint mark (P)
Place of minting: Philadelphia
Year of minting: 1953
Face value: $0.01
$ price: $0.05 to $2,600
Quantity produced: 256,883,800
Designer: Victor D. Brenner
The Philadelphia mint struck over 250 million pennies in 1953. These coins bore no mint mark, as was the hallmark of coins minted in Philly.
However, a great majority of these coins were poorly struck and were put into circulation. Because of this, finding mint-state uncirculated gems is difficult, increasing their prices when found and auctioned off.
A circulated 1953 (P) wheat penny coin in poor to fine condition is valued at $0.05 today. In extremely fine and about uncirculated condition, this price rises to anywhere between $0.10 to $0.25. Meanwhile, uncirculated coins could go from $0.50 for an MS60 coin to $32 for an MS67 one.
Of course, errors can increase the prices of these values. For example, an MS64 1953 (P) wheat penny should cost about $2.50. But in 2005, a penny with a 60% off-center strike sold for a whopping $74.75.
Another thing that can cause an uptick in the value of these pennies is their color. Pennies have a beautiful red luster when they're first struck. Over time, this color fades and turns brown. The redder the color of your penny, the more expensive you can sell it for.
An MS66 1953 (P) coin that is brown (MS BN) in hue is valued at $12.50. However, this rises to $22.50 for a red-brown (MS RB) coin and up to $170 for a red (MS RD) coin.
1953 Wheat Penny Value for "D" Mint Mark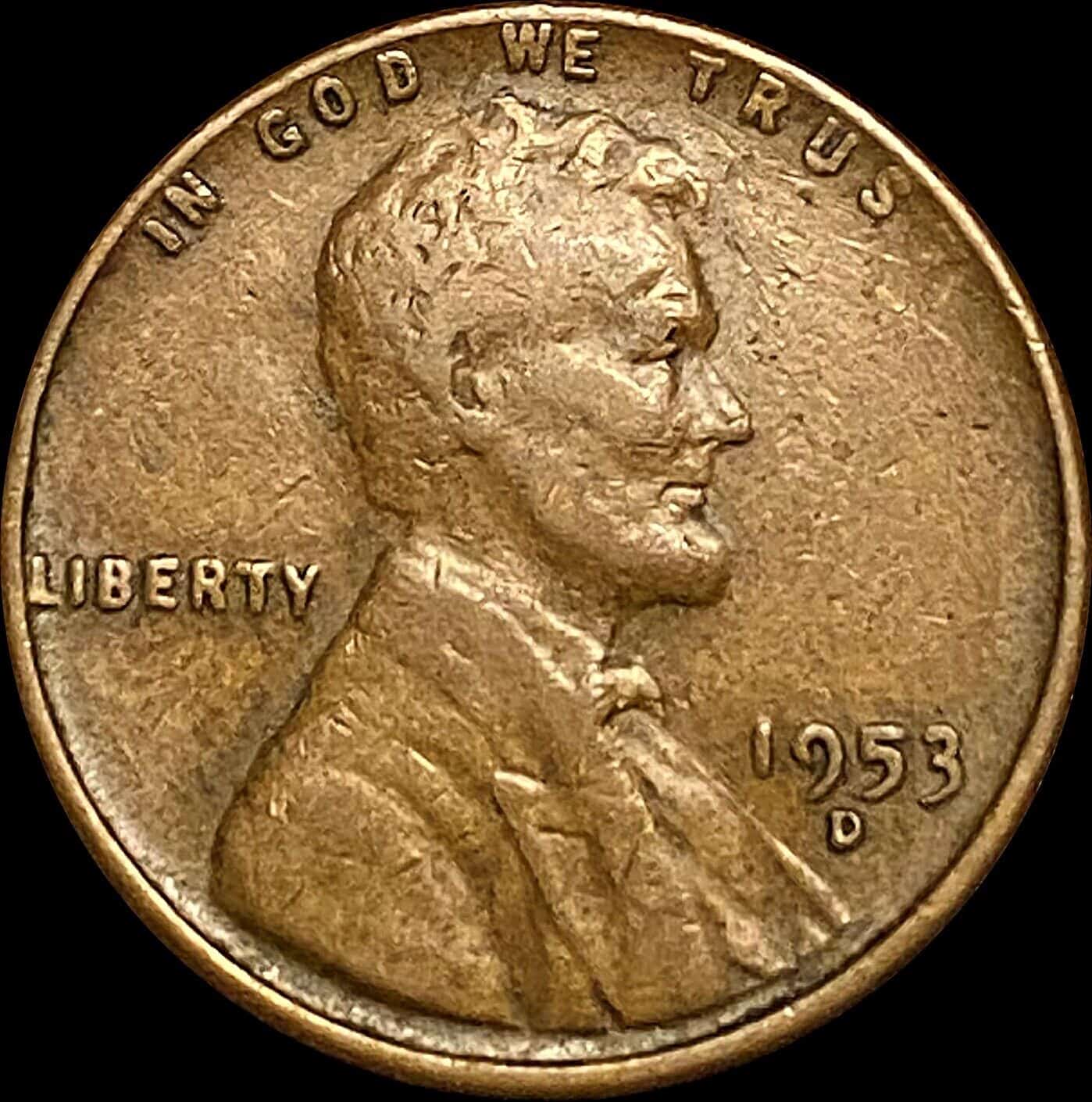 Type: Lincoln cents
Edge: Plain
Mint mark: D
Place of minting: Denver
Year of minting: 1953
Face value: $0.01
$ price: $0.05 to $900
Quantity produced: 700,515,000
Designer: Victor D. Brenner
The Denver mint produced the most pennies in 1953 at over 700 million coins. Since so many were produced there, 1953 pennies with the mint mark "D" may not be as sought-after and expensive as those minted in Philadelphia.
That said, values for 1953 D coins—from circulated to uncirculated—are very similar and almost the same as those of the pennies minted in Philly. A poor or fine coin might give you $0.05, while uncirculated coins can sell for anywhere between $0.50 and $900.
As with wheat pennies minted in Philadelphia, the red-colored pennies are the most valuable 1953 D pennies. MS RD coins minted in Denver this year can be worth almost a thousand dollars.
But even though red coins are more attractive to collectors, there are a few gems to be found in brown pennies as well—particularly those with mint errors. An MS65 1953 D penny is valued at $5 but can go up to over $170 with something like an off-center strike error.
1953 Wheat Penny Value "S" Mint Mark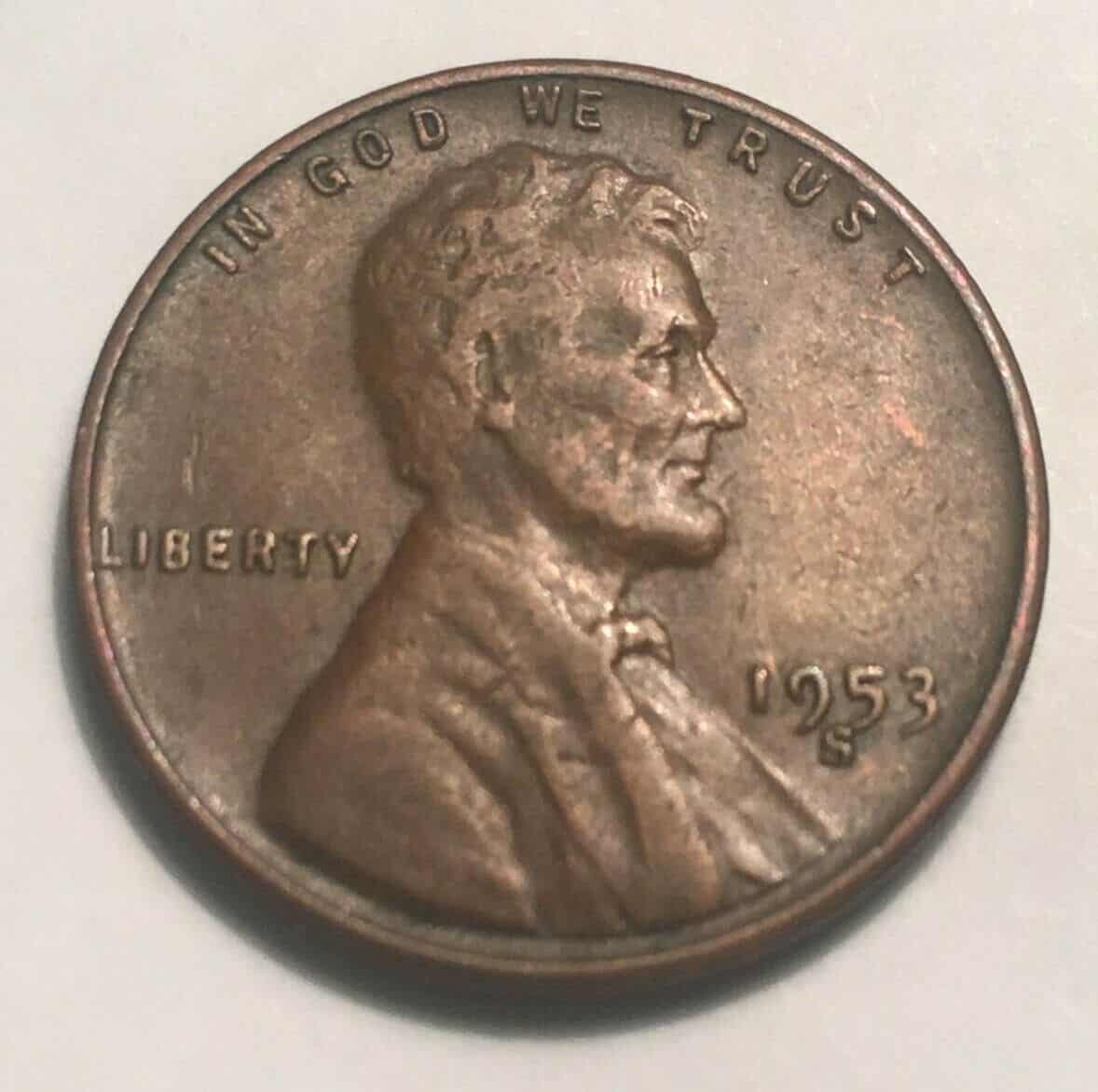 Type: Lincoln cents
Edge: Plain
Mint mark: S
Place of minting: San Francisco
Year of minting: 1953
Face value: $0.01
$ price: $0.05 to $260
Quantity produced: 181,835,000
Designer: Victor D. Brenner
Lastly, we have the San Francisco-minted wheat pennies of 1953. The mint in California produced the least pennies that year at just over 180 million, but they're actually less rare than mint-state issues from Philadelphia—making them a little less valuable.
But as usual, errors shoot up the prices of these pennies. For example, an MS63 1953 S coin should only be sold for $1.50. But in 2014, one of them sold for $1,880 because it was struck on a silver dime planchet.
Although the current value for the MS BN 1953 pennies minted in Philly, Denver, and San Francisco are all the same, you'll see the difference in pricing for red brown, and red coins.
While an MS66 red 1953 (P) penny is valued at $170, its San Francisco counterpart might be sold for just $25. The most expensive type of 1953 S penny with no error is an MS67 RD coin, which is valued at $260.
Also Read: Top 20 Most Valuable Old Pennies Worth Money (Penny Collection)
History of the 1953 Wheat Penny
In 1909, then-president Theodore Roosevelt had grown tired of the rule that no presidents should be depicted on US-minted coins—an outdated "rule" George Washington had called into order. So, he planned to revitalize the nation's coinage, starting with the humble penny.
In 1908, he met Victor D. Brenner, an artistic Lithuanian who had a fondness for the late Abe Lincoln. President Roosevelt asked him to submit possible designs for the new penny to honor Lincoln, and the rest is history.
The wheat penny was the first ever US coin to feature a real, historical figure. Before that, all portraits on the coins belonged to Lady Liberty or common people, like native American Indian women.
Luckily, the public absolutely loved the Lincoln design! Their only issue with it was the controversial inscription of the initials "V.D.B." to honor its designer. Many people asserted that Brenner did not need the unnecessary recognition. And so, the initials were scrapped.
1953 Wheat Penny Grading
When grading the condition of a 1953 wheat penny, it's important to look for signs of wear and tear. Observe the highest points of the coin to look for that. On the obverse, this would be Lincoln's cheeks and jaw. Meanwhile, on the reverse, this would be the tips of the wheat sheaves.
Aside from the condition and wear of the coin, you must also keep an eye out for its color. A bright, distinctively red, lustrous color makes a coin way more valuable than say, a brown-toned one.
Interested in learning more about how to grade these copper 1953 wheat pennies according to color? See the difference between brown, red-brown, and red pennies with this video:
1953 Wheat Penny Errors
1. 1953 Wheat Penny Struck on Cuban Planchet Error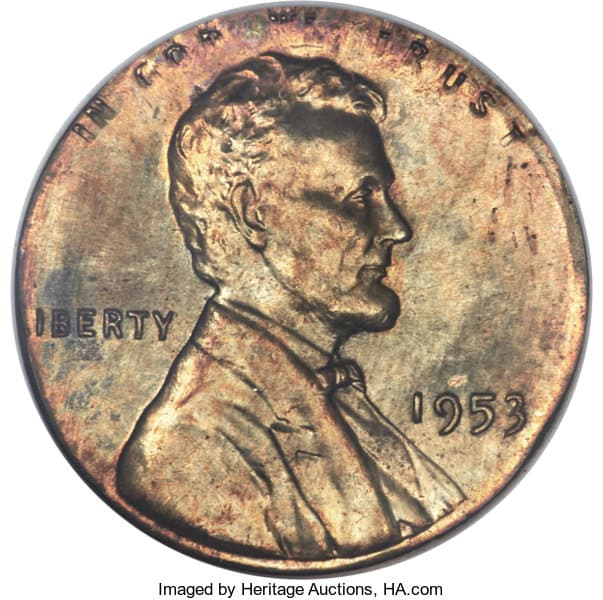 One of the most exciting errors that have ever been found on a 1953 wheat penny is one that was struck on a Cuban brass centavo planchet.
What's fascinating about it is that it's the wrong color for the design, but also the wrong size. This is most noticeable in the "L" that is missing from the word "LIBERTY" on the obverse.
This coin was in mint-state condition with a grade of MS62 and beautiful, lustrous peach and gold tones. The coin sold for over $3,000 at an auction in 2015.
2. 1953 Wheat Penny BIE Cud Error
A more common error you'll see on a 1953 wheat penny is the "BIE" cud error. This is when you'll see a cud (or raised metal) between the letters B and E in the word LIBERTY on the obverse. The cud kind of resembles the letter I, making it look like it says "BIE."
This error is likely due to a chunk of the die that fell out, leaving some of the metal of the planchet to fill it in.
While this is undoubtedly an interesting mint error, 1953 BIE wheat pennies are valued at just around $15. They're awesome for collectors, but they might not be worth the extra expense of getting graded.
3. 1953 Wheat Penny Repunched Mint Mark Error
Another error you might find in your pennies is a repunched mint mark. You'll know that your coin has this mint error if you see a faint second print of the mint marks D for Denver or S for San Francisco. Obviously, you can't find this error in Philly-minted coins, which have no mint mark.
This error is a result of a failure to properly punch the mint mark on the coin the first time around, so a second attempt was made. You'll find that the second mint mark is thinner and finer than the final mint mark. In some cases, one of the mint marks might even look a bit rotated.
4. 1953 D Wheat Penny Struck on Silver Dime Planchet Error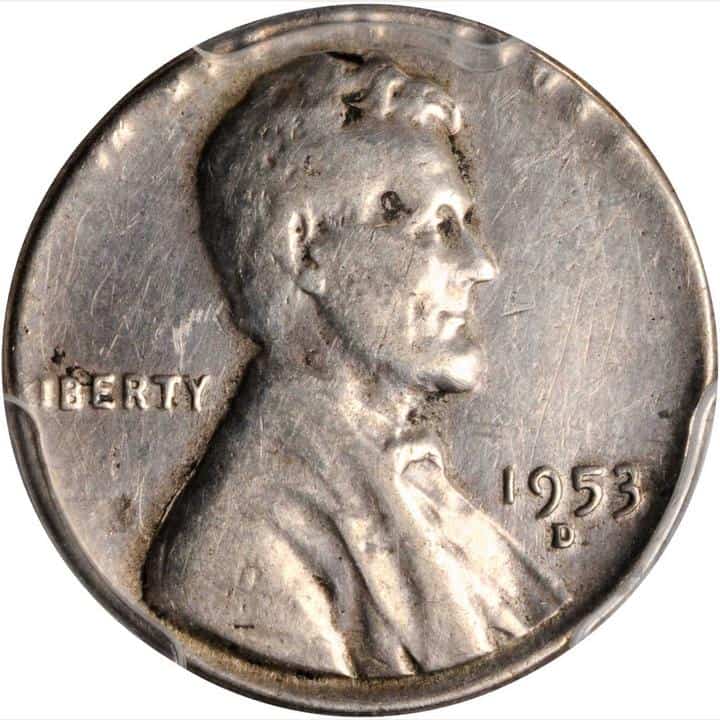 This error is exclusive to 1953 wheat pennies struck in Denver. Instead of being struck on copper, the penny was made on a silver dime planchet instead. It's basically a penny with the color of a dime!
This rare mint error increases the value of the coins, making them worth well over a thousand dollars apiece.
Check out what other mint errors can increase the value of your 1953 wheat penny by watching this educational video:
1953 Wheat Penny FAQs
What makes a 1953 penny rare?
In 1953, many of the Philadelphia pennies were struck poorly. Because of this, mint-state, uncirculated coins in pristine condition are hard to come by. It's the most difficult year for the wheat penny to be found, making it more expensive than other wheat pennies.
What wheat back penny is worth $1000000?
The most expensive known wheat back penny to ever have been auctioned off is a 1943 D penny struck on bronze. It's the only known 1943 penny struck on a bronze planchet, making it incredibly rare and therefore valuable. It sold for $1.7 million.
Why is the 1953 D wheat penny valuable?
This is because, between the mintage years of 1930 and 1958, the 1953 pennies are the most difficult to find and collect.
What year is the rarest wheat penny?
The rarest wheat penny ever is a bronze-struck penny made in 1943. It is believed to have been deliberately struck on bronze instead of steel in 1943 by an employee of the Denver mint—most likely John Sinnock, the chief engraver at the time.
This coin was then kept secret for decades until he passed it down to his family. It was then auctioned off in the 1990s.