Do you own a 1961 penny and want to know what it is worth? While some old coins can be worth more, some even significantly more, than their face value, not all will be. How do you determine the value of your penny from 1961?
In this article, we look at the 1961 penny in detail. You will find information such as the total number of pennies printed in 1961, the varieties printed and what circulated and uncirculated coins are worth. In addition, we have included information on how coins are graded and the type of errors to look out for that can increase the value of your 1961 penny.
1961 Lincoln Penny Details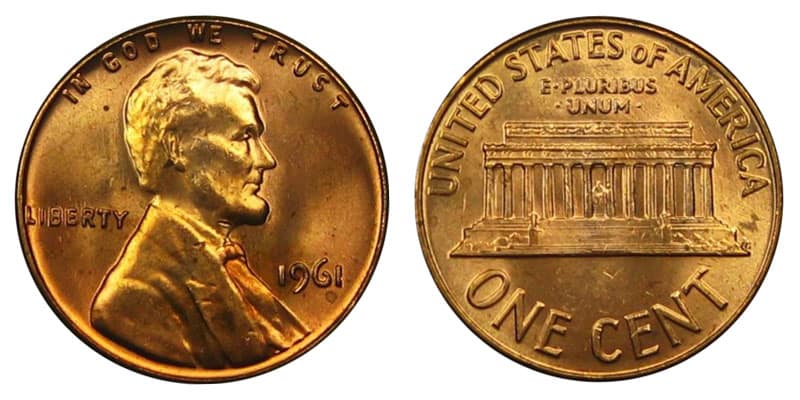 Category: Lincoln Penny
Mints: Philadelphia, Denver
Total mintage: 2,509,639,944
Reverse designer: Victor D Brenner
Obverse designer: Frank Gasparro
Edge: Smooth
Diameter: 19.05 millimeters (0.75 inches)
Thickness: 1.55 millimeters (0.061 inches)
Weight: 3.11 grams (0.11 ounces)
Composition: 95% copper, 5% tin and zinc
Melt Value: $0.0263
The Obverse of the 1961 Lincoln Penny
The obverse features a portrait of the 16th president of the United States, Abraham Lincoln. It was designed by Victor David Brenner, a Lithuanian-born artist, and sculptor in 1909. On the obverse, which is often called heads, the portrait of Lincoln is facing to the right.
The inscription "Liberty" is to the left of the portrait and the motto "In God We Trust" is to the right. The date 1961 is underneath the portrait. Coins that were minted in Denver, also have the capital letter "D" under the date. On coins minted in Philadelphia, there is no mint mark.
The Reverse of the 1961 Lincoln Penny
On the reverse of the 1961 penny, is an image of the Lincoln Memorial, a monument located in Washington D.C. built in honor of Abraham Lincoln. Within the Memorial building, is a statue of Abraham Lincoln. The reverse image was designed by Frank Gasparro and it replaced the original design in 1959.
The monument is depicted as seen from the back. The words "United States of America" are above the image and below the image is the denomination "One Cent". The Latin phrase "E Pluribus Unum" is between the country name and the memorial.
Also Read: Top 20 Most Valuable Old Pennies Worth Money (Penny Collection)
Value Chart
1961 Lincoln Penny Value Chart

Mint Mark
MS60
MS64/ PR64
MS67/PR67
PR69
1961 No Mint Mark Penny Value
$2
$4
$450
–
1961 D Penny Value
$0.40
$1.50
$700
–
1961 Proof RD Value
–
$0.50
$13
$100
1961 Proof RD CAM Value
–
$1
$18
$175
1961 Proof RD DCAM Value
–
–
$45
$3,500
1961 Penny Value and Varieties Guides
1961 No Mint Mark Lincoln Penny Value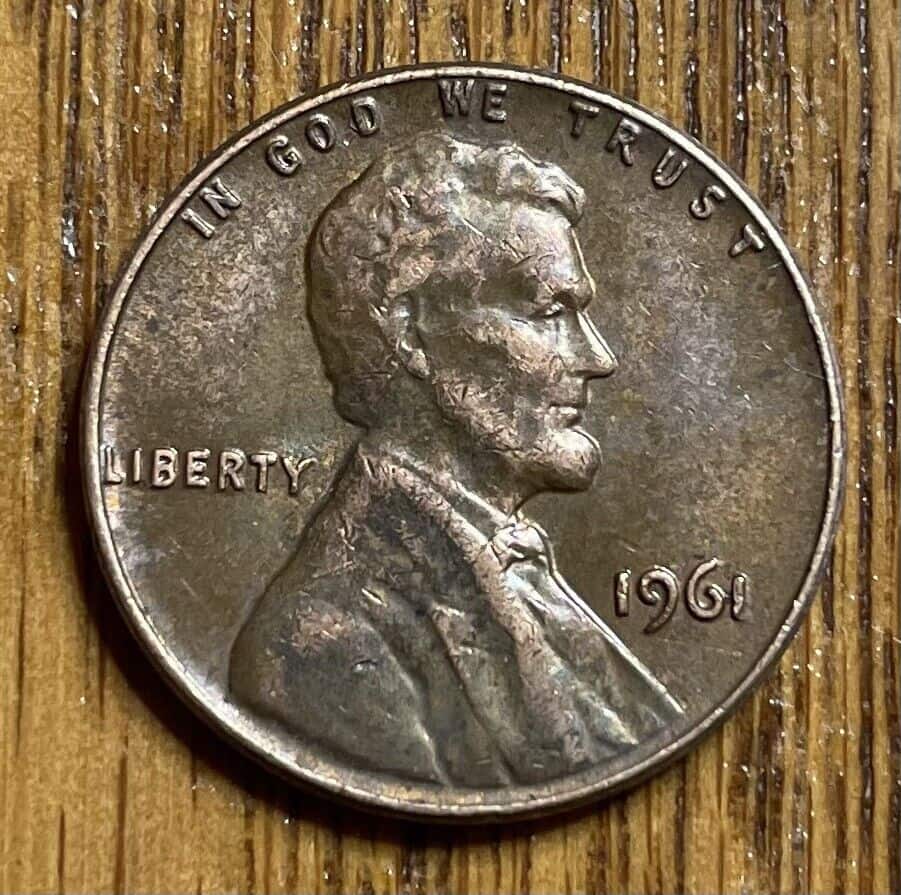 Type: Lincoln Penny
Edge: Smooth
Mint mark: None
Place of minting: Philadelphia
Year of minting: 1961
Face value: $0.01
Price: $2 – $450
Quantity produced: 753,345,000
Designer: Victor David Brenner/ Frank Gasparro
Because the Philadelphia Mint produced fewer 1961 Lincoln pennies than Denver Mint, the no mint mark pennies are worth more in the lower grades than those with the mint mark D. While circulated coins generally are not worth more than their face value, 1961 no mint mark Lincoln pennies in mint state are valued in the range of $2 to $18.
1961 no-mint mark pennies that are graded MS67 are considered rare and the price reflects their rarity. They can be worth around $450. Precious 1961 pennies with red toning can be worth considerably more. For example, in 2013 a 1961 no-mint mark MS67 RD Lincoln penny sold for $5,720 at Great Collections sale.
1961 D Lincoln Penny Value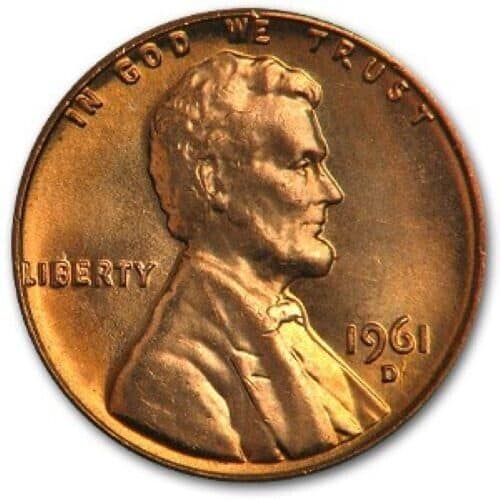 Type: Lincoln Penny
Edge: Smooth
Mint mark: D
Place of minting: Denver
Year of minting: 1961
Face value: $0.01
Price: $0.40 – $700
Quantity produced: 1,753,266,700
Designer: Victor David Brenner/ Frank Gasparro
The Denver Mint produced more 1961 Lincoln Pennies than Philadelphia Mint, almost a billion more. As a result, the coins are considered quite common, which shows in the lower price for 1961 pennies with the mint mark D. Again, circulated coins are rarely worth more than their face value, while uncirculated pennies are worth between $0.40 and $15.
Interestingly, highly-graded D mint mark specimens with a grading of MS67 are considered more valuable than Philalephia pennies with the same grading. A 1961 D Lincoln penny graded as MS67 can be worth $700. The auction record, however, is a lot higher for the 1961 D penny. In 2015, one was sold to a collector for $4,406.
1961 Proof Lincoln Penny Value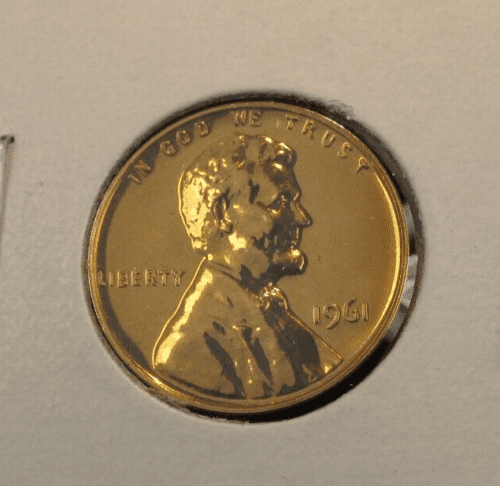 Type: Lincoln Penny
Edge: Smooth
Mint mark: None
Place of minting: Philadelphia
Year of minting: 1961
Face value: $0.01
Price: $0.50 – $3,500
Quantity produced: 3,028,244
Designer: Victor David Brenner/ Frank Gasparro
There are three categories of 1961 proof Lincoln pennies that are RD, RD CAM, and RD DCAM. The lettering refers to the coloring of the pennies. You can find out more about the coloring under the grading section below.
Just over three million proof 1961 pennies were struck at the Philadelphia Mint and their values range from $0.50 to $100 for RD, $175 for CAM, and $3,500 for DCAM. The auction record for the proof 1961 penny is $4,320 paid in 2018 for a PR69 DCAM-graded coin.
History
The first Lincoln pennies were minted in 1909 when a portrait of Lincoln created by Victor D: Brenner was used on the obverse of the penny. Prior to 1909, it had been considered unacceptable to use real people's images on coins, but the policy was changed to commemorate hundred years since the birth of Abraham Lincoln.
The reverse of the Lincoln pennies initially featured two ears of wheat, but this was changed to a design by Frank Gasparro in 1959 to commemorate 150 years since Lincoln's birth. From 1959, the reverse featured the Lincoln Memorial with a statue of Lincoln inside it. The portrait of Lincoln is still used on the US pennies and it is one of the most recognizable American coins.
1961 Lincoln Penny Grading
Coins, whether circulated or uncirculated are all graded on a scale of 1-70. At the lower end of the scale are circulated coins that are in poor to good condition. The scale then progresses to fine and extremely fine grades and the top grades are reserved for coins in near-perfect or mint-state condition. It is very rare to find 1961 pennies graded as MS70.
Earlier in the article, we mentioned the color of the Lincoln penny. Because the main material used for the Lincoln pennies is copper, it starts red and changes color over time to brown. Coins graded BN (brown) or RB (red and brown) are generally not valuable. You need to look for coins graded RD. The letters CAM and DCAM refer to cameo and deep cameo.
1961 Lincoln Penny Errors
1. 1961 Lincoln Penny Doubled Die Error
1961 Lincoln pennies with a doubled die error are popular collectibles. If you have a Lincoln penny from 1961, or any other year, you can expect it to be worth more than its face value. How do you know if your coin has a doubled die error?
A doubled die error is created when there is a misalignment or mismatch between a working die and a working hub. As a result, the coins struck with a doubled die will have doubling on some of their design elements. Generally, the more significant the doubled die error is, the more valuable the coin will be with some being words thousands of dollars.
In the case of the 1961 Lincoln penny, drastic errors caused by doubled die are not known to exist. However, you can find both no-mint mark and D-minted 1961 pennies with minor doubling on the date and the lettering. Most 1961 Lincoln pennies with doubled die errors are valued from $5 to $20.
2. 1961 Lincoln Penny Off-Center Error
A coin with an off-center error has the image printed off-center. As with the doubled die error, the more drastic the error is, the more valuable the coin usually is. Coins that are still easily recognizable and with over 50% of the design missing due to an off-center error are highly desirable.
1961 Lincoln pennies with a 50% off-center error are worth from $100 upwards depending on the error's severity and the overall condition of the coin. However, they are only desirable if the date and the mint mark (unless a no mint mark variety) are visible and undamaged. Coins with a 5%-10% off-center error are worth in the range of $5 to $15.
3. 1961 Lincoln Penny Re-Punched Mint Mark Error
Until the early 1960s, the mint mark was punched onto coins by hand, which meant there was a lot of scope for human errors. When looking for re-punched 1961 pennies look for coins that have the mint mark struck sideways initially and then re-punched into the correct position.
You might also find pieces with the D positioned upside-down and the re-punched the right way up. These coins are reasonably rare and therefore considered more valuable. Another example of a re-punched mint mark error is when the D is placed outside its regular site and then re-punched into the right position.
Most of the re-punched mint mark errors are not rare and the coins are valued from $3 to $5. 1961 Speciments where the D was first punched horizontally are worth approximately $10. Only coins that have drastic errors such as the upside-down mint mark, will make the coin truly valuable.
1961 Lincoln Penny FAQs
Is the 1961 penny worth anything?
While 1961 pennies that have been in circulation are rarely worth more than their face value, there are some specimens from the 1961 mintage that are worth significantly more. A no-mint mark 1961 Lincoln penny graded MS67 can be worth $450 and a 1961 D Lincoln penny with the same grade is worth $700.
1961 proof pennies, which were printed in smaller quantities, are worth more than regular pennies. A proof 1961 RD Lincoln penny can be worth up to $100, while a proof RD CAM is worth around $175. The most valuable 1961 pennies are the proof RD DCAM coins, which can be worth approximately $3,500.
What are the rarest penny years?
While some years fewer pennies were struck, most regular pennies are not worth significantly more than their face value, especially if they have been in circulation. Here are some examples of some extremely rare, and therefore valuable Lincoln pennies.
1943 D Lincoln bronze cent is the result of an accident. When the bronze alloy was changed to steel pennies plated with zinc, a few bronze pennies were struck by accident. While many of these coins show wear and tear from circulation, one example has remained in pristine condition and is worth $1,700,000.
1944 S Lincoln steel penny is another accidentally struck coin. In 1944, the Lincoln pennies reverted to the original material of 95% copper and 5% tin and zinc. However, two steel planchets plated with zinc ended up in the San Francisco coining press. An uncirculated specimen sold for $373,750 at a Heritage Auctions sale in 2008.
The third most expensive Lincoln penny is a specimen from 1958 with a doubled die error on the obverse. It was sold for $336,000 at a Stacks Bowers sale in 2018. Only three 1958 doubled die error Lincoln pennies are known to exist. It is speculated that they were smuggled out by an employee as all three known specimens are in mint state.
How much is a 1962 penny worth today?
There were 2,402,411,419 1962 pennies minted, so regular pennies from that year are not considered rare and therefore are not valued much above their face value. However, some specimens are worth significantly more than their face value. For example, an MS67 graded no mint mark 1962 penny can be worth around $240 and a 1962 D penny can be worth $1,000.