Knowing the history of one's country can be depicted through the use of coins. Its symbols and images hold a sentimental value and represent the milestones of the past. That's why in this article, we will feature the 1965 half-dollar values.
Let's dig into the glorious history of 1965 half dollars and know where it all started. We will find out the different varieties and rarity of this silver coin and its worth of it in our time
1965 Half Dollar Details
Category: Kennedy Half Dollars
Mints: Denver
Total Mintage: 65,879,366
Obverse Design: John F. Kennedy
Reverse Design: Kennedy Inaugural Medal
Designer: Gilroy Roberts (Obverse), and Frank Gasparro (Reverse)
Composition: 60% Copper and 40% Silver
Edge: Reeded (150 reeds)
Diameter: 30.6 mm (1.20 inches)
Mass: 11.5 grams
Thickness: 2.15 mm (0.0846 inches)
ASW: 0.1479 oz.
1965 Half Dollar Value Chart
Here is a value chart based on the 1965 half dollar's condition from Greysheet:
1965 Half Dollar Value Chart

Mint Mark
MS63
MS64
MS65
MS66
MS67
1965 Half Dollar Value (MS)

$7.14

$9.84

$27

$122

$2,250

1965 Half Dollar Value (SMS)

$6.47

$7.82

$10.52

$16.20

$47.25

1965

Half Dollar Value (SMS CAM)

–

–

$68

$122

$208

1965 Half Dollar Value

(SMS DCAM)

–

–

$455

$1,500

$4,060
1965 Half Dollar Values and Varieties Guides
In this section, we'll talk about the different 1965 half dollar values and varieties. Different from any other halves, you may notice that this coin has only been minted in Philadelphia and has never been minted in Denver and San Francisco.
1965 Kennedy Half Dollar Value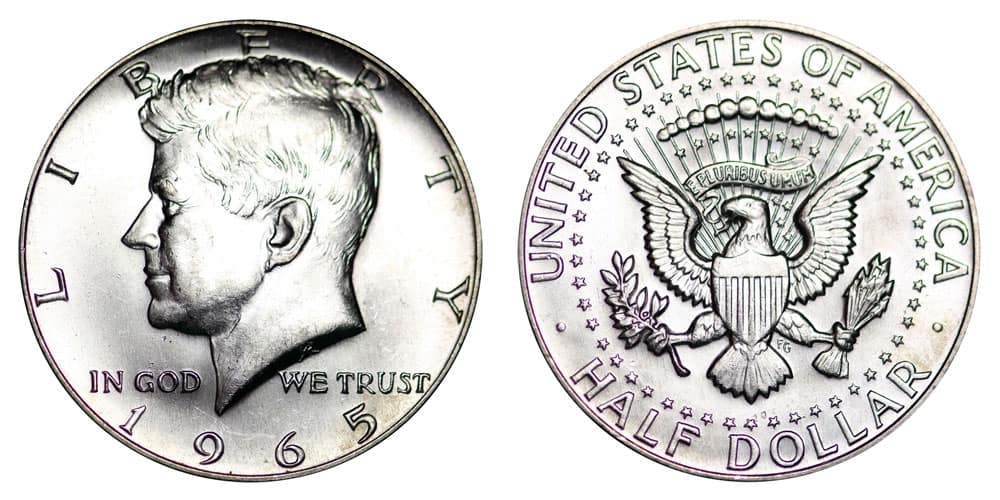 Type: Kennedy Half Dollar
Edge: Reeded
Mint mark: None
Place of minting: Philadelphia
Year of minting: 1965
Face value: $0.50
$ price: $7.14 to $2,250
Quantity produced: 65, 879, 366
Designer: Gilroy Roberts & Frank Gasparro
Designed by Gilroy Roberts and Frank Gasparro, the 1965 Half Dollars has been widely produced by the Philadelphia Mint. They minted over 65% of half dollars in 1965 and have been known as the "Kennedy Halves." This coin is made with 40% silver and 60% copper and has a face value of 50 cents.
Nowadays, the 1965 P Half Dollars has a much higher value than its worth back then. At the Average Circulated Condition, the coin's value is around $4. Still, it varies depending on the mint state condition of the coin, which can be worth up to $2000; it should be certified and graded by one of the top coin grading companies.
The MS-67 is conditioned as one of the very rare coins and can be sold for a high price. Last August 17, 2021, Stack's Bowers Auction House sold their 1965 Kennedy Half Dollar with MS-67+ (PCGS) for the final cost of $ 9000. This coin has dynamic and jewel-like toning, with a blended shade of antique gold, powder blue, and salmon pink. Based on Rick Tomasca, only a few Kennedy coins can be required for the MS-67 grade, and excellent color coins in this grade are extremely rare.
1965 Kennedy Half Dollar Value (Satin Finish and Special Strikes)
Type: Kennedy Half Dollar
Edge: Reeded
Mint mark: None
Place of minting: Philadelphia
Year of minting: 1965
Face value: $0.50
$ price: $6.47 to $4,060
Quantity produced: 2,360,000
Designer: Gilroy Roberts & Frank Gasparro
Due to the suspension of proof and mint sets, the US mint issued a Special Mint Set of pseudo-proof coins in 1965. These coins are similar to the satin proofs of 1936, which is far better than the regular mint coin. They produced more than 2 million of 1965 Kennedy Half Dollar Special Strikes. Due to the demand and having no alternative, collectors hoard almost 2.6 million of these 1965 sets.
The Special Mint Set is widely available and usually very fine. SP66 is the most usual certified grade, and SP68 is exceptionally scarce. Cameo and Deep Cameo examples also exist. Around one-fourth of the population are Cameos, while just one out of ninety 1965 Special Mint Series of Half Dollars will be a Deep Cameo, which makes them highly scarce.
1965 Half Dollar Value History
The 1965 Half Dollars was produced to honor the nation's fallen President John F. Kennedy. He was assassinated in Dallas, Texas, on November 22, 1963. The US Mint and US Treasury immediately created a new coin to memorialize the former President. At first, Congress considered the quarter dollar; however, Mrs. Jacqueline Kennedy believed the half dollar was much more suitable since she didn't want to replace another president. Congress quickly approved an order to redesign the half-dollar.
Designed by Chief Engraver Gilroy Roberts (obverse) and Frank Gasparro (reverse), the new design was created. The front includes the side face of President Kennedy, while the reverse part has the favorite inaugural medal of the fallen President. It has the picture of a heraldic eagle grasping an olive branch.
On December 13, 1963, the new Kennedy Half Dollar was minted by Philadelphia Mint. Roberts brought them to Director Adams, Secretary Douglas Dillon, Mrs. Jacqueline, and Robert Kennedy for approval. They all supported the design, and Mrs. Kennedy suggested making the hair less pronounced. Robert revised the plan to incorporate the suggestion, and it became the basis for minting the 90% silver and 10% copper 1965 Half Dollar coin.
After a few months after the assassination of President John F. Kennedy, the US Treasury released the 1965 Half Dollar coins on March 24, 1964; many Americans saw this as an opportunity to own "memorabilia," and led to the thinking that this was very valuable due to its historical significance. Because of the demand, Banks decided to limit the purchase to 40 coins for each customer. Yet, 70,000 Kennedy Half Dollars are still being purchased by customers at noon. Due to the continued collection of the Americans, the government decided to strike up the minting and produced 410 million 1965 Half Dollar coins.
This resulted in the depletion of the stockpile of silver by the government, which made them pass the Coinage Act of 1965 to authorize the production of silver "clad" coins with copper cores. In 1965, they reduced the silver content of the Kennedy Half Dollar to 40% and combined it with 60% copper.
The minting of the 1965 half-dollar continued until 2002. They decreased production to satisfy the collector's demand. Today, 1965 Half Dollars are exclusively offered to collectors through and marked up the value from its 50 cents worth.
If you have one, try to dig up your collection and check its variety and error. You may get lucky enough to find out you have a rare piece of this truly expensive coin in the market. If you don't have one, it's not too late to start. This is perfect for new collectors because it offers low premium coins on any budget. Hobby or not, this is an incredible piece to add to your collection!
Also Read: Top 15 Most Valuable Kennedy Half Dollar Worth Money
1965 Half Dollar Value Grading
The most popular grading scale used to determine the 1965 Half Dollar value is the 70-point numerical scale or Sheldon Coin Grading Scale. Professional Coin Grading Service (PCGS) used the Sheldon Scale to analyze the condition of the coins by their strike, preservation, luster, attractiveness, color, and the place where it was minted, grading them from 1-70.
This video below will help you know the 1965 Half Dollar coins and their worth. It will give you an idea of what to look for and how to grade your Kennedy Half Dollars.
This coin with no mint mark is commonly graded MS63 for the uncirculated condition, worth $6. On the other hand, coins graded MS65 can be purchased for about $75.
List of 1965 Half Dollar Value Error
The coin series can only be completed with a fair bit of its mint errors and die variations. These errors and varieties are premia over ordinary specimens; that's why collectors are after this one-of-a-kind mistake. They are treated as rare, stirring the collectors' excitement to seek and collect. To visualize the errors and die variations, watch this video.
1965 Half Dollar Double Die Strike Error
In 1965, mint errors occurred. This 1965 Half Dollar coin from Special Mint Set has struck on the cheek with a string-like appearance. Aside from that, it has a doubled die error on the obverse. The letters in "We Trust" are a particular example of doubling. Many collectors may find this interesting to collect since 1965 half dollar errors are rare since there are only a few of them out there. The estimated price for this coin is $25.
Unique 1965 Half Dollar Discovery
The discovery of this coin is so unique. Until now, it's still a mystery how this was struck in a composition of 25% silver and 75% copper since it is known to the public that between 1964 and 1965, the composition of 1965 coinage was changed. The coins from the 1964 Kennedy half-dollar are made up of 90% silver and 10% weighing 12.5 grams, while the 1965 half-dollar coin was struck with 40% silver and 60% copper, weighing 11.5 grams.
No other known coin minted elsewhere in the world matches it. It also doesn't match the weight or the composition of the inner core of the planchet strip that was used to strike in 1964, 1965 up to 1970.
It is still vague why this piece exists and why a different planchet composition was used to strike this only coin. This proves how the 1965 Half Dollar coins can really stir up your excitement and are a valuable inheritance from the past. This is a significant section of history since this coin signifies one great President's historic event.
1965 Half Dollar FAQs
Q: How much is a 1965 half dollar worth?
According to the USA Book Coin, the 1965 Half Dollar value is $7 for the average condition and can be raised from $7.97 to $87 for the uncirculated (MS+) mint condition.
Q: Is 1965 half dollar silver?
A: Due to the approval of The Coinage Act of 1965, the composition of the silver in the 1965 Half Dollar was reduced from 90% to 40%. The silvery appearance is retained because the outer layer's design is 80% silver and 20% copper, while the inner layer is minted at 21% silver and 79% copper.
Q: Are all 1965 half dollars 40 percent silver?
The U.S. mint issued the 40 percent silver content 1965 half-dollar coins between 1965 to 1969, so they could maintain the appearance and had some backing for the precious materials.
Q: How many 1965 Kennedy half dollars were made?
The Philadelphia Mint produced more than 65 million half dollars in 1965, which makes it accessible to the public. Even though it has 40% silver content, this 1965 Kennedy half-dollar doesn't have an intrinsic value over the 1964 version of it, but still preferable.
Q: Where is the mint mark on a 1965 Kennedy half dollar?
Kennedy Half Dollars from 1965 to 1970 contained 40% silver; however, there were no proof versions of these SMS, or Special Mint Set, coins from 1965 to 1967. No mint mark is visible because it was struck at the Philadelphia Mint.
Final Words
Every coin has its historical significance just like the 1965 half dollar, so some of us collect this memorabilia for a much deeper reason. Although we all have differences in why we collect it, we have this curiosity in our mind where we want to know the worth of the coins of every century.
For more coin updates, check out our full library of American coins and why they're as valuable as the 1965 half coin value.