By now, you should know that most coins are worth more than their face value or just their face value, depending on the conditions and grading.
The 1971 quarter is no different. It is also known as the Washington quarter and is quite popular amongst collectors.
We'll be discussing every key fact about the 1971 Washington quarter. From the history to the details, to how they're graded and how much they're worth; this article will serve as a comprehensive guide for you to know every vital detail.
1971 Quarter Details
Category: Washington Quarters (1932-1998)
Mint: Philadelphia, Denver, San Francisco
Mintage: 371,138,000
Face Value: 25 cents ($0.25)
Obverse Designer: John Flanagan
Reverse Designer: John Flanagan
Composition: Copper-Nickel Clad Copper
Weight: 5.67g
Diameter: 24.3mm
Edge: Reed
Also Read: Top 15 Most Valuable Quarters In Circulation
1971 Quarter Value Chart
| | | | | |
| --- | --- | --- | --- | --- |
| Mint mark | Good | Fine | Extremely Fine | Uncirculated |
| 1971 No mint mark Quarter Value | $0.25 | $0.30 | $0.30 | $1250 |
| 1971-D Quarter Value | $0.30 | $0.30 | $0.30 | $1,100 |
| 1971-S Proof Quarter Value | – | – | – | $7,574 |
1971 Quarter Value and Varieties Guides
1971 "No Mint Mark" Quarter Value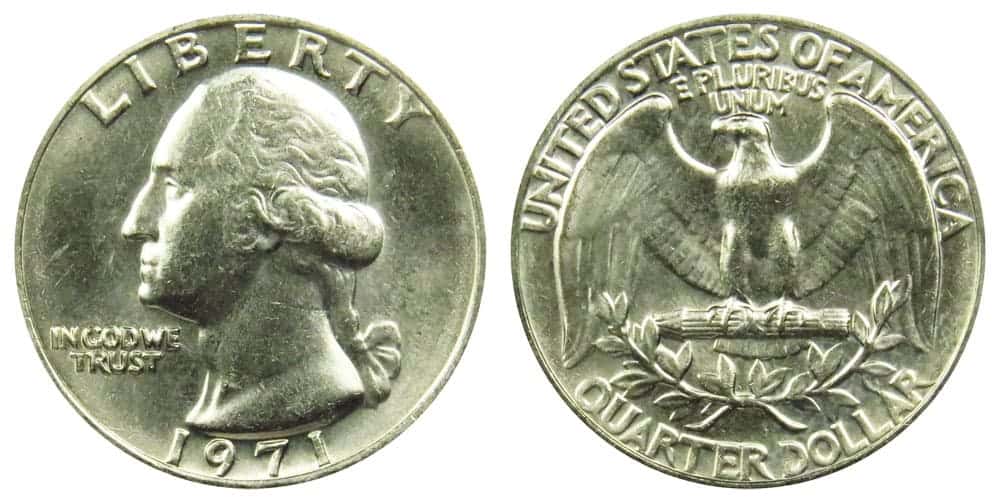 Year: 1971
Edge: Reed
Mint Mark: No Mint Mark
Place of Minting: Philadelphia Mint, Pennsylvania, United States
Face Value: $0.25
Price: $0.25 – $6.00
Quantity Produced: 109,284,000
Designer: John Flanagan
The 1971 "No Mint Mark" quarter was produced in the Philadelphia Mint in Pennsylvania, United States in 1971. The "No Mint Mark" means that it does not have a mint mark, which is a key feature for Philadelphia minted coins.
From all the 3 mints produced in the Washington quarter, the Philadelphia mint struck the 2nd-highest amount of coins, with Denver being the highest.
Also, many of the quarters produced in 1971 generally possess mediocre quality as a result of too much usage of the die. A high number of badly preserved quarters is an indication that you'll rarely come across a fine-looking coin.
In terms of value, 1971 No Mint Mark Quarter can be worth different amounts depending on its condition and rarity.
Circulated coins in average or worn condition are generally worth around 25-85 cents ($0.25-$0.85). However, uncirculated coins could be worth slightly more, regardless of their degraded state.
An MS-63 graded coin (in mint state condition) valued between $6-$8, and an MS-65 graded coin valued at over $10.
Based on the information from PGCS, there are only 8 variations of the highest graded 1971 quarters. In 2019, an MS-67 graded coin was bought for $3,840.
It is important to note that there is a risk of counterfeit coins, so it is important to buy from reputable dealers and authenticate your coins before purchasing.
1971-D Quarter Value
Year: 1971
Edge: Reed
Mint Mark: D
Place of Minting: Denver Mint, Colorado, United States
Face Value: $0.25
Price: $0.30 – $8.00
Quantity Produced: 258,634,000
Designer: John Flanagan
The 1971-D quarter is characterized by the "D" mint mark located on the coin's reverse, just to the right of the eagle's tail feathers. The mint mark, "D" is an indicator that it was minted by the Denver mint in 1971.
The Denver mint records the most number of Washington quarters struck in 1971, and it was about 258 million.
While they're quite high in number, their quality is more, hence not reducing the value of the coins. This also makes them more expensive than their Philadelphian counterparts.
The 1971-D quarter is available and you can get an average-looking quarter (from grades below MS-63) for a good price.
Quarters in circulated condition, graded from Good (G) to About Uncirculated (AU), can easily be bought for within $0.30-$0.85. If you want a higher grade (MS63, for example), you'll easily spend about $8 purchasing one.
Talking about the uncirculated examples like MS67 and MS68, these are incredibly rare and their prices are quite steep.
PCGS only records eight examples; six of which are MS67 and the other 2 as MS68. For example, an MS68-graded quarter will sell for as high as $1,100. The most recent sale of an MS68 was sold in 2019 for $4,560.
1971-S Proof Quarter Value
Year: 1971
Edge: Reed
Mint Mark: S
Place of Minting: San Francisco, California, United States
Face Value: $0.25
Price: $2.30 – $7,574
Quantity Produced: 3,200,000
Designer: John Flanagan
The San Francisco mint usually produces a special version of coins, known as proof coins. Proof coins are struck using specially polished dies, which results in a lustrous and more detailed design compared to regular coins.
Proof coins are also sold at a higher price than their face value.
In 1971, the proof sets that came from San Francisco were known for having cleaner prints than the coins minted in Denver and Philadelphia. In that mintage, over 3 million coins were struck, which is a lower amount than the other two mints but also higher than the typical number of proof coins that are usually struck.
According to PCGS, only 429 examples of 1971-S quarters are graded as PR67, 1228 examples are graded as PR68, 1772 examples are graded as PR69 and one Deep Cameo is graded as PR70.
The value of a 1971-S proof quarter varies depending on its condition and its rarity. A typical uncirculated 1971-S proof quarter graded MS60 can be sold for around $2.30, while one graded as PR65 could be sold for up to $10.
If the coin is in flawless condition, graded as PR70, it could be worth way more. One of the finest examples of a 1971-S proof quarter was grade PR70 and sold for $4,000 in 2023. Another example, a Cameo graded PR69 was sold for $242 in 2003, but the highest ever sold was a Deep Cameo graded PR69 and sold for $7,574 at an auction.
Also Read: Top 16 Most Valuable Modern Quarters Worth Money
History of the 1971 Quarter
The 1971 quarter is a 25-cent coin that is part of a series called the "Washington quarter coin series", which was first struck in 1932 to commemorate President George Washington's 200th birthday anniversary.
It was the replacement for the previous Standing Liberty quarter, whose permanent replacement was voted for by the Congress, despite protests by members of the Bicentennial Committee— a committee established to oversee the anniversary celebrations.
Along with the Commission of Fine Arts, the Committee held a competition to pick the artist whose design would be used for the coin. It was already agreed that Jean-Antoine Houdon's sculpture of George Washington in 1786 would be used for the obverse, but they still needed an artist to come up with a design for the reverse.
Finally, it was agreed that John Flanagan's design would be used, instead of Laura Gardin Fraser's design which was originally chosen.
Production began immediately after the decision was made and coins were in circulation by August 1932.
The obverse side of the coin features George Washington's portrait, with the inscriptions "LIBERTY" and "IN GOD WE TRUST" around the edge of the coin. The reverse side of the coin features an eagle with its wings spread, perched on a branch. The inscriptions "UNITED STATES OF AMERICA," "QUARTER DOLLAR," and "E PLURIBUS UNUM" are also featured on the coin.
Note that the composition of the Washington quarter started out as a 90% silver and 10% copper alloy. This was changed in 1964 by the United States mint, and by 1965, the coins in circulation were made with a 75% copper and 25% nickel composition.
The 1971 quarter was produced at three different mints: Philadelphia, Denver, and San Francisco, and a total of over 371 million Washington quarters were minted across all mints.
The Philadelphia and Denver mints produced circulation coins that were intended for everyday use, while the San Francisco mint produced proof coins that were intended for collectors.
The circulation coins were made from a combination of copper and nickel, with a weight of 5.67 grams and a diameter of 24.3 millimeters. The coins had a reeded edge and were produced in large quantities.
The San Francisco proof coins, on the other hand, were produced using a special minting process that resulted in a higher-quality finish. These coins were intended for collectors and were sold in special packaging.
Today, the 1971 quarter is still in circulation and is a common coin that can be found in everyday use. However, collectors also value this coin, especially the 1971-S proof quarter, which is considered a special version of the coin due to its higher-quality finish.
Also Read: 10+ Rarest State Quarter Errors Lists (Worth Much Money!!!)
1971 Quarter Grading
The value of a coin is tied to its rarity and the coin's overall condition. It is important to consider these key factors during coin valuations and numismatics are quite particular about it.
To understand the basics of grading, we have briefly explained the different coin grades for easy understanding.
Uncirculated: These are the best coins as they are always in mint condition, due to the fact that they spent very little time in circulation.
Extremely fine: With these types of coins, you'll notice very few scratches as they spent a limited time in circulation.
Fine: These are for coins that have been circulated for a long time, but haven't incurred a lot of physical damage.
Good: If a coin is graded as "good" it means there are visible signs of wear because they were in circulation for an extended period.
To understand better, you can refer to this video for more information.
1971 Quarter Errors
As unique and pristine as every coin is created to be, there are always errors that happen when striking a coin. Those errors, depending on how they impact the coin surface, can be either deemed rare or damaged. Oftentimes, coin errors are deemed unique by collectors, and depending on the coin's overall condition, it could be sold for high amounts of money.
Below, we have highlighted some errors that are common with the 1971 Washington quarter. If you think your coin might have an error, this will help you determine whether it is or not, and also determine how valuable it might be.
Otherwise, it's still useful knowledge, in case you ever run into a 1971 quarter with errors!
1. 1971 Quarter Doubled Die Error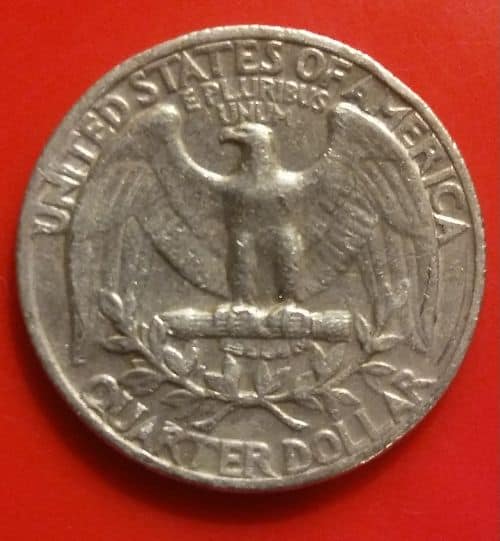 This is an error that occurs during the minting process when the coin's design is stamped onto the blank planchet, in a way that is misaligned. This causes it to either have a double design, contorted, or distended error.
Basically, a double die error causes a coin's design to appear doubled, either in a subtle or extreme way. The clearer the error, the higher its worth.
Depending on the clarity of the error and the overall condition of the coin, a double die error 1971 quarter could fetch up to $100 or more.
2. 1971 Quarter Broad Strike Error
A broad strike error occurs when the coin is minted without the collar that usually contains the coin, resulting in a coin with no reeded edge and a larger diameter than normal. The purpose of the collar is to hold the coin and define its diameter, so when it's not there, the coin is struck beyond its usual diameter thus losing shape.
Broad strikes are common among the Philadelphia mint 1971 quarters, due to the generally poor quality of their production.
If the coin is properly centered and struck outside of the collar, it is called a general strike, however, if it's uncentered, it is called the uncentered broad strike error. Coins that are classified with the broad strike error, usually have the reverse and observe designs very visible
Broad strikes usually go for up to $400 and could be more or less, depending on how properly kept the coin is.
3. 1971 Quarter Clipped Disc Error
A clipped planchet error coin is also a highly sought-after error coin. This error happens when a blanking die goes over the hole in the coin's rim. This error results in big and empty edges with a concave shape that looks like a bite mark.
A 1971 quarter that has the clipped planchet error can be sold for up to $100 or more, depending on how visible the date is and the coin's general look.
To get further information about the 1971 quarters and their errors, you can refer to this video.
FAQs
1. Are 1971 Quarter Errors Valuable?
They're hardly valuable due to how easily you can get them. However, some unique ones such as error coins or high-grade coins could be sold for thousands of dollars, due to its rarity.
2. How Many Errors Does The 1971 Quarter Have?
There are several types of errors that can occur in 1971 quarters, such as double die errors, clipped planchets, and broad strikes.
3. How Do I Know If My 1971 Quarter Has An Error?
To identify errors in your 1971 quarter, you can use a magnifying glass to examine the design closely. Look for any irregularities, such as off-center or doubled images, missing or faint mintmarks, or other anomalies.
Conclusion
The 1971 quarter is part of the Washington quarter series, created to commemorate George Washington's anniversary.
Due to their popularity, the 1971 quarter isn't considered rare, however, errors, proof coins, and uncirculated coins might be worth lots of coins— no pun intended!
Before selling your coin, it is important to check for errors and take it to a professional coin grading service to be graded, so it can be sold for the approximate value its worth.