Do you like collecting quarters? Are you interested in collecting 1978 quarters? Well, we have all the information you need to know about these coins. And we'll share it in today's post.
In it, we will do a deep dive into the 1978 quarter value, its features, history, varieties, and errors.
1978 Quarter Details
Category: Washington Quarters
Total Mintage: 811,952,933
Minting place: Philadelphia, San Francisco, and Denver
Weight: 5.67 g
Diameter: 24.3 mm
Edge: Reeded
Face value: 25 cents ($0.25)
Composition: 8.33% nickel and 91.67% copper
Engraver: John Flanagan
The 1978 Quarter's Obverse
This quarter's obverse has the left-facing profile of George Washington. It also has two legends along its rim; one at the top and another at the bottom. The former has the word "LIBERTY" and the latter has the year "1978".
Another inscription is located just below Washington's chin. It says, "IN GOD WE TRUST".
The 1978 Quarter's Reverse
This quarter's reverse has two legends along its rim; one at the top and another at the bottom. The former says "UNITED STATES OF AMERICA" and the latter says "QUARTER DOLLAR".
Just above the bottom legend, there's a wreath of olive branches. On top of this, there's a centrally placed bundle of arrows upon which an eagle stands. This eagle has outstretched wings and an inscription that says "E PLURIBUS UNUM" above its head.
Other features of the 1978 Quarter
Design aside, the 1978 quarter has some other interesting features. For one, it has a round shape with a 24.3 mm diameter and 1.9 mm thickness.
Secondly, there are 119 reeds along its edge; this makes it easy to tell it apart from other coins of this size. Moreover, it is made of 91.67% copper and 8.33% nickel, giving it a mass of 5.67 grams.
Beyond that, this coin can have an "S" or "D" mint mark. Either way, this mark is located on the obverse side, behind Washington's lower neck.
Also Read: Top 15 Most Valuable Quarters In Circulation
Value Chart
1978 Quarter Value Chart
Grade
1978 No Mint Mark Quarter
1978 "D" Quarter
1978 "S" Quarter
XF45
$0.25
$0.25
N/A
MS65
$20
$7
N/A
MS67+
$2,600
$1,700
N/A
PR63
N/A
N/A
$5
PR67
N/A
N/A
$6
PR70
N/A
N/A
$46
1978 Quarter Value and Varieties Guide
1978 No Mint Mark Quarter Value
Type: Washington Quarters
Mint Mark: None
Minting place: Philadelphia
Year: 1978
Edge: Reeded
Mintage: 521,452,000
Designer: John Flanagan
Face value: 25 cents ($0.25)
Current value: $0.25 to $2,600
%Composition: 8.33% nickel and 91.67% copper
Mass: 5.67 g
Diameter: 24.3 mm
The Philadelphia mint produced 521,452,000 quarters in 1978. These were all regular coins and had no mint mark. Because of their high mintage, these coins are still readily available today, and at cheap prices.
For samples that are a lower grade than mint-state, you will probably only pay 25 cents per piece. Even an MS65 will only cost you around $20. Generally, these coins are only pricey if they are MS67 or MS67+.
The former can go for around $200 while the latter can get to around $2,600.
1978 "D" Quarter Value
Type: Washington Quarters
Mint Mark: "D"
Minting place: Denver
Year: 1978
Edge: Reeded
Mintage: 287,373,152
Designer: John Flanagan
Face value: 25 cents ($0.25)
Current value: $0.25 to $1,700
%Composition: 8.33% nickel and 91.67% copper
Mass: 5.67 g
Diameter: 24.3 mm
The Denver mint produced 287,373,152 quarters in 1958. All of these were regular coins and had a "D" mint mark. These coins are available and affordable to date. A low-grade piece will usually go for its face value; only 25 cents.
However, mint-state ones go for $1 to $1,700. Even then, you will have to get an MS67 or higher to have a shot at a price that's above $100. Most times, only MS67+ pieces can go for over $1,000.
1978 "S" Quarter Value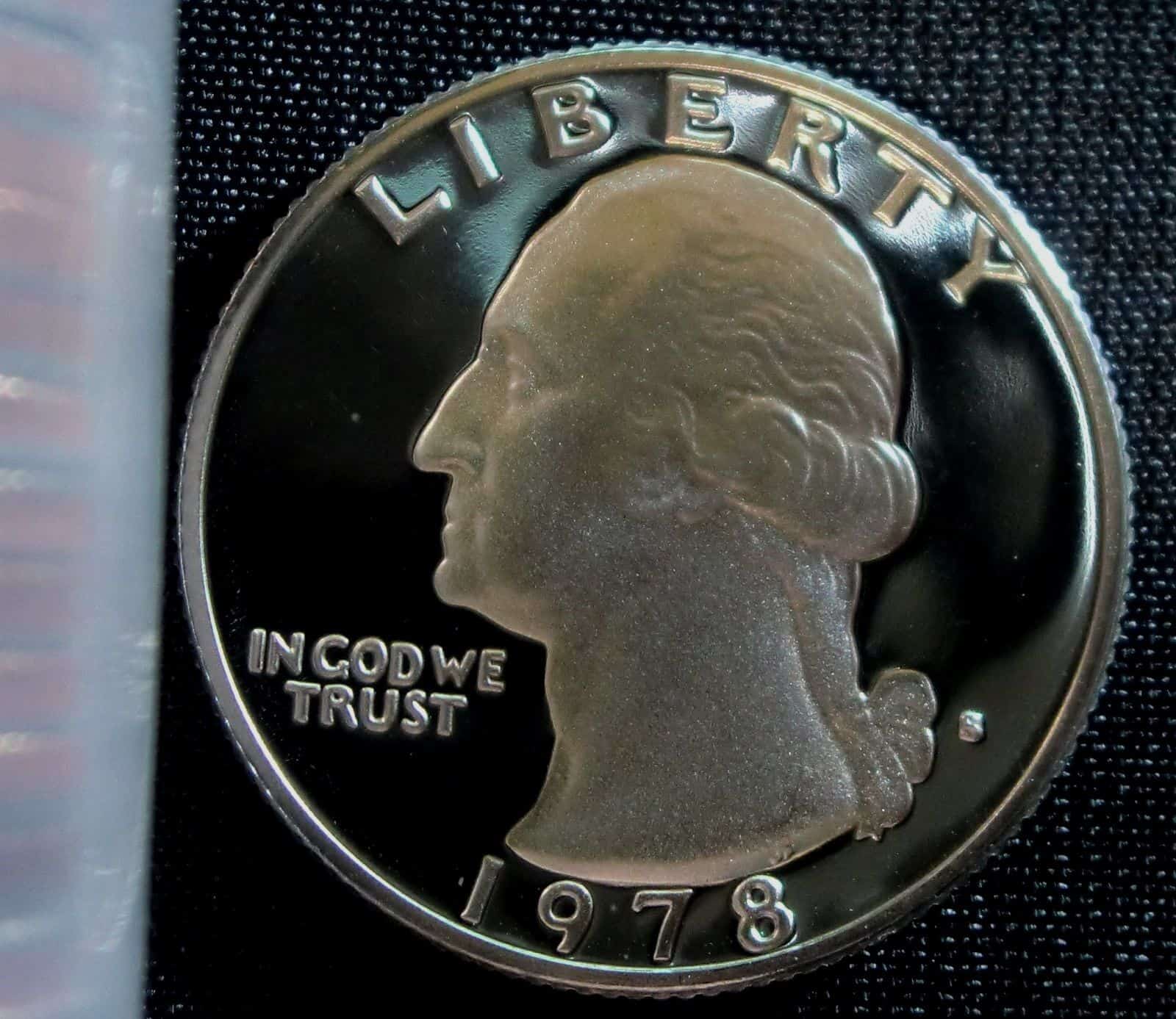 Type: Washington Quarters
Mint Mark: "S"
Minting place: San Francisco
Year: 1978
Edge: Reeded
Mintage: 3,127,781
Designer: John Flanagan
Face value: 25 cents ($0.25)
Current value: $2 to $46
%Composition: 8.33% nickel and 91.67% copper
Mass: 5.67 g
Diameter: 24.3 mm
In 1978, the San Francisco mint produced 3,127,781 quarters; these were all proofs. While these coins are still available today in good condition, they are not as expensive as you would expect proofs to be.
A PR60 usually costs only $2 while a PR67 costs around $6. The highest grade, the PR70 can go for a mere $46. To date, the most expensive 1978 S quarter was a PCGS PR70 Deep Cameo that sold for $472 at a 2003 auction.
Also Read: Top 16 Most Valuable Modern Quarters Worth Money
1978 Quarter History
The 1978 quarter is part of a series of coins called Washington dollars. All these coins have an image of George Washington on their obverse. The first Washington dollar was minted in 1932 and it was supposed to be the only coin of its kind.
After all, it was launched to celebrate the passing of 200 years since Washington's birth. And this wasn't even supposed to happen in the first place. The committee in charge of the celebrations had originally wanted to use the half dollar to commemorate Washington.
But Congress decided to use the quarter instead, leading to the replacement of the Standard Liberty quarter. To create the new design, Congress chose a sculptor called Laura Gardin Fraser.
She had previously designed a medal that Congress wanted her to adapt to create new coin designs. However, things quickly changed when the then Treasury secretary Andrew Mellon chose a design by John Flanagan.
The first coins minted using this design came out on 1st August 1932. These were struck on planchets with 90% silver and 10% copper. Each of them weighed 6.25 grams. This composition was maintained until 1964 when silver prices reached an all-time high.
This led to the mint reducing the amount of silver contained in its coins. As such, from 1965 Washington quarters have been minted using a mixture of copper and nickel. These coins have a copper core that's clad with a layer of 75% copper and 25% nickel.
This brings their cumulative copper content to 91.67% and reduces their weight to 5.67 grams. This doesn't mean the mint never uses silver for quarters though; it's been producing silver versions for collectors since 1976.
Design changes
The reverse design of the Washington quarter has changed severally over the years. This first happened in 1975. The quarters minted this year and the year after had a reverse design with a colonial drummer.
This design was created by an engraver called Jack L. Ahr. However, it was replaced by the original reverse design in 1977. This was minted for several years. But from 1999 to 2009, the mint produced reverse designs depicting US states.
Then from 2010 to 2020, the mint produced reverse designs that depicted US sites. The coins with these designs were called America the Beautiful Quarters. These were replaced by the original reverse quarter design in 2021.
Also Read: 10+ Rarest State Quarter Errors Lists (Worth Much Money!!!)
1978 Quarter Grading
Grading 1978 Washington quarters requires expertise that most collectors don't have. That's why it's always best to send any coin you want to be graded to professional agencies like PCGS and NGC.
However, since these coins are usually cheap, grading them is not the best way to go unless you suspect you have something special. Remember, you can still sell ungraded coins.
Lists of 1978 Quarter Errors
1. 1978 Quarter Double Struck and Rotated Along Collar
A double strike error occurs when a planchet is struck twice instead of once. If the coin rotates a little along its collar the second time it's struck, it creates a more valuable error.
This error causes a doubling of design elements; however, it can be difficult to see the second image because the two are overlapping. When this error happens to an NGC AU58 1978 quarter, its value can get to more than $170.
2. 1978 Quarter Double Struck with Off-Center Second Strike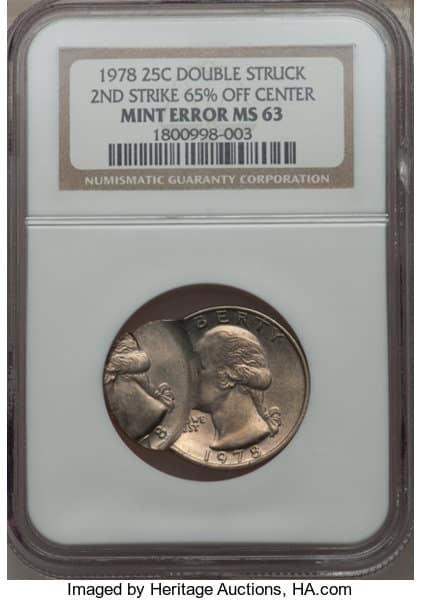 The difference between this error and the one before it is that the coin wasn't rotated on the second strike; instead, it was an off-center strike. So you will notice the duplicate design elements more easily because they don't overlap with the originals much.
The more off-center the second strike is, the more noticeable the error and the more valuable the coin. For instance, an NGC MS63 1978 quarter that's double-struck with a 65% off-center second strike sells for around $290.
3. 1978 Quarter Struck on an Improperly Annealed Planchet
During the minting process, a planchet is heated in a process called annealing. If this process isn't done properly, the copper molecules in the planchet can migrate to its top, forming a red layer there. Alternatively, they can present as red spots.
This makes the coin look different from its counterparts, making it more valuable. An NGC MS66 1978 D quarter with this price can sell for around $90.
4. 1978 Quarter Broad Struck
When a planchet is struck while it isn't in the collar, it can create a coin that spreads wider than a usual one. This is what is referred to as a broad strike error. An MS64 1978 quarter with this error can go for around $30.
5. 1978 Quarter Struck Off-center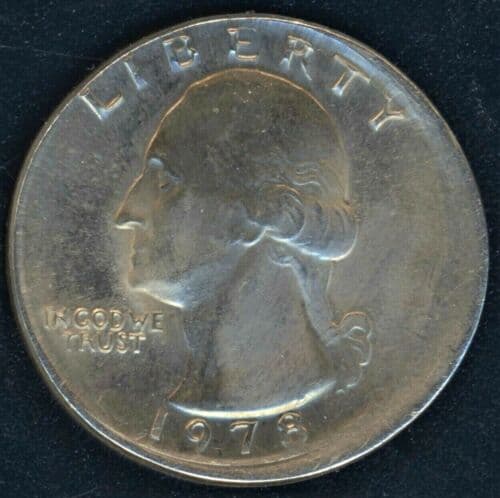 This is an error that occurs when striking is done off-center. It commonly happens when the planchet isn't placed properly in the die and results in a design imprint that isn't complete. Generally, the more incomplete and off-center the design is, the more valuable the coin.
However, other factors like the grade of the coin also affect its final price. An NGC MS66 1978 quarter that's struck 15% off-center will go for around $45.
6. 1978 Quarter Struck on the Wrong Planchet
When a coin's design is struck on the wrong planchet, it creates a unique coin with the wrong size and weight. It also creates a coin with a design that doesn't fit on it as it should. Such coins are rare and valuable.
It's therefore not surprising that an NGC MS62 1978 quarter that's struck on a 10-cent planchet sold for over $375. This coin only weighs 2.4 grams and has some design elements cut off.
This is not the only 1978 quarter that was found with such an error though. An NGC MS64 sample that was struck on a 5-cent sold for around $180. This coin weighs 5 grams.
There's also an MS64 sample that was struck on a one-cent planchet. This 3-gram coin sold for over $600.
1978 Quarter FAQ
What is a mint mark on a 1978 quarter?
This is a mark identifying which mint facility produced the quarter. This mark is usually the first letter of the facility/location name. For instance, if a coin was minted at the Denver facility, it will have a "D" mark.
Ultimately, these marks make it easy to know who is responsible when coins have quality issues.
What is a rare year for a quarter?
The rarest year for a quarter is 1932. Apart from being the first year that Washington quarters were produced, it had the lowest mintage of quarters. Its Philadelphia mintage was just over 5 million.
Its Denver and San Francisco quarters were even fewer; less than ½ million each. The San Francisco mint produced the least coins, making the 1932 S quarter the rarest quarter. An MS66 sample can even cost $45,500.
Are 1978 quarters silver?
No, 1978 quarters don't have any silver. Silver stopped being put in quarters in 1964. This year, the mint even reduced the amount of silver it put in other coins.