The 1989 Half Dollar, also often known as the Kennedy Half, is a special kind of 50-cent coin with a few different varieties. Close to 40 million copies of these coins were produced which means that their price today can be as low as their original 50 cents or a bit lower – usually up to a dollar and, sometimes, up to $5 or more.
The 1989 half dollar is based on the 1964 original that was initially made to honor the legacy of John F. Kennedy. At first, these coins were made with silver, but the US mint eventually decided to make them and other cons with base metals instead. So, let's explore the 1989 half dollar value and other details below.
1989 Half Dollar Details
Category: Kennedy Half Dollars (1964-Date)
Mint: Denver (D), Philadelphia (P), San Francisco (S)
Mintage: 39,762,290
Obverse Designer: Gilroy Roberts
Reverse Designer: Frank Gasparo
Composition: Copper-Nickel Clad Copper
Diameter: 30.6 mm
Edge: Reeded
Thickness: 2.15 mm
Weight: 11.34 g
When talking about Kennedy half dollars, it's important to keep the year in mind as there are dozens of different half dollar mints produced between the original in 1964 and today. So, here we'll be talking exclusively about the 1989 Kennedy half dollar that's produced in three mints (S, D, and P) and is made of 91.67% copper and 8.33% nickel.
Produced in almost 40 million copies overall, these coins aren't exactly rare nowadays nor are they very old – they are only 34 years old at the time of writing. So, while we can't expect a very high value from a 1989 half dollar, these coins do still hold a fair bit of collector's value and are expected to keep rising in price, especially as far as one of the three mints is concerned.
1989 Half Dollar Value Chart

Mint mark
Circulated
Uncirculated MS-63
Uncirculated MS-65
Uncirculated PR-69
Uncirculated PR-70
1989 D Kennedy Half Dollar
$0.50 – $1.00
$3.30
n/a
n/a
n/a
1989 P Kennedy Half Dollar
$0.50 – $1.00
$4.52
n/a
n/a
n/a
1989 S Kennedy Half Dollar
$0.50 – $1.00
n/a
$6.65
$11-$17
$29-$69
We used the Sheldon Scale grading system for the value chart above where MS refers to Mint State and PR means Proof. The values on the Sheldon Scale range between 1 and 70 with anything over 66 generally that the coin is in a flawless condition. We refered to that system rather than the traditional Good, Fair, Excellent, etc. grades because those can be too relative and unclear.
Regardless, the vast majority of 1989 half dollars you'll find today were in circulation, meaning that they aren't graded and their value doesn't exceed $0.50 to $1.
1989 Half Dollar Value and Varieties Guides
1989 P Kennedy Half Dollar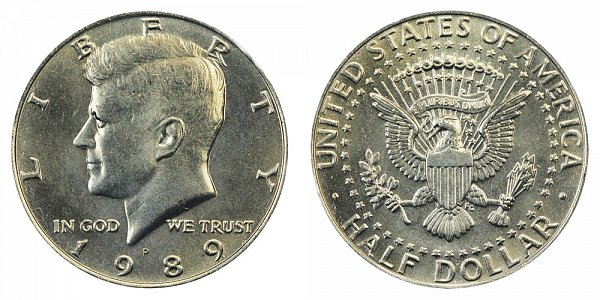 Place of minting: Philadelphia
Mint mark: P or No mint mark
Year of minting: 1989
Face value: $0.50
Current $ price: $0.50 to $5 or more
Quantity produced: 24,542,000
Designer: Gilroy Roberts/Frank Gasparro
Edge: Reeded
The Philadelphia mint of the 1989 Kennedy half dollar is the one produced in the largest amount of all three mints – 24,542,000 coins, to be exact. This means that most 1989 P Kennedy half dollars will sell somewhere between $0.50 and $1 with some selling up to $5 or $6 if they have certain errors or specifics on them.
A 1989 P half dollar can sell for even more than that if the quality grade is high enough and there is something truly unique about it. In fact, there are some pretty unique auction prices we can cite, courtesy of the Professional Coin Grading Service (PCGS) such as this MS-68 1989 P Kennedy half dollar that sold for $3,349.97 on an eBay auction or this MS-64 1989 P Kennedy half dollar that was double struck during production and sold for $1,610.00.
Freak examples such as these are incredibly rare, however, and tend to happen mostly due to the nature of auction bidding rather than anything else.
1989 D Kennedy Half Dollar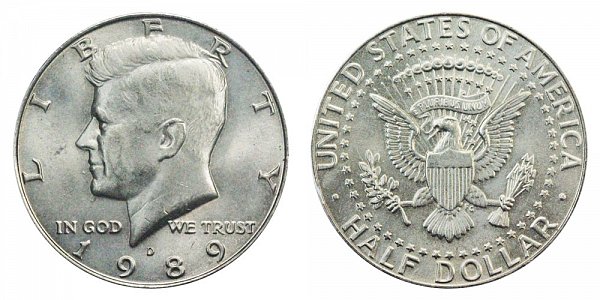 Place of minting: Denver
Mint mark: D or No mint mark
Year of minting: 1989
Face value: $0.50
Current $ price: $0.50 to $5 or more
Quantity produced: 12,000,096
Designer: Gilroy Roberts/Frank Gasparro
Edge: Reeded
The Denver 1989 Kennedy half dollar has been produced in more than two times fewer coins than the Philadelphia mint – about 12 million to the 24.5 million of the Philly mint. Yet, when browsing online, you'll find that the Denver mint is much more frequently talked about, almost as if it's the "default" 1989 half dollar mint.
None of this results in a difference in price, however, and most 1989 D Kennedy half dollars also sell between $0.50 and $5 with only the rarest coins with the most bizarre errors potentially selling for more than that.
1989 S Kennedy Half Dollar
Place of minting: San Francisco
Mint mark: S or No mint mark
Year of minting: 1989
Face value: $0.50
Current $ price: $0.50 to $5 or more
Quantity produced: 3,220,194
Designer: Gilroy Roberts/Frank Gasparro
Edge: Reeded
The San Francisco mint of the 1989 Kennedy half dollar is significantly rarer than the other two and that does affect the price. With just over 3 million copies of this coin, 1989 S half dollars amount to about 8% of the total ~40 million 1989 half dollar coins produced.
This means that while ordinary circulated 1989 S half dollars will still sell between $0.50 and $5 like Ds and Ps, high-quality uncirculated S half dollars can have significantly higher prices. There are instances of 1989 S half dollars selling for over $10 and even over $50, and there is even an instance of a 1989 S Kennedy half dollar coin with a PR70 grade selling for $552.00.
Even with all that, however, a 1989 S half dollar is unlikely to be all that valuable simply due to the high number of coins (even just 3 million S coins is a lot) and the fact that these coins are still quite young, relatively speaking.
1989 Half Dollar History
The Kennedy half dollar is one of the most circulated coins in the United States to date. While 1989 half dollars weren't minted in nearly as large quantities as some of the previous mints (over 300 million coins for the 1971 D Kennedy half dollar mint, for example), there are still quite a lot of them around to keep their overall collectors' value low, as we discussed above.
Nevertheless, this doesn't take away from this coin's special legacy and its key place in US history. As both the name of the Kennedy half dollar and the year of the first Kennedy half dollar's production hint at, this coin was initially produced in 1964 to commemorate the premature death of John F. Kennedy on November 22, 1963.
The production of this first Kennedy half dollar was ordered by Mint Director Eva Adams and she charged Chief Engineer Gilroy Roberts with sculpting Kennedy's portrait for the coin's obverse side. The design of the reverse side was given to Frank Gasparo and the Kennedy half dollar was put into production.
Curiously enough, that 1964 half dollar replaced the previous Franklin half dollar which was in-production for just 16 years – 9 years short of the mandatory 25-year period before replacement.
Does this mean that the 1989 Kennedy half dollar was the last Kennedy half dollar to be produced, however, as it's on the 25th year anniversary of the production of the first 1964 Kennedy half dollar? Not really – Kennedy half dollars kept being produced both for "Business strike mintage", for "Proof mintage", and for open circulation.
Also Read: Top 15 Most Valuable Kennedy Half Dollar Worth Money
1989 Half Dollar Grading
As we've discussed before, the condition of the coin is one of the two driving factors for its value, together with any errors or unique features that help it stand out. If the condition of the coin isn't high enough, however, i.e. over 66 on the Sheldon Scale or any other similar grading standard used by the PCGS or other agencies, then you just can't expect good monetary value.
For a visual representation of this, here is a good video on grading Liberty half dollars which translates well for Kennedy half dollars and all other similar coins.
Lists of 1989 Half Dollar Error
Errors in 1989 half dollars aren't as common as in earlier editions of the Kennedy half dollar but there are still quite a few you can be on the lookout for.
1989 half dollar misaligned error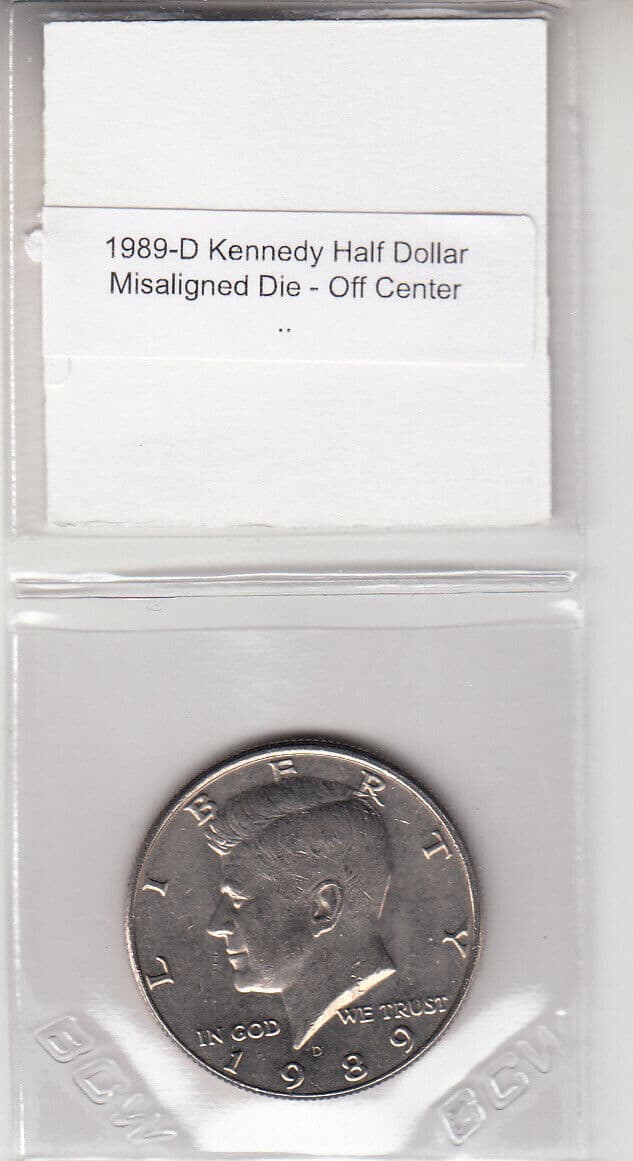 The Philadelphia mint of the 1989 Kennedy half dollar is somewhat notorious for its misaligned printing errors. You can check out this video for a good example of this error. In essence, this error occurs when the printing planchet hasn't been placed properly and the design ends up appearing at a slight angle.
This is different from an "off-center error" where the print has gone a bit sideways rather than at an angle. Regardless, these misaligned errors are fairly common in the 1989 P mint so they don't fetch that high of a price – usually up to $5 to $7.
1989 half dollar missing star error
As you might have guessed from the name, this error consists of a missing star on the reverse side of the coin. On that side, Frank Gasparro had designed a bald eagle surrounded by 50 stars, representing the 50 states of the USA. What sometimes happens during printing, however, is the die skipping a punch on one of the stars as seen here.
This type of error usually happens when debris, grease, or other foreign materials get stuck on the die and preventing from striking properly. Unlike the misaligned error, this type of error is significantly rarer which means that these coins can fetch much higher prices – potentially in the hundreds or even thousands of dollars.
1989 half dollar struck to grease error
This error is similar to the missing star error above as it also happens when the die gets struck due to grease buildup. In this case, however, we are talking about the die miss-hitting the entire side of the coin and not just skipping a star. This type of error results in a dull and blank-looking surface of the coin, usually with just barely noticeable and subtle traces of the intended design.
Because this error is much more unappealing than the missing star error, as well as not as rare, coins with the struck to grease errors rarely fetch 3- or 4-digit prices. They can sell for a few dozen dollars, however, as is common for 1989 P half dollars that have been struck to grease.
1989 Half Dollar FAQ
How do you know if you have a rare 1989 half dollar?
The two key factors to look for are the quality of the coin's shine and any noticeable errors in the design. Half dollars that have been miss-struck by the printing die will have visible errors in them that can often greatly increase the coin's price. Some of those errors can be very difficult to notice with the naked eye, however. The second factor that goes into a coin's rarity and value is whether it was made for wide circulation and is in good condition.
What 1989 half dollars are worth keeping?
Uncirculated 1989 half dollars that are still in great condition are worth keeping even if they don't have any noticeable errors or unique features. That's because most half dollars were used in wide circulation and their price doesn't go beyond the $0.50 to $1 range. Uncirculated half dollars can fetch prices in the dozens, hundreds, or sometimes even thousands of dollars if they are in top condition and sport some unique features.
What is the most common 1989 half dollar?
The 1989 P (Philadelphia mint) Kennedy half dollar is the most common 1989 half dollar. It amounts to cover half of the half dollars printed in 1989 and most of those coins were released in wide circulation. Even among them, there are some rare examples that can be so unique that they can fetch a high price, however.