Diving into a hobby like coin collecting is definitely an interesting journey. And if you're bound to complete your collection, it's important to know how each coin is appraised. So, how much is the current 1991 penny value?
In this article, you will know the key information about this coin, including its design, value, and varieties. Likewise, we will discuss some of the core details about the coin's history, along with some errors in production for you to better understand it.
1991 Penny Details
Category: Lincoln Memorial Cent
Mintage: Philadelphia, San Francisco, and Denver
Total mintage: 9,327,249,863
Obverse designer: Victor David Brenner
Reverse designer: Frank Gasparro
Edge: Plain
Diameter: 19.05 mm
Thickness: 0.05985 inches
Composition: Zinc and copper
Weight: 2.5 grams
The 1991 Penny is part of the Lincoln cent, specifically the Lincoln Memorial series. This one-cent is made of 97.5% zinc and 2.5% copper, weighing up to 2.5 grams. The coin features a diameter of 19.05 mm and a thickness of 0.05985 inches.
Unlike other coins, the 1991 Penny encompasses two designers. Originally, both obverse and reverse sides were designed by Victor David Brenner until the revision in 1959. The modification on the reverse part of the coin was introduced as a tribute to the 150th birthday of Abraham Lincoln.
So, from 1959 onwards, the new design was used. The reverse side includes the front view of the historical Lincoln Memorial, along with some inscriptions like "UNITED STATES OF AMERICA" on the top section and "ONE CENT" at the bottom. You'll also find the words "E PLURIBUS UNUM" right above the building.
On the other hand, the obverse side highlights the face of Abraham Lincoln. He was the 16th president of the US and served the country from 1861 up to 1865. His impact on the US people was remarkable. He was known to have a great sense of integrity with a solid set of principles.
Because of his influence, he was the first person to be imprinted on American coinage. Aside from the image of Lincoln, the famous words "IN GOD WE TRUST" and "LIBERTY" was added to the surface. The minting year, which in this case is 1991, was also engraved on the front part of the coin.
And depending on the minting location, there could be either D or S below the minting year. Pieces struck in Philadelphia, however, do not have marks for the place of minting. During this year, the total mintage from three locations―Philadelphia, San Francisco, and Denver―was 9,327,249,863.
1991 Penny Value Chart

Mint Mark
MS 60
MS65
MS67
MS68
Proof
1991 Quarter No Mint
$0.10
$0.40
$11
$175
―
1991 D Quarter
$0.10
$0.40
$7
$50
―
1991 S Quarter
―
―
―
―
$0.50 to $4
1991 Penny Value and Varieties
In general, a 1991 penny is not that valuable. The reason why is that most of these coins were circulated, except for those minted in San Francisco. As a result, their worth is often the same as their face value, which is $0.01.
However, there are some uncirculated pieces in the top-notch condition that would sell for a higher amount. Additionally, proof coins with rare features can cost more than expected. In fact, a penny in pristine condition, perhaps an MS68 grade, would reach up to $175.
But of course, finding these rare pieces can be very challenging. Still, these are the kind of coins that fascinate collectors to complete their Lincoln Memorial collection. Plus, many opt to amass these coins because of their historical relevance.
And if you're one of them, continue reading below and learn more about the valuation of coins produced in three minting locations.
1991 Penny No Mint Mark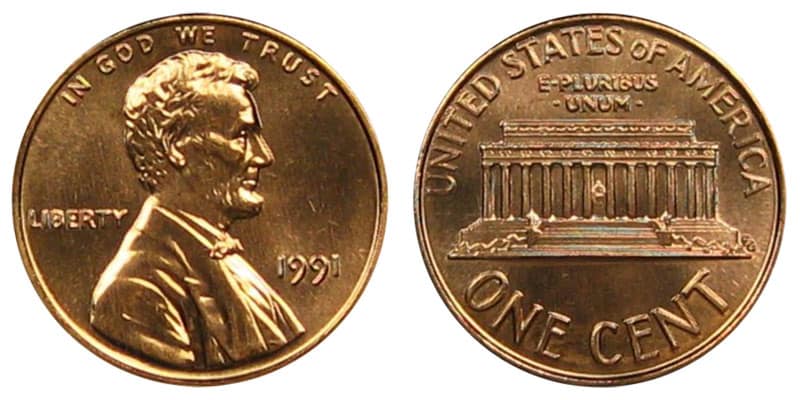 Type: Lincoln Memorial Cent
Edge: Plain
Mint mark: None
Place of minting: Philadelphia
Year of minting: 1991
Face value: $0.01
$ price: $0.10 to $175
Quantity produced: 5,165,940,000
Designer: Victor David Brenner and Frank Gasparro
In 1991, the Philadelphia Mint struck more than 5 billion pieces. Most of these were distributed for public use, hence its value is not that high―more or less the same as their face value. However, for graded ones, these could be a bit higher, ranging between $0.10 to $0.40. An MS67 can even sell for up to $11.
And for a coin with a sharp, solid design featuring its original luster, the price is even higher. The value is around $175, which is the highest recorded price for an MS68 coin. So, if you have this particular coin, then you're very lucky because it's a rare piece!
1991 D Penny
Type: Lincoln Memorial Cent
Edge: Plain
Mint mark: D
Place of minting: Denver
Year of minting: 1991
Face value: $0.01
$ price: $0.10 to $50
Quantity produced: 4,158,442,076
Designer: Victor David Brenner and Frank Gasparro
With over 4 billion coins struck, the 1991 D Penny was widely circulated across the country. It's easy to determine pennies that were manufactured in Denver. You simply just look for the D mark on the obverse side.
Most of these were in circulation, even up to now. This means you can easily add them to your collection. However, there were some that are more than their current face value. Some coins stretch between $0.10 to $0.40 for an MS60 to MS65 grade.
Meanwhile, for higher grades like MS67 or MS68, you'd probably get around $7 to $50. Finding coins like these, however, may not be that easy.
1991 S Penny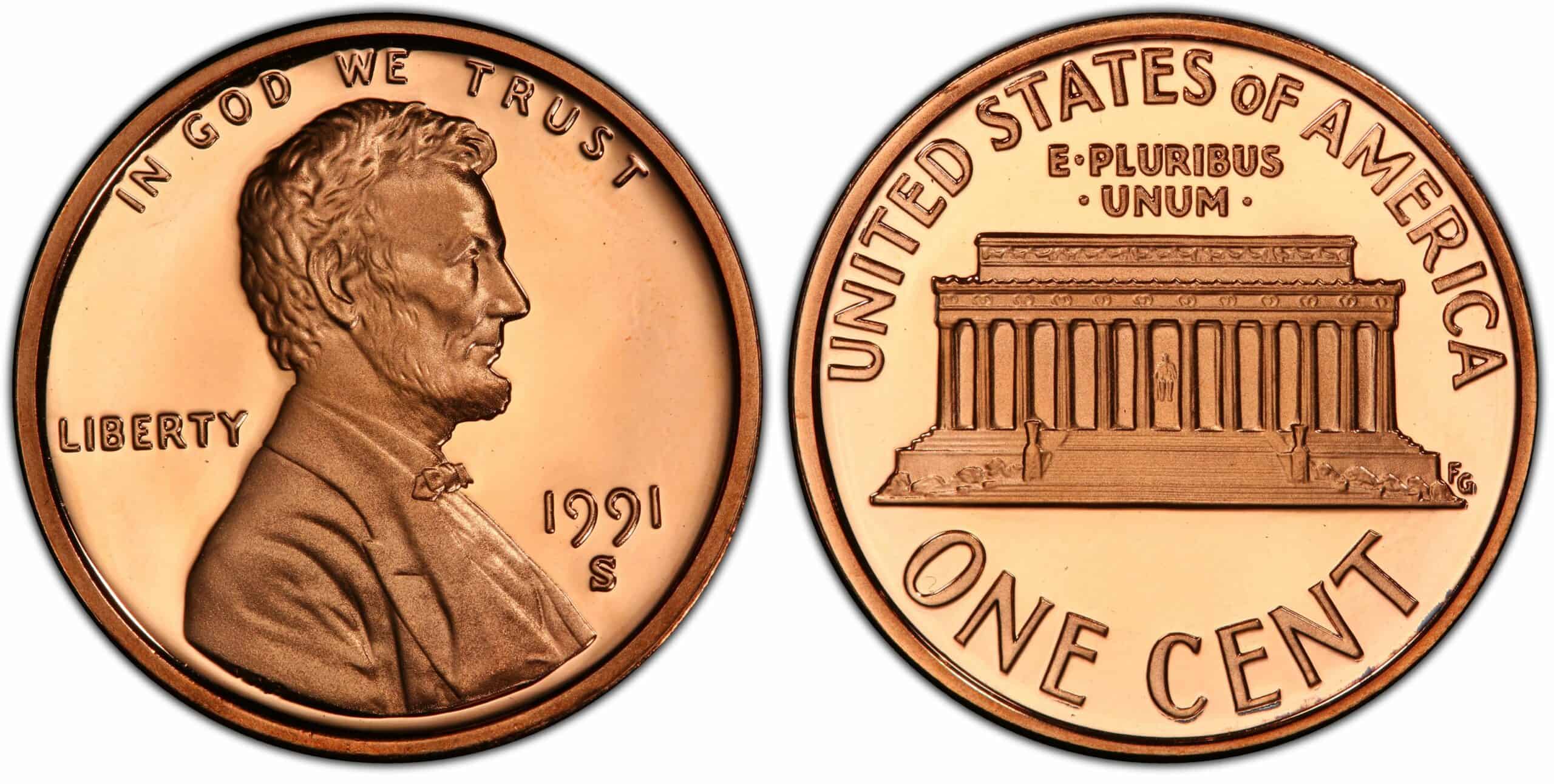 Type: Lincoln Memorial Cent
Edge: Plain
Mint mark: S
Place of minting: San Francisco
Year of minting: 1991
Face value: $0.01
$ price:
Quantity produced: 2,867,787
Designer: Victor David Brenner and Frank Gasparro
For many decades, San Francisco Mint was designed to make proof coins. This is the reason why they only produced a limited number of coins every year. In 1991, they manufactured 2.8 million. As to the value of the coins, these roughly settle around $0.50 to $4 for uncirculated ones in good condition.
But for uncirculated in mint state, these could even sell higher. More so, many collectors opt for the 1991 S penny because of their rarity. These are generally shinier with sharper features that make them very collectible.
Also Read: Top 20 Most Valuable Old Pennies Worth Money (Penny Collection)
1991 Penny History
As part of the renowned Lincoln Cent, the history of the 1991 Penny can be traced back to the very first minting of a person's image on a coin's surface in 1909. And it was the face of the well-loved president of the United States of America, Abraham Lincoln―hence the name.
The design of the Lincoln penny, however, took a long time to materialize. There were several situations that led to the current design. Initially, Augustus Saint-Gaudens was tapped to redesign the cent, along with other gold coins. Unfortunately, he wasn't able to accomplish such because of his untimely death.
Because of the unfortunate event, the US Mint hired Victor David Brenner to create the coin's design, which was eventually approved and even loved by the public. And as mentioned earlier, in 1959, the design of the reverse side was modified to commemorate the 150th birthday of the beloved president.
The design that was approved was from Frank Gasparro, a former assistant engraver. He then became the chief engraver from 1965 to 1981. Accordingly, the year 1959 became the official start of the Lincoln Memorial Series, which include the 1991 penny.
As to the original composition of the coin, there were variations in the content because of different factors like the shortage of copper or the economic crisis during that time. So, from 1909 until 1942, the pennies used copper, tin, and zinc.
Meanwhile, in 1943, zinc-plated steel was the main component. Copper was not utilized during this year because of the use of copper for war. It reverted to using copper a year after up until 1982. Starting from 1983 up to the present, the two elements were copper and zinc.
The change was done in order to keep up with an increasing copper price. This particular composition was then used during the production of the 1991 pennies. The Lincoln Memorial Series lasted until 2008. It was then replaced by the Lincoln Bicentennial cents in 2009.
1991 Penny Grading
The grading system of the 1991 Penny typically takes on a lot of factors, including the state of the coin. If there are no flaws, then there's a high possibility of a better selling price. In addition, errors also increase their worth. More so, proof coins are more valuable because these were not circulated in the market.
List of 1991 Penny Error
Errors are quite normal, especially with a total production of over 9 billion coins. Not every minting process can go as planned, hence issues may occur due to a lot of factors. Perhaps it could be because of a human error or even equipment mishaps. Some could also be caused by worn-out dies.
And during the year 1991, a couple of errors were reported. Having an idea of these errors is very helpful, especially if you're a coin collector. It's because these imperfections actually make a coin valuable. And if a coin is valuable, its worth increases. So, here are some of the 1991 Penny errors that you should know:
1. 1991 Penny Doubled Die
A quite common error during the 1991 penny production was the double die issue. Some coins were reported to have double images, either on one side or both sides. This error happens when the die is struck on the planchet twice, following two different angles.
As a result, the design is affected. But because of the rarity of these coins, double died pennies are very precious. Usually, you'd pay around $350 to get your hands on this piece.
2. 1991 Penny Off-center
From the name itself, off-center pennies have imperfections related to the accuracy of the symmetry of the designs. The major cause of this error is the misalignment of the die, resulting in a skewed center with some elements of the design missing.
Surprisingly, even with the defectiveness, a 1991 penny with an off-center is considered a precious item. Collectors would shell out at least $100 or even up to $300 to buy this. However, you need to make sure that the year of minting is visible on the surface to make it valuable.
3. 1991 Penny Broad-strike
For broad-strike errors, the surface of the coin is relatively flat and wide. This occurs due to mechanical issues, specifically when a certain part of the equipment misses to strike the planchet. So, if you have this kind of penny, you can expect a better price. Often than not, these are estimated to be $20.
4. 1991 Penny Strike-through
Because of a strike-through error during production, certain coins could have elements that should not be part of the design. For instance, there was a 1991 penny that features a slight line just above the year of minting, resembling like that an apostrophe.
Because of its uniqueness, this coin is considered very rare by collectors. It is currently priced from $500 to $700, which is definitely exclusive.
1991 Penny FAQ
1. How much is a penny from 1991 worth?
The worth of a 1991 penny depends on whether these are circulated or not. Circulated ones, unfortunately, are not valuable. On contrary, uncirculated ones with remarkable condition can be sold from $0.10 to $7. Furthermore, coins that are at least MS68 are relatively expensive, roughly around $50 to $175.
2. Are 1991 pennies rare?
Generally speaking, 1991 pennies are not rare, not unless these come with errors that make them unique. These include uncirculated coins with double die, off-center, or broad strikes.
Having these distinct characteristics on the coin's surface improves its value. Meanwhile, if these are just circulated pieces, you can't expect to sell them for a price higher than $0.01, which is the face value of the coins.
3. What makes a 1991 penny valuable?
There are actually several reasons that make a 1991 penny precious. First, it should have a mint state with all designs still sharp and shiny. Second, coins should be uncirculated. Third, errors caused by production can be a great element in making it valuable.