The 1993 quarter is among the abundantly produced quarter coins minted in the three main mint locations of the United States. If you're suddenly wondering about your pocket change and want to know about the 1993 quarter value, our guide is here to help. This is for anyone who is into coins or starting to build their collection.
In this article, we'll ensure you'll enjoy discovering its history, varieties, errors, and of course, if it could be worth more than just 25 cents. There are too many of them in circulation, and who knows? You could be the first to discover the most valuable piece of it today.
1993 Quarter Value Details
Category: Washington Quarter
Mints: Philadelphia, Denver, San Francisco
Total Mintage: 1,288,146,920
Obverse Design: George Washington
Reverse Design: American Eagle with outspread wings and clutching logs
Designer: John Flanagan
Composition: 75% copper; 25% nickel / 90% silver; 10% copper
Diameter: 24.3 mm (0.9566929 inches)
Mass: 5.67 grams
Thickness: 1.75 mm (0.069 inches)
Edge: Reeded
Also Read: Top 16 Most Valuable Modern Quarters Worth Money
1993 Quarter Value Chart
Let's first see the different 1993 quarter values depending on its grading scale from the Greysheet website. Keep in mind that the values listed in the charts are subject to change based on market demand and other factors.
1993 Quarter Value Chart

Mint Mark
MS63
MS64
MS65
MS66
MS67
1993 P Quarter Value

$0.75

$1.10

$1.50

$32.40

$250

1993 D Quarter Value

$0.75

$1.10

$1.50

$57

$624

1993 Quarter Proof

PR66
PRS67
PR68
PR69
PR70
1993 S Proof Quarter Value

–

$2.65

$4.05

$8.10

$19.58

1993 S Silver Proof Quarter Value

–

$8.10

$10.80

$18.90

$68
1993 Quarter Value and Varieties Guide
1993 P Mark Quarter Value
Type: Washington Quarter
Edge: Reeded
Mint mark: P
Place of minting: Philadelphia
Year of minting: 1993
Face value: $0.25
$ price: $0.75 to $250
Quantity produced: 639,276,000
Designer: John Flanagan
Produced at the Philadelphia Mint, the 1993 P Quarter doesn't have much valuable metal composition, so it is typically just worth its face value. If you're a fan of coins, you're probably wondering why the 1993 quarter has P marks on its surface when all other coins minted in Philadelphia have no mint marks. Well, to give you a short lesson, all coins minted in this place have a P mint mark except those produced before 1980.
All coins from 1980 onwards and to this day now have P marks, including the 1993 quarter value. Its total mintage was more than 600 million, so you can find this type of coin around the circulation. Thus, they are not rare and valuable finds.
Unless you have one that is in perfect condition. Let's say with an MS70 Grade which would cost $250 according to the value chart above.
1993 D Mark Quarter Value
Type: Washington Quarter
Edge: Reeded
Mint mark: D
Place of minting: Denver
Year of minting: 1993
Face value: $0.25
$ price: $0.75 to $624
Quantity produced: 645,476,128
Designer: John Flanagan
The 1993 D quarter value almost has the same price value as the 1993 P quarter unless it was MS66 and MS67 graded, which could reasonably have a higher value. The fact that one of these coins sold for $1,298 at an auction by Heritage Auctions in 2015 is a testament to its rarity and value.
The 1993 D quarter is not a rare coin but could certainly be valuable, with only a limited number in existence in MS67 condition. PCGS (Professional Coin Grading Service) and NGC (Numismatic Guaranty Corporation) are two of the world's most reputable coin-grading companies. They have certified only a small number of these coins.
1993 S Mark (Proof) Quarter Value
Type: Washington Quarter
Edge: Reeded
Mint mark: S
Place of minting: San Francisco
Year of minting: 1993
Face value: $0.25
$ price: $2.65 to $68
Quantity produced: 2,633,439
Designer: John Flanagan
The San Francisco Mint did not produce a business strike 1993 quarters for circulation, just a proof strike with the same composition and the other one with silver, which is another variety of 1993 Washington Quarters. In 2011, a 1993 S Quarter (PR70) DCAM coin was sold at Heritage Auctions for $65.
PR stands for proof, and DCAM, as in "Deep Cameo," is used to describe proofs and proofs like coins. Proof coins are very special because they have detailed designs and are made using unique planchets that take more time to produce. These coins are made especially for collectors and are usually not used in regular transactions.
They're usually called "black and white" designs in coins because the frosty appearance makes them look like it. These designs also positively affected the reverse and obverse designs and lettering; these are usually coins produced after the 1950
1993 S Mark Silver (Proof) Quarter Value
Type: Washington Quarter
Edge: Reeded
Mint mark: S
Place of minting: San Francisco
Year of minting: 1993
Face value: $0.25
$ price: $8.10 to $2.65
Quantity produced: 761,353
Designer: John Flanagan
ASW: 0.1808 oz
This is another proof 1993 quarter was also produced at the San Francisco Mint. But this one is a silver variety of this coin. The 1993 S "Silver" Proof Washington Quarter has a composition of 90% silver and 10% copper, which gives it a higher intrinsic value than the regular 1993 quarters made of copper-nickel.
As a proof coin, it was specially produced for collectors with higher precision and quality than regular 1993 quarters. The 1993 S Silver Proof Washington Quarter was only produced in limited quantities of more than 700,000 and is highly valued by coin collectors.
Now, let's talk about the value of this coin. According to the Greysheet website, the price for an error-free 1993 S Silver Quarter (PR70) is around $161. This price is based on the coin being in excellent condition. This particular coin was sold at Heritage Auctions on January 9th, 2011.
Also Read: Top 15 Most Valuable Quarters In Circulation
1993 Quarter Value History
The Washington Quarter is the 25-cent coin that most Americans know today. Back in 1932, the Washington Quarter was released to celebrate the 200th birthday of George Washington, the first president of the United States. To make this happen, the George Washington Bicentennial Committee held a competition to create a commemorative coin. Initially, they wanted to make a Washington Half Dollar, but it was too hard to produce the existing Standing Liberty Quarter at that time.
However, in the following years, Congress approved a law to replace the Standing Liberty Quarter with a Washington Quarter. The new design was based on a bust of Washington by Jean-Antoine Houdon, a French's sculptor. Sculptor John Flanagan's design was ultimately chosen, despite some political meddling.
Over the years, there have been various design changes to the Washington Quarter, including modifications to the placement and appearance of the "IN GOD WE TRUST" motto and changes to the composition of the coin. In 1965, the U.S. Mint stopped using silver in the production of Washington Quarters due to rising silver prices. Instead, the coins were made of a copper-nickel alloy.
And according to the PGCS, there are no Washington Quarters dated 1975, as the U.S. Mint suspended the coin's production for that year in anticipation of the special Bicentennial celebration in 1976. To mark the occasion, the U.S. Mint issued special Bicentennial Quarters in 1976, featuring a dual date of "1776-1976" on the reverse side.
Later, the United States Mint began producing two types of Proof Washington Quarters: 90% silver, 10% copper; and 75% copper, 25% nickel proof sets featured as part of the annual United States Mint Proof Set in 1992. But these were not individual silver-proof quarters.
The silver quarters were part of a larger set that also included a 90% silver dime, half dollar, and dollar coin. It is worth more because of its silver content and is usually found in good condition. Both types of proof quarters are common and could be more valuable.
Also Read: 10+ Rarest State Quarter Errors Lists (Worth Much Money!!!)
1993 Quarter Value Grading
Washington Quarters, minted in 1993, can be graded by examining the amount of wear and damage on the coin's design elements. This is done by looking at the design elements, such as Washington's hair, the letters, and the date on the coin.
A grading scale is used to rate the coin's condition, starting at VG-8, which means the coin has a lot of wear, and going up to MS-67, which means the coin is almost perfect and looks like it was just made. AZ Coin from Youtube explained this grading system for 1993 quarters and how some pocket change might be worth more than 25 cents.
The higher the grade, the less wear and damage the coin has, and the clearer and more defined the design elements appear. Grading the coin can help determine how much it is worth. There are resources available to help you with the grading process.
List of 1993 Quarter Value Errors
1. 1993 Quarter Value Double Struck Error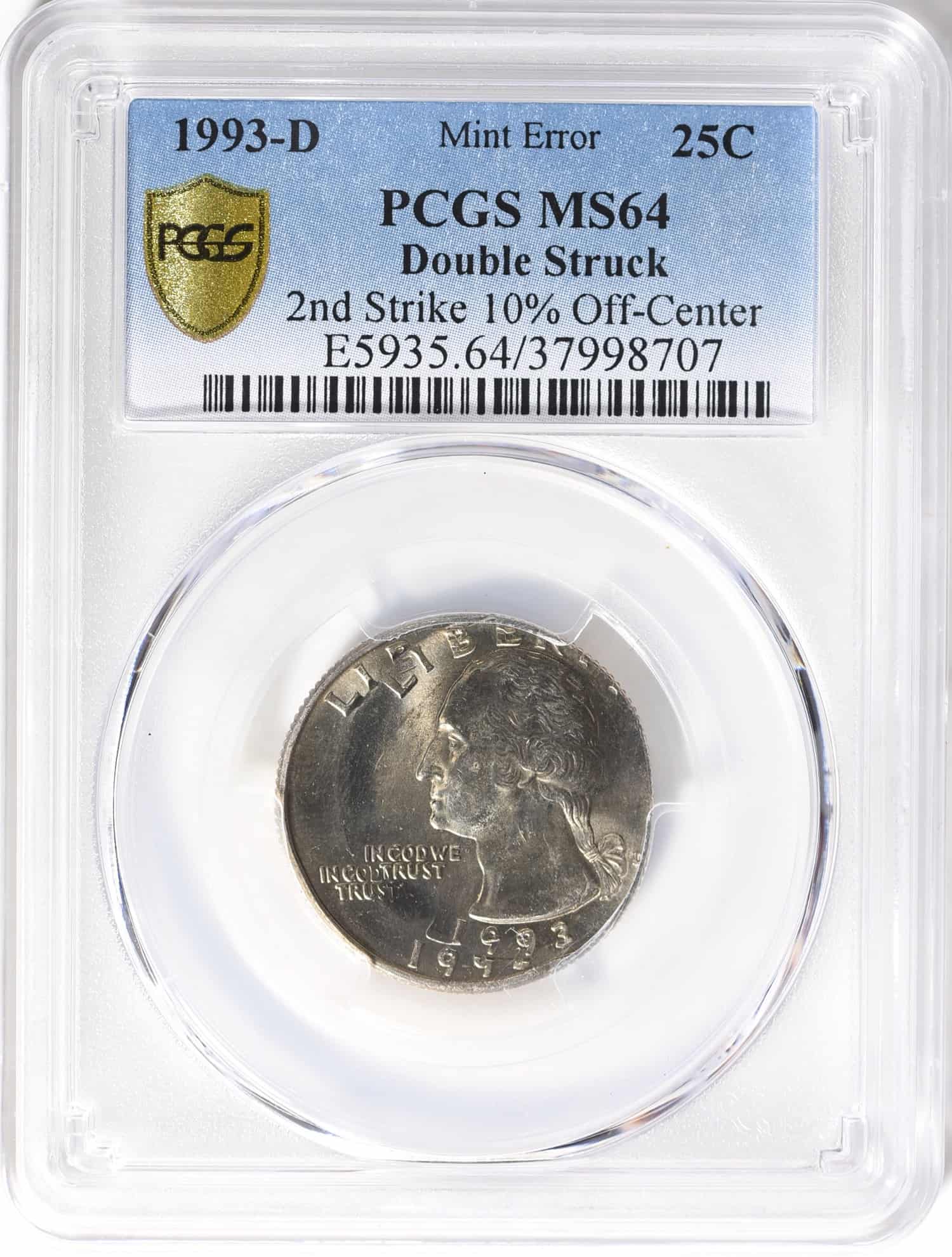 From the website of Heritage Auctions, this double-struck error from a 1993 P quarter is quite easy to see. The first strike was fine in the center; however, the second strike created the mistake, leaving a 10% off-centered strike.
Looking closely at the image, the second strike was pressed far toward the 12 o'clock surface of the coin. This particular coin was believed to be immediately pulled out of circulation because of this noticeable error.
2. 1993 Quarter Value Misprinted/ Misspelled Error
It is another noticeable error in a circulated 1993 P quarter where the letters "IN" in the phrase "IN GOD WE TRUST" on the coin's reverse side were accidentally printed in reverse order, appearing as "NI" instead. This mistake resulted in the phrase reading "NI GOD WE TRUST" instead of the intended wording.
In the video from the DC Coin World, he examined the 1993 P quarter, also with an error in the lettering, but with the letter "T," which is bent a little and some nearly unnoticeable die breaks.
3. 1993 Quarter Value Die Crack Error
Once again, another error in a 1993 quarter was produced from Philadelphia. This kind of coin error occurred during the minting process when a crack formed on the die used to strike a coin.
In the case of a 1993 P quarter with cracks on the obverse and reverse sides, this would suggest that the die used to strike the coin either had cracks in it that transferred onto the coin's heads and tails—or the coin simply cracked during the process, which can be common issues for some coins.
Apart from these errors, the Rarest.org website also listed some other 1993 quarter errors you might find in your coins. These errors include but are not limited to the following:
Die cap
Broadstrikes
Wrong planchet
Partial collars
Brockages
Die adjustment
Struck-through fragments
1993 Quarter Value FAQs
Q1: Is there a 1993 silver quarter?
Yes, more than 2 million 1993 silver quarters were minted at the San Francisco Mint. Except for this particular variety, all other 1993 quarters are made of copper and nickel. However, not all 1993 with the S mint mark on it is the silver variation of this coin. In fact, there are two types of 1993 S quarter; both are proof strikes and Deep Cameo.
To distinguish the two, look at the stripe at the edge of the coin; if it's solid silver with no trace of copper, then that's the 1993 S Silver quarter. You may also compare them with regular/ business strikes in 1993 quarters to see the difference.
Q2: Are 1993 quarters rare?
With a total mintage of over 1 billion, 1993 quarters are not considered rare. Even its special silver proof variety with around 700 thousand pieces for collectors is relatively easy to find. The only thing that would make the 1993 quarter rare is its condition, type of errors, and demand among collectors.
Q3: How much is a 1993 Washington Quarter worth?
At face value, the 1993 Washington Quarter is only worth $0.25. However, in different grades, conditions, and rarity, the 1993 quarter value could go from $0.40 to $624, or even higher if you found a rare uncirculated one no collectors could resist adding to their collection.