One of the most popular pieces among coin collectors is the Indian Head Penny. It is usually sought after by date collectors since there are a few years of it with low mintage. However, these coins are also loved by mint marks and type collectors.
Indian Head Pennies from the 1900s are among the least expensive pieces because so many of them have endured to this day. However, the 1909 Indian Head is an exception to this rule because it was the final edition ever made.
It also makes sense that this specific coin, regardless of its condition, costs more than other Indian Head Pennies. The reason is that it serves as an essential starting or end point for any Indian Head collection.
The coin is an interesting piece, and learning about it is as much of a treat as having one in your possession. So what are you waiting for? Continue reading to know more about the 1909 Indian Head Penny.
1909 Indian Head Penny Details
Type: Indian Cents
Quantity Produced: 14,679,645
Designer: James Barton Longacre
Edge: Plain
Shape: Round
Coin Diameter: 19.05mm
Coin Thickness: 1.47 mm
Coin Weight: 3.11g
Year of Minting: 1909
Mint Mark: None/S
Place of Minting: Philadelphia and San Francisco
Face Value: $0.01
$ Price: $15 – $61,580
In 1859, the Indian Head Penny was introduced, and it consisted of 88% copper and 12% nickel. The coin weighed 4.67 grams and had a diameter of 19mm. However, its composition changed in 1864 since the mint shifted to a content of 95% copper and 5% tin instead. This reduced the coin's weight to 3.11 grams.
The obverse and reverse of this classic coin were designed by James B. Longacre. He was an American engraver, portraitist, and the fourth U.S. Mint's Chief Engraver from 1844 until his death in 1869.
Although the coin is known as an Indian Head Penny, the coin's obverse depicts a Caucasian Lady Liberty. The image is shown using a Native American headpiece often worn by Native American men of a certain status.
As noted by numismatists, the use of a Native American Liberty motif on the coin is highly ironic. It was produced when many Native Americans lost their ancestral lands and were relocated to reservations. And until today, some of them still live in these areas.
The design caused controversies in the past and continues up to this day. This was not the first time a non-Native American appeared on a U.S. coin wearing a Native headdress. However, it does give the coin a lot more intrigue. On the obverse is also "UNITED STATES OF AMERICA" across the left and right rims, and the date along the bottom of the coin.
The reverse of the Indian Head Penny has a standard-looking wreath surrounding the face value of "ONE CENT". The coin featured this straightforward design for the first two years of production, but by 1860, it had undergone an update.
A presidential seal was added to the top of the coin, and the wreath's design grew a little more complex. Nevertheless, it still partially encircled the "ONE CENT" lettering.
Two different mints produced the Indian Head Pennies, San Francisco and Philadelphia. The San Francisco mint only minted these pennies in 1908 and 1909. You can find the 'S' mint mark on the coin's reverse below the wreath. The coins struck in Philadelphia had no mint mark.
Also Read: Top 15 Most Valuable Indian Head Penny Worth Money
1909 Indian Head Penny Coin Value Chart
| | | | | |
| --- | --- | --- | --- | --- |
| Coin Grade | Good | MS/PR63 | MS/PR65 | MS/PR67 |
| 1909 Indian Head Penny | $15 | $70 | $400 | $5,000 |
| 1909 S Indian Head Penny | $300 | $1,500 | $3,000 | $50,000 |
| 1909 Indian Head Penny Proof | $50 | $150 | $750 | $6,000 |
1909 Indian Head Penny Value and Varieties Guides
The Indian Head Penny's popularity among collectors is mostly due to its historical significance and the years it was minted. Collectors view these pieces as a part of American history.
The first years of the Indian Head's production occurred just before the beginning of the Civil War. Because of this, many coins produced during the first ten years of the Indian Head sell today for more than other editions.
The age of these coins is another feature that contributes to their widespread appeal. It is uncommon for coins to last longer than 100 years in good condition, so it is understandable why collectors are so enamored with these pieces.
In circulated condition, a 1909 Indian Head Coin is worth between $410 and $505. The highest price paid for a flawless, uncirculated 1909 S Indian Head Penny was $97,750 in 2006.
Overall, the level of acclaim for Indian Heads varies depending on the release. Some editions are incredibly hard to locate, while others are widely available.
1909 Indian Head Penny Coin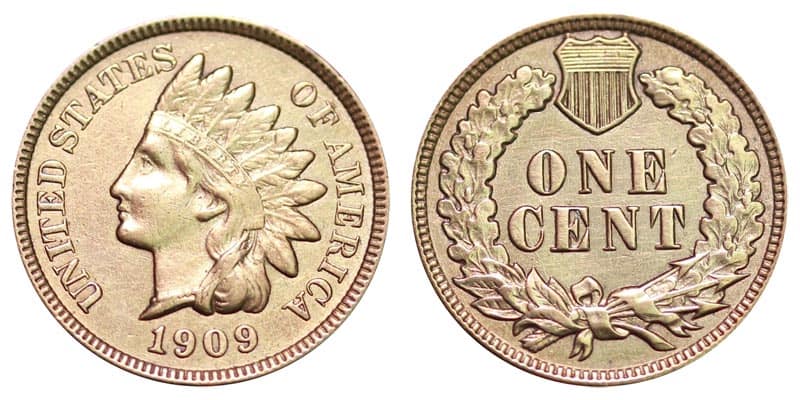 Type: Indian Cents
Edge: Plain
Mint Mark: None
Place of Minting: Philadelphia
Year of Minting: 1909
Face Value: $0.01
$ Price: $15 – $21,600
Quantity Produced: 14,370,645
Designer: James Barton Longacre
A 1909 Indian Head Penny in good condition and without a mint mark is worth about $10 to $15. The value of a very good condition piece costs about $20. The item is worth around $25 if it's in exceptionally good condition.
Coins with an MS60 grade cost about $45 in uncirculated condition. As for coins with an MS63 grade and uncirculated, these can be sold for about $70 to $100.
One of the more popular dates in the series is the 1909 Indian Cent. It is one of the easiest issues to acquire, even in uncirculated conditions.
There are still hundreds of examples existing in MS66 condition. However, there are fewer than a dozen pieces with an MS67 grade and no known coins in better condition.
Unfortunately, it becomes difficult to find these in MS67. The 1909 Indian Head Penny that set the record was sold in 2023 for $21,600. However, the average sale price for an MS67 coin is closer to $5,000.
As the circulated Philadelphia coins accounted for the overwhelming majority of those minted, San Francisco coins usually sell for more.
1909 S Indian Head Penny Coin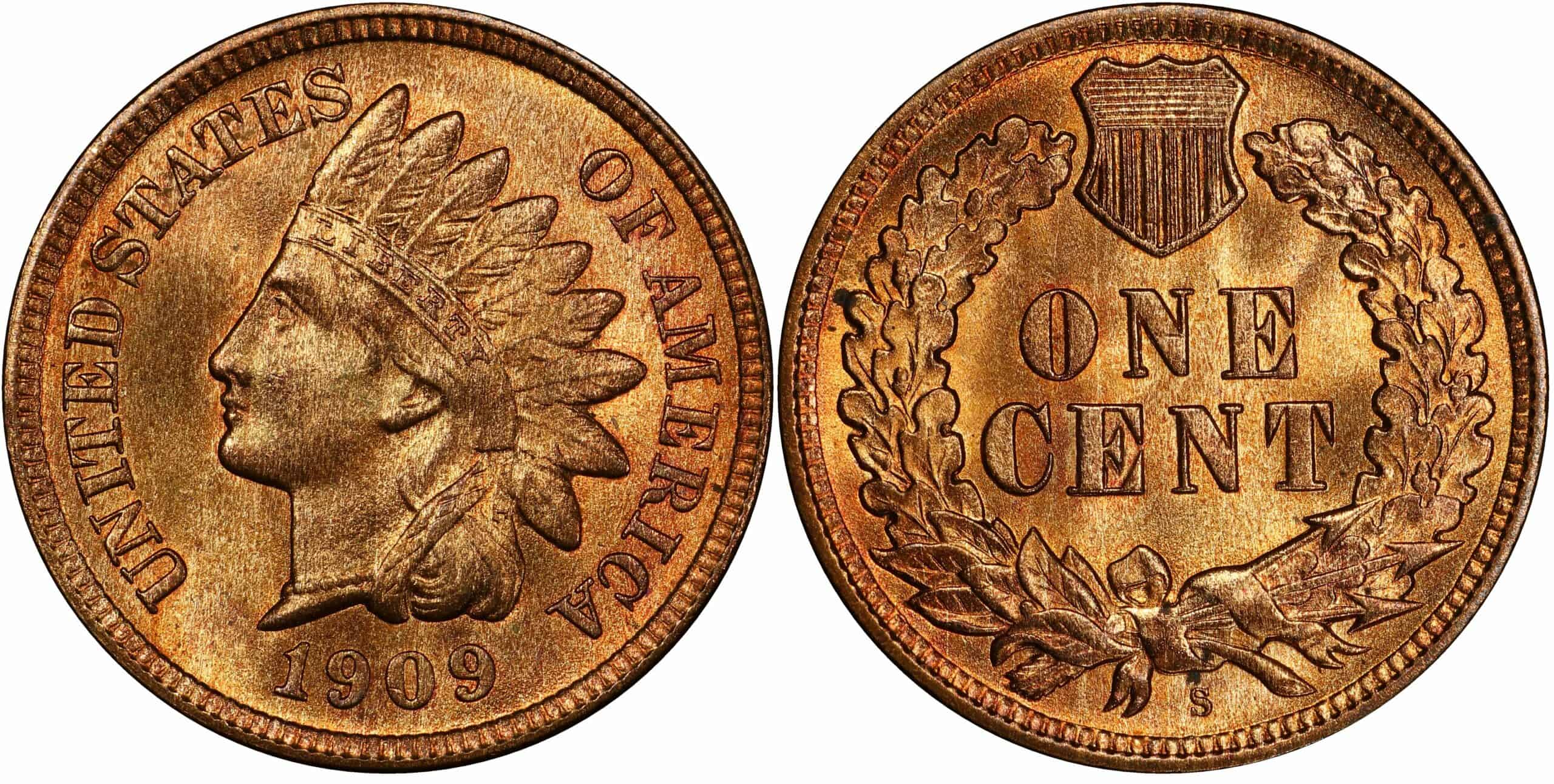 Type: Indian Cents
Edge: Plain
Mint Mark: S
Place of Minting: San Francisco
Year of Minting: 1909
Face Value: $0.01
$ Price: $300 – $97,750
Quantity Produced: 309,000
Designer: James Barton Longacre
The 1909 S Indian Head Penny had the lowest mintage among all the series of the Indian Cent in circulation.
Like the coins issued in 1877, the minted 1909 S Indian Head Penny coins were less than one million. As a result, they are one of the rarest pieces and are highly valuable. So, if you have this coin in your stash, you can consider yourself lucky!
In good condition, this coin is around $300 and can cost around $450 in very fine condition. Those in extremely fine condition are approximately $600. Uncirculated coins with an MS60 grade are sold at around $1,100, while those at MS63 can reach around $1,500 or more.
The 1908 S and 1909 S are proven to be popular among coin collectors due to their scarcity. Also, these are the only series of Indian Cents that feature the S mint mark, which is another reason for its value and rarity.
Due to this, it's no surprise that one of these coins sold for nearly $100,000. The average sale price is hard to calculate as so few of these coins exist, but you could expect to get at least $50,000 for an MS67 coin of this variety.
1909 Indian Head Penny Proof Coin
Type: Indian Cents
Edge: Plain
Mint Mark: None
Place of Minting: Philadelphia
Year of Minting: 1909
Face Value: $0.01
$ Price: $50 – $18,975
Quantity Produced: 2,175
Designer: James Barton Longacre
1909 is the last year of minting the Indian Head Penny coins. When it comes to the proof versions, the U.S. Mint produced a total of 2,175 coins, making this series highly sought after.
The most common proof coins of the 1909 Indian Head Penny are brown, while the red-brown and red ones are considered rare pieces. Coins with a cameo are scarce, and only less than a dozen are known. Since the pieces with cameos are rare, they cost at least $1,500.
Due to the scarcity of these coins, they are often sold at high prices. Also, they're only available at MS60 and higher grades. The cost of these coins varies, but they usually start at around $300, which isn't bad for proof coins over 100 years old.
The record for the proof versions of the Indian Head Penny was $18,975 sold in 2005, with the average sale price being around $6,000. The reason they don't sell for as high as the San Francisco coins is that proof coins are expected to be preserved and in excellent condition.
Also Read: Top 20 Most Valuable Old Pennies Worth Money (Penny Collection)
1909 Indian Head Penny History
From 1859 to 1909, the U.S. Mint produced the Indian Head Cent, which is also called the Indian Head Penny. It was a piece designed by the Philadelphia Mint Chief Engraver, James B. Longacre, and was first minted in 1858 as a pattern coin.
The design of this piece was selected from a few available options. It was possible that James Snowden, Mint Director at that time, chose the Indian Head and laurel wreath because of its low relief, which means that the design is more likely to strike well.
In 1859, the coin was officially released, and it stayed in production until 1909. After this year, it was eventually replaced by the Wheat Penny.
According to stories, Longacre's 12-year-old daughter, who once visited the store, tried on the Native American headdress he used this as a reference, but this turned out to be a myth. However, the designer admitted taking inspiration for Liberty's features from a statue of Crouching Venus. It was a statue in Philadelphia that was on loan from the Vatican.
The Flying Eagle was an attractive design, but since it caused some production challenges, the Mint eventually decided to change it. So, in 1858, it was replaced with the Indian Head design.
Mint Director James Ross Snowden opted for this design and chose the laurel wreath for its reverse. But in 1860, the latter was replaced by an oak wreath with a shield. The Indian Head cent was eventually replaced by the Lincoln Cent in 1909 and designed by Victor Brenner
1909 Indian Head Penny Grading
All coins from each year are graded using a system of 1 to 70. Generally, the older your piece, the more difficult it is to get a higher rating. So, if you were to price a 1909 Indian Head Penny, the first thing to look at is the coin's condition.
Naturally, the coin should be greatly preserved to get a higher price. Yet for the 1909s, you will notice that its cost has inflated, and that includes coins in poor condition. This is simply because of the year the piece was produced.
Typically, those ratings are denoted by two letters: MS, which stands for the mint state, or PR for proof coins.
List of 1909 Indian Head Penny Errors
A mint-made error or error coins happens due to incorrect manufacturing. It could be caused by deteriorating minting equipment, accidents, or other factors. Below are some of the errors you can find on some 1909 Indian Head Penny coins:
1. Doubled Dies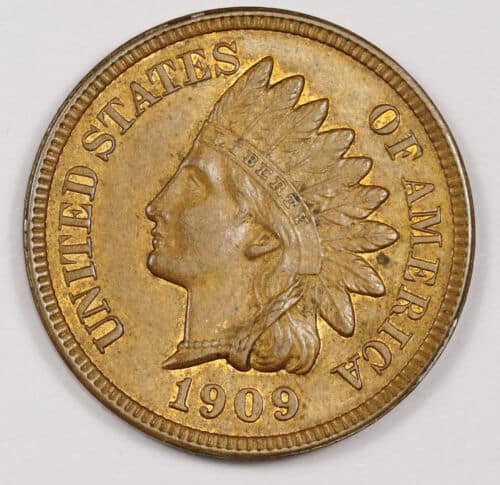 These are dies that display more than a single impression from their hub. The double die occurs when a hub's impression of the die does not align perfectly with the first one.
2. Die Cracks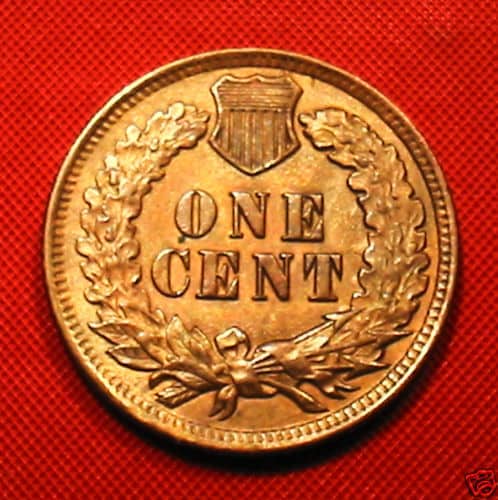 Nearly every die has die cracks in them, especially in its later state. The most severe cracks have the potential to split the coin in half, develop into cuds, or form other kinds of cracks. These variations may include broken dies, bi-level cracks, bilateral, radial, or antipodal cracks, and maintained interior die breaks.
During their lifetime, Indian Cent dies were frequently used to produce 200,000 or more coins. Yet before the modern era, die life was extremely unpredictable. The dies were often used in the late 19th and early 20th centuries until they cracked or failed entirely. So due to the relatively high mintage rates, die cracks became prevalent in the Indian Head Cent series.
3. Repunched Mint Mark
The same thing that happens to repunched dates also happens with repunched mint marks (RPMs). When the mint mark was added to the die, the punch was struck more than once.
The 1908 S RPM-001 is the only RPM we have in the Indian Head Series. Cents struck by the San Francisco Mint from 1908 onward are identified by an "S" mint mark. You can find this under the wreath on its reverse.
All Indian Head Cents with a mint mark should be properly checked as they are popular with con artists. Both 1908 S and 1909 S Indian Cents were counterfeited in a variety of ways.
1909 Indian Head Penny FAQs
1. Is a 1909 Indian Head Penny Rare?
Yes, a 1909 Indian Head Penny is rare and is sought after by a large number of collectors and enthusiasts. This especially applies to the proof coins made in Philadelphia, and the circulated coins made in San Francisco.
2. What is the Rarest Indian Head Penny?
The rarest and most valuable Indian Head Penny is one dated 1877. Nevertheless, every other Indian Head penny is valuable in its own right, so collectors are lucky if they have one with them. The rarest Indian Head Pennies are those with an MS67 rating, or better.
3. How much is a 1906 Indian Head Penny Worth with no Mint Mark?
Interestingly, these pieces are slightly worth more than their face value. A 1906 Indian Penny in good condition can be around $2, and in fine condition, the same piece could be worth $5, which is quite an increase. It's only in the higher grades that the value starts to skyrocket.