The Barber Dime series has become much loved by collectors, with the 1912 edition of the coin being one of the best. Even in bad condition, these coins are well above their face value due to their solver content but mint coins can easily sell for thousands of dollars.
Do you have a 1912 coin and are looking to see how much it's worth? Or perhaps you're interested in buying one. Whatever the answer, we have all the information you need here with their value, grade, varieties, and more. Read on to find out more!
1912 Dime Details
Type: Barber Dime
Quantity Produced: 34,530,000
Designer: Charles E. Barber
Edge: Reeded
Shape: Round
Coin Diameter: 17.9mm
Coin Thickness: 1.35mm
Coin Weight: 2.5g
Year of Minting: 1912
Mint Mark: None/D/S
Place of Minting: Philadelphia, Denver, and San Francisco
Face Value: $0.10
$ Price: $2 – $21,150
The dime, quarter, and half dollars were designed in 1892, and common to all three denominations was a Liberty Head motif. The Barber Dime was part of the Barber series, a collection of coins created by Charles Barber that featured matching designs.
The 1912 issue had a somewhat large mintage, totaling about 34 million dimes. Denver, Philadelphia, and San Francisco mints all struck dimes this year.
Like most of the coins during the period, the Barber Dime consists of 90% silver and 10% copper. It has a 17.9mm diameter and a mass of 2.5g. Since the price of silver increased over the decades, the mints were forced to lessen the size of dimes. These shifted from 19mm to its current size of 17.9mm, and as for the coin's edge, it has a reeded style.
The design of its obverse is almost identical across the Barber coinage. It features a bust portrait of Miss Liberty wearing a Phrygian cap and laurels. Its rim displays the words "UNITED STATES OF AMERICA," while below the neck of Liberty is its mintage year.
There is not much on its reverse since it simply features the "ONE DIME" denomination. It is surrounded by a wreath made of wheat, corn stalks, and oak leaves.
The minimum 1912 dime value is based on 90% silver by weight. So, the minimum value of the coin is its melt value, which is currently a little under $2.
Only 3,420,000 dimes were produced at the San Francisco Mint, but despite the low mintage, this issue is still widely available in high grades. San Francisco mintages typically have higher values than the other two issues because of this.
1912 Dime Coin Value Chart
| | | | | |
| --- | --- | --- | --- | --- |
| Coin Grade | Good | MS/PR63 | MS/PR65 | MS67/PR70 |
| 1912 Dime Coin | $10 | $150 | $500 | $3,000 |
| 1912 D Dime Coin | $10 | $150 | $500 | $5,000 |
| 1912 S Dime Coin | $20 | $250 | $750 | $8,000 |
| 1912-P Dime Coin (Proof) | N/A | $400 | $1,000 | $5,000 |
1912 Dime Value and Varieties Guides
For collectors who want to get into Barber Dimes, the best starting point would be the 1912 Dime. The reason is that it has a high mintage and survival rate, which make acquiring samples of it easy and affordable.
Today, collectors search for samples of each different mint issue of the 1912 dimes as part of the Barber Series set. During this year, several million pieces were struck by three different mints, and fortunately, there is an abundance of pieces in well-worn conditions.
To determine which coins were produced by the mints, small letters that serve as mint marks were set on the branch mint coinage. However, at this time, Philadelphia didn't put a mink mark on the coins they produced.
1912 P Dime Coin
Type: Barber Dime
Edge: Reeded
Mint Mark: None
Place of Minting: Philadelphia
Year of Minting: 1912
Face Value: $0.10
$ Price: $2 – $8,050
Quantity Produced: 19,349,300
Designer: Charles E. Barber
Throughout the Barber series, Philadelphia did not use mint marks. But by inspecting its reverse, you can determine if Philadelphia struck the dime. When the space between the ribbon's ends is blank, it means Philadelphia struck the piece.
The mint continued producing an above-average number of these dimes in 1912, so over 19 million were placed in circulation. These are available in huge quantities, which is enough to meet every collector's needs. The standard quality and worn samples are usually priced close to the intrinsic value of silver.
With over 19 million coins minted, the dime is considered one of the most common of the series. It is also one of the best options for type collectors and is common in every grade.
Gem samples are usual through MS66, but in MS67, the number of 1912 Dimes drops significantly. Some of the nicest pieces are MS67+, and these can fetch very high prices. The record for the 1912 Philadelphia nickel is $8,050, which was sold in 2005. The average sale price for a 67-graded coin is around $3,000.
1912 D Dime Coin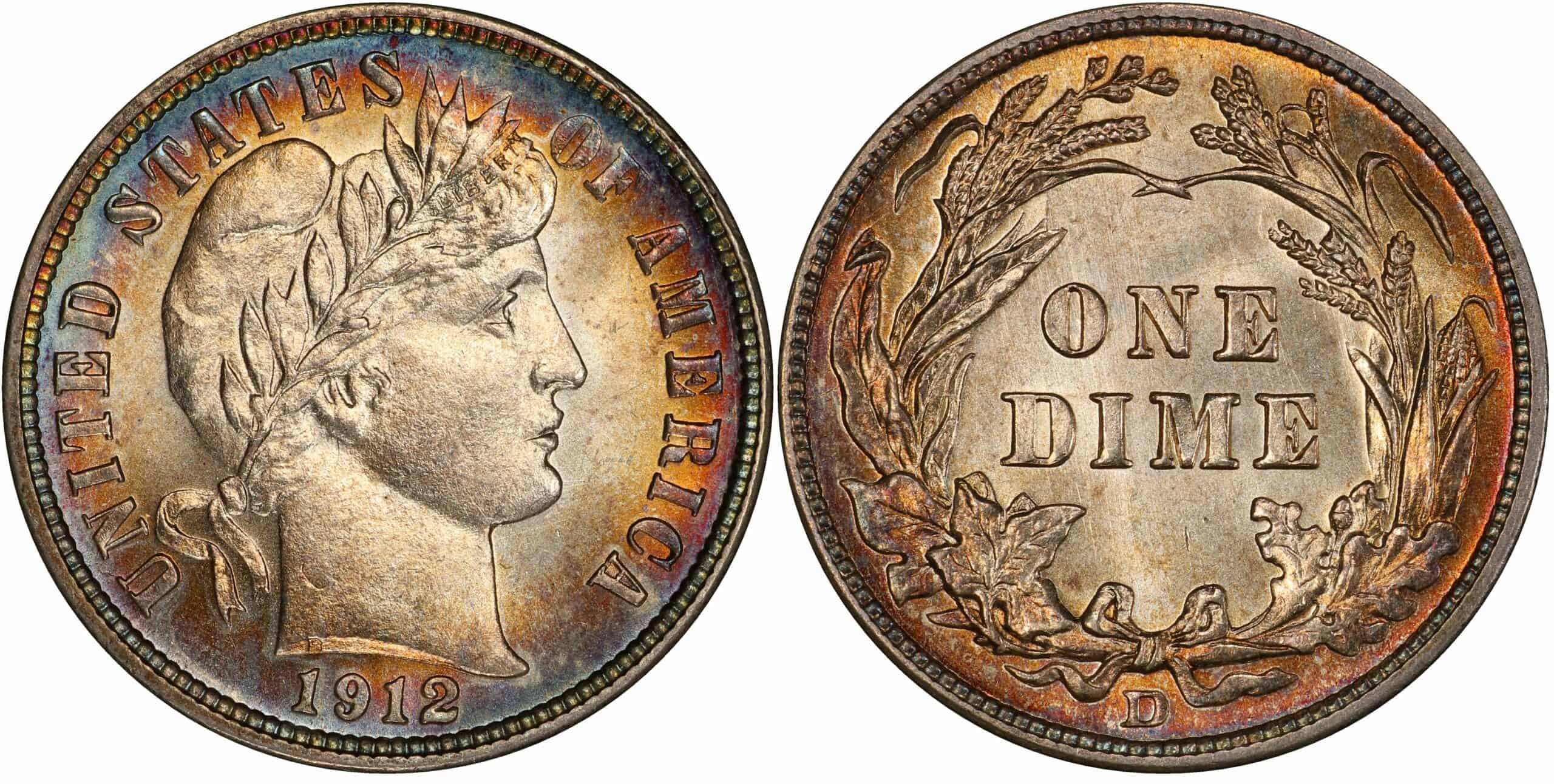 Type: Barber Dime
Edge: Reeded
Mint Mark: D
Place of Minting: Denver
Year of Minting: 1912
Face Value: $0.10
$ Price: $3 – $7,344
Quantity Produced: 11,760,000
Designer: Charles E. Barber
In 1912, the Denver Mint struck 11,760,000 Barber Dimes. For this issue, their strike and luster quality were usually average but fine samples are readily available, including those in Mint State.
The Denver coinage is identified by a "D" mint mark and you can find it on the coin's reverse. On the lower rim, in the area along the wreath, there is a large "D" in place, confirming that it's a Denver piece.
The most common mint states of the 1912 D Dime are in the grades of MS63 and MS64. However, pieces in MS62 and MS65 are well-represented. Ideally, getting your hands on MS66 samples can be difficult, but if you have one, these are good values.
For the MS67 grades, these are extremely rare, and in recent decades, only one MS67 1912 D Dime appeared at auction.
Generally, the 1912 D Dimes are well-struck, so these come with outstanding eye appeal. For the 1912 D Dime, the record is $7,344, which was sold in 2016.
These coins are usually valued a little higher than the Philadelphia coins as fewer of them were struck. Due to this, the average sale price for a 67-graded coin is $5,000, which is still lower than San Francisco coins.
1912 S Dime Coin
Type: Barber Dime
Edge: Reeded
Mint Mark: S
Place of Minting: San Francisco
Year of Minting: 1912
Face Value: $0.10
$ Price: $20 – $21,150
Quantity Produced: 3,420,000
Designer: Charles E. Barber
The reverse of coins struck in San Francisco is marked with an "S" mint mark. Its lower rim, directly beneath the bow, bears a large "S" that serves as the mark. This is the rarest and most expensive variety of circulated 1912 dimes.
All 1912 dimes from the San Francisco mint are eligible for a premium price if they are highly detailed. However, samples that are considered moderate to severely worn are valued close to their silver content.
The 1912 S Dime is more expensive than coins at the other mints due to their lower mintage, especially in higher grades. However, Mint State samples are not uncommon, so these are readily available.
MS64 is the certified grade that is most widely available, followed by MS63 and MS62. Only a few pieces have been graded finer than MS66, making MS67 coins incredibly valuable.
The record for the 1912 S Dime is $21,150 and it was sold in 2014. If you have your hands on one of these highly graded coins, then you can expect to receive at least $8,000.
1912 Proof Dime
Type: Barber Dime
Edge: Reeded
Mint Mark: None
Place of Minting: Philadelphia
Year of Minting: 1912
Face Value: $0.10
$ Price: $400 – $12,925
Quantity Produced: 700
Designer: Charles E. Barber
Classic-type enthusiasts and collectors often seek the Proof Barber Dimes, which are considered scarce collectibles. Proof coins without any mint marks are available and have a value of about $400 each, even in lower PR63 conditions.
The piece features reflective surfaces, and only a couple of blemishes are found on the main focal points. Also, it is interesting to note that there are no known major flaws in these coins.
All mintages are below 1000 except for 1892, which makes any Proof Barber Dime rare coins to have. There were only 700 proof pieces minted, however, most of these were acquired and saved by collectors. That means its value isn't as high as one would expect.
If you have one of these coins, then it's almost certainly going to be worth over $1,000, unless it's in poor condition. The average sale price is around $5,000.
For the proof coins of this series, the record is $11,163, which was a PR68 coin sold in 2014. Another record is a cameo coin with a PR67 rating, which was sold for $12,925 in 2013.
Also Read: Top 15 Most Valuable Roosevelt Dimes Worth Money
1912 Dime History
The public was invited to participate in a design competition at the beginning of the 1890s. It was for a new dime, quarter, and a half dollar. Although there were over 300 submissions sent to the committee in charge, only two entries were awarded an honorable mention. Also, a lot of the country's top artists boycotted the contest because of the low prize money and short timeframe.
Even the U.S. Mint director, Edward O. Leech, claimed that the contest was too wretched and a failure to even be attempted again. With that, he directed Charles Barber, Chief Engraver of the U.S. Mint, to prepare the designs.
There are speculations from those who worked under Barber and even today's collectors that this was what the engraver wanted all along. Over the years, coin collectors called dimes designed by him "Barber Dimes", to honor the chief engraver.
In 1892, the Barber Dime was introduced to replace the long-running Liberty Seated series. The piece shared a style design with the half dollar and quarter and took the name after its designer.
He had a simple design that displayed the head of Miss Liberty that faced right. Its obverse design is not that embellished and resembles the Morgan Dollar Liberty Portrait and French Ceres design. The latter appeared on the country's silver coinage from 1849 to 1851. Barber used the Cereal Wreath design from Longacre, which was first featured in 1860 on the Seated Dime's reverse.
Theodore Roosevelt, who echoed the sentiments of numismatists of that time, greatly disliked the Barber Dime's design. So he sought to replace the piece to beautify the American coinage. In 1916, the Barber Dime was replaced by the Winged Liberty Dime which was designed by Adolph Weinmann. This piece was also called the Mercury Dime.
1912 Dime Grading
All coins produced are graded using a system of 1 to 70, and the older the piece, the more difficult it is to receive a higher rating. Since the Barber Dime was minted a long time ago, it is no surprise that you will have difficulties getting your hands on higher-rated coins.
The ratings are often preceded by letters: MS stands for mint state, while PR is for proof coins. MS coins are pieces intended for circulation, so if a coin has an MS grade, it's rarer to find in perfect condition.
List of 1912 Dime Errors
It appears that the 1912 Dime does not feature a lot of die varieties when comparing it to other coin series. However, there are some Barber Dimes that come with specific errors.
1. Doubled Die Obverse
A significant and known variety from this collection is the 1912 S Double Die obverse. Double die means duplication of the design aspects on working dies produced. This is caused by a misalignment of the hub or die during the hubbing process. This issue is often seen in the word "UNITED."
2. Off-center Error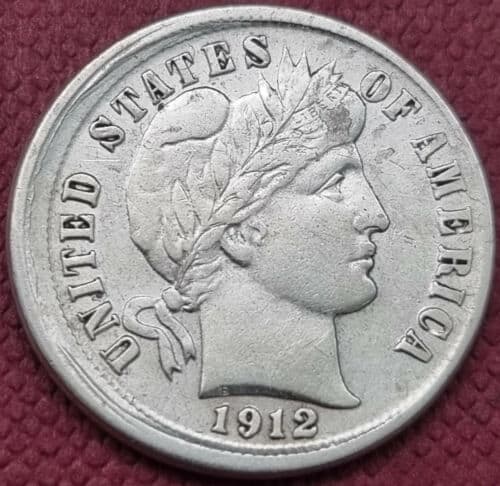 Coins with this type of error are often produced when the piece is struck once but off the center. Compared to the broadstrike, its punch is not in the coin's center but on its edge, thus, resulting in a non-circular-shaped piece.
The result is a coin with a freakish appearance, as well as a variety of blank planchet spaces. Some years ago, a 1912-S Barber Dime was sold and it featured a 20% off-center error.
3. Grease Fill Error
Grease Fill is a common error that happens when a small amount of grease prevents the dies from completely striking the coin. Since it occurs when striking coins, a 1912 Dime struck with grease does not fetch an additional premium. Coins with this error usually become premium pieces when at least 80% of the design elements are missing.
1912 Dime FAQs
1. What year of dime is the rarest?
The 1964 Copper-Nickel Clad Roosevelt Dime is an extremely rare piece with only a few samples. Due to its rarity, this specific coin costs four figures or higher.
2. How can you tell if a dime is rare?
To tell if your dime is rare if you come across any piece that is minted before 1917, then consider yourself lucky. These are classic dimes that are scarce and extremely challenging to find in circulation. The coins can include Liberty Seated Dimes, Bust Dimes, and the Liberty Head or Barber Dimes.
3. What dime is worth millions?
Interestingly, some dimes are still out there that could be worth as much as $1.9 million. There is one specific dime minted in the year 1894 called the 1894 S Barber Dime, and it is worth millions. In 2005, a piece was sold for $1.3 million and another was sold in 2007 for $1.9 million.
4. What are the oldest U.S. dimes?
The Mint produced the very first dimes in the year 1796, and these were small silver pieces. Its design from 1796 to 1837 displayed Liberty on its obverse while an eagle was shown on its reverse. In 1837, the eagle design was replaced by a wreath.