Imagine holding a piece of history in your hands. What if that piece of history is also a fine work of art, a symbol of the American frontier and the spirit of adventure?
That's what you see when you hold a 1928 Buffalo Nickel, a five-cent coin that takes you back to a time of cowboys, vast open plains, and untamed wilderness.
With its bold design and storied past, the 1928 Buffalo Nickel is popular among many numismatists. However, its value depends on various factors, including its condition, rarity, and demand.
So whether you're looking to buy or sell or just interested in knowing the worth of your Buffalo Nickel coin, this article will help you give an idea or two.
1928 Buffalo Nickel Value Details
Category: Buffalo Five Cents
Mint: Philadelphia, San Francisco, and Denver
Total Mintage: 36,783,000
Obverse Designer: James Earle Fraser
Reverse Designer: James Earle Fraser
Composition: Copper-Nickel
Fineness: 75% Copper; 25% Nickel
Weight: 5 grams
Edge: Plain
Also Read: 15 Most Valuable Nickels Worth Money
1928 Buffalo Nickel Value Chart
| | | | | |
| --- | --- | --- | --- | --- |
| Mint Mark | Good | Extremely Fine | MS-60 | MS-65 |
| 1928 No Mint Mark Buffalo Nickel Value | $0.68 | $9 | $30 | $230 |
| 1928 "S" Mint Mark Buffalo Nickel Value | $0.76 | $28 | $235 | $2100 |
| 1928 "D" Mint Mark Buffalo Nickel Value | $0.93 | $25 | $45 | $400 |
1928 Buffalo Nickel Value and Varieties
1928 No Mint Mark Buffalo Nickel Value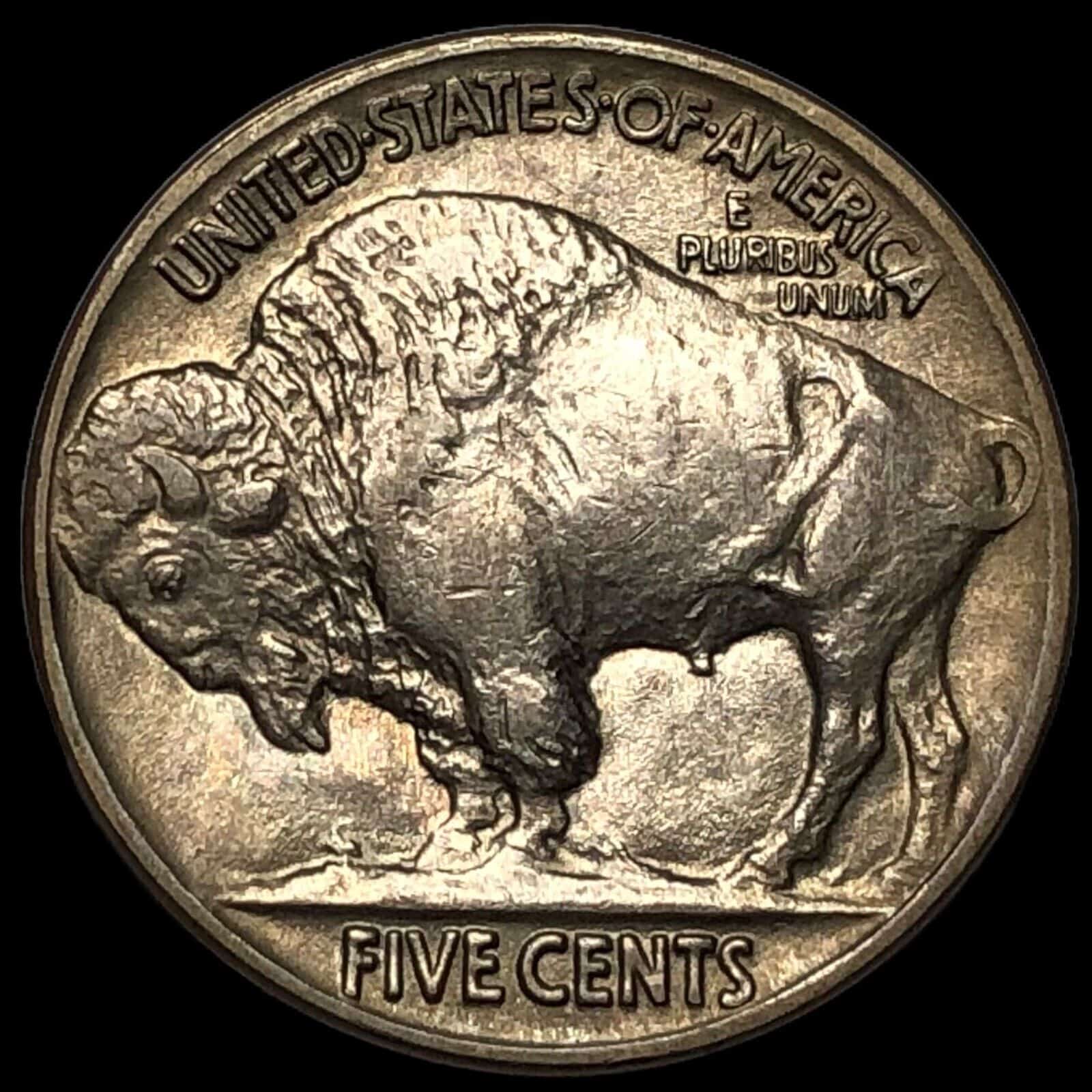 Category: Buffalo Five Cents
Edge: Plain
Mint mark: No Mint Mark
Place of minting: Philadelphia
Year of minting: 1928
Face value: 5 Cents
Price: $2 to $4,200
Quantity produced: 23,411,000
Designer: James Earle Fraser
Like most US coins, Buffalo Nickel was also largely produced in the Philadelphia mint with a quantity exceeding 23 million. These coins were produced with no mint mark, and that's how you identify them today.
1928 (P) Buffalo Nickel coins had a quality issue, resulting in many pieces wearing down with time. So usually today, it's hard to find one in good condition. But according to the market, a circulated 1928 (P) Buffalo Nickel is worth around a dollar or two, while an uncirculated or well-preserved coin can be worth significantly over $25.
On the other hand, Buffalo nickel in the mint state cashes in the most money. Since they are scarce and difficult to find, they can bring from a few hundred to anywhere near thousands of dollars.
So like all coins, the value of the 1928 Buffalo nickel is determined by its condition and rarity.
If the coin is in poor condition with a lot of wear and damage, its value is likely to be low, only a few dollars. However, if the coin is in a higher grade, its value can increase significantly.
For example, a 1928 Buffalo nickel in MS-63 condition might be worth around $20, while an MS-65 graded example could be worth several hundred dollars.
Another factor that can impact the value of the 1928 Buffalo nickel is its rarity. While over 23 million coins were produced, many have been lost or destroyed over time, leading to a smaller number of surviving examples.
This scarcity can drive up the value of higher-grade coins, especially those that have been well-preserved.
The record value for the Philadelphia-made 1928 Buffalo nickel is $11,500. That is how much one piece in an MS 67 grade reached at Bowers & Merena auction in 2004.
1928 "S" Mint Mark Buffalo Nickel Value
Category: Buffalo Five Cents
Edge: Plain
Mint mark: S
Place of minting: San Francisco
Year of minting: 1928
Face value: 5 Cents
Price: $2 to $12,600
Quantity produced: 6,936,000
Designer: James Earle Fraser
Compared to the other two mints, Denver and Philadelphia, San Francisco Mint produced the most valuable 1928 Buffalo nickel on the coin market. To identify the San Francisco-made Buffalo nickels, look for the "S" mint mark just below the coin's denominational value of "FIVE CENTS."
The production at the San Francisco mint was nearly 7 million. So today, it might be challenging to find a 1928 (S) Buffalo nickel in decent condition, like in mint state (MS). The reason is that the entire 1928 (S) Buffalo nickel was used in transactions, and most coins were worn out with time. The ones that survived can be valued based on scarcity.
A coin in uncirculated condition can be worth significantly more than one that has been circulated. For example, a 1928 (S) Buffalo nickel in MS-65 condition can be worth around a thousand dollars, while an MS-67 example can fetch upwards of $30,000 or more at auction.
The record price for a San Francisco-made 1928 MS67 Buffalo Nickel is at a whopping $46,000 at an auction in 2009.
As with all rare coins, it's important to have a professional coin dealer or appraiser evaluate the coin's condition and authenticity before making any purchases or sales. Especially if you're a novice, it can help ensure you get a fair price for your coin and avoid scams or fraudulent transactions.
1928 "D" Mint Mark Buffalo Nickel Value
Category: Buffalo Five Cents
Edge: Plain
Mint mark: D
Place of minting: Denver
Year of minting: 1928
Face value: 5 Cents
Price: $2 to $2,600
Quantity produced: 6,436,000
Designer: James Earle Fraser
The third place for minting Buffalo nickel was Denver. With the mint mark "D" just below the "FIVE CENTS," the Denver mint struck over 6 million coins. These productions were just a quarter of what the Philadelphia mint produced, and therefore, these ones are slightly more uncommon and valuable.
Just like in any collectible coin, the value depends on the condition. Coins that are in mint or near-mint condition, meaning they have not been circulated or have only minimal signs of wear, are typically worth more than those that are heavily worn or damaged.
For example, a 1928 (D) Buffalo nickel in extra-fine (XF) condition can fetch around $50, while the mint state (MS) 1928 (D) Buffalo nickel is easily worth $500. Recently on eBay, a 1928 Buffalo Nickel PCGS MS-66 was sold for $642.
The record value is far more than what we have discussed above. In 2012, a collector bought the 1928 D MS 67 Buffalo nickel for $17,250.
Also Read: Top 110 Most Valuable Nickels Worth Money
1928 Buffalo Nickel History
It all started with the dissatisfaction of President Theodore Roosevelt with the American coins. For him, the then-coins were plain and not aesthetically appealing to the eyes.
The project of replacing coins started in 1904, and the first renewed coins were 10-dollar and 25-dollar American Gold Eagle.
In 1911, the United States Mint began working on a new five-cent coin design to replace the Liberty Head Nickel that had been in use since 1883. And as part of replacing the Liberty head design with something more artistic, the US Mint introduced the Buffalo nickel series between 1913 and 1938.
The US Mint contracted famous sculptor James Earle Fraser to create unique designs for the nickel coin.
Fraser was greatly moved by his childhood experiences in the American West, where he encountered Native American tribes and witnessed the great buffalo/bison herds that once roamed the plains. The same story is depicted in his nickel coin design.
The obverse features a profile of a Native American chief wearing a headdress, while the reverse depicts an American buffalo/bison standing on a mound of dirt.
The design was difficult to die on the coin. But after a few months of consideration, the first Buffalo Nickels were minted in 1913.
With a detailed design, the Buffalo Nickel quickly became popular with the public. However, the design proved challenging for the Mint to produce. The raised relief of the design caused problems with the coin's durability and wear.
In 1921, the Mint began to make modifications to the Buffalo Nickel design, including lowering the relief of the design and making other technical changes to improve the coin's durability.
These modifications continued through the 1920s and early 1930s, resulting in a variety of subtypes and minor design variations. However, these coins never became better.
So in 1938, the US mint replaced the Buffalo Nickel with the Jefferson nickel. The new coin had the same composition of 75% copper and 25% nickel as Buffalo Nickel but was much more durable.
Also Read: Top 19 Most Valuable Jefferson Nickels Worth Money
1928 Buffalo Nickel Grading
When grading a 1928 Buffalo Nickel, consider a number of factors, including the coin's overall appearance, the amount of wear or damage it has sustained, and the presence of any notable flaws or imperfections.
The grading scale used for coins like the 1928 Buffalo Nickel ranges from 1 to 70, with higher numbers indicating a better overall condition. Here's a helpful video about how to grade your Buffalo Nickel.
1928 Buffalo Nickel Errors
1. Doubled Die
The Doubled Die is one of the most notable errors of the Buffalo Nickel coin. The error is characterized by doubling the letters and numerals on the coin's reverse side, making them appear thicker and slightly offset from their original position.
The Doubled Die occurred when the coin die was struck twice, which resulted in a double image. Buffalo Nickels with doubled die error are rare and thus way more valuable than the normal buffalo nickel coins. Especially if the error is prominent, you can expect the coin to range from several hundred dollars for a lower grade to thousands of dollars for a high-grade one.
2. Two Feathers Error
The next error is the Two Feathers 1928 Buffalo Nickel coin. With several dates in this variety, including those minted in 1928, it is another popular error of the Buffalo Nickel series.
The Two Feathers occur as a result of extreme or rushed polishing of the die over the third feather. Some theories say that this variety happened in an attempt to fix the previous die clash or planchet error.
Nonetheless, the Two Feather error is extremely rare and only present in the 1928 "S" Mint Mark Buffalo Nickel. Depending on the condition, you can buy it for about $225.
3. ¾ Horn Reverse Error
Another error specific to the Buffalo Nickel series is the shortened buffalo horn on the reverse side. It probably occurred due to an irregular off-center strike.
And since it's a minor error, it affects the value of the coin to a lesser extent than those other significant errors. You can find these varieties on eBay for approximately $10.
4. Lamination Error
Lamination error occurs when a thin layer of the coin's surface metal separates from the rest of the coin due to a problem during the minting process, resulting in a thin, flat piece of metal that appears to be peeling off the coin.
There are several reasons for Lamination errors, including impurities in the metal, improper annealing (heating and cooling) of the coin blanks, or defects in the rolling or striking process. However, the exact cause of the lamination error is still unknown.
But what's known is that lamination can slightly add to the coin's worth, especially if the difference is prominent. A Buffalo nickel's lamination variety in fine condition can typically be worth around $35.
Let's take a look at this video depicting some of the errors in the 1928 Buffalo nickel and how much they are worth.
1928 Buffalo Nickel FAQs
What is the value of a 1928 Buffalo Nickel?
Several factors contribute to determining the worth of a 1928 Buffalo Nickel. But usually, the circulated ones can be found for under $10, while uncirculated examples can be worth several hundred dollars or more.
What are some key dates and varieties of the 1928 Buffalo Nickel?
While 1928 is not considered a key date for the series, there are some notable varieties to look for, such as the 1916-P Doubled Die Obverse, 1918-D 8 over 7, and the 1926-S.
How should I store and care for my 1928 Buffalo Nickel?
To preserve the value of your 1928 Buffalo Nickel, store it in a protective holder or album, avoid touching the surface with bare hands, and keep it in a dry and cool place away from sunlight and moisture.