Are you interested in collecting quarters? Are you considering buying a 1956 quarter? If so, we want to equip you with all the information you need. In this post, we're going to tell you more about the 1956 quarter value, its history, and its key features.
We're even going to talk about the different varieties of this coin out there and the errors you need to look out for.
1956 Quarter Details
Category: Washington Quarters
Total Mintage: 77,147,884
Minting place: Philadelphia, Denver
Weight: 6.25 g
Diameter: 24.3 mm
Edge: Reeded
Face value: 25 cents ($0.25)
Composition: 10% copper and 90% silver
Engraver: John Flanagan
The 1956 Quarter Obverse Design
This coin's obverse features the bust of George Washington facing left. Where Washington's neck cuts off, the coins designer placed his initials, JF. Beyond that, he wrote the word "LIBERTY" above Washington's head along the coin's rim.
He also marked the year 1956 under Washington's neck along the coin's lower rim. The motto "IN GOD WE TRUST" was also placed under Washington's chin.
The 1956 Quarter Reverse Design
This coin's reverse side has the words "UNITED STATES OF AMERICA" written along its top rim and the words "QUARTER DOLLAR" along its bottom rim. In the middle of the design is the image of an eagle standing on a perch with outstretched wings.
On top of the eagle's head are the words "E PLURIBUS UNUM". It's written below the word "STATES" on the top rim and trapped between the two wings of the eagle. Interestingly, the eagle's perch is made of arrows bundled together.
Also, there is a wreath of olive branches under the perch.
Other features of the 1956 Quarter
This coin is reeded, contains 90% silver, and has a diameter of 24.3 mm. It weighs 6.25 g; this is half the weight of the half dollar. Interestingly, it also contains half the mass of silver present in the Half Dollar.
Also Read: Top 15 Most Valuable Quarters In Circulation
1956 Quarter Value Chart
1956 Quarter Value Chart
Condition
1956 No Mint Mark Quarter
1956 "D" Quarter
Good (G4)
$8.53
$8.53
Very Good (VG8)
$8.53
$8.53
Fine (F12)
$8.53
$8.53
Very Fine (VF20)
$8.53
$8.53
Extremely Fine (EF40)
$8.53
$8.53
About Uncirculated (AU50)
$9.93
$9.93
Uncirculated (MS60)
$11
$11
Uncirculated (MS65)
$22
$29
Proof (PR65)
$24
N/A
1956 Quarter Values and Varieties Guide
1956 No Mint Mark Quarter Value
Type: Washington Quarters
Mint Mark: None
Minting place: Philadelphia
Year: 1956
Edge: Reeded
Mintage: 44,813,384
Designer: John Flanagan
Face value: 50 cents ($0.50)
Current value: $8 to $24
%Composition: 10% copper and 90% silver
Mass: 6.25 g
Diameter: 24.3 mm
In 1956, the Philadelphia mint produced 44,813,384 Washington quarters. These had no mint mark and 669,384 of them were proof coins. The total mintage of no-mint of quarters this year was higher than that of the previous year.
This makes these coins readily available today. You can get one for $8 to $24. However, some rare pristine ones cost as much as $3,500. PR67+ proofs can even go for $8,000.
1956 "D" Quarter Value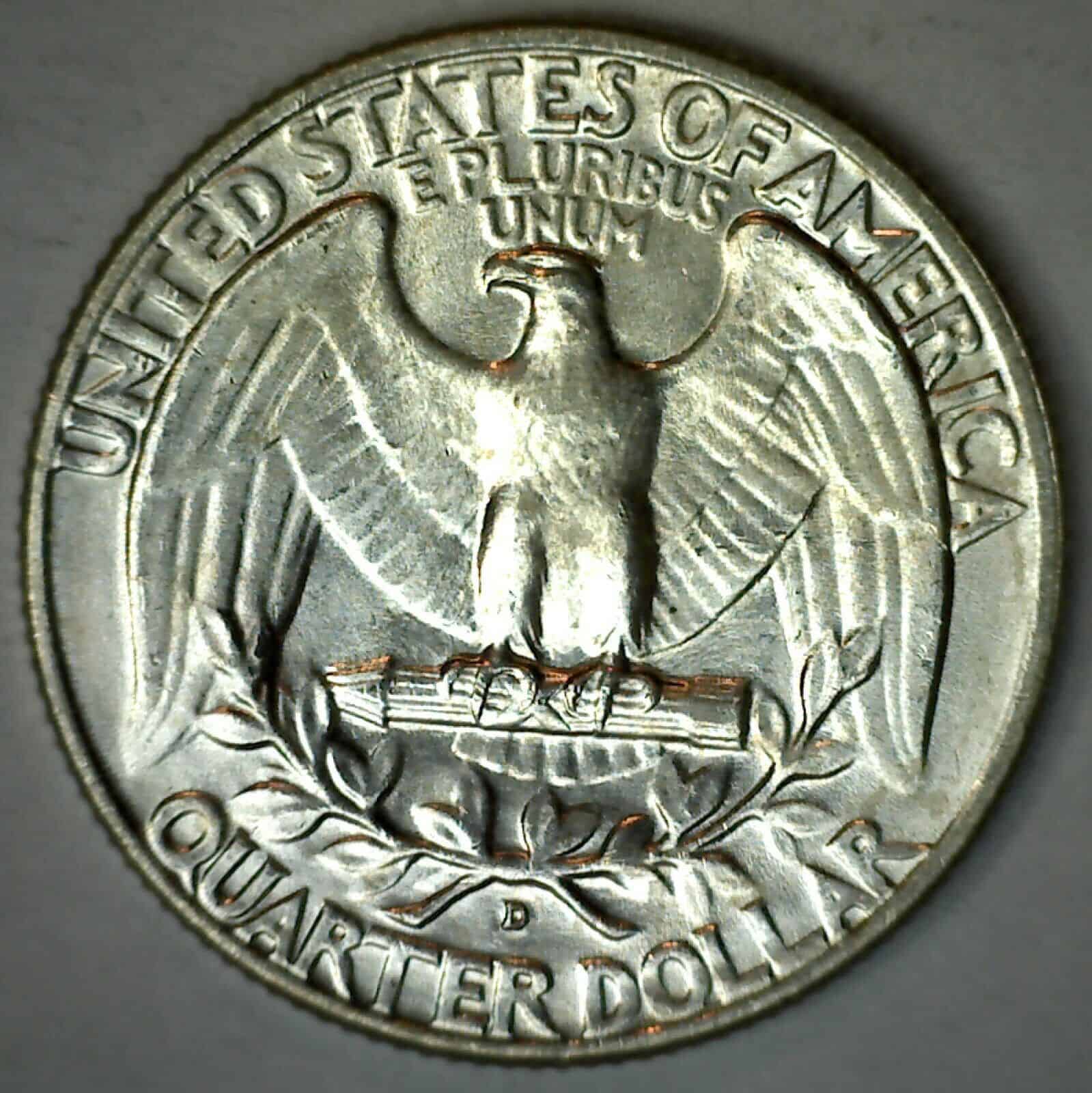 Type: Washington Quarters
Mint Mark: "D"
Minting place: Denver
Year: 1956
Edge: Reeded
Mintage: 32,334,500
Designer: John Flanagan
Face value: 50 cents ($0.50)
Current value: $8 to $29
%Composition: 10% copper and 90% silver
Mass: 6.25 g
Diameter: 24.3 mm
In 1956, the Denver mint produced 32,334,500 Washington quarters. This was a much higher number than the facility produced the year before. But like previous Denver Washington coins, these had a "D" mint mark.
This mark was placed above the "QUARTER" inscription on the bottom rim of the coin's reverse side, below the olive branch wreath. Interestingly, these coins are still available today.
You can buy one for $8 to $29. However, high-grade uncirculated coins can cost as much as $4,000.
Also Read: Top 16 Most Valuable Modern Quarters Worth Money
1956 Quarter History
Washington quarters were first minted in 1932 and are still being minted today. They were designed to honor 200 years after George Washington's birth. They succeeded the Standing Liberty quarter that was minted from 1916 to 1930.
Although a sculptor called Laura Fraser was originally chosen to design the Washington quarter, things changed and a design by John Flanagan was chosen.
While the Washington quarter was supposed to only be produced for one year, the US lawmakers decided to keep on producing this coin. These coins were made of 10% copper and 90% silver until 1964 when silver prices rose.
To cope with this issue, the mint switched to coins with 91.67% copper and 8.33% nickel. This is the composition used to date. Weighing in at 5.67g, these are lighter than the original ones.
However, the mint still produces proof coins for collectors. These are made of silver and are usually sold in sets. Composition is not the only feature of the Washington quarter that has changed over the years though; the design has changed too.
The coin's reverse has been changed several times, sometimes to honor certain events, people, or places. For instance, in 1975 and 1976, it had a Bicentennial design that featured a drummer.
Also, from 2010 to 2020 there were five different reverse designs released each year. And in 2021 one reverse design was released. All 56 of these designs featured US natural and historic sites.
The coins represent each state, district, and territory of the United States. As such, they are commonly referred to as America the Beautiful Quarters. Interestingly, the obverse on these coins was slightly different from the original 1932 design.
But this wasn't the last design change made. In 2021, there were new quarters circulated that had a reverse design with Washington. In this new design, he was commanding his troops. Interestingly, there are even plans to change the reverse design again.
The mint plans to release up to five coins a year from 2022 to 2025 with images of prominent American women. These coins will even have a new obverse image of Washington.
Beyond that, the mint plans to release up to 5 new coin designs in 2026 to honor the 250th anniversary of the US declaration of independence.
Further plans have been made to produce up to 5 new coin designs each year from 2026 to 2030 with images of youth sports. The obverse design will also be changed in 2027. However, it will still depict Washington, even beyond the year 2030.
1956 Quarter Grading
Grading a 1956 quarter requires attention to detail; you have to keenly look at its condition. Eventually, you'll have to give your coin a number grade on a scale of 1 to 70. You'll also have to place it in a category like good, fine, or extremely fine.
If this is too difficult for you, consider sending your coin to professional grading services like PCGS and NGC. But keep in mind that such agencies charge a fee and won't agree to grade any contaminated Washington Quarters.
Also Read: 10+ Rarest State Quarter Errors Lists (Worth Much Money!!!)
List of 1956 Quarter Errors
1. 1956 Quarter Mismatch Bus/Proof
This error occurs when someone at the mint uses a proof die on a business strike coin or vice versa. This results in regular strike coins with proof reverse sides or proof coins with regular strike reverse.
The former is what happened to a few of the 1956 quarters minted in Philadelphia. These coins are usually referred to as Type B Reverse coins.
This is because the design struck on business coins is usually called Type A and the one struck on proof coins is called Type B. These designs have subtle differences.
One major one in the 1956 quarter is the way the word "STATES" appears on the reverse side of the coin. In the proof design, the two last letters have more space between them than in the business strike design.
Another difference is that the proof design has a connection between one of the leaves in the olive branch wreath with the letter "A" in "DOLLAR" while the Type A design doesn't.
Type B also has a higher and more defined left leaf, particularly where it connects with the tip of the bundle of arrows. Generally, 1956 quarters with a Type B Reverse are rare and valuable. They can go for as much as $2,400.
However, keep in mind that the quarter mismatch error can be found in any Washington coin minted from 1956 to 1964.
2. 1956 Quarter struck on the wrong planchet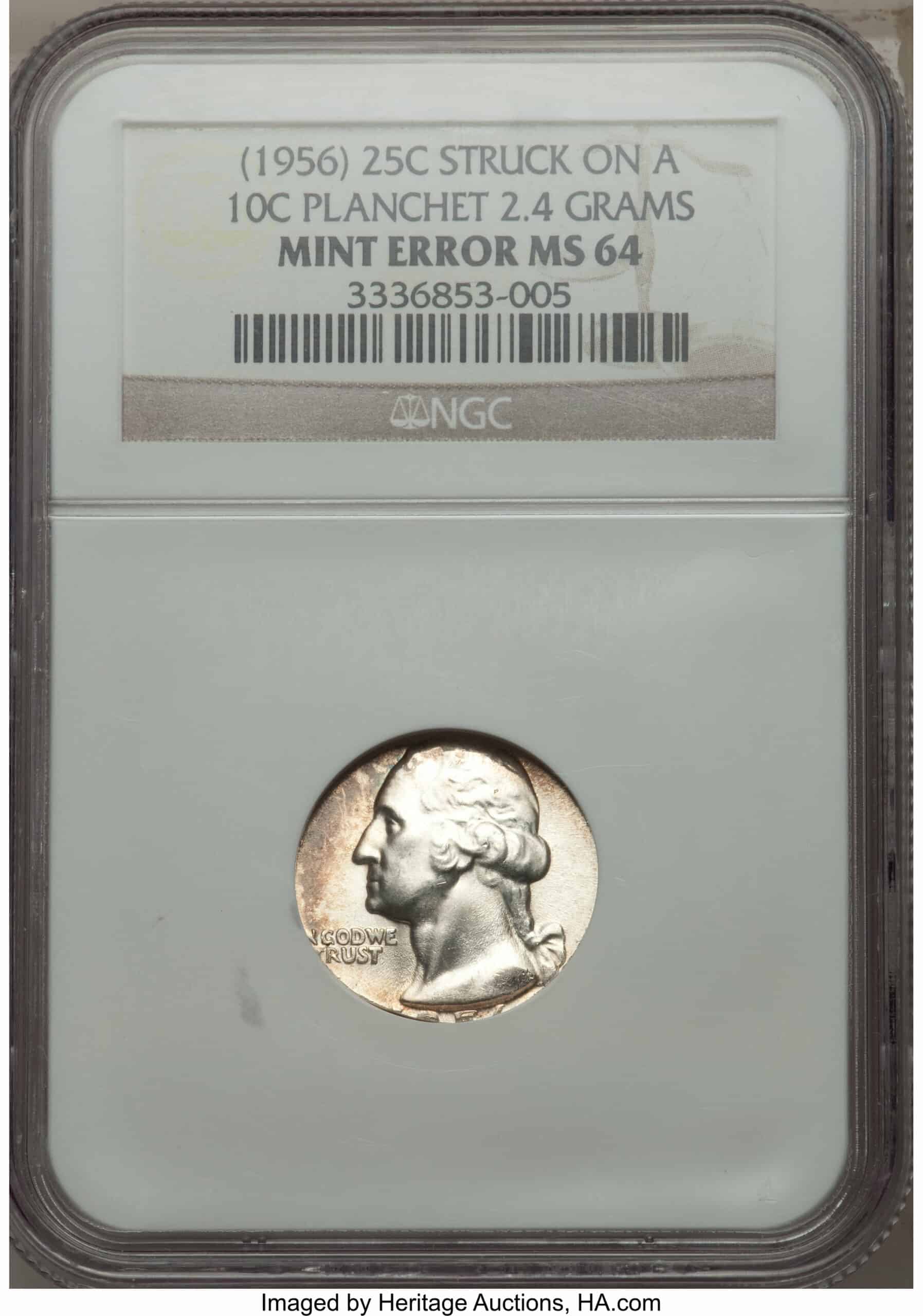 Sometimes, the mint can accidentally use the wrong planchet to strike coins. This results in a coin with a different composition, weight, and size. Even the design ends up not fitting well on the coin.
Interestingly, this error can make a coin more valuable. For instance, an NGC MS65 1956 quarter that was struck on a one-cent planchet went for $1,265 at Heritage auctions.
On the other hand, a PCGS MS63 1956 quarter that was struck on a 10-cent planchet went for over $645. A PCGS AU55 1956 quarter struck on a nickel planchet sold for around $300.
3. 1956 Quarter Struck on Thick Planchet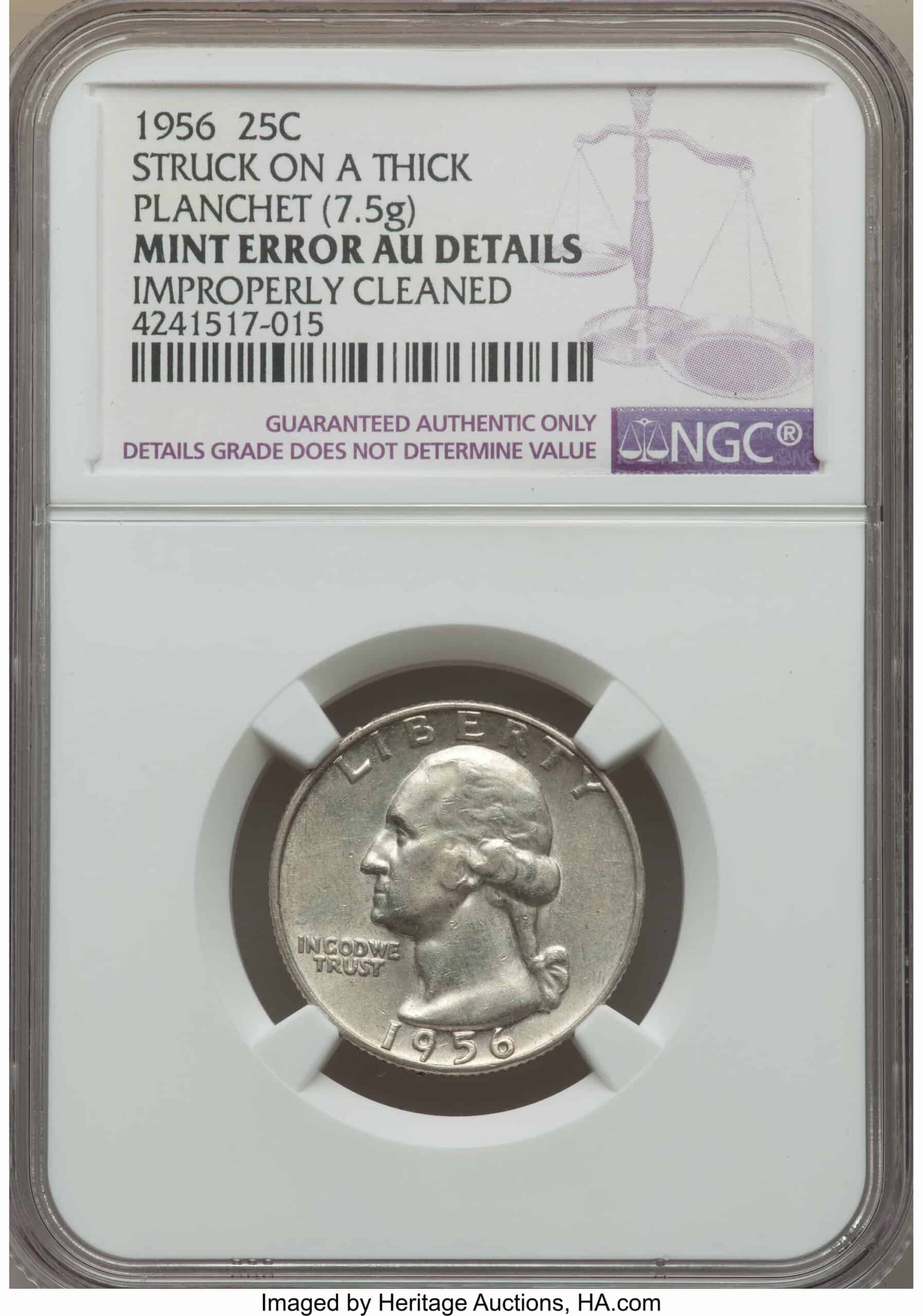 Sometimes a coin can end up being struck on a planchet that's thicker and heavier than it should be. This error can make your coin more valuable. As such, it's important to weigh any coins in your possession.
After all, an NGC AU55 1956 quarter weighing 7.5 grams ended up selling for over $175.
4. 1956 Quarter Repunched Mint Mark
As its name suggests, this error is evidenced by a mint mark that looks like it has been punched more than once. It is the result of using a working die with more than one offset impression. One of the impressions may even be inverted.
Either way, this error can add value to a coin, especially when it's in a mint state. A PCGS MS67+ 1956 D quarter with this error can cost over $8,000.
5. 1956 Quarter Double Die
When a coin has this error, you will notice that some of its design elements have been doubled. This happens when the die ends up with two images instead of one; this is in most cases a manufacturing error.
Ultimately, the more distinct the error this die produces, the more valuable your coin is going to be. If the error is not that noticeable your 1956 quarter may end up selling for only $25.
1956 Quarter FAQ
Does a 1956 quarter have silver?
Yes, 90% of the 1956 quarter's mass is silver.
What year is a rare quarter?
The year 1932 is a rare quarter because it had the lowest mintage in total and for individual facilities. While the Philadelphia mint produced a little over 5 million quarters that year, the Denver and San Francisco ones produced less than ½ a million each.
The San Francisco coins were even fewer than the Denver ones, making them one of the rarest Washington quarters. The situation is made worse by the fact that 1932 was the first year that Washington quarters were minted.
This makes it significant and increases collectors' interest in the 1932 quarters.
How can you tell if a quarter has silver?
Your best bet is to check the date on the coin. Any coin from a year before 1965 has silver in it. But if you can't see the date properly or suspect that your coin may be a fake, you're better off taking it to a coin expert.
Such professionals can test your coin for silver using acidic chemicals.
How do I know if my quarter is worth any money?
To do this, you'll need to see a coin dealer or any other type of coin expert. They will have to grade your coin and identify any errors to determine its value.
If you are willing to spend a bit more or think you have something big, you can even get a professional grading agency to take a look at your coin.