Have you found a 1958 penny in your pocket change? Or maybe you're looking at adding one to your coin collection. Either way, you're probably wondering what it might be worth. The good news is, you've come to the right place!
We're going to look at everything you need to know about the 1958 Wheat penny value. We'll explore different varieties and error coins. And we'll find out just what makes collectors willing to pay big bucks for certain pennies.
Ready to learn more? Let's get started!
1958 Wheat Penny Details
Category: Lincoln Wheat pennies
Mints: Philadelphia, Denver
Total mintage: 1,054,353,952
Obverse designer: Victor David Brenner
Reverse designer: Victor David Brenner
Edge: Plain
Diameter: 19.00 millimeters
Composition: 95% copper, 5% tin and zinc
Weight: 3.11 grams
1958 Wheat Penny Value Chart

Mint mark
MS63
MS65
MS67
1958 (P) No Mint Mark Wheat Penny Value*
$7
$18
$385
1958 D Wheat Penny Value*
$7
$17
$275
PR63
PR65
PR67
1958 (P) No Mint Mark Proof Wheat Penny Value
$14

Cameo: $20

Deep cameo: $60

$25

Cameo: $30

Deep cameo:

$225

$60

Cameo: $140

Deep cameo: $675
*Values shown are for coins graded red (RD).
1958 Wheat Penny Values and Varieties Guides
1958 (P) No Mint Mark Wheat Penny Value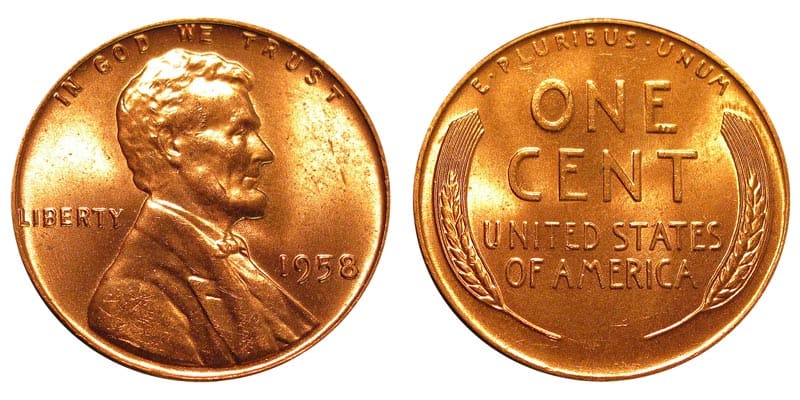 Type: Lincoln Wheat Penny
Edge: Plain
Mint mark: None
Place of minting: Philadelphia
Year of minting: 1958
Face value: $0.01 (one cent)
$ price: $0.01 to $6,500
Quantity produced: 252,525,000
Designer: Victor David Brenner
If your 1958 Wheat penny doesn't have a mint mark, it was made in Philadelphia. Check by looking at the obverse, just beneath the date. If there's no letter there, it's a Philadelphia penny. That makes it one of over a quarter of a billion pennies struck there in 1958.
With so many coins produced, most aren't worth much more than their face value today. But that can change if your coin is red in color (more about that later), and in excellent condition.
The value of red coins in uncirculated condition – known as mint state – starts at about $3 for a coin graded MS60. That increases to $18 for a "gem" quality coin graded MS65.
The finest examples to have been assessed by the independent coin graders the PCGS are graded MS67+. To date, six such coins have come to light, and they're each valued at $6,500.
The auction record for a 1958 Wheat penny from Philadelphia was set in October 2019. A coin graded MS67+ sold then for $9,000.
1958 D Wheat Penny Value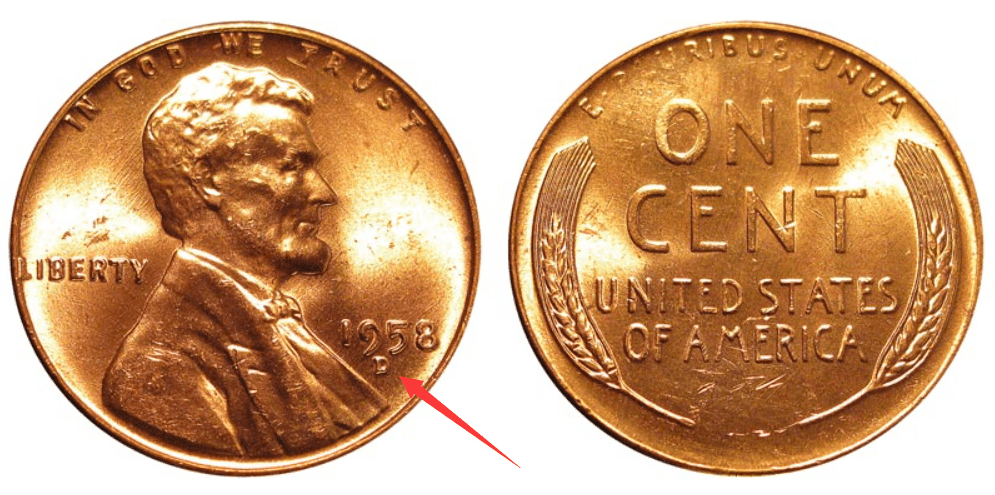 Type: Lincoln Wheat Penny
Edge: Plain
Mint mark: D
Place of minting: Denver
Year of minting: 1958
Face value: $0.01 (one cent)
$ price: $0.01 to $2,400
Quantity produced: 800,953,300
Designer: Victor David Brenner
The mint facility at Denver produced more than three quarters of all the cents minted in 1958. If your coin has a small "D" inscribed below the date, it's one of those Denver pennies.
Unless they have an interesting error, most coins in circulated condition won't be worth more than a few cents. And at most uncirculated grades, red coins are the same or similar in value to their Philadelphia counterparts.
A 1958 Denver cent graded MS60 is worth $7, the same as a Philadelphia cent. And at MS65 it's worth $17, just $1 less than a Philadelphia example.
At higher grades, there's more of a difference. A red 1958 Denver Wheat penny graded MS67 is valued at $275. That's $110 less than if it had been struck in Philadelphia.
The finest known coins are graded MS67+. 32 specimens share this grade, and the PCGS values each one at $2,400.
1958 (P) No Mint Mark Proof Wheat Penny Value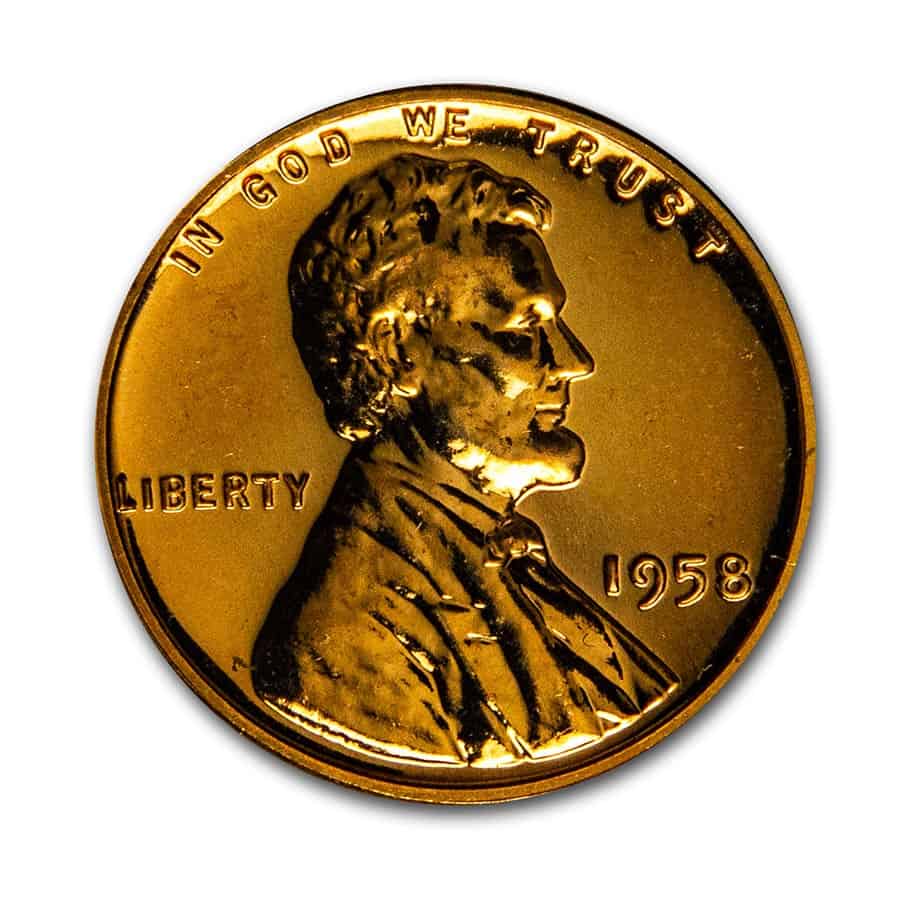 Type: Lincoln Wheat Penny
Edge: Plain
Mint mark: None
Place of minting: Philadelphia
Year of minting: 1958
Face value: $0.01 (one cent)
$ price: $5 to $15,000
Quantity produced: 875,652
Designer: Victor David Brenner
As well as the regular Wheat pennies, 1958 saw the Philadelphia mint strike just under 900,000 proof pennies. These were struck on highly polished planchets with specially crafted dies. They were designed to be of the highest quality, and were targeted at coin collectors.
But because of that, the majority of coins were stored away carefully after their purchase. So more than 60 years on, they're still in plentiful supply. And that keeps prices surprisingly modest.
Like regular strike coins, proofs from Philadelphia don't have a mint mark. They come in three different categories: red, cameo, and deep cameo. Cameo coins are those that have an attractive contrast between glossy fields and frosted designs. The contrast in deep cameos is more intense.
Proof coins are graded with the prefix "PR". A red coin graded PR60 is valued at $5. A cameo at the same grade is double that, and a deep cameo is valued at $22.
For red proofs, values remain in double figures up to PR68. The finest grade awarded to a red 1958 proof penny is PR69. The PCGS has assessed two coins at that level, and values them at $550 apiece.
A deep cameo at the same grade is valued at $15,000. One coin has been graded at that level by the PCGS, and one other by the NGC. The latter last sold at auction in 2022, fetching what was perhaps a disappointing $5,750.
Also Read: Top 20 Most Valuable Old Pennies Worth Money (Penny Collection)
1958 Wheat Penny History
Wheat pennies are a sub-category of Lincoln pennies. These get their names from the portrait of the former president which appears on their obverse.
They were first produced in 1909 to celebrate the centenary of Lincoln's birth. It was the first time that a real person had appeared on an American coin. Previous coins had carried images of Lady Liberty on their obverse.
The Wheat penny was the first incarnation of the Lincoln penny. Its nickname comes from the design on its reverse. This shows two ears of durum wheat.
Wheat pennies were minted until 1959, when the image on the reverse was replaced with one of the Lincoln Memorial. The change marked 150 years since Lincoln's birth. And in 2009, the bicentenary was marked with four different reverses, each one showing a different stage of Lincoln's life.
The design for both sides of the Wheat penny was the work of a sculptor named Victor David Brenner. But the ears of wheat weren't the first image he put forward for approval. That had been a branch of a tree, but it was notably similar to French coins being produced at the same time.
The Mint director, Frank A. Leach, sent Brenner back to the drawing board. The simple but striking wheat design was the result.
The first Wheat pennies were made of 95 per cent copper, with the remainder being a mixture of tin and zinc. That composition changed to steel coated in zinc in 1943. The change was designed to release copper for the war effort.
In 1944, the pennies reverted to their original copper, tin and zinc recipe. That composition was unchanged in 1958.
1958 Wheat Penny Grading
Copper coins like the wheat penny can be divided into three different color classifications. That's because copper changes its shade as it's handled or exposed to the air.
New copper is red. But when it comes into contact with oxygen, it begins to turn brown. Wheat pennies can be categorised as red, red and brown, or brown. All other things being equal, red coins are the most desirable and brown coins the least.
In order to be classified as red, a penny must retain its original color over at least 95% of its surface area. If at least 95% of the surface is brown, it's classified as brown. And if it's anywhere in between, it's red and brown. The colors are often abbreviated to RD, RB and BN in coin catalogs.
Proof coins are higher quality and are nearly always red. But they can also be classified as cameos or deep cameos. These designations are awarded to coins which have reflective fields and frosted design elements.
1958 Wheat Penny Errors
1958 D Wheat Penny on Improperly Annealed Cuban 1c Planchet
Very occasionally, coins get struck on something other than the correct planchet. And that was the case for one 1958 Wheat penny minted in Denver. It was struck on the planchet intended for a Cuban one cent coin.
And that wasn't all. The planchet itself was defective. It had been improperly annealed – in other words, it wasn't heated and cooled to the right temperatures during production. The result was patches of gray on the surface of the coin.
The coin was graded MS63 by the NGC and sold at auction for over $1,700.
Note, though, that annealing errors can be easily confused with damage made after the coin left the Mint. A hot coin that cools suddenly – for example, by being dropped into icy water – can look very similar.
1958 Wheat Penny Struck Off-Center
Sometimes the planchet isn't held in quite the right position when it's struck by the die.
That was the case with a 1958 penny from Philadelphia, where the design was struck 20% off-center. It was graded MS63 red and brown by the NGC. And it sold at auction for just over $30.
Another 1958 penny from Denver suffered a similar fate. in this case, though, the design was much further off-center – 75%. That particular example was also graded higher, assessed as MS66 red by the NGC. It sold at auction for $140.
1958 (P) Not Mint Mark Wheat Penny, Double Struck
Sometimes coins are struck twice during their production. That happened with one 1958 penny from Philadelphia. It's possible to see part of the word "Liberty" and the outline of Lincoln's head on the reverse of the coin. And part of the wheat ears can also be seen on the obverse.
The coin was graded MS64 red and brown, and sold at auction for $450.
1958 (P) No Mint Mark Wheat Penny, Double Die Obverse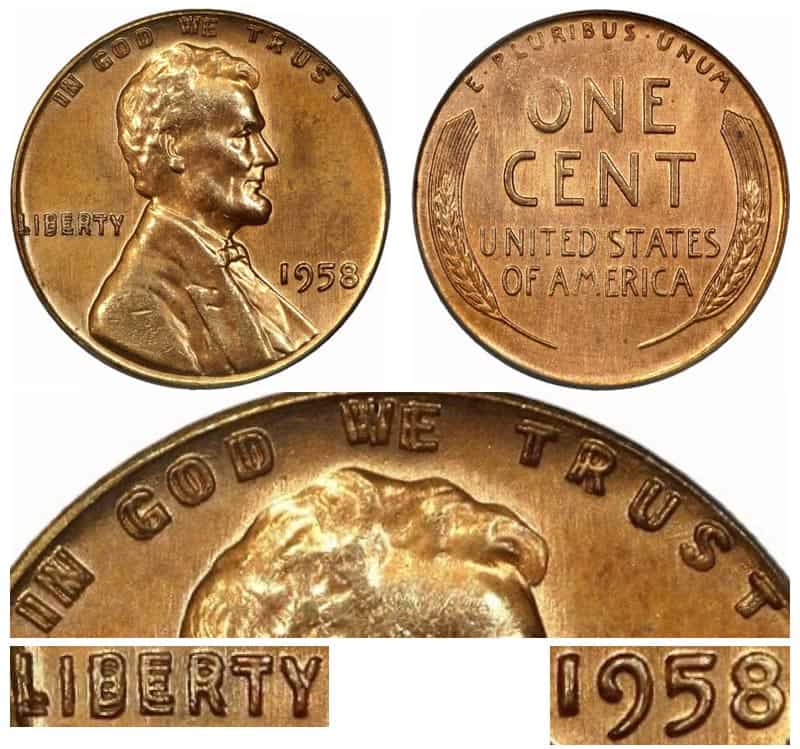 Double die errors result from a problem with the die used to strike the coins. In order to capture every detail of the design, dies are struck multiple times by a hub.
But if the die moves during that process, a double image is left behind. When the die strikes the planchet, that double image is then transferred onto the new coin.
Double die errors can occur on either the obverse or reverse of coins, depending on which die was affected. The 1958 pennies minted in Philadelphia include a handful with a double die error on the obverse side. Look for evidence of doubling on the word "Liberty" and the motto "In God We Trust".
Red 1958 pennies with this error are both rare and extremely valuable. The PCGS has graded two examples at MS64, and one at MS65. The values? $336,000 and $1,140,000 respectively.
This YouTube video from Couch Collectables provides more information on 1958 Wheat pennies with errors.
FAQs
How much does a 1958 penny cost?
It's possible to spend anything from a few cents to thousands of dollars on a 1958 penny. How expensive any individual coin is will depend on its rarity and condition.
Circulated brown or red and brown coins won't usually be worth more than five cents. But there are exceptions. An interesting error – like a coin with doubling, or one that's been struck off-center – can boost values significantly.
Uncirculated coins and proof coins of the highest quality are rarer and more valuable too. These can be worth hundreds, or even thousands of dollars.
What is the error on the 1958 penny?
The most well-known error amongst 1958 pennies is the double die obverse. With some double die errors, the doubling can be very subtle and require a microscope to spot. But that's not the case here.
Doubling can be clearly seen on all the letters of the word "Liberty". And it's also obvious on the motto "In God We Trust".
Coins with this error can be extremely valuable. The finest example graded by the PCGS is a single coin at MS65. That's valued at over $1 million.
But before you part with serious money for a coin like this, make sure you know what you're buying. There are fakes out there, so look for certification from trusted independent coin graders like the PCGS, NGC or ANACS.