The Eisenhower dollars—also fondly called "Ikes," borrowing from the late president's nickname—was famously known for its depiction of the 1969 landing on the moon, among other things. It looked toward the future of man and country, which people loved.
While the 1977 silver dollar is no longer in circulation today, it has always been one of the nation's most modern designs for US coinage.
So, how did the value of the 1977 Eisenhower silver dollar fare over the years? Is it the same as its face value of one dollar, or has it risen the ranks to be worth hundreds and even thousands of dollars? Keep scrolling to learn more about how your 1977 silver dollar could be worth today!
1977 Silver Dollar Value Details
Category: Eisenhower dollars
Mints: Philadelphia, Denver, and San Francisco (for proofs only)
Total mintage: 48,830,158
Obverse designer: Frank Gasparro
Reverse designer: Frank Gasparro
Edge: Reeded
Diameter: 38.1 mm
Thickness: 2.58 mm
Content: Copper clad in copper-nickel (about 92% copper, 8% nickel)
Weight: 22.68 grams
Although these 1977 are called "silver" dollars, there isn't any silver in them at all. The 48 million dollar coins minted that year were made of copper clad in copper-nickel.
The inner core was 100% copper, while the outer layer was 75% copper and 25% nickel. The total estimated composition per alloy was about 92% copper and 8% nickel all in all.
The obverse of the coin portrays a left-facing portrait of Dwight D. Eisenhower, the 34th president of the nation. The designer, Frank Gasparro, was said to have consulted the late president's wife, Mamie Eisenhower, to gain her approval of her husband's portrait on New Year's Day of 1971.
On the coin's design, Eisenhower is bare-headed. Above him are the words "LIBERTY," and right below his chin is the motto "In God We Trust." On the very bottom of the obverse, we see the date "1977." Above the first "7" is the mint mark (if any).
Meanwhile, the reverse depicts a grand US achievement in the year 1969—the moon landing. But instead of an astronaut walking on the moon, we see an American Eagle instead.
Its wings are spread wide as it flies on the moon's surface, with planet earth at a distance. In its talons, there is an olive branch, symbolizing peace. Below the eagle's tail are the initials "FG" to give recognition to the designer.
In an arc on the upper side of the reverse, you'll see "UNITED STATES OF AMERICA" written. Right below it and on top of the eagle's head, the US creed "E pluribus unum" is engraved.
Also Read: Top 21 Most Valuable 2000 P Sacagawea Dollar Coin Worth Money
1977 Silver Dollar Value Chart
1977 Silver Dollar Value Chart
Mint Mark
Extremely Fine
AU55 About Uncirculated
MS63 Select Uncirculated
MS66 Gem Uncirculated
MS67 Superb Gem Uncirculated
1977 Silver Dollar Value for No Mint Mark (P)
$1.05
$1.15
$12.50
$75
$1,900
1977 Silver Dollar Value for "D" Mint
$1.05
$1.15
$12.50
$80
$1,900
1977 Silver Dollar Value for "S" Mint (Proofs Only)
–
–
$10

Cameo: $11

Ultra Cameo: $15

$13

Cameo: $14

Ultra Cameo: $18

$14

Cameo: $15

Ultra Cameo: $20
1977 Silver Dollar Values and Varieties Guides
1977 Silver Dollar Value for No Mint Mark (P)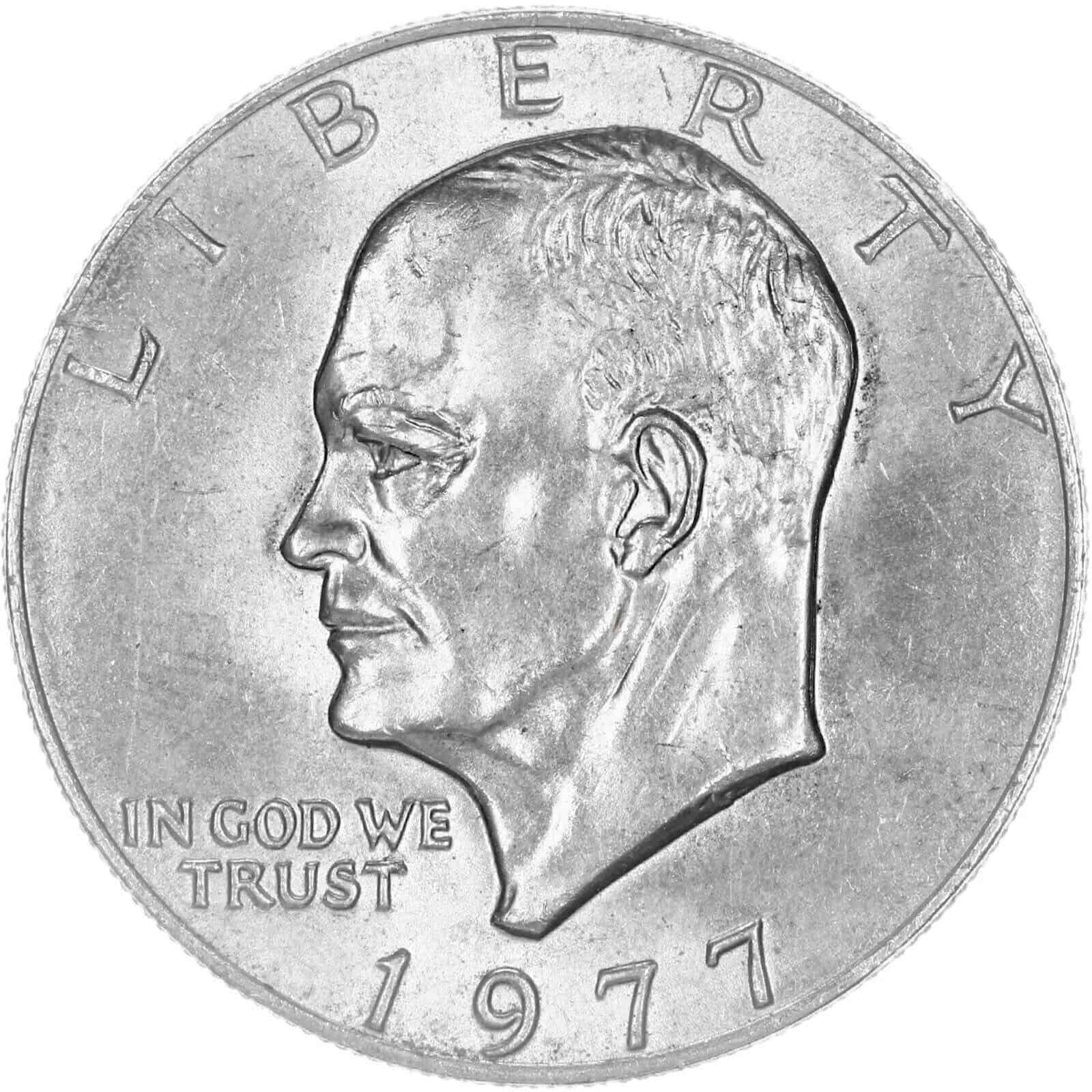 Type: Eisenhower dollars
Edge: Reeded
Mint mark: No mint mark
Place of minting: Philadelphia
Year of minting: 1977
Face value: $1
$ price: $1.05 to $1,900
Quantity produced: 12,596,000
Designer: Frank Gasparro
In 1977, the Philadelphia mint produced almost 12.6 million Eisenhower silver dollars. They have no mint marks, just like most Philadelphia-minted US coinage.
When in circulated condition, the 1977 (P) silver dollars aren't worth that much more than their face value. A good-condition to AU58+ grade 1977 (P) silver dollar is valued between $1.05 to $1.50.
Funnily enough, the NGC Census shows that most of the 1977 (P) silver dollars in collections today are part of the uncirculated issue—most of them in the MS64 to MS66 range.
Those in uncirculated condition are more valuable and can potentially make you lots of money, especially when they have rare errors. An MS62 silver dollar can get you $7.50, while an MS66 is valued at up to $75. In pristine condition, a brilliant, lustrous MS67 can be sold for $1,900.
1977 Silver Dollar Value for "D" Mint Mark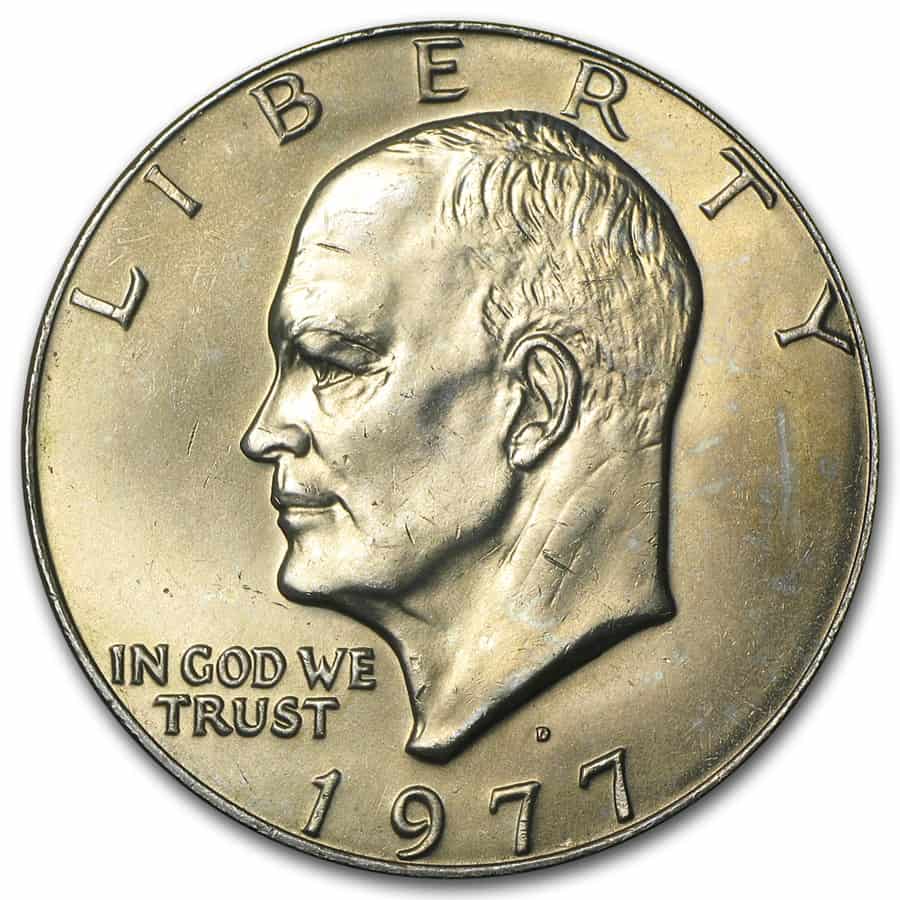 Type: Eisenhower dollars
Edge: Reeded
Mint mark: D
Place of minting: Denver
Year of minting: 1977
Face value: $1
$ price: $1.05 to $1,900
Quantity produced: 32,983,006
Designer: Frank Gasparro
Denver minted just shy of 33 million 1977 silver dollar coins that year—more or less triple the number produced in the Philadelphia mint. These coins are engraved with a "D" mint mark, the signature mark of a Denver-minted coin.
The 1977 D silver dollar coins don't differ much from the Philly-minted coins in terms of value today. Most circulated coins are valued at more than a dollar, but never quite meet the $2 price point. That only happens when the coin is graded MS60 (valued at exactly $2) and above.
That said, a 1977 D silver dollar in MS66 Gem Uncirculated condition is a tad bit more expensive that its Philly counterpart at $80. One step up in the grading scale at MS67 raises the value of this coin to $1,900.
Rare mint errors also increase the prices of the 1977 D silver dollar coin significantly. For example, an MS64 coin—usually valued at around $17.50—once sold for almost $500 at a 2015 auction because it had a 17% off-center strike error.
Other odd and peculiar errors, like being struck on the wrong metal planchet, can raise this coin by thousands of dollars—but more on that later.
1977 Silver Dollar Value for "S" Mint Mark (Proofs Only)
Type: Eisenhower dollars
Edge: Reeded
Mint mark: S
Place of minting: San Francisco
Year of minting: 1977
Face value: $1
$ price: $10 to $700
Quantity produced: 3,251,152
Designer: Frank Gasparro
Lastly, we have the San Francisco-minted 1977 silver dollars. Now, these Frisco-minted coins weren't the usual. In 1977, the Californian mint was only assigned to create proof coins, struck only for collectors and never put in circulation. Three million proof silver dollars were minted that year.
1977 silver dollar proofs were struck on polished planchets, giving them that brilliant and "perfect"-looking sheen and luster. The least expensive proofs today are valued at about $10, while the most high-quality and defined coins at MS70 grading might be sold for up to $700.
NGC also gives proof coins Cameo (MS CA) and Ultra Cameo (MS UC) designations, depending on the frost on the coin's design elements.
When coins are sandblasted or made with a fresh die, it gives them that matte and frosted finish that makes the design pop out even more. The more frost a coin has, the higher the "cameo" distinction it is given, and the more valuable it becomes.
Take an MS63 1977 S silver dollar, for example. Without a cameo designation, it is valued at around $10. When graded MS CA, the value is raised to $11. And when given the highest frost grade of MS UC, the value goes to $15.
As you can see, just because the coins are proofs, it doesn't mean they're more valuable. With the 1977 silver dollars specifically, it looks like uncirculated versions of the Philly- and Denver-minted coins are more valuable than the proofs minted in San Francisco.
History of the 1977 Silver Dollar
In 1965, a Coinage Act was passed to halt the production of any silver dollars for five years. This was because there was too much pressure on the price of silver at the time.
So when the 70s rolled around, people were more than excited to share their ideas for what the new silver dollar would look like. One of these people was Congressman Bob Casey from Texas, who proposed a bill to use the new silver dollar design to commemorate two things.
The first was the late president Eisenhower who died in 1969. The second is the Apollo 11 landing on the moon, one of the country's greatest achievements that happened in the same year.
Although the US Mint was eager to honor Eisenhower on the coin, there was a lot of deliberation for how the moon landing was to be depicted. Some believe that it was a toss-up between the image of Apollo 11 itself and the American Eagle, which rose victorious in the deliberations.
And so, in 1971, the first Eisenhower silver dollars were minted. It wasn't until a few years later that the government realized how Americans disliked carrying these big, heavy coins around. In 1979, they were replaced by the Susan B. Anthony dollar coin, which was smaller and lighter.
Also Read: Top 19 Most Valuable Morgan Dollars Worth Money
1977 Silver Dollar Grading
The value of your 1977 silver dollar depends almost solely on its condition and coin grade if it doesn't have any errors and other rarities. Here are a few examples of how to grade your Eisenhower coins:
Extremely Fine: Obviously circulated to the public because of its wear. Slightly worn facial features on Eisenhower. Wing feathers on the eagle are faint but still visible to the eye.
AU50 About Uncirculated: Luster is still shiny and brilliant, but there is a subtle trace of wear, especially on the high points of Eisenhower's face and the eagle.
MS65 Choice Uncirculated: No wear from circulation. Has strong luster and is attractive to the eye with only slight, scattered contact marks.
Check out this video to learn how to grade Eisenhower dollars properly:
1977 Silver Dollar Errors
1. 1977 D Silver Dollar Obverse Die Cap Error Error
One of the rarest 1977 silver dollar errors is the obverse die cap error. This error happened when a coin adheres to the die instead of being ejected properly. This gives the edges of the coin a raised rim. Sometimes, it can even cause the coin to strike other coins beneath it if it's stuck to the die.
Aside from its exciting error, this coin was also graded an almost-perfect coin grade of MS67, making it insanely valuable. In 2006, this coin was sold for over $29,000.
2. 1977 Silver Dollar Struck on Silver Planchet Error
Another mint error found in a 1977 silver dollar is an off-metal strike on a 40% silver planchet.
Although the 1977 silver dollars were made of copper-nickel clad copper, the 1976 issue was made of 40% silver. It seems like this coin was a transitional error—a 1977 dollar stricken on leftover alloy from the year before. There are a handful of coins like this, and they're highly collectible.
In 2017, one of these coins sold for $17,625.
An easy way to tell if your coin is made of silver and not copper is to weigh it. The actual 1977 silver dollar should weigh just 22.68 grams. If it's made of silver, it should weigh almost 25 grams.
Find other cool errors and rarities that make your 1977 silver dollar coin more valuable through this video:
1977 Silver Dollar FAQs
What makes a 1977 silver dollar rare?
Because there were plenty of 1977 silver dollars struck that mintage year, there aren't that many rare varieties of the coin. That said, uncirculated 1977 silver dollars in the higher grades (MS67 and above) are incredibly rare, making them extremely valuable.
Another thing that can make a 1977 silver dollar coin rare is a mint error. This can be in the form of an off-center strike, a double die, or something more unique, like a die cap or being struck on the wrong planchet metal.
Is a 1977 silver dollar real silver?
No, the 1977 silver dollar is actually made of nickel-clad copper. However, the year before in 1976, the Eisenhower silver dollar was, in fact, made of 40% silver.
How can I tell if my silver dollar is real?
A quick and easy way to check if your silver dollar is the real deal is by seeing if it's magnetic. Hold up a magnet next to your coin and see if there's any attraction. Real coins aren't magnetic, so if your coin latches onto the magnet, it's likely a dupe.
Who is on the silver dollar 1977?
You can see Dwight Eisenhower, the 34th president of the United States of America, on the obverse of the 1977 silver dollar coin.