The 1986 silver dollar is the first issue of an inherently collectible U.S. coin: the American Eagle Silver Dollar. These coins are the oldest in the collection, and finding examples of high grade or rare mint error only increases their original value.
The silver dollar is worth well over its face value, and many consider the current melt value of an ounce of silver a better representation of the coin's base value. This fluctuates constantly, but the 1986 silver dollar carries enough sentiment to ensure it's worth more than melt.
In this guide, we explore the major details of the 1986 silver dollar and its varieties. We explain the history leading up to its production, as well as how to determine coin grade or identify common errors.
Keep reading to learn more!
1986 Silver Dollar Details
Category: American Eagle Silver Dollar (1986 to Present)
Mint: Philadelphia; San Francisco
Mintage: 6,839,783
Obverse Designer: Adolf A. Weinman
Reverse Designer: John Mercanti
Composition: 99.93% Silver; 0.07% Copper
Fineness: 0.999
Weight: 31.101 grams
ASW: 1.0 oz
The 1986 silver dollar features Adolph's Weinman's Walking Liberty design (originally seen on the half dollar from 1916 to 1947). Liberty strides to the left of the coin, towards the sun, while wrapped in the folds of the flag.
She extends her right hand and carries laurel and oak branches in her left. The inscription LIBERTY curves along the top of the coin, taking up about ⅔ of the rim. IN GOD WE TRUST is printed to the right of the coin, behind the bend of her knee, and the year 1986 nestles in the bottom curve.
The reverse features a heraldic bald eagle that designer John Mercanti modeled after the presidential seal. The eagle holds an olive branch in its right talon and a bundle of arrows in the left.
Thirteen stars mark the space above the eagle's head, and the reverse reads UNITED STATES OF AMERICA along the top curve. The coin's ASW and denomination, 1 OZ. FINE SILVER-ONE DOLLAR, reads along the bottom curve.
The country's motto E PLURIBUS UNUM is printed on the banner across the eagle's wings. If the coin is proof, it bears a mint mark under the olive branches.
1986 Silver Dollar Value Chart

Mint Mark
Good
Fine
Extremely Fine
Uncirculated
Proof
1986 No Mint Mark Silver Dollar
$21.72
$21.72
$21.72
$34
/
1986 S Proof Silver Dollar
/
/
/
/
$62
1986 Silver Dollar Value and Varieties Guide
There are two varieties of the 1986 silver dollar: a bullion strike without a mint mark and a proof issue that bears the San Francisco mint mark.
Both types of the coin were minted in San Francisco, and this was one of only two years that San Francisco minted the entirety of the denomination on its own.
These coins are worth at least their melt value of silver, about $21.72/oz at the time of writing this value guide. Like all metal melt values, this number fluctuates often.
Coins of a higher grade, particularly uncirculated 1986 silver dollars and proofs, are always worth a great deal higher than their melt value. They are highly desirable, and many need this year to bookend their collection.
New collectors may pay higher than market value for lesser-graded coins to simply have them in their stash.
1986 No Mint Mark Silver Dollar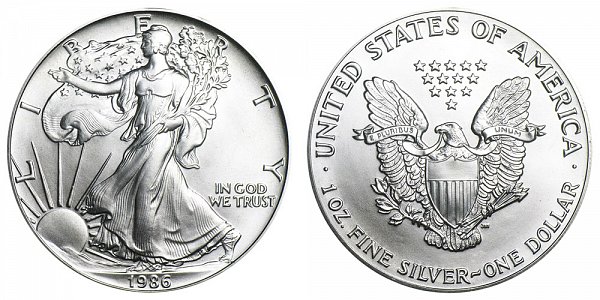 Type: American Eagle Silver Dollar (1986 to Present)
Edge: Reeded
Mint Mark: N/A
Place of Minting: San Francisco
Year of Minting: 1986
Face Value: $1.00
$ Price: $21.72 to $34
Quantity Produced: 5,393,005
Designer: Adolf A. Weinman; John Mercanti
Mass: 31.101 grams
Diameter: 40.6 mm
The 1986 no mint mark silver dollars are bullion coins from the San Francisco mint. The majority of coins minted that year, just over 5 million, do not have a mint mark.
While new collectors may pay $20 to $30 over melt value for the coin, the actual value still depends on the current silver bullion prices that fluctuate rapidly.
The auction record for the coin is a PCGS MS-70 1986 silver dollar that sold for $21,150 at Heritage Auctions in 2013.
1986 S Proof Silver Dollar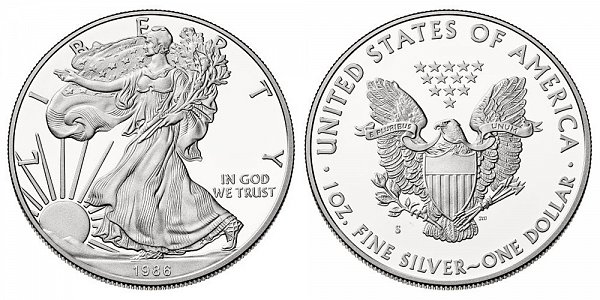 Type: American Eagle Silver Dollar (1986 to Present)
Edge: Reeded
Mint Mark: S
Place of Minting: San Francisco
Year of Minting: 1986
Face Value: $1.00
$ Price: $62+
Quantity Produced: 1,446,778
Designer: Adolf A. Weinman; John Mercanti
Mass: 31.101 grams
Diameter: 40.6 mm
The 1986 S proof silver dollar is usually graded at a PR-60 or higher, and these coins regularly sell for over $62. Those designed PR-70 are the most expensive, and bring in about $500 on average.
Proof coins are well-protected, so there's little chance of damage to these coins. With only about 1.5 million minted and marked, they're much more valuable than the regular strike coins, although the chances of finding a high grade bring the price ceiling down a bit.
The auction record is a PR-70 1986 S proof silver dollar that was sold in a 30 coin, $16,115 lot in May 2013.
When the 1986 silver dollars were originally sold to the public, they came in a protective plastic capsule that sat in a satin lined velvet box. These proof coins also came with a certificate of authenticity.
1986 Silver Dollar History
Nineteen eighty-six was the first year that American Silver Eagles were minted, manufactured, and offered for sale, but the journey to get here starts years before.
In the 1970s, executive plans attempted to sell off silver from the Defense National Stockpile with little success. On May 27, 1982, Senator James A. McClure introduced S.2598 as a new plan to dispose of the silver by issuing silver coins.
The idea was to redirect sales to minimize the effects of depreciating silver prices, but was not approved at the time. Instead, sales of silver from the stockpile were suspended for a few years.
It was not until 1985 that S.AMDT.418 to HR.47 was proposed and enacted. This amendment specifically authorized the Secretary of the Treasury to mint and issue silver bullion coins, but it also listed key details such as:
Coin diameter
Weight
Fineness
General design
Inscriptions
Edge finish
The amendment also recognized coin sales, numismatic and legal tender status, and the purchase of silver from the stockpile. The Senate finally agreed, the amendment received house approval three days after, and it was ultimately signed into law by President Reagan on July 9, 1985.
The first 1986 silver dollar coins were struck in San Francisco in October of the following year, and attending Secretary of the Treasury James A. Baker III is quoted for saying he "[didn't] need a pick and shovel to start the San Francisco Silver Rush of 1986".
Distribution the following month was harsh. Citizens were quick to buy up the initial inventories of the 1986 silver dollars, eager to hold a piece of U.S. history while also investing in silver.
The coins were then sold in bulk to verified dealers, but the Mint sold proofs directly to the public at a fixed price.
Also Read: Top 19 Most Valuable Morgan Dollars Worth Money
1986 Silver Dollar Grading
If you're serious about selling or buying a 1986 silver dollar, you should have it professionally graded by a service like PCGS or NGC. These coins are rarely found in poor condition, and minor details can mean thousands of dollars in difference.
Until you reach that point, you can practice putting coins into certain grade "buckets" like "Good", "Fine", "Extremely Fine", or "Uncirculated". These buckets loosely correspond with professional 70-point grading, but they have very little hold on the actual value of the coin.
Understanding what to look for in a highly-graded 1986 silver dollar will help you identify valuable coins, even without a professional mark, and can help you get a general idea of your own coin's worth.
Good
A "Good" 1986 silver eagle has seen quite a journey. It's lost its typical shiny luster, and the silver is often heavily burnished. A "Good" coin also sees a flattening of imagery, and shapes like Liberty or the eagle are reduced to a profile.
These coins bear minimal details, if any, on the lowest relief portions. High points or distinguished features are long gone.
Fine
A "Fine" 1986 silver dollar is in better condition, and it resembles more of the original coin than one that's been heavily exchanged and poorly protected. These coins lack the dirt and grime of a lower grade, but they still lack the original luster of the coin.
At this grade, a silver dollar still bears heavy wear on higher relief features, but you see a greater level of detail. Instead of silhouettes, the coin retains its original outlines and form.
Extremely Fine
"Extremely Fine" silver eagle dollars may have been handled a few times by friends and family, but they're still respected collector's items. The feature common man made marks, like scratches, spots, or friction wear, but only to a certain degree.
These coins are similarly shiny to when they first rolled off the mint, but they aren't quite perfect. There may be a slight resistance in reflection, or noticeable marks on background details, but nothing large enough to detract from the brilliance of the coin.
Uncirculated
An "Uncirculated" 1986 silver dollar is near perfection. They lack the lesser marks of lower grades, including man-made marks that occur from routine handling. The coin has a bright, shiny luster, while proof coins are highly reflective.
Coins defined strikes are preferred, although a weak strike is verifiably different from friction wear.
Some uncirculated coins may have cloudy white spots, despite meticulous care. Though unverified, many believe these are caused by impurities left on the Mint's blanks, and they may develop over time on an otherwise perfect coin.
List of 1986 Silver Dollar Errors
The silver dollar is held to a high standard, and there are only a few variable errors across the years for these coins that may increase their value. This includes the struck through error that occurred in their first year of production.
You may also encounter lesser errors, like planchet errors, but these should be verified by a professional before assuming any impact on value. While mint errors are generally acceptable, some post-mint damage may be difficult to discern and actually decrease the value.
Struck Through Error
The struck-through error is the most popular error to encounter in the 1986 silver dollar. You see an example of what this looks like on the 1987 silver dollar in the video.
The learning curve in the first years of production went fairly smoothly, but dies were prepared in a number of ways. Sometimes, the polishing and sanding processes would actually leavy material behind that affected the appearance of the 1986 silver eagle dollar.
The most popular example of this otherwise rare error is the entire obverse of the coin experiencing a severe loss of detail when a 3M sanding disc was left behind. While you can tell what coin it is and what year it was minted, inscriptions are not nearly as clear as they should be.
The reverse is unaffected.
Also Read: Top 19 Most Valuable Silver Eagles Worth Money
1986 Silver Dollar FAQs
How Much Is the 1986 Silver Dollar Worth Today?
The baseline value for a 1986 silver dollar relates to the current melt value of its silver, or about $22. Many 1986 silver dollars are worth more to this due to their collectibility.
This was the first year the American Silver Eagle program ran, and it saw a smaller number of coins minted. The combination of age and availability makes these coins particularly collectible, and therefore valuable.
What Makes a 1986 Silver Dollar Rare?
A 1986 silver dollar is inherently rare due to its age and type. Quality is most directly linked to coin value, but a proof or mint error coin will almost always have a greater value than a circulated coin of the same variety.
Where Can You Buy or Sell a 1986 Silver Dollar?
To purchase or sell a 1986 silver dollar, focus on reputable coin dealers and/or auction houses. Make sure any coin you buy or sell is professionally graded to certain standards such as PCGS or NGC, to ensure you understand its full worth.