The Washington Quarter Dollars are excellent coins for beginner collectors and intermediate numismatists alike. It's one of the coins that continue to circulate today. In fact, most of the post-1964 issues are still in circulation.
One of the must-haves in this series is the 1996 Quarter. Those who wish to complete a date and mint mark collection of Washington Quarters shouldn't miss the 1996 issue.
In this article, let's check out the varieties, values, history, errors, and other important information about the 1996 Quarter.
1996 Quarter Details
Type: Washington Quarter Dollars
Quantity Produced: 1,834,378,265
Designer: John Flanagan
Edge: Reeded
Shape: Round
Coin Diameter: 24.30mm
Coin Thickness: 1.75mm
Coin Weight: 5.67g
Year of Minting: 1996
Mint Mark: D/P/S
Place of Minting: Philadelphia, Denver, San Francisco
Face Value: $0.25
$ Price: $0.25 – $1,988
The current quarter dollar coin issued by the United States Mint is the Washington Quarter. It was first struck in 1932, with the original design by sculptor John Flanagan.
The quarter dollars issued in 1996 have been in continuous circulation for 27 years. Until 1964, the coin contained 6.25g of 90% silver. It then switched to a cupronickel clad to pure copper core base-metal mix. Since 1976, non-circulating quarters containing silver have been produced for collectors.
At its center, the coin's obverse displays an image of George Washington facing left. He was the first president of the United States from 1789 to 1797. The image features Washington with long hair tied below his neck with a ribbon.
John Flanagan set his initials, JF, under the neck of Washington. Above his image is the inscription "LIBERTY," and then below his chin is "IN GOD WE TRUST." Then you can find the date below Washington's image.
The mint mark of the coin is a little letter positioned behind George Washington's neck. You will either find D, S, or P for Denver, San Francisco, or the Philadelphia Mint.
The center on the coin's reverse features an American eagle with its wings spread out. It faces you, and it is perched on arrows framed beneath olive branches. "UNITED STATES OF AMERICA" is written above, while "E PLURIBUS UNUM" is below these words. On the lower part of the coin are the words "QUARTER DOLLAR."
This was the original quarter design struck until the year 1998. The regular 1996 Washington Quarter was made of a clad mix content that had nickel and copper. Clad proof and silver proof quarter dollars were also minted and sold.
Also Read: Top 15 Most Valuable Quarters In Circulation
1996 Quarter Coin Value Chart
| | | | | |
| --- | --- | --- | --- | --- |
| Coin Grade | Good | MS/PR65 | MS/PR67 | MS68/PR70 |
| 1996 P Quarter Coin | $0.30 | $1.50 | $40 | $300 |
| 1996 D Quarter Coin | $0.30 | $1.50 | $20 | $200 |
| 1996 S Proof Quarter Coin | N/A | $5 | $5 | $100 |
| 1996 S Silver Proof Quarter Coin | N/A | $10 | $7 | $70 |
1996 Quarter Value and Varieties Guides
Although clad Washington quarters are still in circulation, a few of these are worth slightly more than face value. The price you will be asked to pay for well-preserved versions of the coin can reach hundreds and sometimes even thousands of dollars.
In 1996, the United States minted the P Quarter, the D Quarter, the S Proof Quarter, and the S Silver Proof Quarter. In circulated conditions, the price of standard 1996 Clad Quarters is only $0.25, which is equivalent to their face value. In uncirculated conditions, these coins command a premium amount.
In uncirculated conditions with an MS63 grade, both the 1996 P Quarter and 1996 D Quarter are worth around $1. For uncirculated conditions with an MS65 grade, the piece is worth barely anymore. When it comes to PR65 conditions, the 1996 S Proof Quarter is worth $5. Let's have a look at these specific coins in a little more detail.
1996 P Quarter Coin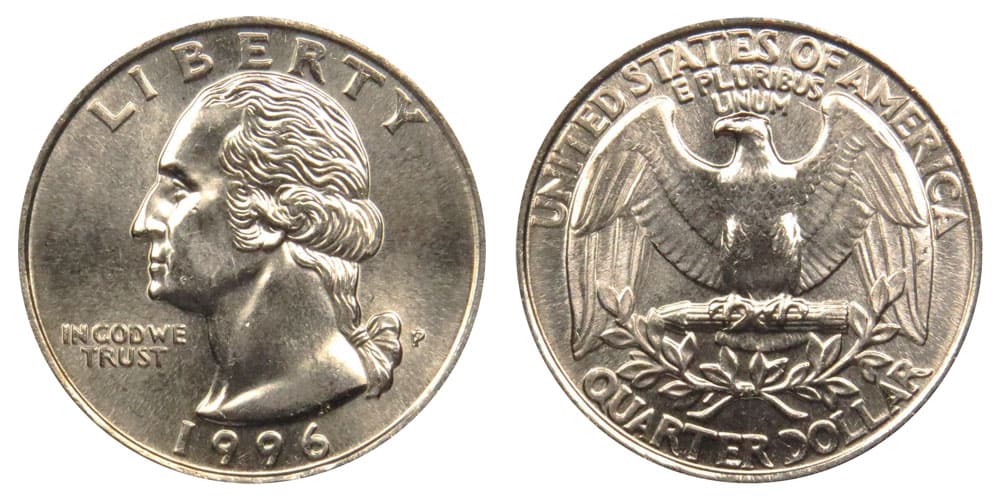 Type: Washington Quarter Dollars
Edge: Reeded
Mint Mark: P
Place of Minting: Philadelphia
Year of Minting: 1996
Face Value: $0.25
$ Price: $0.25- $1,988
Quantity Produced: 925,040,000
Designer: John Flanagan
Coins minted at the Philadelphia Mint have featured a "P" mint mark since 1980, unlike earlier issues which lacked a mint mark.
The 1996 P Quarter had a massive mintage of more than 900 million struck coins. It is very common in MS65 and lower grades. Due to that incredible number and the fact the coin isn't very old, only near-perfect coins have a significant value.
The piece is still easily obtainable in MS66, with thousands of samples existing. MS67 is a little more difficult to acquire, but they are still possible to find without much effort. The reason is that there are hundreds of coins graded in this condition.
They are extremely rare in MS68, with fewer than 100 samples known and none being fine. Due to all of this, 67 rated coins from Philadelphia will only sell for around $40. When you get to a 68 rating, that number can jump to an average of $300.
It's almost impossible to find a rating above 68, as these coins were intended for circulation. The record for a Philadelphia 1996 quarter was $1,988, which was sold in 2012.
1996 D Quarter Coin
Type: Washington Quarter Dollars
Edge: Reeded
Mint Mark: D
Place of Minting: Denver
Year of Minting: 1996
Face Value: $0.25
$ Price: $0.25 – $447
Quantity Produced: 906,868,000
Designer: John Flanagan
The 1996 D Washington Quarter was struck in an absolutely massive mintage of over 900 million pieces struck. As a result, it is as common as any other coin in the Washington State Quarter Program.
Most samples of this issue are well-struck, and those grading up to MS67 are easily obtained. Only MS68 or better examples are considered scarce. Even though they were struck in very slightly lower quantities than the Philadelphia coins, Denver quarters have historically sold for a little less.
For an MS67 coin, you can only expect to receive around $20. That's because there are so many of these examples in circulation. For example, much older coins with an MS67 rating can sell for thousands of dollars.
When you get up to MS68, the value still isn't as high as you can expect to receive around $200. The record for a 1996 Denver quarter is $447, which was sold in 2013.
1996 S Proof Quarter Coin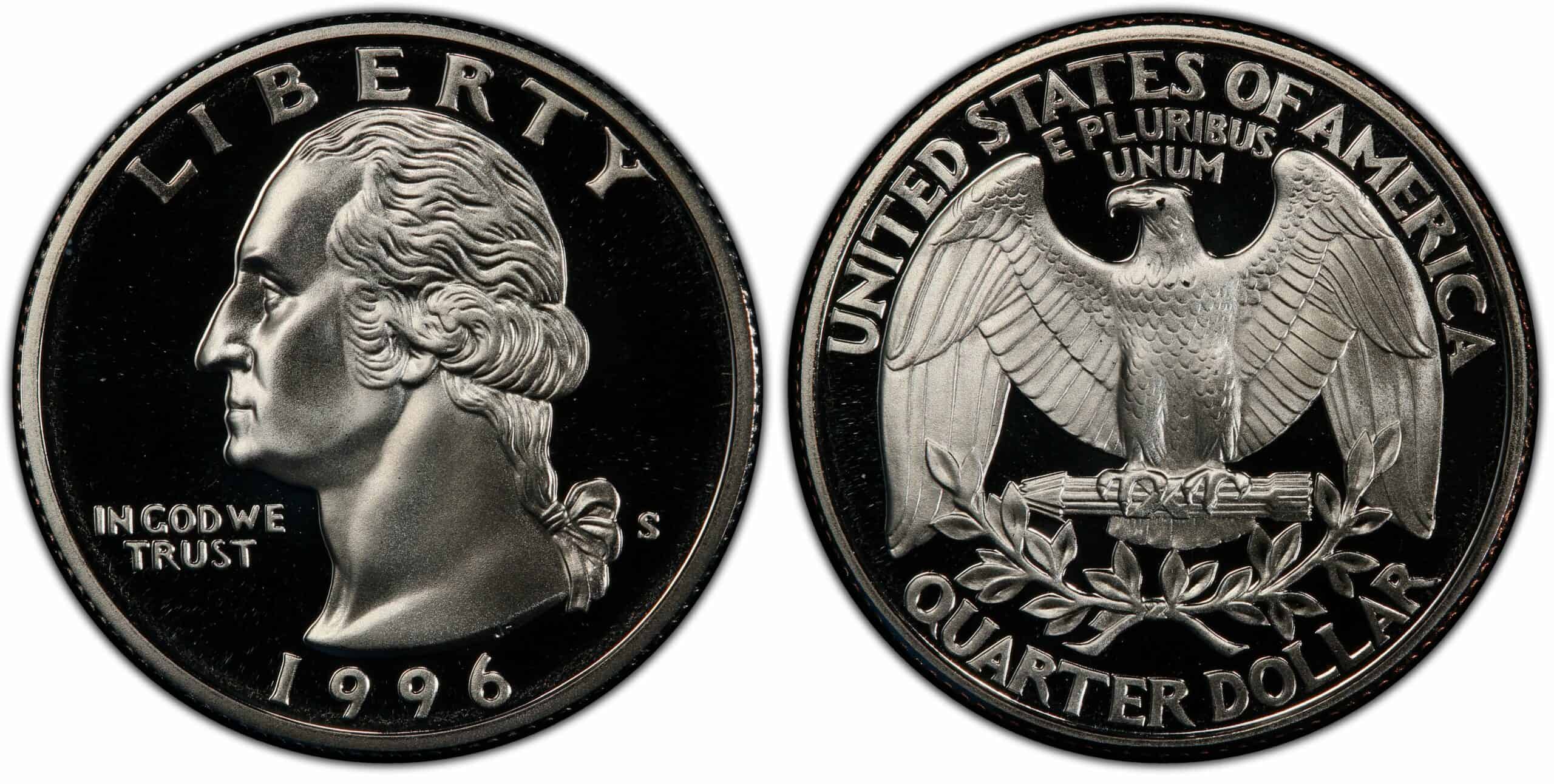 Type: Washington Quarter Dollars
Edge: Reeded
Mint Mark: S
Place of Minting: San Francisco
Year of Minting: 1996
Face Value: $0.25
$ Price: $0.25 – $719
Quantity Produced: 1,750,244
Designer: John Flanagan
Proof coins are uncommon in circulation because they were only issued to coin collectors. These are special coins perfect for one's collection. However, as they weren't meant for circulation, it's expected that they are in perfect condition.
Proof coins are simply coins with more detail and are minted on special planchets. These also take longer to create, which makes them rare. The coins are made specifically for collectors and will not be found in your spare change, unless by accident!
Due to them not being very old, proof coins from 1996 aren't worth a whole lot of money. To get a good valuation, they need to receive a perfect PR70 score. For example, a PR69 coin will most likely only be worth around $15.
For a PR70 coin, that jumps to around $100. The record for a standard proof coin from 1996 is $719, which was old in 2003 but most go far below that figure. However, this wasn't the only proof coin was made in 1996.
1996 S Silver Proof Quarter Coin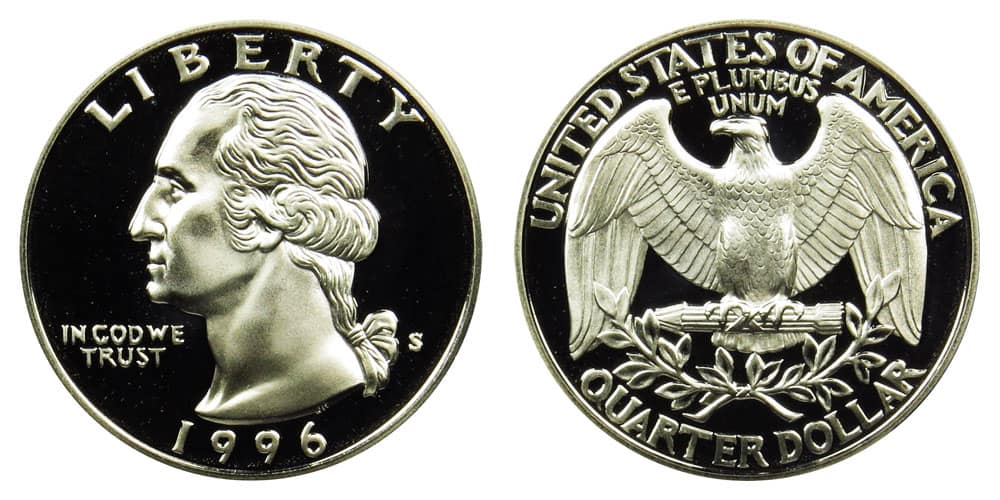 Type: Washington Quarter Dollars
Edge: Reeded
Mint Mark: S
Place of Minting: San Francisco
Year of Minting: 1996
Face Value: $0.25
$ Price: $10 – $334
Quantity Produced: 775,021
Designer: John Flanagan
Each of these quarters is made of .999 fine silver, and Silver Proof commemorative coins are produced in limited quantities.
Since fewer of them were produced, they are quite valuable and rare. This is the reason why many enthusiasts want to add them to their collections. The coin is worth at least its silver weight. Its silver melt value is calculated using the current spot price of silver per ounce, which is around $10.
The fascinating fact about these coins is that they don't sell for hugely high prices. In coin collecting, it's often the case that perfect versions of circulated coins are worth more than perfect versions of uncirculated coins.
That's probably because it's more unique and rare, whereas proof coins were always meant to be kept in pristine condition. All that means that PR70 versions of this coin often only see for around $70, with the record being $334.
Also Read: Top 16 Most Valuable Modern Quarters Worth Money
1996 Quarter History
The Washington Quarter has one of the longest-running obverse designs in U.S. coinage. These pieces were produced between 1932 and 1998, and throughout the series, mintages were quite high.
There were only two issues having a mintage of fewer than one million pieces. In later years, production levels of the series grew to hundreds of millions, with a few issues producing more than a billion pieces.
In 1932, the coin was first produced by the U.S. Mint and replaced the Standing Liberty Quarter. This coin featured the same style throughout 1974. The design was used again from 1977 to 1998.
In 1975 and 1976, the eagle design on the coin's reverse was temporarily replaced. This was done to honor the bicentennial of the Declaration of Independence.
As the bicentennial of Washington's birth in 1732 was approaching in 1930, there was an urge to create half dollars and medals for commemoration. However, President Herbert Hoover vetoed them. He claimed these would only jeopardize the integrity of the monetary system.
The Congress then decided to make it a regular issue quarter dollar rather than a commemorative one. The Washington Quarter debuted in 1932. This coin was designed by John F. Flanagan, and its obverse had a left-facing bust of President George Washington.
U.S. quarters, like dimes and half dollars, were made of 90% fine silver until 1964. It was when rising silver prices forced a change in composition.
Silver prices had risen to more than $50 per ounce by the late 1970s and early 1980s. This was the result of trying to corner the world's silver supply. During this time, tons of U.S. silver coins were melted.
Throughout the series, the pieces were struck at the Denver, Philadelphia, and San Francisco Mints. For some portions of this series, the mint mark on the coins can be seen on the coin's reverse beneath the eagle.
In 1968, the mint mark was shifted to the coin's obverse, specifically to the right of Washington's bust.
Proof Coins
In a June 1995 congressional hearing, Mint Director Philip N. Diehl and prominent numismatists reached out to Congress. They urged them to pass a law that authorizes the circulation of a series of commemorative coins. These were similar to the quarters that were struck for Canadian provinces.
As a result, Congress passed the United States Commemorative Coins Act of 1996, and President Bill Clinton signed it on the 20th of October 1996. Clinton then signed the 50 States Commemorative Coin Program Act on the 1st of December 1997.
The Mint sold collector's versions in proof, which included pieces struck in .900 silver, as part of the series. They also sold a wide range of numismatic items, such as coin rolls and bags, collector's maps, and more. These aimed to encourage coin collecting among the general public.
Also Read: 10+ Rarest State Quarter Errors Lists (Worth Much Money!!!)
1996 Quarter Grading
All coins from all years are graded on a system of 1 to 70. As you can imagine, the older the coin, the harder it is to have a higher rating.
For example, a 67-rated coin from 1950 would be worth a lot more than a 67-rated coin from 1996. This is why 1996 quarters need to be in exceptionally good condition to have any value.
Those ratings are usually preceded by two letters of either MS (which stands for mint state) or PR (for proof coins). MS coins were ones that were intended for circulation, and therefore it's rarer to find them in perfect condition.
List of 1996 Quarter Errors
Hunting for error coins is one of the most fascinating and exciting aspects of coin collecting. These pieces have a high numismatic value and may be very appealing to coin collectors or dealers. Searching for mint errors in your pocket change can be a fun and profitable hobby.
1996 Washington Quarter errors exist, and we will briefly discuss these coin errors that can be found in this series of quarter dollars.
1. Doubled Die Varieties
Because of how the dies double during the hubbing process, it's important to note a few things. The doubling on doubled dies appear as rounded and raised duplicated images. These resemble the coin's normal elements. Furthermore, whenever the letters have serifs, doubled letters tend to display "splits" in the serifs. Additionally, letters with squared-off corners will usually have strong notches in doubled die errors.
2. Missing Clad Layer on the 1996 D Washington Quarter
A missing clad layer error happens when one of the coin's outer nickel layers is missing from its copper core. As a result, most coins with missing clad layers have copper on one side and nickel on the other. It will also weigh about 15% less than a standard coin.
There are three types of missing clad layers: full, partial, and dual. Each type represents how much of the clad layers are missing.
3. Uncentered Broad Strike on the 1996 P Washington Quarter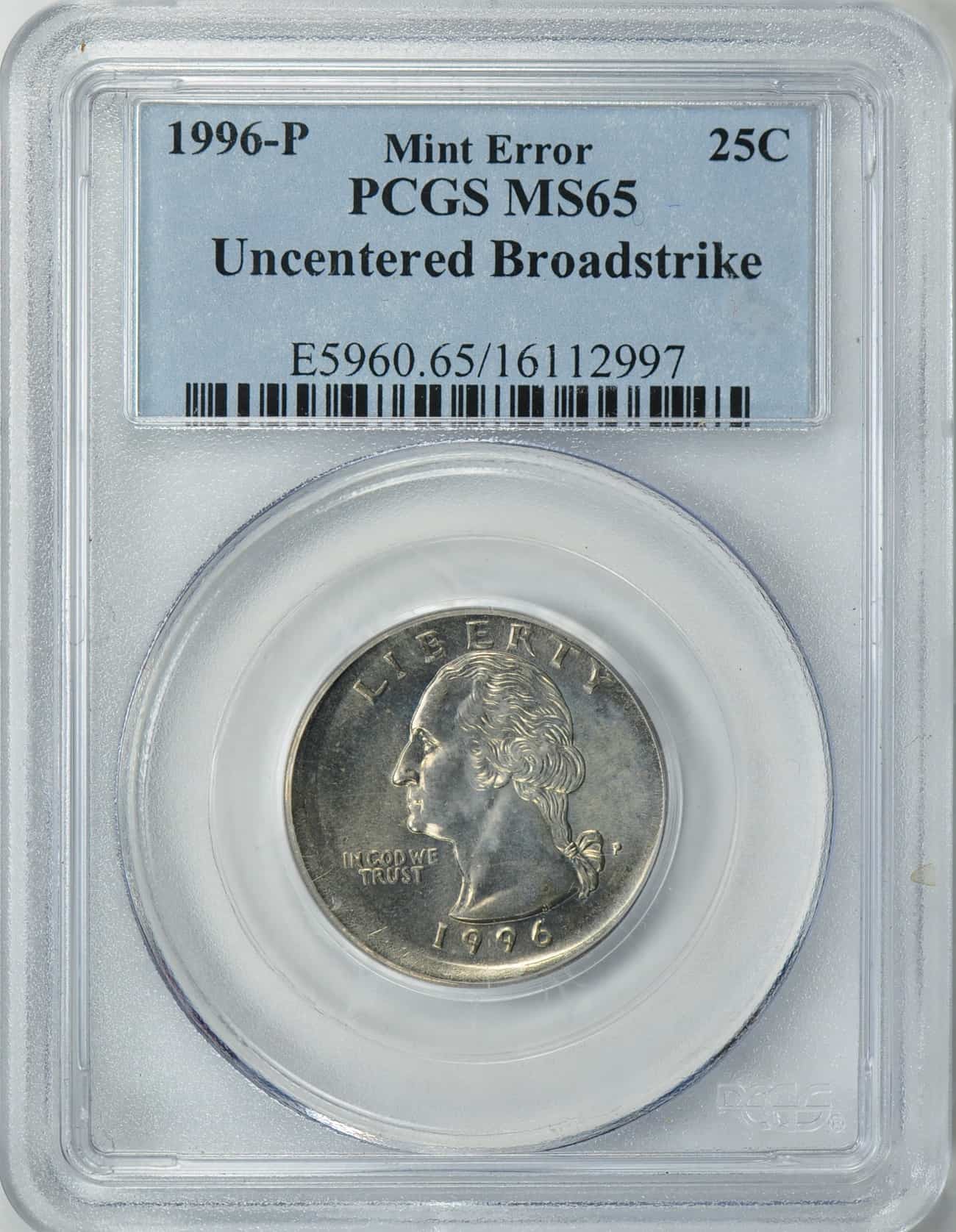 Broad strikes happen when a coin is fed into a coining press without a collar to help form its rim and edge. It causes it to spread outwards on the edges.
1996 Quarter Value FAQs
1. How much silver is in a 1996 quarter?
For regular quarters, there is no silver as they are made from a composition of 75% copper and 25% nickel. However, there is the silver-proof coin. This version is 90% silver with 0.1808 troy oz or 5.623g, in a total of .999 pure silver.
2. What is the Error on the 1996-D Quarter?
The error on the 1996 D Washington Quarter is that it's missing a clad layer on the reverse. This means that one side of the coin is shiny nickel, while the other side has the much duller appearance of copper.
3. How much is a 1996 P error quarter worth?
It was estimated that the value of a 1996 P Washington Quarter is worth $11 or higher in uncirculated (MS+) and mint conditions. It's very hard to give an exact valuation as these coins are rarely sold at traditional auctions.