Have you found a 1951 quarter and are wondering if it might be valuable? Or perhaps you're planning to add one to your collection and want to know how much to spend? Either way, we have everything you need to know about the 1951 quarter value.
We'll look at the different mint marks and error coins out there. And we'll explore the difference that a coin's condition can make to how much it's worth.
So if you're ready to find out more, let's get started!
1951 Quarter Details
Category: Washington quarters
Mints: Philadelphia, Denver, San Francisco
Total mintage: 87,908,402
Designer: John Flanagan
Design date: 1951
Edge: Reeded
Diameter: 24.3 millimeters
Composition: 90% silver, 10% copper
Weight: 6.30 grams
Silver weight: 5.67 grams
1951 Quarter Value Chart

Mint mark
XF45
MS60
MS65
MS67
1951 (P) No Mint Mark Quarter Value
$6
$10
$30
$235
1951 D Quarter Value
$6
$10
$32
$350
1951 S Quarter Value
$6
$17
$40
$180
PR60
PR65
PR67
PR69
1951 (P) No Mint Mark Proof Quarter Value
$32
$56

Cameo: $215

Deep Cameo: $2,200

$120

Cameo: $575

Deep Cameo: $17,500

$575+
1951 Quarter Values and Varieties Guides
1951 (P) No Mint Mark Quarter Value
Type: Washington quarter
Edge: Reeded
Mint mark: None
Place of minting: Philadelphia
Year of minting: 1951
Face value: $0.25
$ price: $6 to $3,000+
Quantity produced: 43,448,102
Designer: John Flanagan
Quarters minted in Philadelphia can be identified by looking for a mint mark, the small letter denoting where a coin was made. That will appear on the reverse – the "tails" side of the coin – just above the "R" of "QUARTER". If there's no letter, your coin was minted in Philadelphia.
Over 43 million quarters came out of that facility in 1951. Even so, few enough remain for them to fetch considerably more than their face value in any condition. The independent coin graders the PCGS value most circulated coins at $6.
If you have a coin in particularly good condition, though, values can be higher. Coins are graded on a scale from 1 to 70. A grading of 1 is given to the poorest identifiable coin, with 70 signifying a coin that's flawless.
With the 1951 Philadelphia quarter, values begin to edge gradually upwards at grade AU50. The letters here stand for "about uncirculated".
Coins that haven't entered circulation, and as a result are in better shape, are known as "mint state". Those are graded from 60 to 70. A 1951 Philadelphia quarter graded MS60 will be worth about $10. That increases to $30 at MS65, the lowest grade at which a coin is considered "gem quality".
Values enter three figures at MS67 ($235). But the number of coins known to exist at higher levels than this drops sharply – and prices rise accordingly.
The PCGS has graded only 37 coins at MS67+, and values those at $2,300 apiece. The NGC, another coin grading agency, has assessed at least one example at MS68. That hasn't changed hands since 2009, when it sold for $2,530.
1951 D Quarter Value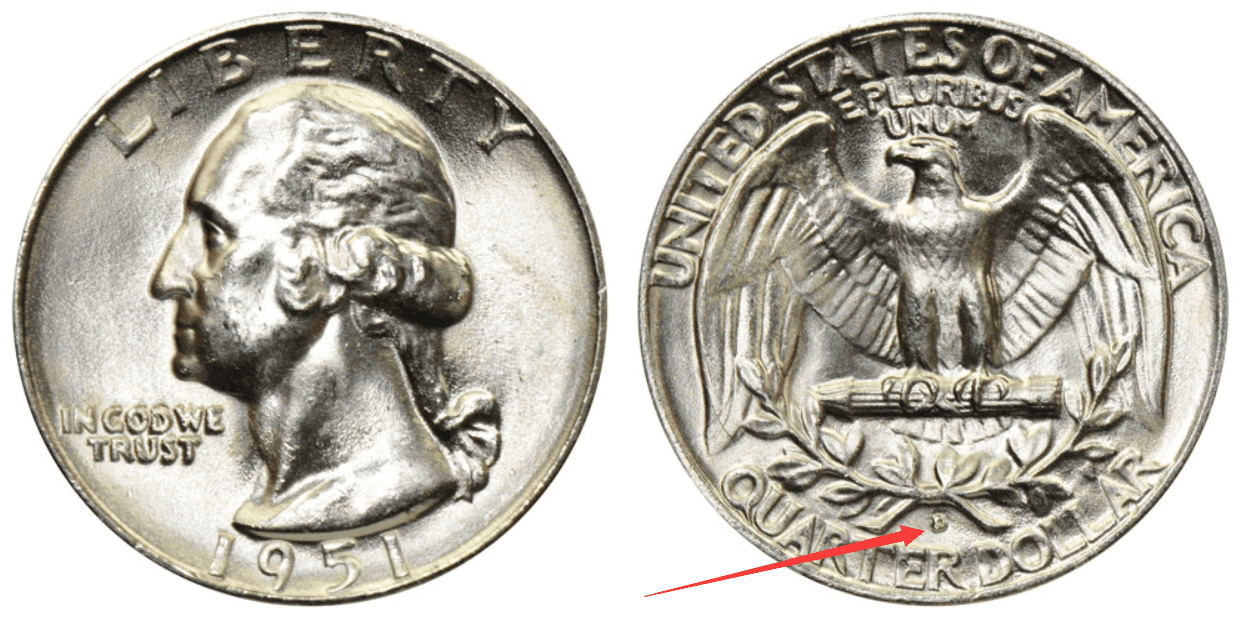 Type: Washington quarter
Edge: Reeded
Mint mark: D
Place of minting: Denver
Year of minting: 1951
Face value: $0.25
$ price: $6 to $14,350
Quantity produced: 35,354,800
Designer: John Flanagan
Quarters minted in Denver can be identified by the mint mark on the reverse. Look for a small "D" just above the denomination.
As with coins from Philadelphia, values start at $6 for circulated coins, even in poorer condition. And they remain steady up to "about uncirculated" grades, 50 to 59.
The value of a mint state coin starts at $10 for one graded MS60, rising to $32 at MS65, and $60 at MS66.
They become harder to find at MS67, when you can expect to pay around $350. But even half a point finer, and the value jumps to four figures. The PCGS has graded only 25 1951 Denver quarters at MS67+, and values them at $2,150.
The finest examples known to exist are two coins graded MS68. One of these was sold for a record-breaking $17,750 at auction in 2020. Perhaps inspired by that result, the owner of the second coin put it up for sale the following year. On that occasion, though, the sale price was just $8,400.
Today, the PCGS values coins at this grade at $14,300.
1951 S Quarter Value
Type: Washington quarter
Edge: Reeded
Mint mark: S
Place of minting: San Francisco
Year of minting: 1951
Face value: $0.25
$ price: $6 to $13,000
Quantity produced: 9,048,000
Designer: John Flanagan
If your quarter has a small "S" on the reverse, it was minted in San Francisco. Fewer quarters came out of that facility in 1951 than from Philadelphia or Denver. Nevertheless, values at most grades are similar.
A circulated coin in poorer condition will start at about $6. Values for "about uncirculated" examples range from $8 to $14. And a coin graded MS60 is worth about $17.
The plentiful supply means that values remain in double figures all the way up to MS66+ ($88). At MS67 that jumps to $180, and at MS67+ there's another jump to $800.
The finest coins graded to date are four examples at MS68. The PCGS values those at $13,000 each.
1951 (P) No Mint Mark Proof Quarter Value
Type: Washington quarter
Edge: Reeded
Mint mark: None
Place of minting: Philadelphia
Year of minting: 1951
Face value: $0.25
$ price: $32 to $45,000
Quantity produced: 57,500
Designer: John Flanagan
As well as the standard quarters, known as "business strikes", the Philadelphia mint facility produced over 57,000 proof coins. These were struck on highly polished planchets using specially crafted dies. The process was intended to produce superior coins, both for coin archives and for collectors.
Like the business strikes, proof quarters have no mint mark on the reverse. And as with regular coins, their value depends on their condition.
The lowest graded proof 1951 quarters are PR60. Those are valued at $32 by the PCGS. Values stay in double digits up to PR67, where a proof coin is worth about $120.
Some proofs are considered extra special by collectors. Examples with an attractive contrast between reflective fields – the flat parts of the coin – and frosted designs are known as "cameos". And if the contrast is very strong, they're designated "deep cameos".
These designations are often abbreviated to "CAM" or "DCAM" in coin catalogs. And coins like this are worth more than their equivalent without such a designation.
At PR65, an undesignated 1951 proof quarter is worth $56. That increases to $215 for a cameo and $2,200 for a deep cameo.
The most valuable proof quarter out there is a deep cameo graded PR68. The PCGS places its value at an impressive $45,000.
Also Read: Top 15 Most Valuable Quarters In Circulation
History of the 1951 Quarter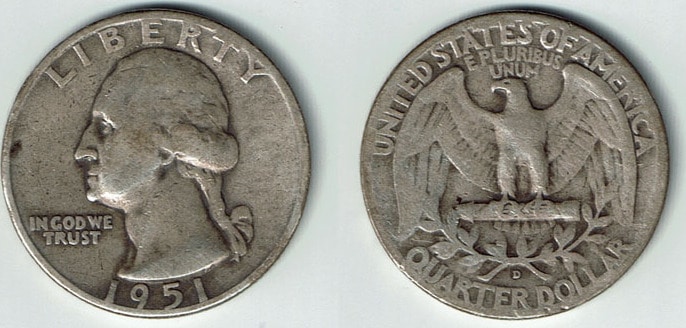 The quarter made in 1951 is one of a series known as Washington quarters, still being made today. They get their name from the image of the first president of the USA, George Washington, which appears on the obverse.
That image, though, has been the subject of some controversy over the years. The original plan was for the bicentenary of Washington's birth, 1932, to be marked with a commemorative half-dollar. The committee set up to oversee the bicentenary celebrations selected an artist to design it: Laura Gardin Fraser.
But plans changed, and it was decided that a quarter would be issued instead. And rather than being minted for just a year, the new coin would be a permanent addition to the currency.
The choice of design now fell to the Treasury Secretary, Andrew W. Mellon. Despite the committee's pleas to stick with Fraser, Mellon preferred a design by John Flanagan. And Mellon's successor, Ogden L. Mills, refused to reopen the decision.
Flanagan's portrait for the obverse shows the president in profile, facing left. His likeness is based on an image of Washington by the French sculptor Antoine Houdon. The reverse of the coin shows an eagle with outstretched wings, perched on a bundle of arrows.
The first Washington quarters were struck in 1932, on planchets made from 90% silver and 10% copper. The composition was to remain unchanged for over 30 years, and all 1951 quarters were made to the same recipe.
But by the 1960s, rising silver prices meant it was becoming increasingly expensive to produce the coins. The public were beginning to hoard them too, in the hope of turning a profit on the metal content.
As a result, silver was removed from the quarter. The new quarters had a copper core clad in cupronickel to give it a silver color. Today's quarters have the same composition.
Also Read: Top 16 Most Valuable Modern Quarters Worth Money
1951 Quarter Grading
When it comes to establishing a coin's value, an accurate assessment of its condition is key. Even a single point's difference on the grading scale can make a big difference to how much collectors will pay.
If you're planning to spend serious money on a high quality coin, look for certification from a reputable coin grading agency. An assessment from the PCGS, NGC or ANACS will give you confidence that you're getting what you're paying for.
You can also send your coin to those agencies to assess it for you. There is a fee for this, though, so it's only going to be worth paying for more valuable coins.
You can get a good idea of condition yourself by examining the coin closely. Look for luster, signs of wear, and how much of the detail is intact.
Also Read: 10+ Rarest State Quarter Errors Lists (Worth Much Money!!!)
1951 Quarter Errors
1951 D Quarter, Double Die Obverse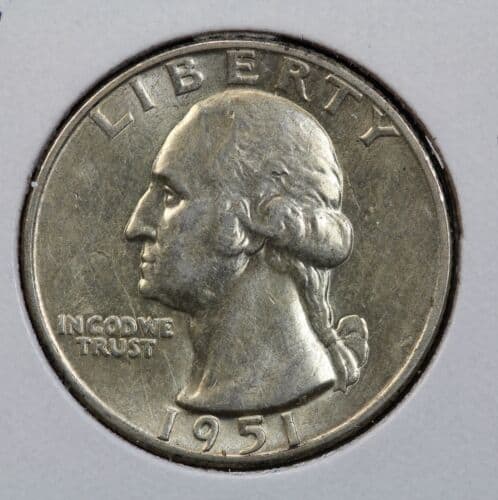 Double die errors occur as a result of a die moving during manufacture. The die has to be struck repeatedly by a hub to transfer every detail of the design. Any movement between hub strikes will leave a double image. That's then passed on to the coins struck by the die.
In the case of this 1951 Denver quarter, the obverse die had this fault. The result was doubling on the letters of the motto "In God We Trust". It was also present, though harder to spot, on the word "Liberty".
The coin was graded MS66 by the PCGS, making it desirable even without the error. It sold at auction in 2018 for $720.
Coins in less exalted condition won't be as valuable. An exceptionally fine coin (XF45) with this error is valued at $40.
1951 D Quarter, Repunched Mint Mark
Many of the quarters produced in Denver in 1951 had the "D" mint mark repunched. You may see this variety referred to with the code FS-501 in coin catalogs.
Mint marks are tiny, so to spot one that's been re-punched, you'll need a coin loupe or microscope. Look closely at the "D" on the reverse, and you'll see the shadow of the earlier mark.
The value will depend on the grade of the coin. The PCGS values an MS63 example at $300, and an MS65 at $400.
1951 (P) No Mint Mark Quarter, Struck on a 10c Planchet
Very occasionally, a coin is struck on something other than the correct planchet. That happened to one 1951 quarter struck in Philadelphia on a planchet intended for a dime.
This resulting coin went into circulation, so was subject to some wear and tear. The PCGS graded it XF45, extremely fine. And despite not being in mint condition, it sold at auction for over $1,000.
This YouTube video from Couch Collectables shows all these errors in more detail.
FAQs
What is special about a 1951 quarter?
The quarters produced in 1951 have essentially the same design as those produced since 1932. And the date itself isn't particularly rare.
But if you find a coin in exceptional condition or with an interesting error, it could be both rare and valuable. The very finest examples can be worth thousands of dollars.
Does a 1951 quarter have silver?
The quarters made today look like silver, but don't actually contain any silver at all. Instead, they get their color from a cladding made from a mixture of copper and nickel. And the cores of the coins are copper.
But the quarters made in 1951 are different. They're comprised of 90 per cent silver and 10 per cent copper. The recipe was changed in 1965, in response to the rising price of silver.