Even those who don't collect coins might agree that the Mercury dime is one of the most beautiful coins ever in US mintage. The aesthetically pleasing design has a classic feel to it while still bringing honor to American strength, resilience, and legacy.
Today, collectors love having a few 1929 Mercury dimes in their collection. Not only is it attractive to the eye, but it's also worth a pretty penny. This comes as no surprise since the coin was made back when the US still used 90% silver planchets for coinage.
How much are 1929 dimes worth today? Do the prices differ depending on where it was minted? What are cool rarities and varieties to watch out for? Allow us to answer all these questions and more. Read on to learn more about the coveted 1929 Mercury dime and its current value.
1929 Dime Value Details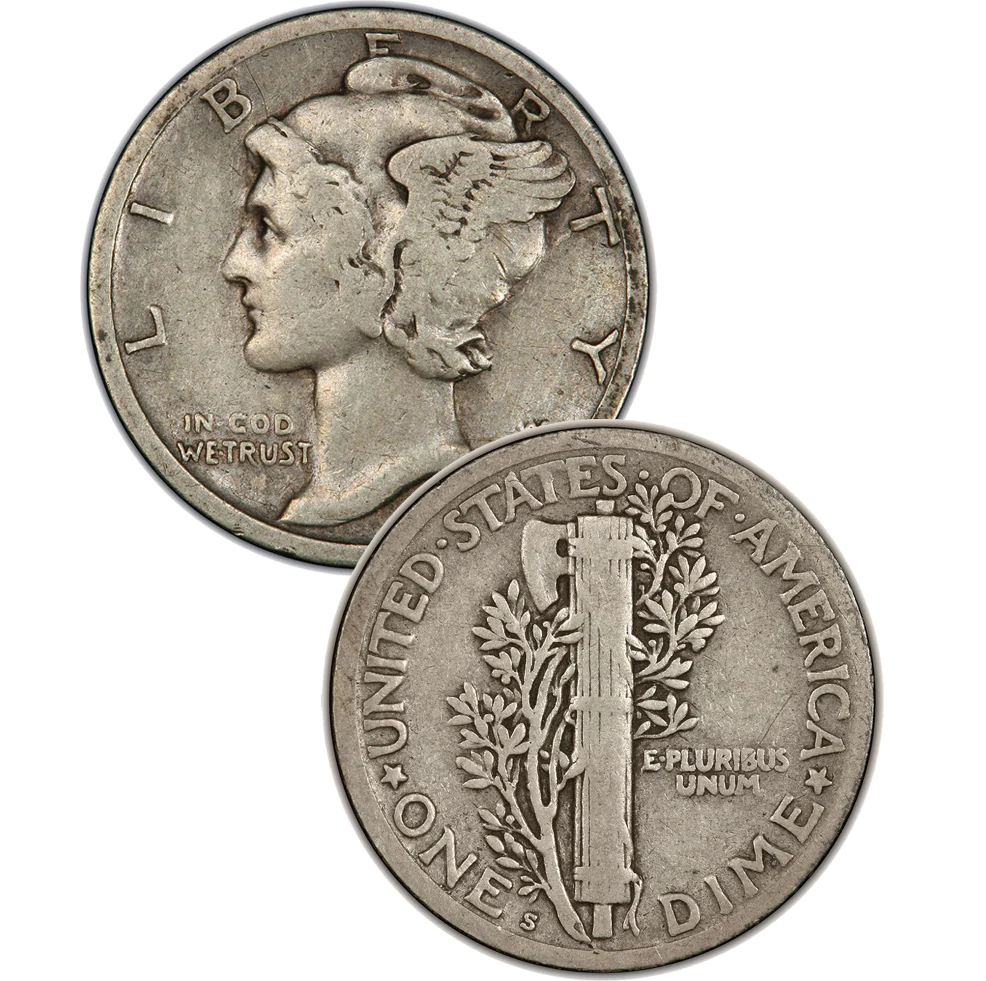 Category: Mercury Dimes
Mints: Philadelphia, Denver, and San Francisco
Total mintage: 35,734,000
Obverse designer: Adolph A. Weinman
Reverse designer: Adolph A. Weinman
Edge: Reeded
Diameter: 17.8 mm
Content: 90% silver, 10% copper
Weight: 2.5 grams
Melt value: $1.51 (as of February 2023)
Over 35 million silver Mercury dimes were minted in 1929, around 70% of them produced in Philadelphia. The remaining coins were minted in Denver and San Francisco.
The design elements on this coin are among the most beautiful in all of US mintage. On the obverse, you'll find a young Lady Liberty facing to her left. She's adorned with a Phrygian cap with charming wings attached to them.
Around the rim of the coin, you'll see the word LIBERTY written. The motto "In God We Trust" is written just below Lady Liberty's chin, and the date 1929 is seen below her neck.
On the reverse, you'll see a fasces—a bundle of rods that has an axe attached on the top. It has some olive branches wrapped around it. This stunning design symbolizes power and strength, but also peace and unity. It's highly symbolic of the American experience during the Great War.
All around the coin are the words "United States of America" and "One Dime." On the right-hand side of the fasces lies the US motto "E pluribus unum."
1929 Mercury dimes are sometimes awarded a Full Bands designation. This is given when the bands that hold the rods in the fasces together show a distinct and complete split between them. This designation can significantly raise the value of a 1929 dime.
Also Read: Top 15 Most Valuable Indian Head Penny Worth Money
1929 Dime Value Chart
1929 Dime Value Chart
Mint Mark
Good
Extremely Fine
AU50 About Uncirculated
MS63 Select Uncirculated
MS67 Superb Gem Uncirculated
1929 Dime Value for No Mint Mark (P)
$3.50
$6.50
$12
$42

Full Bands: $60

$425

Full Bands: $1,450

1929 Dime Value for "D" Mint
$3.50
$20
$22
$47

Full Bands: $60

$475

Full Bands: $2,400

1929 Dime Value for "S" Mint
$3.50
$11
$20
$65

Full Bands: $105

$700

Full Bands: $2,975
1929 Dime Values and Varieties Guides
1929 Dime Value for No Mint Mark (P)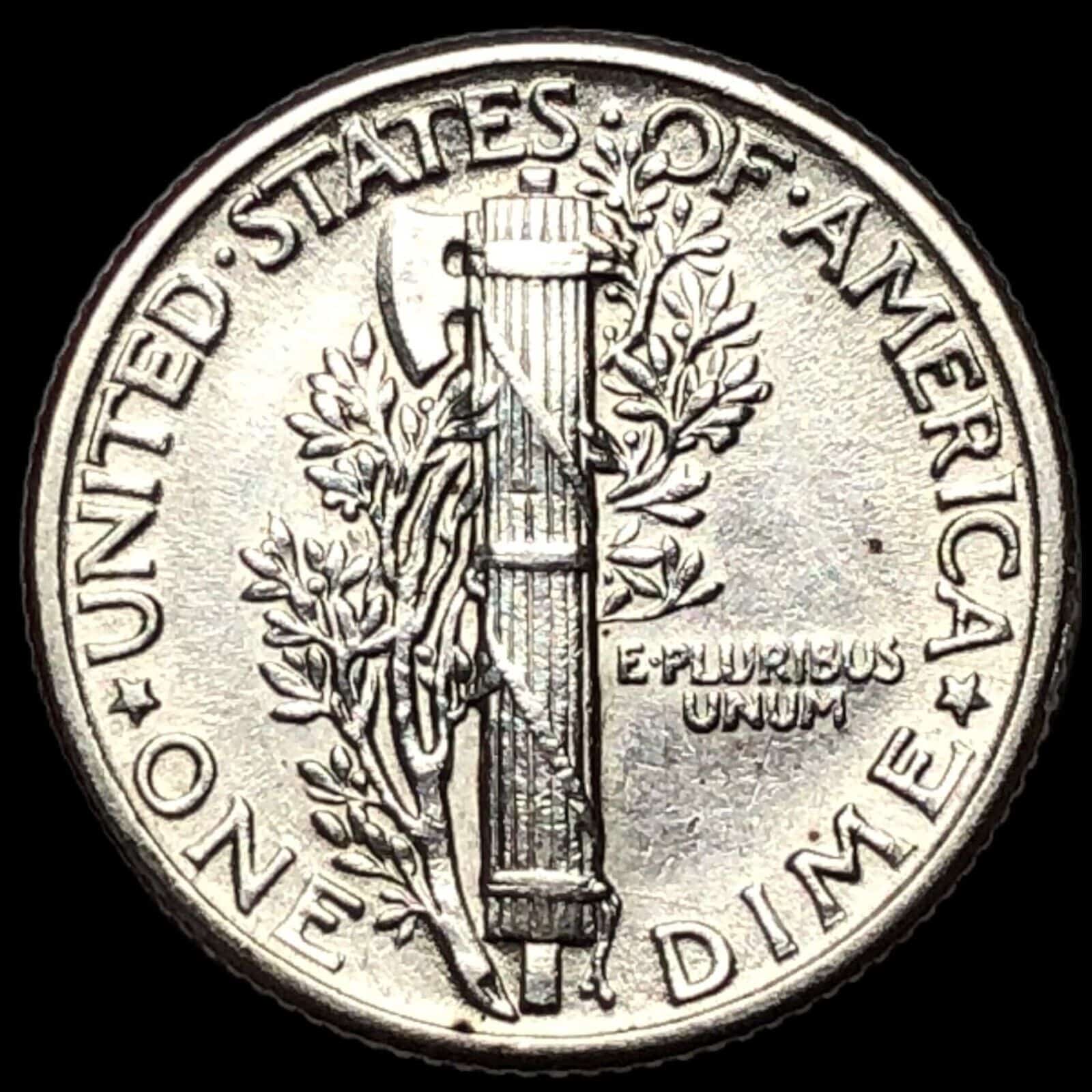 Type: Mercury Dime
Edge: Reeded
Mint mark: No mint mark (P)
Place of minting: Philadelphia
Year of minting: 1929
Face value: $0.10
$ price: $2.50 to $11,450
Quantity produced: 25,970,000
Designer: Adolph A. Weinman
At 25 million coins, the Philadelphia issue of the 1929 dime is the highest mintage for that year. It's also the most common issue of the dime in the 1920s in all grades, even those in mint-state condition and Full Bands designation.
Because of how common this coin is—at least where Mercury dimes are concerned—they're relatively less valuable than 1929 dimes minted in Denver and San Francisco. Both these mints produced just a fraction of the number of coins Philly did that year.
Even in poor or average circulated conditions, the value of the 1929 (P) dime sits at no less than $2.50. In extremely fine condition, this rises to $6.50. And at about uncirculated condition, the price can go anywhere between $12 (AU50) and $19 (AU58).
In mint state, 1929 (P) dimes are valued at upwards of $23. These coins are most plentiful in MS64 and MS65 grades, which can cost you $55 and $80, respectively. At a near-perfect grade of MS67, a coin like this can be valued at $425.
As you can see, the 1929 (P) dime is very valuable, even if many of them were minted that year. But with a Full Bands designation, the price goes even higher. An MS68 coin with Full Bands is valued at a tremendous amount of $11,450.
1929 Dime Value for "D" Mint Mark
Type: Mercury Dime
Edge: Reeded
Mint mark: D
Place of minting: Denver
Year of minting: 1929
Face value: $0.10
$ price: $2.50 to $32,000
Quantity produced: 5,034,000
Designer: Adolph A. Weinman
Meanwhile, in Denver, a little over 5 million 1929 dimes were minted. Even if it's only one-fifth the number of coins minted in Philadelphia, it's also one of the most common collectors' dimes of the 1920s.
These D mint mark coins are the most valuable among the three issues when it comes to extremely fine and about uncirculated conditions. This is because it's quite scarce in those conditions. However, the Frisco-minted issues are a tad bit more valuable in the mint state.
In extremely fine circulated condition, for example, a Denver-minted 1929 dime can go for $20. One that is minted in Philly can only go for around $6.50, and in San Francisco, about $11.
As with all coins, the better the condition, the higher the value of a 1929 D dime. An AU55-grade coin can cost you $25, and an uncirculated coin at a high grade of MS67 is valued at $475.
This price leaps even more when given a Full Bands designation, the latter coin jumping to a value of $2,400 when given this prestige.
1929 Dime Value for "S" Mint Mark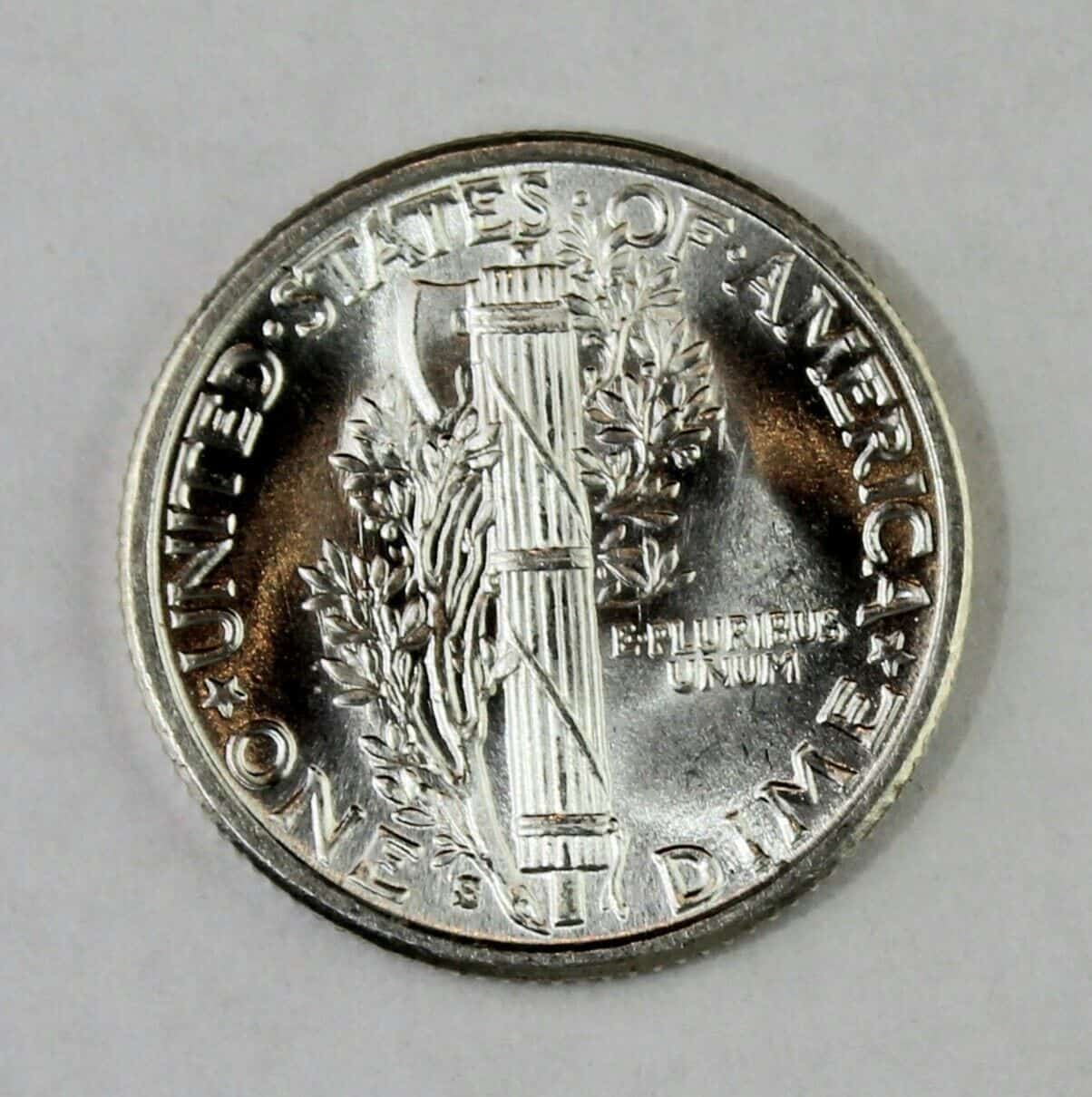 Type: Mercury Dime
Edge: Reeded
Mint mark: S
Place of minting: San Francisco
Year of minting: 1929
Face value: $0.10
$ price: $2.75 to $5,600
Quantity produced: 4,730,000
Designer: Adolph A. Weinman
In the mintage year of 1929, San Francisco produced the fewest dimes. Because of this scarcity, they're quite valuable, especially in mint-state conditions. Circulated coins are also quite common, which may be surprising given the modest number of coins produced that year.
In extremely fine, circulated condition, a San Francisco-minted 1929 dime can cost $11—almost double the value of a Philly-minted one. In mint states, the prices can go from $37 (MS60) all the way to around $2,000 (MS68).
It's quite hard to find 1929 S dimes with Full Bands, making them extremely valuable. For example, an MS67 coin can go as high up as $2,975 with this honorable designation. This price is over four times more valuable than without its Full Bands designation.
History of the 1929 Dime
In the early 1900s, the Barber dime was the ten-cent coin used in circulation. However, it was looking more and more rigid and outdated. The US Treasury believed it was time for a change. They wanted a design that was more aesthetically appealing and symbolized peace and freedom of thought.
After a competition between Albin Polasek, Hermon MacNeil, and Adolph Weinman, the latter won the design contest with his idea of Lady Liberty and the symbolic fasces.
It is said that the designer based the portrait of Lady Liberty on Elsie Kachel Stevens—the wife of poet Wallace Stevens and a tenant at Weinman's New York City apartment back in the day.
Although this coin is known as the Mercury dime, it doesn't show Mercury—the god of commerce. It actually shows Lady Liberty. But old habits die hard, and Americans still refer to this coin as the Mercury dime after all these years, even after the character in the design has been cleared up.
Whatever you call it, this iconic dime remains to be one of the most sought-after coins by numismatic aficionados and collectors alike, even in modern times.
Also Read: Top 15 Most Valuable Roosevelt Dimes Worth Money
1929 Dime Value Grading
While it takes a seasoned collector to properly grade a 1929 dime to declare its value, you can assess your own dimes to see if they meet the mark of a valuable piece.
It's important to check the high points of the coin (like Lady Liberty's cheek and ear, or the bands on the fasces) to determine wear. Here's a quick guide to see common grades for 1929 dimes.
Circulated: Heavy wear, with many of the letters and design elements barely distinguishable by the human eye.
About Circulated (AU55): Minor lines and traces of wear around the coin's highest points. It's not perfect, but the coin is well-preserved and still has good luster.
Mint State (MS67): Original luster is brilliant and near-perfect. It has just two or three contact marks on the coin. Amazing eye appeal.
Curious as to how to grade Mercury dimes properly? Learn more through this guide:
1929 Dime Errors
1. 1929 Dime Broadstrike Error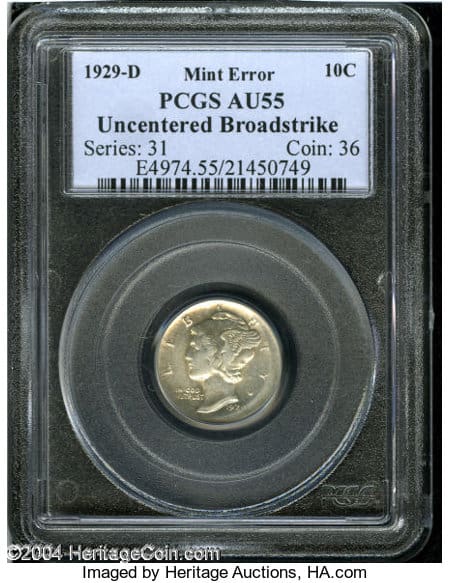 Arguably the most common error in the 1929 issue of the dime is a broadstrike error.
This happens when a coin is not struck properly within the retaining collar, aka the part of the machine that holds the coin in place by its rim. The result is a coin that looks a bit off-center with blank edges and may be stamped flatter.
A 1929 dime with grade MS64 and a broad strike can sell for over $300.
Another variation of the broadstrike error is an uncentered broadstrike. This only happens when the design is fully seen on both sides of the coin. A coin with this error can sell for almost $200 in about uncirculated condition.
2. 1929 S Dime Off-Center Strike Error
A coin has an off-center strike error when it isn't punched at the exact center of the coin, leading to some space on its edge. The coin, therefore, isn't perfectly circular in shape, and can sometimes leave a lot of the planchet blank. The more off-center the coin, the higher its value.
This error was seen in an MS62 1929 dime minted in San Francisco. Although an MS62 coin is valued at $45 today, the one with a 15% off-center strike sold in 2005 for over $480. It also had a Full Bands designation, which increased its value even more.
1929 Dime FAQs
How much is a 1929 dime worth today?
Every 1929 dime differs in value depending on its condition and rarity. However, we can tell you that any 1929 dime can be sold for much higher than its face value of $0.10 because of its high and fine silver composition at 90%.
A 1929 dime that was in circulation will cost at least $2.50, which is already 25 times its face value. One that is in the mint state can cost anywhere between $23 and $3,300, depending on its mint mark and condition. And when your coin has a Full Bands designation, it can go up to $32,000 in value!
How do I know if my dime is worth money?
The value of any 1929 dime is tied to its condition. Uncirculated, mint-state coins will be a lot more valuable than those that were circulated back in the day. To know whether your dime is of any value, you need to have it graded by an expert.
Is a dime real silver?
Yes, a 1929 Mercury dime is made of 90% silver. The other 10% is made of copper.
It was only in 1965 that the US stopped producing dimes that weren't made of silver. At that point, Mercury dimes weren't even in circulation anymore.
How do I know if I have a Mercury dime?
You'll know that you have a Mercury dime by its obverse and reverse design. The obverse should depict a young Lady Liberty facing to the left, while the reverse should show a fasces with olive branches around it.