88 years have passed since 1935, and not a lot of people living right now might have lived through 1935. However, you don't need to live the year through if you can find a 1935 dime coin. They may not seem like it, but you are holding a piece of American history in your hands.
In this article, we'll help you appreciate 1935 dimes by providing you with information like their value, varieties, history, gradings, errors, and questions that you might ask about this coin.
1935 Dime Details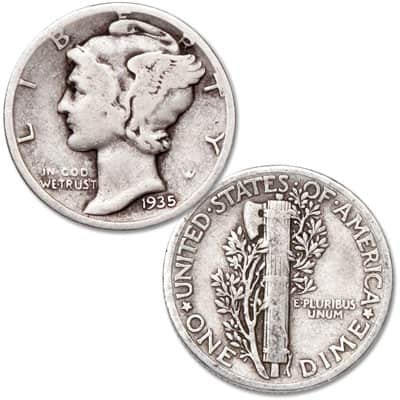 The 1935 dime is part of the Mercury dime series, which was minted and circulated from 1916 to 1945. It replaced the Barber dime which ended circulation in 1916 and was replaced by the Roosevelt dime, the current dime in circulation.
The 1935 dime is part of the later dates of the Mercury dime series and can be readily found on eBay or other online selling platforms.
Category: Mercury Dime
Mints: Philadelphia, Denver, San Francisco
Year: 1935
Total Mintage: 85,147,000
Obverse Designer: Adolph A. Weinman
Reverse Designer: Adolph A. Weinman
Edge: Reeded
Diameter: 17.9 millimeters (0.705 inches)
Composition: 90% silver, 10% copper
Weight: 2.5 grams
Also Read: Top 15 Most Valuable Indian Head Penny Worth Money
1935 Dime Value Chart
| | | | | |
| --- | --- | --- | --- | --- |
| Mint Mark | Good (G-4) | Fine (VF-12) | Extremely Fine (XF-40) | Mint State (MS-65) |
| 1935 P (No Mint Mark) Dime Value | $1.98 | $3.09 | $3.35 | $39 |
| 1935 D Dime Value | $1.98 | $3.09 | $8.32 | $103 |
| 1935 S Dime Value | $1.98 | $3.09 | $5.81 | $46 |
1935 Dime Values and Varieties Guides
1935 P (No Mint Mark) Dime
Type: Mercury Dime
Edge: Reeded
Mint mark: None
Place of minting: Philadelphia
Year of minting: 1935
Face value: $0.10
$ price: $1.98 to $4,000
Quantity produced: 58,830,000
Designer: Adolph A. Weinman
The United States was already recovering from the Great Depression by 1935, so the demand for coins, including dimes, significantly increased. You can tell since the 1935 dime minted in Philadelphia was the second-most minted dime in the Mercury Dime series, at over 58 million pieces.
However, this high mintage did not end up with a high survival rate, with only around 20,000 pieces available today, according to PCGS. Despite the low survival rate, NGC reports that the coin maintains a respectable quantity across all quantities.
Around this coin, collectors have also started the habit of setting aside fresh rolls of coins from local banks, contributing to their relatively high availability up until MS66. Mint State coins vary highly in quality, but you can spend enough time to find coins with a strong strike and good luster.
Shopping around a 1936 P coin, you will find prices as low as $1.98 for a low-grade coin, which can go as high as $13 before going into uncirculated, MS grades. Gem examples start at $40 for an MS65 and peak at $1,000. Full Band varieties can go as high as $4,000.
The current auction record price is $11,213 for an MS68 FB piece.
1935 D Dime
Type: Mercury Dime
Edge: Reeded
Mint mark: D
Place of minting: Denver
Year of minting: 1935
Face value: $0.10
$ price: $1.98 to $5,500
Quantity produced: 10,477,000
Designer: Adolph A. Weinman
1935 certainly is a year of high mintages, as the Denver Mint also recorded its highest mintage of dimes since 1920, with over 10 million pieces minted. PCGS reports that they have a low survival rate, with only 0.1% of minted coins available today. NGC says otherwise, giving a qualitative estimate that there is plenty to go around.
The NGC report makes more sense if we refer back to the prices of these coins, which makes them seem to be common coins rather than rare ones. NGC especially notes that these coins are quite plentiful up until the gem grades.
Another interesting bit about this year's issue is that this was when they started using the large D mint mark for all Mercury Dimes.
These coins start at $1.98 for low-grade coins, going as high as $50 for an MS60 piece. Gem examples start at $125, and the highest grade that these coins are found is at MS68, where you can snag one for $3,250.
The current auction record for the 1935 D is an MS76 FB piece, which sold for $17,250.
1935 S Dime
Type: Mercury Dime
Edge: Reeded
Mint mark: S
Place of minting: San Francisco
Year of minting: 1935
Face value: $0.10
$ price: $1.98 to $90,000
Quantity produced: 15,840,000
Designer: Adolph A. Weinman
This year's issue also holds a few records for the San Francisco Mint, being their highest mintage of dimes since 1918, and the first time the Mint has coined dimes since 1931, with over 15 million pieces minted.
Similar to the rest of the other varieties, PCGS and NGC report different statuses in terms of availability. NGC's qualitative report mentions that these coins are readily available across all grades until MS66, while PCGS estimates that less than 1% of the original mintage is available today.
Despite PCGS' remark on their low availability, they are priced quite low, with low grades starting at $1.98. MS65 coins break the $100 mark and incrementally increase as the grade increases, then peak at $3,750 for an MS68 coin.
However, the current auction record price, as well as the price for an MS68 FB 1935 S coin, is $90,000.
Full Band Special Designation
Some coins have special designations referring to certain design elements that may increase the value of the coin. For the Mercury dime, they can have the Full Band (FB) or Full Split Bands designation.
The bands being referred to in the name are those that hold the rods on the fasces in the reverse of the coin. There are three bands found on the fasces: the top, middle, and bottom bands. The original design contains three bands on the top and two each for the middle and bottom.
If the bands on the coin are clearly distinct from each other, the coin can be given the Full Band designation. This usually indicates that the strike for that coin is particularly good, and is highly valued by collectors.
The Full Band designation is usually only granted to coins with a grade condition of MS60 or higher. They can be found in all varieties.
Also Read: Top 15 Most Valuable Roosevelt Dimes Worth Money
1935 Dime History
The 1935 dime is part of a series of coins called the Mercury dimes, named after the Roman messenger god Mercury. However, the depicted figure in the coin is not at all Mercury, but rather a young Liberty. Because of this, the coin series is also called the Winged Liberty Head dimes.
In 1916, three coin denominations were due for a redesign, after the previous designs were met with much public dissatisfaction. To prepare for these redesigns, three sculptors were selected to submit proposals for the dime, quarter, and half-dollar coins: Adolph Weinman, Hermon MacNeil, and Albin Polasek.
For the first time in American history, these coins had different designs. Adolph Weinman's designs were initially chosen for the dime, half dollar, and the reverse of the quarter. Weinman's sketches would go on to be finalized for the dime and half dollar, while MacNeil was assigned for the quarter.
Mint Chief Engraver Charles Barber originally submitted his own designs for the coins, but then it was rejected by the Commission of Fine Arts. Aside from having his new designs rejected, the outgoing coins were also his designs, so he had to begrudgingly replace those with designs that were not his own.
The idea of the design of the dime is to have a young Liberty with a winged Phrygian cap, which symbolizes liberty of thought. However, many people confused her with the young Roman god Mercury, who is also known to wear a Phrygian cap, hence its popular name of Mercury dimes.
Although it was never confirmed or claimed, many believed that the model for young Liberty is Elsie Stevens, the wife of lawyer and poet Wallace Stevens. The obverse design has the Roman fasces with a large olive branch: the former represents war and justice, while the latter represents peace.
The Mercury dime's design was particularly praised, and despite efforts to correct the name, the term Mercury dime stuck up until today. The Mercury dime was minted from 1916 until 1945 before being succeeded by the Roosevelt dime, which is still in circulation today.
1935 Dime Grading
Coin collectors utilize the Sheldon coin grading scale to assess the quality of a coin. This scale starts from 1 and ends at 70, and it is often simplified into qualitative categories, like Good, Fine, Almost Uncirculated, and Mint State.
Additionally, for the Mercury dimes, you might also want to check for the Full Band designation. This means that you check for clear separation on the bands on the top, middle, and bottom of the fasces found on the reverse of the coin. Note that only Mint State coins are eligible for the Full Band designation.
Lists of 1935 Dime Error
1. 1935 Dime RPM Error
The repunched mintmark (RPM) error is a common error that refers to a mintmark that has been punched twice, and the second impression is often offset in a different direction. Thus, the earlier impression can be seen a bit on the coin.
The RPM error can only be found on the 1935 D and S coins since they are the only ones with a mintmark. However, this error is more common on the S coins, where the current auction record price is $1,320 for an MS67 piece.
2. 1935 Dime Off-Center Error
The off-center error is an error where the die is erroneously placed on the coin, causing the entire design of the coin to be off-center.
3. 1935 Dime DDO Error
The doubled die obverse error refers to an error with the die used to strike the coins. Certain design elements in the coin are duplicated, and the duplicate elements are often offset from the main impression.
The 1935 P dime has 2 varieties of doubled die obverse errors, which are both prominent compared to other DDO errors in the Mercury dime coin series.
1935 Dime Value FAQs
Is a 1935 dime pure silver?
The 1935 Mercury dime is not entirely made of pure silver. Like most dimes minted before 1965, it is made of 90% pure silver. It contains 0.07234 troy oz of pure silver bullion, with a melt value of $1.50. Although higher than the coin's face value, the coin has more value when sold to and graded by collectors.
Where is the mint mark on a 1935 Mercury Dime?
You can find the mint mark on a 1935 Mercury dime on the reverse, at the base of the olive branch, and near the E of "ONE". You can only find mintmarks on the 1935 D and S coins, with the mintmark being "D" and "S", respectively. Coins minted by the Philadelphia Mint do not have a mintmark.
How can you tell if a Mercury Dime is real?
There are certain telling signs that you can check to see if a Mercury dime is real. First, you can check if it has the monogram of the designer, Adolph A. Weinman. The monogram consists of the letters A and W, with the A tucked underneath the W. You can find this on the obverse of the coin, on the right side.
Another sign is the mintmark. Although Philadelphia-minted dimes did not have mintmarks, this will work with Denver and San Francisco mints. You can find the mintmark on the reverse, between the E of "ONE" and the base of the olive branch.
Are old dimes silver?
All Mercury dimes minted before 1965 are made up mainly of silver. The Coinage Act of 1965 eliminated all silver from the dime and quarter dollars, so you will not see any more silver dimes past 1965.