Popular among collectors, the 1935 quarter is not rare but holds much historical significance. The portrait of George Washington makes it a valuable collectible for all numismatists.
If you are planning to add it to your collection or just looking for information to understand and appreciate the 1935 quarter, this is the right place!
In this 1935 Quarter Value Guide, we have included all essential information about the 1935 quarter, including its value, varieties, history, and other details. Let's begin!
1935 Quarter Value Details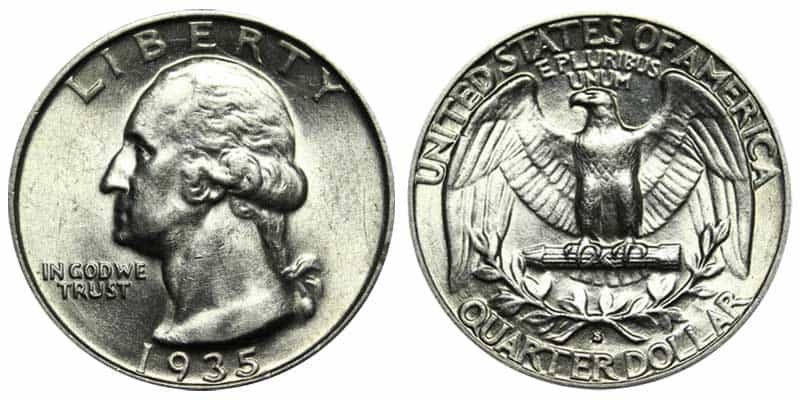 Category: Washington Quarters (1932-1998)
Mint: Philadelphia, San Francisco, Denver
Mintage: 46,924,000
Obverse Designer: John Flanagan
Reverse Designer: John Flanagan
Composition: Silver
Fineness: 0.9
Weight: 6.25g
ASW: 0.1808oz
Also Read: Top 15 Most Valuable Quarters In Circulation
1935 Quarter Value Chart
| | | | | |
| --- | --- | --- | --- | --- |
| Mint Mark | Good | Extremely Fine | MS-60 | MS-67+ |
| 1935 P No Mint Mark Quarter Value | $8 | $15 | $35.00 | $450-$4500 |
| 1935 "D" Mint Mark Quarter Value | $10 | $60 | $225 | $4,850 |
| 1935 "S" Mint Mark Quarter Value | $8 | $25 | $100 | $2600 |
1935 Quarter Value and Varieties
1935 P No Mint Mark Quarter Value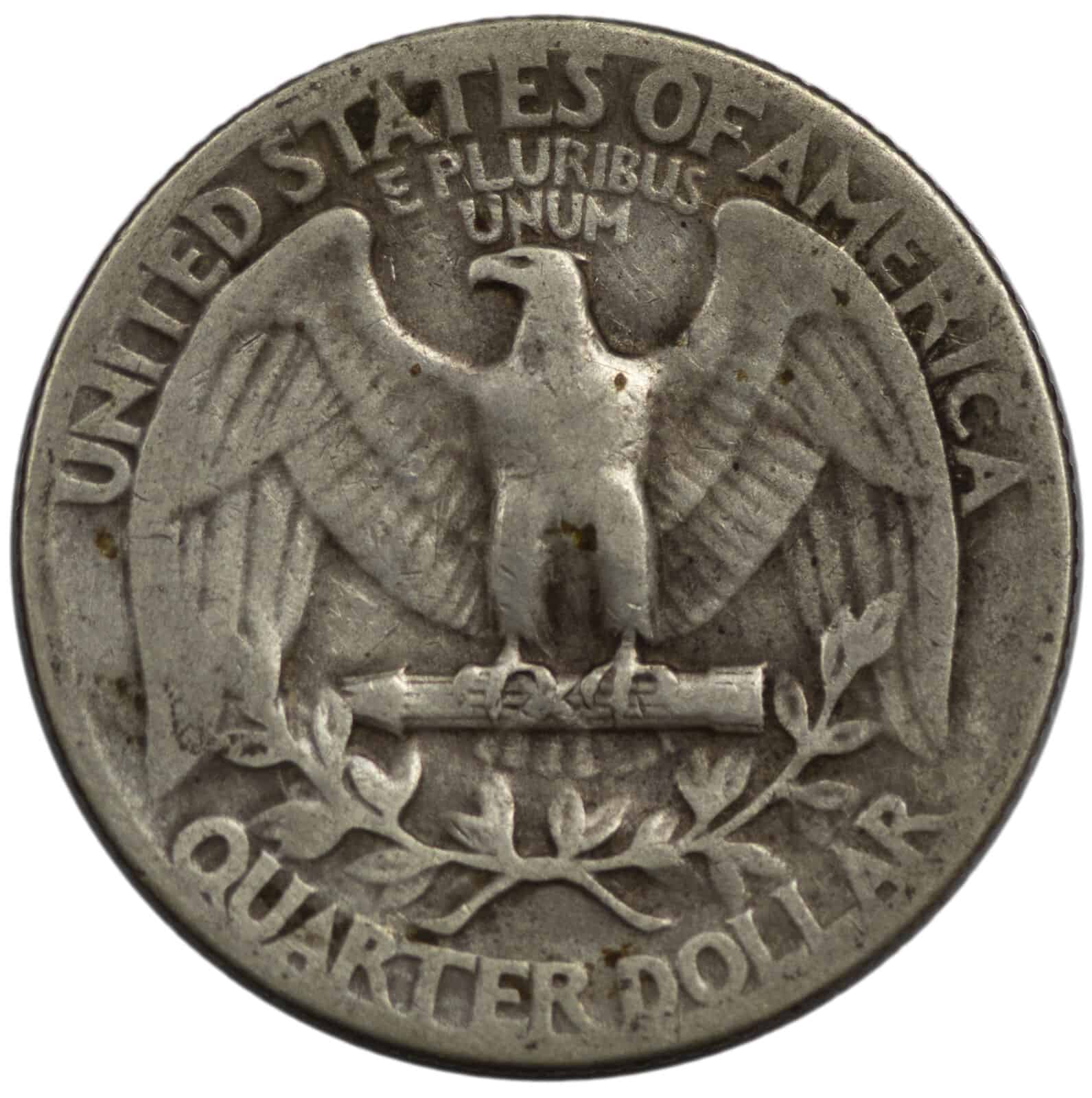 Type: Washington Quarters
Edge: Reeded
Mint Mark: No Mint Mark
Place of Minting: Philadelphia
Year of Minting: 1935
Face Value: $0.25
Price: $8 to $4500
Quantity Produced: 32,484,000
Designer: John Flanagan
Composition: Silver
Mass: 6.25g
Diameter: 24.3mm
The most convenient way to identify a 1935 Quarter from the Philadelphia mintage is to look for a mint mark, or rather, the absence of it. The Philadelphia variety has no mint marks, unlike the Denver and San Francisco ones.
The total production quantity for these coins was 32,484,000. Naturally, this makes them not-so-rare, but still a unique member of the 1935 quarter series.
The 1935 P No Mint Mark Quarter was largely circulated. So, it's difficult to find one in a well-preserved state. The average value for a 1935 quarter with no mint mark is $8. Even though this is light on the pocket, most of the coins at this level are worn out or badly damaged.
It is possible to find coins in mint condition. The price increases according to the coin's condition, with the highest being $4500.
For example, a no-mint mark 1935 P quarter in extremely fine condition costs $15. Similarly, one MS60 1935 quarter will cost $35. Further still, 1935 quarters in mint condition and of MS67+ grades will be between $450 to $4500. Coins graded at MS-67 levels and above are in the finest condition and show little to no signs of wear.
The coin is made of silver, which further adds to its value. Since the price increase is so drastic depending on the coin's condition, we suggest consulting a professional coin appraiser to avoid any later inconveniences.
According to PCGS reports, in March 2021, a 1935 P Quarter of grade MS68 was auctioned at $7200!
1935 "D" Mint Mark Quarter Value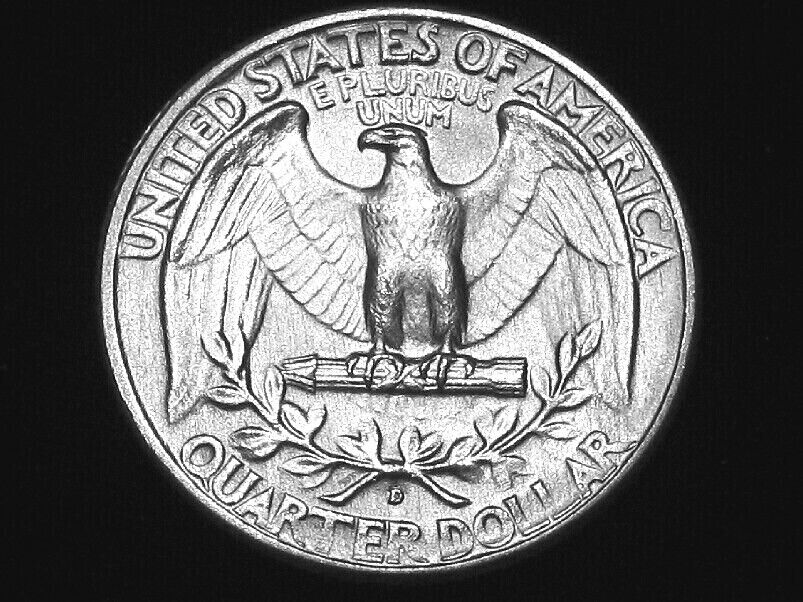 Type: Washington Quarters
Edge: Reeded
Mint Mark: D
Place of Minting: Denver
Year of Minting: 1935
Face Value: $0.25
Price: $10 to $1700
Quantity Produced: 5,780,000
Designer: John Flanagan
Composition: 90% Silver and 10% Copper
Mass: 6.25 g
Diameter: 24.3 mm
The 1935 "D" mint mark quarters were minted in Denver, Colorado. Similar to the Philadelphia variety, each coin had reeded edges, weighed 6.25 grams, and had a 24.3 mm diameter. But the similarities end here.
The Denver mint produced nearly 6 million 1935 Washington quarters, made 90% silver and 10% copper. To identify this variety of the 1935 quarters, you only need to look for a small D under the eagle on the reverse side.
Compared to other Washington quarters, the 1935-D quarter did not have a low mintage. From this perspective, the Denver variety of the 1935 Washington quarter is not considered rare.
However, the prices for the Denver 1935 quarters are still higher than their Philadelphia counterparts. That is so because most of the 1935 quarters minted in Denver have been lost or melted down, making this coin rare.
A circulated 1935-D Washington Quarter in good condition costs around $10. In an even better condition, the same coin will cost around $60, more than twice the amount of a 1935 P Quarter. At MS60 and above grades, you can expect nearly mint-level condition coins with values starting from $225 and going up to $1700.
It's difficult to find a 1935 D quarter in gem condition. Out of the mintage of 5,780,000 coins, only 28,000 have survived in a condition that can classify as MS60 or better.
As of 2023, PCGS has only certified seven pieces at the MS67 level. At an auction, one of these seven coins was sold for $9,775. At a recent auction in February 2023, one 1935 D quarter of MS65 grade was sold at the price of $240.
1935 "S" Mint Mark Quarter Value
Type: Washington Quarters
Edge: Reeded
Mint Mark: S
Place of Minting: San Francisco
Year of Minting: 1935
Face Value: $0.25
Price: $8 to $1250
Quantity Produced: 5,660,000
Designer: John Flanagan
Composition: 90% Silver and 10% Copper
Mass: 6.25g
Diameter: 24.3mm
The San Francisco mint struck around 5.6 million in the 1935 quarters, marking its first significant coinage since 1930. Like its Denver counterparts, the 1935 S Quarter is also made of 90% silver and 10% copper.
To identify a 1935 quarter minted in San Francisco, just look for a small "S" mark at the bottom of the reverse side. These coins are the most popular, but also the rarest to find in mint condition among the 1935 quarter series.
Due to the low amount of mintage and wide circulation of this variety, many of the 1935 S quarters show signs of wear or die erosion. Also, some of the 1935 S quarters have a softer strike, while others appear to be sharply struck.
If you want an S mint mark 1935 quarter in the best possible quality, look closely and carefully for coins that were struck from fresh dies and have smooth fields.
Generally, the cost for a 1935-S Washington Quarter in good or extremely fine condition can range between $8-$25. As you venture into even better conditions, and quarters that are graded at the higher end, you will find the price increasing, too.
That's because only 620 recorded pieces of 1935 Washington quarters minted in San Francisco are of a 65 grade or better. Typically, an MS60 or MS67 graded 1935 S quarter begins at the price of $100 and goes up to $2600.
According to PCGS, the auction record for an MS67 1935 S Quarter is $6900! As per the reports, it is one of the finest 1935 quarters recorded so far. At a recent auction in February 2023, an MS65 grade S quarter was sold at $168.
Also Read: Top 16 Most Valuable Modern Quarters Worth Money
1935 Quarter History
The 1935 quarter serves as a testament to the nation's resilience during one of the most challenging times in its history.
In 1931, the Great Depression left Americans with nearly nothing to celebrate. However, the government was reluctant to let the 200th birth anniversary (in 1932) of George Washington pass by without celebration.
To mark the occasion, the Treasury Department proposed producing half a dollar. Once everyone agreed, the Commission of Fine Arts and the Washington Bicentennial Commission held a design competition.
Their competition called for entries modeled after a bust of Washington by the French sculptor Houdon. Upon the finalization of entries, Laura Gardin Fraser's design was the undisputed winner of the Commission.
However, the Great Depression and its effects on the nation forced the involved authorities to shelve the idea of producing a commemorative half-dollar. Congress then introduced a bill changing it from half to a quarter dollar.
Ultimately, this meant that Treasury Secretary Andrew Mellon now had a say in what design was picked. Mellon had a reputation for stubbornness and a taste in art. He refused to listen to the Commission favoring Fraser's design and chose a bland design by John Flanagan.
Flanagan, who was a medalist and participant in the competition, submitted a design that featured George Washington facing left. On the reverse side was an eagle with outstretched wings encircled by the words "United States of America" and "E Pluribus Unum."
The Commission only had an advisory role, but the Treasury had the decision power. Eventually, John Flanagan's design got finalized, and he became the official designer for the 1935 quarter.
The 1935 quarter was produced in three different mints: Philadelphia, Denver, and San Francisco. The Philadelphia mint produced the most coins, with a mintage of over 32 million.
The Denver and San Francisco mints produced significantly fewer coins, with 5.7 million and 5.6 million minted, respectively. The total for all 1935 quarters was 46,924,000.
The 1935 Quarter was produced during a time of economic hardship in the United States. To this day, it is considered a symbol of stability and patriotism. While a 1935 quarter may not be the rarest coin, it is still of great value to numismatists and historians due to its significance and beauty.
Also Read: 10+ Rarest State Quarter Errors Lists (Worth Much Money!!!)
1935 Quarter Grading
Coins from the 1930s have been the subjects of damage over the years, and many will show the signs of it clearly. Others, however, will have the signs of wear and tear hidden in slight blemishes and surface flaws. That is why it is crucial to analyze the coin's appearance for signs of wear and tear or other surface flaws.
All professional numismatists use a standard grading scale to calculate the value of coins. We suggest you use it to evaluate the value of a 1935 quarter and determine its place in your collection.
You can learn more about grading a 1935 quarter in this video:
List of 1935 Quarter Errors
1. 1935 Quarter Doubled Die Error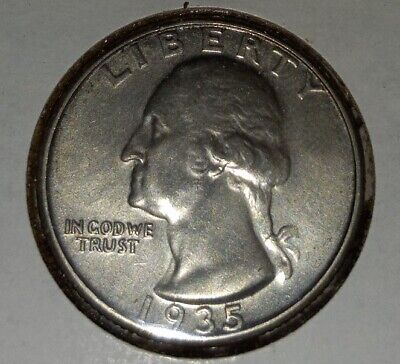 A 1935 quarter with a doubled die error will have a doubled image, slightly offset from the original design. As the name suggests, a doubled die error occurs when the image is stamped onto the coin more than once.
2. 1935 Quarter Repunched Mint Mark
Coins with the repunched mint mark error have a doubled mint mark, resulting from the mint mark being stamped on more than once. There are no mint marks in the Philadelphia variety of the 1935 quarter. So, these errors can only occur on coins from the Denver and San Francisco mints.
3. 1935 Quarter Die Crack Error
Coins with a die crack error generally have an irregular line or groove that appears on the surface. This error results from a crack that may appear on the die that is being used to strike the coin.
4. 1935 Quarter Off-Center Strike
The off-center strike error occurs when a coin is struck anywhere but the center. 1935 quarters with this error will have an incomplete design, or the George Washington image misaligned.
5. 1935 Quarter Filled Die Error
A filled die error occurs when debris or foreign substances get stuck in the die used to strike the coin. 1930 quarters with this error will have an incomplete or distorted design.
Please note that there are no widely known errors in the 1935 quarter, but the ones listed above are a few examples of errors that can occur. A 1935 quarter with any error can sell for hundreds and thousands of dollars.
So, if you suspect an error on your 1935 Quarter, it's best to get a professional appraisal to learn its actual worth.
1935 Quarter FAQs
Are 1930s quarters worth money?
Yes, 1930 quarters are worth the money— these quarters are historically significant and rare collectibles. Also, the NGC price guide supports the notion that mint condition 1930 quarters can sell for thousands of dollars in the open market.
Is a 1935 quarter made of silver?
Only the composition of the Philadelphia variation comprises 100% silver. The Denver and San Francisco varieties are made of 90% silver and 10% copper. Nonetheless, all 1935 quarter coin varieties can be sold for their melt value.