Discover the worth of your 1936 Dime with our comprehensive value guide. Whether you're a numismatist or simply curious about antique coins, we've got you covered with all the information you need to know about the value of this iconic coin.
From rare errors to pristine condition specimens, we'll explore the factors that impact its value and help you determine what your 1936 Dime is really worth. Let's get started!
1936 Dime Value Details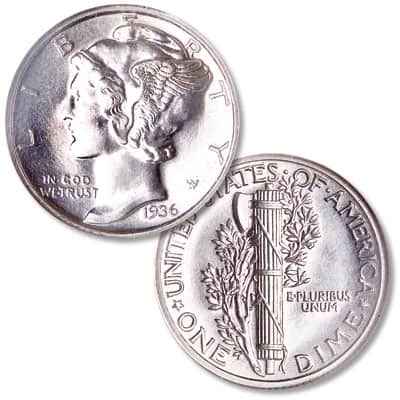 Category: Mercury Dimes
Mint: Philadelphia, Denver, San Francisco
Mintage: 112,846,130
Obverse Designer: Adolph A. Weinman
Reverse Designer: Adolph A. Weinman
Composition: 90% Silver, 10% Copper
Fineness: 0.9
Weight: 2.5 grams
ASW: 0.07234 troy ounces
1936 Dime Value Chart
| | | | | | |
| --- | --- | --- | --- | --- | --- |
| Mint Mark | Good | Extremely Fine | MS-60 | MS-67 | PR |
| 1936 (P) No Mint Mark Dime Value | $2 to $3 | $4 to $6 | $10 to $15 | $105+ | – |
| 1936 "D" Mint Mark Dime Value | $3 | $6 | $26 to $30 | $300+ | – |
| 1936 "S" Mint Mark Dime Value | $3 to $4 | $6 to $10 | $30 to $35 | $400+ | – |
| 1936 Dime (Proof) | – | – | – | – | $1,000+ |
1936 Dime Value and Varieties
1936 (P) No Mint Mark Dime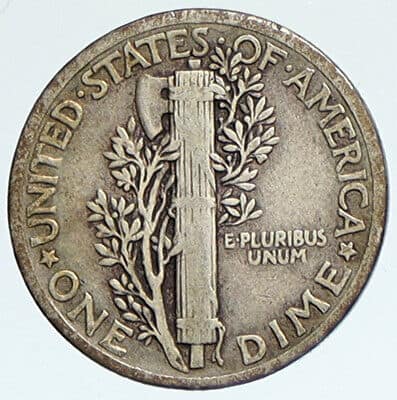 Type: Mercury Dime
Edge: Reeded
Mint Mark: None
Place of Minting: Philadelphia
Year of Minting: 1936
Face Value: $0.10
Price: $3 to $105+
Quantity Produced: 87,500,000
Designer: Adolph A. Weinman
Composition: 90% silver, 10% copper
Mass: 2.5 g
Diameter: 17.9 mm
The 1936 P No Mint Mark Dime was produced in massive quantities at the US Philadelphia mint. So, there's no wonder if you find some of them in your inherited coin collections or at the thrift shops.
These coins were widely circulated and used in business activities. It's why the value of a circulated coin isn't more than its face value. However, if you find a circulated 1936 Dime in good condition, expect its worth to be between $2 to $3.
In extremely fine conditions, the value can rise further to $4 and $6 for a single dime. These specimens are usually bought by newbie numismatists or collectors who are on a budget.
The premium type of 1936 No Mint Mark Dimes are uncirculated ones. These coins were never used in business transactions because people either intentionally collected them or just had them lying around in the house based on pure luck!
In any case, these uncirculated 1936 Dimes have MS grades (mint-state). The higher the MS grade, the more value a coin has. For example, a 1939 No Mint Mark Dime MS-60 is valued between $10 to $15.
But the same coin is sold for more than $105 at MS-67. According to NGC, an MS-68 grade specimen was auctioned for $3,400 in 2018. This is the highest recorded sale at NGC but you can get even better rates in current times.
1936 "D" Mint Mark Dime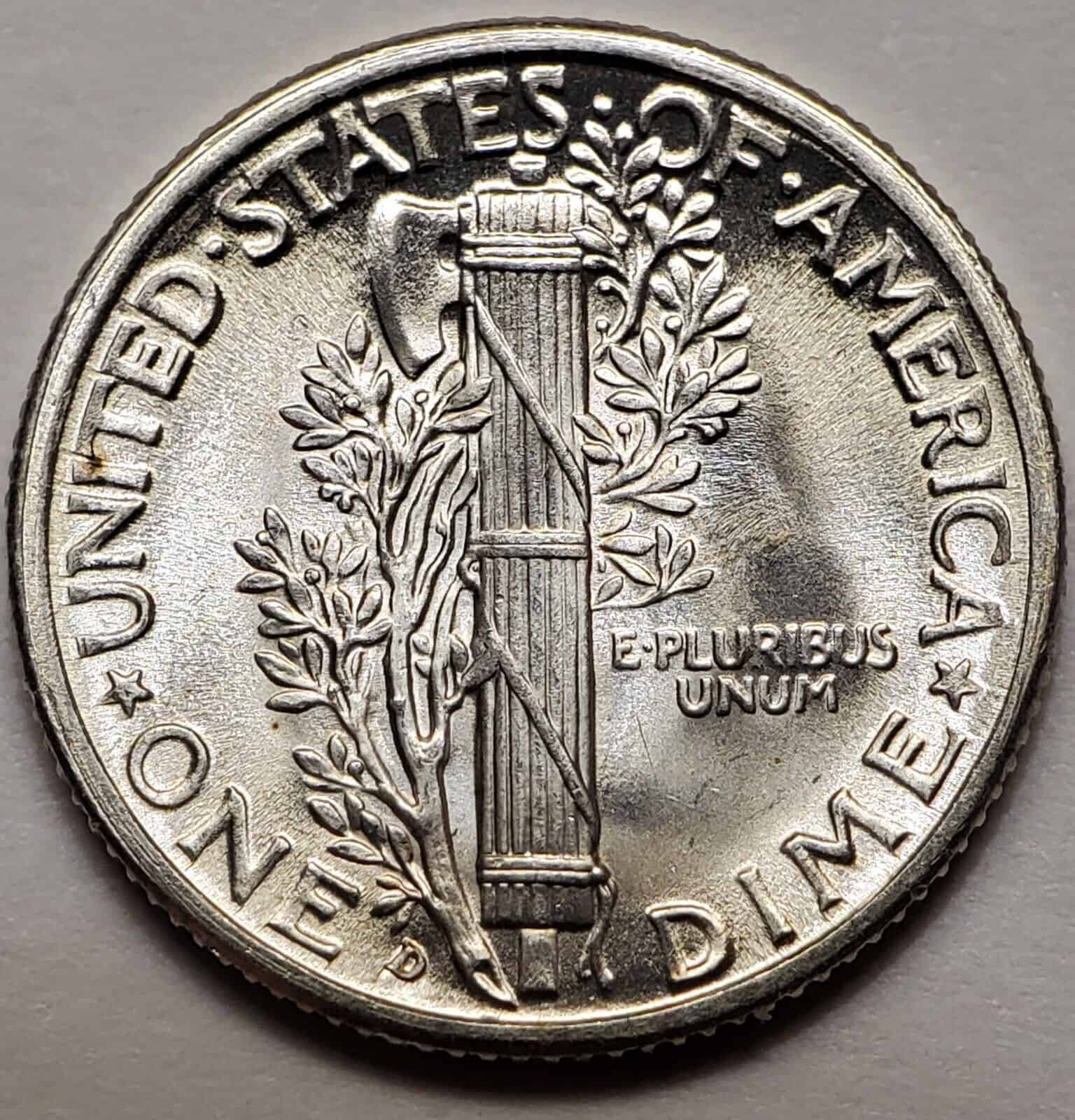 Type: Mercury Dime
Edge: Reeded
Mint Mark: D
Place of Minting: Denver
Year of Minting: 1936
Face Value: $0.10
Price: $3 to $300+
Quantity Produced: 16,132,000
Designer: Adolph A. Weinman
Composition: 90% Silver, 10% Copper
Mass: 2.5 g
Diameter: 17.9mm
The second biggest mintage of 1936 Dime was from the Denver mint. It provided little over 16 million coins, which means you can find this variety quite easily too. However, what makes it different from the Philadelphia mintage is the D mint mark.
On the reverse side, there is a small D present right beside the E in the word ONE. Apart from this, the design is exactly the same. But, since the value depends on the condition, you should focus more on the grades.
The circulated 1936 D Mint Mark Dimes have a value of $3 in good condition. Please note that while these coins are said to be in good condition, much of their design is heavily flattened and faded. You will find no details in the hair of liberty or in the leaves of olive branches.
With that said, extremely fine coins are a lot better in terms of clarity. The majority of high-relief points in the portrait will be preserved and the damage will be minimal. Such specimens are priced at $6 or more.
In uncirculated versions, a 1936 D Mint Mark Dime can have a worth between $30 to $300. The exact value depends on the mint-state (MS) grade. At MS-65, you should expect the worth to be $55+.
However, at MS-68, the worth hikes up to a thousand dollars. NGC sold an MS-68 specimen for $6,500 in 2019.
1936 "S" Mint Mark Dime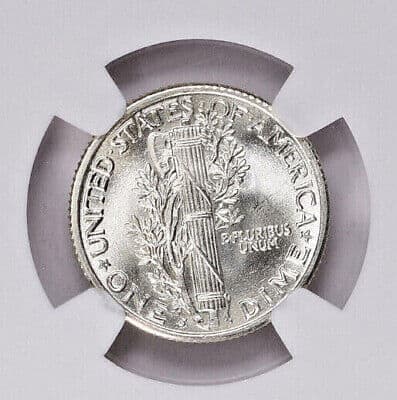 Type: Mercury Dime
Edge: Reeded
Mint Mark: S
Place of Minting: San Francisco
Year of Minting: 1936
Face Value: $0.10
Price: $3 to $2000+
Quantity Produced: 9,210,000
Designer: Adolph A. Weinman
Composition: 90% silver, 10% copper
Mass: 2.5 g
Diameter: 17.8mm
Since San Francisco minted the lowest number of 1936 Dimes, collectors and numismatists are highly interested in this variety. These coins have a small S punched on the reverse side. The location is the same as in the D mint mark variety.
However, the worth of these coins is significantly higher. In good condition, a circulated 1936 S Mint Mark Dime can sell for $3 or $4. Some may be bought for $5 if the damage is lesser than others.
As for extremely fine conditions, the prices can range between $6 to $10. This is because most new collectors aim for circulated coins in better states first. Consequently, they are willing to pay a couple of dollars more than the average market price.
When talking about uncirculated 1936 S Mint Mark Dimes, the value can skyrocket to hundreds of dollars in the numismatic market. For example, a 1936 S Dime in MS-66 was sold for $135 by NGC.
Another specimen in MS-67 was sold for $425. But the biggest auction value was recorded in 2017 by NGC when a collector purchased an MS-68 1936 S Dime for $18,250!
Please note that professional appraisals are important to sell antique or vintage coins for such high prices. If you don't get a professional appraisal, potential buyers will hesitate to collect your specimen.
1936 Dime Proof Grade
Type: Mercury Dime
Edge: Reeded
Mint Mark: No
Place of Minting: Philadelphia
Year of Minting: 1936
Face Value: $0.10
Price: $1000+
Quantity Produced: 4,130
Designer: Adolph A. Weinman
Composition: 90% silver, 10% copper
Mass: 2.5 g
Diameter: 17.8mm
Another important 1936 Dime variety minted at the Philadelphia facility was the proof-grade coins. These coins were specially designed for collectors and numismatists. And so, they were not made available to the general public.
The total quantity was 4,130, which is quite low. But this doesn't make them rare or highly valuable. As mentioned before, the worth of an antique or vintage coin highly depends on the condition.
Since the proof-grade coins were sold to collectors, they are still available in well-preserved condition. Their reflective surface has the original luster and no damage. Some specimens are so shiny as if they were produced yesterday.
On average, you can easily find 1936 Proof Grade Dimes for about $1,000. However, if a coin is in unrealistically pristine condition, it can be auctioned for thousands of dollars. PGCS sold a 1936 PR-68 Dime for $29,375 in 2015.
In 2022, it lowered the value and sold another same-grade specimen for $28,800. But, in 2023, PGCS has only evaluated four coins with this grade. So, you should expect an auction value above $35,000!
Also Read: Top 15 Most Valuable Indian Head Penny Worth Money
1936 Dime History
The 1936 Dime has its roots back in 1916 when the first Mercury Dime was struck. Adolph A. Weinman, who was an American artist and sculptor, created the design of this denomination.
Its obverse showed a young Liberty woman with a unique winged cap on her head. The word Liberty was written on top, whereas the phrase In God We Trust was present on the left side of the portrait.
The reverse side depicted fasces and olive branches to symbolize peace. As with the rest of the coins, the country's full name and currency's face value were printed on the reverse too.
This unique design was selected by the Commission of Fine Arts after several review sessions. Although the coin was formally called the Winged Liberty Head, people invented the name Mercury Dime.
It was because the winged cap led to a misunderstanding that the coin showed the Roman God Mercury. In reality, it was the portrait of his friend Elsie Steven's wife. Nonetheless, the famous design stayed in production until 1945.
In 1936, the dime was produced in three different places: Philadelphia without any mint mark, Denver with a small D mint mark on the reverse side, and San Francisco with an S mint mark. The proof-grade coins were struck at the Philadelphia mint too.
Today, the 1936 dime is highly valued by both collectors and history enthusiasts due to several reasons. Firstly, it serves as a reminder of the difficult times that the US faced during the Great Depression.
Secondly, the massive production means very few specimens are found in high grades. This makes the coin hunt more fun and interesting for enthusiasts. They are also willing to pay hefty prices for a single mint-state 1936 dime (as discussed above)!
Also Read: Top 15 Most Valuable Roosevelt Dimes Worth Money
1936 Dime Grading
The coin grade helps determine the value. And since grades are based on the condition of the coin, it's important to know how to evaluate an antique or vintage coin. Here's a useful video to learn more about coin grading:
List of 1936 Dime Errors
1. 1936 Dime Double Die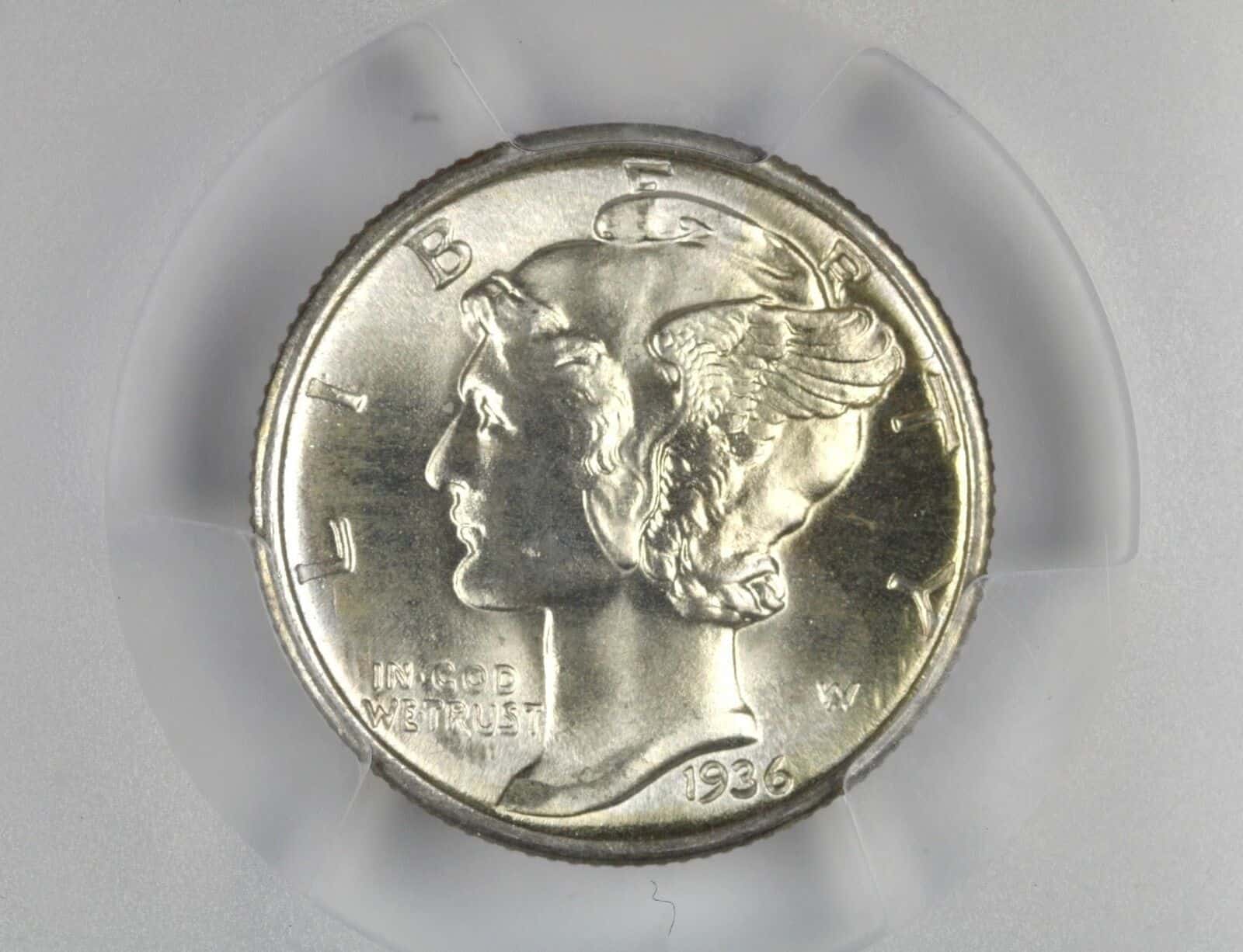 This error occurs when the die used to stamp the coin is struck more than once. It causes the design to be imprinted on the coin in a slightly offset manner.
The double die error can be found on various parts of the 1936 dime, including the date, the lettering, or the image of the Winged Liberty Head. However, what affects the value is the severity of the error and coin grade.
For example, a 1936 Mercury dime with a minor double die error and MS-64 grade were sold for just $129. Meanwhile, a 1936 dime with a major double die error and MS-67 grade were auctioned for almost $1,800.
2. 1936 Dime Die Clash
Die clash errors, which happen when two dies clash without a coin blank in between them, can also appear on the 1936 dime. As a result, the other side of the coin shows a faint image of the coin's opposite side.
Die clash faults are rather common, yet collectors still seek them out, especially if they show obvious and unambiguous clash marks.
The actual worth of a 1936 dime depends on the severity and clarity of the die clash marks. However, it may be higher than one without any flaws.
3. 1936 Dime Planchet Error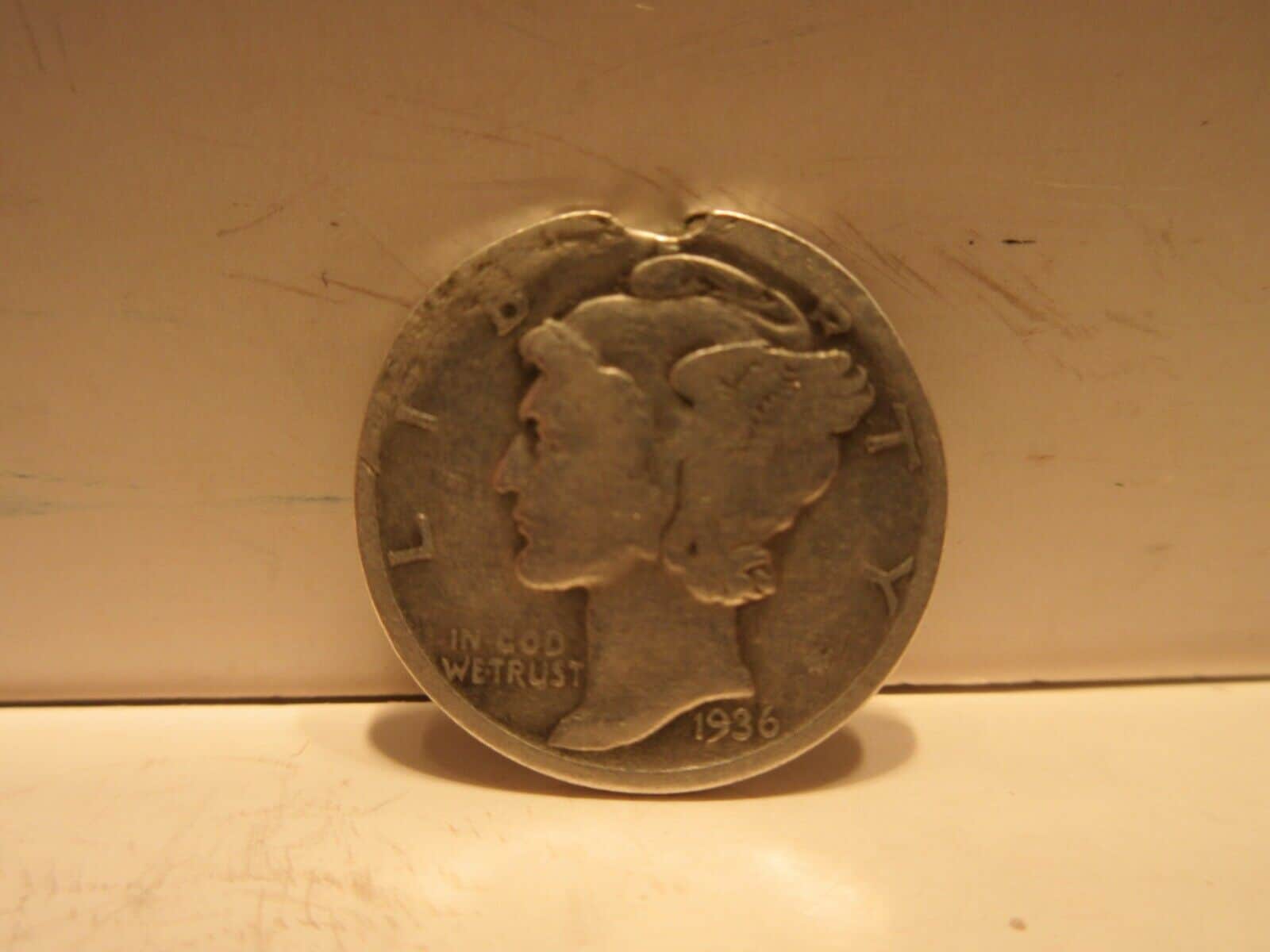 Planchet error is another common deformity in 1936 Dimes. It occurs when the metal sheet used in the minting process is clipped or chipped.
A high-grade coin with this error can be easily sold for hundreds and thousands of dollars. But, for that, it's recommended to get a professional coin appraisal to know the exact grade of your collectible.
1936 Dime FAQs
How can you tell if a 1936 dime is real?
The 1936 Dime was designed by Adolph A. Weinman, the same artist who created the Walking Liberty Half Dollar. His initials "AW" can be seen to the right of Liberty's neck.
The mint mark indicating the coin's origin (D for Denver and S for San Francisco) is located at the bottom left of the reverse – just to the left of the bundle of rods or fasces.
Are 1936 dimes real silver?
A 1936 dime is made of real silver as it is a part of the Mercury Dime series that was minted from 1916 to 1945. The composition of these dimes is 90% silver and 10% copper.
Thus, a 1936 dime consists of 0.0723 troy ounces of silver. Its melt value is influenced by the current market price of silver which can fluctuate over time.
Are mercury dimes hard to find?
Although some dates and mint marks may be scarcer, the 1936 dime is generally considered to be a common coin. It is frequently available on online marketplaces and auctions.
Nevertheless, discovering a 1936 dime in pristine condition, such as an uncirculated state, is a challenge. It may also cost more due to their limited supply.