The Lincoln Wheat Penny is one of America's most recognizable coins. It was the first coin to feature the image of a former president of the country.
Even if you believe that an old penny is worthless, you should be more cautious with your grandparents' inheritance, as you may have a hidden fortune among your inherited coins.
Getting started in the world of coin collecting can be difficult, which is why we've put together a comprehensive guide on everything you need to know about the 1936 Wheat Penny value and how to tell if your coin is valuable.
1936 Wheat Penny Details
Category: Lincoln Cents, Wheat Reverse (1909-1958)
Mint: Philadelphia, San Francisco, Denver
Mintage: 379,387,569
Obverse Designer: Victor D. Brenner
Reverse Designer: Victor D. Brenner
Composition: 95% Copper and 5% Tin and Zinc
Weight: 3.11g
Diameter: 19.05 mm
Edge: Plain
The wheat penny is one of the most successful and revolutionary coins in American history. To understand its significance, we must first understand that the United States has always sought to distinguish itself from the European monarchies from which it had recently gained independence.
One of the measures they took, or rather, George Washington took, was to never mint the faces of real people on coins, as they did with kings in Europe.
This measure stuck for a long time, making Lady Liberty the main character on most coins. However, in 1909, it was decided to change that tradition in order to commemorate the 100th anniversary of Abraham Lincoln's birth.
Because he was one of America's greatest presidents, the public welcomed the coin with open arms. The design is so popular that Lincoln Pennies are still in circulation today.
Obverse
The central image on this coin is President Abraham Lincoln, as the coin's nickname suggests. The artist Victor David Brenner designed the proposal at President Roosevelt's request to commemorate the 100th anniversary of ex-President Lincoln's birth.
There are some concerns about the figure chosen for the coin. Some believe it was inspired by a photograph taken by the former president in 1864, while others believe it was inspired by previous work he had done of Lincoln's face for a memorial plaque.
According to history, Roosevelt hired him to make commemorative medals with his image and was delighted with them.
Lincoln's face is oriented to the right, and the phrase IN GOD WE TRUST appears at the top of the coin. The word LIBERTY appears in the lower left corner, at the height of Lincoln's neck, and the year of minting appears in the same location but on the right side.
Reverse
The design is simple and modest, yet effective. The reverse of American coins is typically adorned with an American eagle and other details such as olive or oak branches.
The wheat penny, on the other hand, was made from two stalks of wheat. This is where the coin gets its name, though most people call it the Lincoln Penny.
The reverse features the words ONE CENT in large, clear lettering in the center of the coin. The phrase E PLURIBUS UNUM surrounds the coin at the top. This phrase means "one of many" in Latin. It's the standard motto on all American coins.
Finally, we have the words UNITED STATES OF AMERICA at the bottom.
1936 Wheat Penny Value Chart
| | | | | |
| --- | --- | --- | --- | --- |
| Quality | 1936  Philadelphia Wheat Penny | 1936  San Francisco Wheat Penny | 1936  Denver Wheat Penny | 1936  Wheat Penny Errors |
| God | $0.2 | $0.2 | $0.2 | $28 |
| Very Good | $0.2 | $0.3 | $0.2 | $42 |
| Fine | $0.3 | $0.5 | $0.3 | $80 |
| Very Fine | $0.6 | $0.6 | $0.6 | $135 |
| Extra Fine | $1.7 | $1.1 | $1.1 | $227 |
| Uncirculated | $2.9 | $3.3 | $2.9 | $399 |
| MS 60 | $5.7 | $5.7 | $4.5 | $552 |
| MS 65 | $11 | $7.9 | $5.7 | $2,524 |
1936 Wheat Penny Value and Varieties Guides
In 1936 a total of 379,387,569 wheat pennies were minted. This was a special year because normal coin minting was resumed. Previously, due to the Great Depression, the minting of various coins had slowed or even stopped entirely. 1936 is a year in which the United States is gradually emerging from its economic difficulties.
Three mints produced this coin. Philadelphia is the main headquarters and handles the majority of the production, but Denver and San Francisco are always satellites that aid in coin production.
This is a very approachable coin for anyone just getting started in the world of coin collecting. Regular to very fine specimens can be found for less than a dollar. And the uncirculated or gem-quality coins will not cost more than ten dollars.
However, the 1934 coins have significant manufacturing flaws that we will go over later so you can tell if you have a genuine coin in your hands.
1936 Philadelphia Wheat Penny
Type: Lincoln Wheat Penny
Edge: Plain
Mint Mark: No mint mark
Place of minting: Philadelphia
Year of minting: 1936
Face Value: $0.01 (one cent)
Price: $0.50 to $17 (or more)
Quantity produced: 309,632,000
Designer: Victor David Brenner
Composition: 95% Copper and 5% Tin and Zinc
Mass: 3.11 grams
Diameter: 19.05 mm
The Philadelphia Mint distinguishes itself by not including mint marks on its coins. So, if you can't find any mintmarks on your 1936 wheat penny, it doesn't mean it's a fake or worthless coin; it simply means it came from the Philadelphia mint.
At the same press, 309,632,000 coins were minted, as well as 5,569 proof coins that were not intended for commercial use. They were reserved or sold to collectors and can fetch a fortune.
A Philadelphian minted coin with gem quality MS 65 can cost up to $300, but one of these proof specimens can sell for ten times as much, or around $3,000.
1936 San Francisco Wheat Penny
Type: Lincoln Wheat Penny
Edge: Plain
Mint Mark: S
Place of minting: San Francisco
Year of minting: 1936
Face Value: $0.01 (one cent)
Price: $0.50 to $12 (or more)
Quantity produced: 29,130,000
Designer: Victor David Brenner
Composition: 95% Copper and 5% Tin and Zinc
Mass: 3.11 grams
Diameter: 19.05 mm
In 1936, the San Francisco mint produced 29,130,000 coins. That equates to less than 10% of the total output. In general, coins produced in smaller quantities tend to be more expensive, but this is not the case with this coin.
The price is about the same as for Philadelphia-printed coins, but the difference is noticeable when you find one of these examples in very high gem grades. One of these MS 37 quality coins, for example, sold for $5,060 in 2004.
To identify San Francisco coins, look for the letter S under the minting date on the coin's obverse.
1936 Denver Walking Wheat Penny
Type: Lincoln Wheat Penny
Edge: Plain
Mint Mark: D
Place of minting: Denver
Year of minting: 1936
Face Value: $0.01 (one cent)
Price: $0.50 to $15 (or more)
Quantity produced: 40,620,000
Designer: Victor David Brenner
Composition: 95% Copper and 5% Tin and Zinc
Mass: 3.11 grams
Diameter: 19.05 mm
In 1936, the Denver mint produced 40,620,000 coins. It is nearly twice as many coins as in San Francisco and accounts for less than 20% of total production, but these coins are quite inexpensive. It is priced similarly to Philadelphia coins, with slight variations as the coin's quality grade increases.
However, if you're just getting started in coin collecting, this is an excellent purchase. A coin in good condition, even a gem condition M65, can be purchased for under ten dollars.
To identify a Denver-minted coin, look for the letter D as the mint mark. The letter D appears on the obverse of the coin, just below the minting date, as it does on the Philadelphia coins.
1936 Wheat Penny History
This coin's history begins a few years before it was minted in 1909. Many of the designs on US coins are said to have annoyed President Roosevelt. They lacked significant artistic value, according to Roosevelt, and he was determined to change that.
After discovering that several coins had been in circulation for more than 25 years, the project took shape. American law states that coins cannot be altered until they are 25 years old.
Roosevelt was very clear about what he desired. As evidence, no type of public contest was held, as was customary. Saint-Gaudens was directly commissioned to redesign several coins.
But Saint-Gaudens, despite working on the new coin design for more than a year, was unable to complete it; he became ill and died before completing it.
Originally, the penny was to be adorned with an image of an American eagle, a popular symbol in the United States. However, because pennies cannot bear the image of an eagle, a new design had to be devised.
Roosevelt, on the other hand, knew exactly what he wanted and hired yet another artist, this time the talented sculptor Victor Brenner.
Brenner had previously worked for Roosevelt, creating commemorative plaques with his likeness, and the president was very pleased. So, without further hesitation, President Roosevelt proposed putting the mythical President Lincoln on an American coin for the first time on the 100th anniversary of his birth.
1936 Wheat Penny Grading
The 1936 Penny is quite unique. While it is not an expensive coin, those with gem quality can command significant sums. However, the most expensive coins are usually those with errors or that were done as proof.
So that you can distinguish the different degrees of quality and know how to identify the special currencies, we leave you a video that deepens the details that you should know about this coin.
List of 1936 Wheat Penny Errors
If you are new to world coins, 1936 Pennies are a great place to start, but be aware that the currency contains several errors that can multiply its value into the thousands.
Here we present the most common errors that every collector looks for, as well as what you should look for to determine if you have valuable currency. We will also leave you this video to have a deeper knowledge about 1936 penny errors.
1. DDO FS-101 Error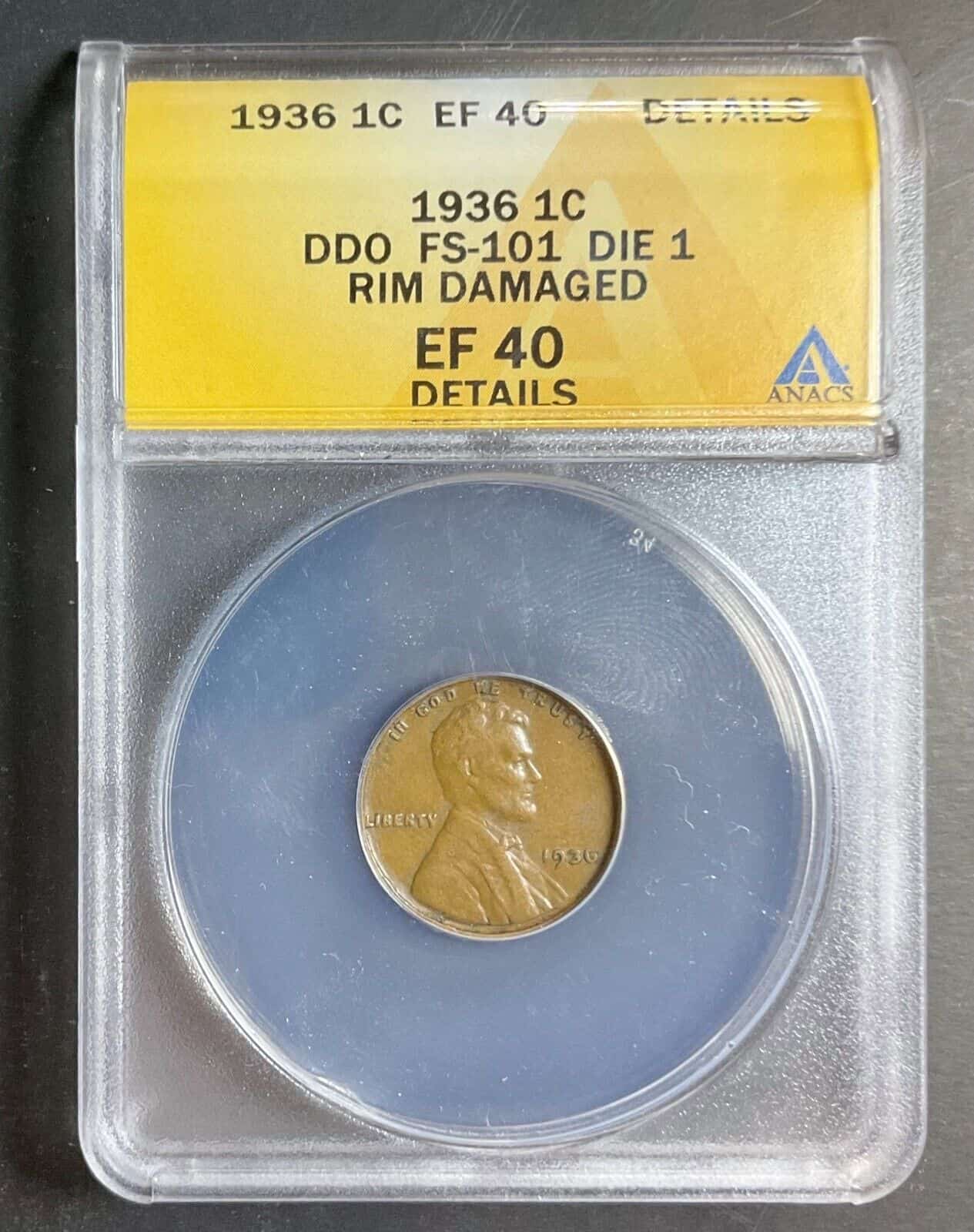 This error is distinguished by a currency duplication. There are three types of duplications, so check your currency to see what part of it is duplicated if it is not the same. This currency is worth between $150 and $300. However, the highest quality currencies, such as the UNCIRCULATED, can reach prices of up to 1500 dollars. Specimens have been sold for $12,000 in MS 66 RD.
2. DDO FS-102 Error
They can identify the error in this case because it doubles on the dated coin. The error is visible by noticing how the 1936 duplicate in the lower left corner stands out. These specimens can cost anywhere from $150 to $1,000.
3. DDO FS-103 Error
Here the error is in the word "In God We Trust".  It has a duplication effect on the phrase, and even though a common error in these currencies does not cost as much as it did in previous waves, the phrase's value remains high. These specimens range in price from $75 to $800.
1936 Wheat Penny FAQ
What makes a 1936 wheat penny valuable?
The most valuable 1936 Penny is the one that was coined in the Denver Mint. In general, these currencies do not have such high value because there were many well-preserved copies, but a specimen such as Gema MS 67 can assert 500 dollars.
What is the error on a 1936 wheat penny?
The most famous error is the Double Dice Anverse, where the phrase God We Trust is duplicated. This is the most common mistake and can be worth up to 800 dollars.