1938 was the final year the Buffalo nickel was ever minted. And when they were distributed to the public, so many numismatic collectors hoarded fresh rolls of them to put away and keep for their collections.
Many Buffalo nickel collectors prefer to go for more expensive mintage dates. But although the 1938 nickels are relatively cheaper, they still hold great value to coin lovers—both in a monetary and nostalgic sense.
So, how much are the Denver-struck 1938 Buffalo nickels worth today? What are the varieties and errors to look out for to increase the price they can sell for? We'll cover all of that and more today. If you have a 1938 nickel and want to see what it's worth, buckle up and keep reading!
1938 Buffalo Nickel Value Details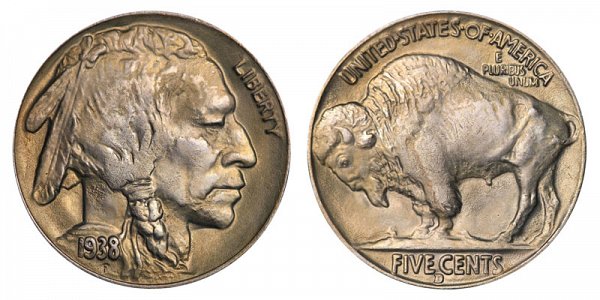 Category: Buffalo Nickels
Mints: Denver
Total mintage: 7,020,000
Obverse designer: James Earle Fraser
Reverse designer: James Earle Fraser
Edge: Plain
Diameter: 21.2 mm
Content: 75% copper and 25% nickel
Weight: 5 grams
In 1938, the final year the Buffalo nickel was to be made, only 7 million coins were created—all in the Denver Mint. This was a far cry from previous, recent years, like in 1936 when almost 119 million nickels were produced by the Philadelphia Mint alone.
Many coin collectors hoarded the coins, knowing full well it would be the last of the series. So, it's quite easy to search for these coins. That makes them a staple in any vintage coin lover's collection.
The Buffalo nickel's design and composition were the same in 1938 as in every year it was struck before. The planchet was made of copper nickel, the obverse depicted a Native American chief, and the reverse shows an American bison. But let's get more into detail, shall we?
On the obverse of the coin, we see an accurate portrait of a Native American wearing a feathered headdress. On the right-hand side of the coin is the word "LIBERTY," and below the chief's neck is the mintage year 1938.
The reverse, on the other hand, shows a strong, powerful bison. It's said that this buffalo was modeled after Black Diamond—a bison who lived in the Central Park Menagerie. The designer, James Earle Fraser, would visit the area to sketch the bison.
The words "United States of America" are written in an arc formation on the top of the coin, with "E pluribus unum" just below it and right above the bison. On the bottom of the coin are the words "FIVE CENTS." The mint mark "D" can be found under the denomination.
There are three known varieties of this coin. The first is the regular strike, and the other two are repunched mint mark variants (but more on those later!).
Also Read: 15 Most Valuable Nickels Worth Money
1938 Buffalo Nickel Value Chart
1938 Buffalo Nickel Value Chart
Mint Mark
Good
Extremely Fine
AU58 About Uncirculated
MS64 Choice Uncirculated
MS67 Superb Gem Uncirculated
MS68 Superb Gem Uncirculated
1938 Buffalo Nickel Value for "D" Mint Mark
$1
$6
$17.50
$37.50
$200
$4,000
1938 Buffalo Nickel Value for D/D Variety
$4
$10
$25
$60
$475
$6,000
1938 Buffalo Nickel Value for D/S Variety
$7.50
$25
$45
$125
$750
$6,000
1938 Buffalo Nickel Values and Varieties Guides
1938 Buffalo Nickel Value for "D" Mint Mark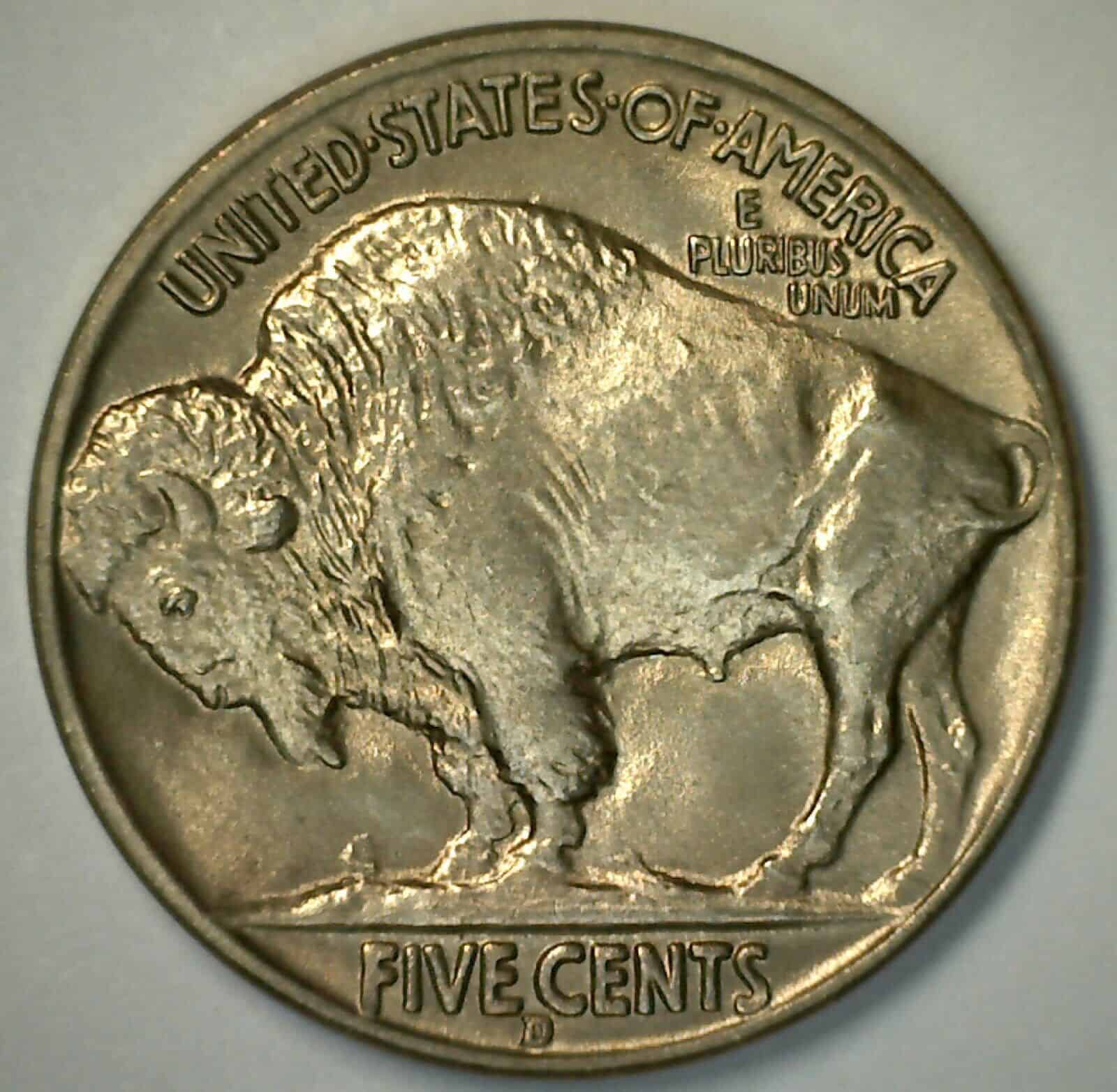 Type: Buffalo Nickels
Edge: Plain
Mint mark: D
Place of minting: Denver
Year of minting: 1938
Face value: $0.05
$ price: $0.50 to $14,500
Quantity produced: 7,020,000
Designer: James Earle Fraser
Just as it looked like America was finally recovering from the Great Depression, another recession occurred in 1937. This reduced the demand for new Buffalo nickels to be minted. It was so bad that the Philadelphia and San Francisco Mints were asked to stop producing them.
And so, only the Denver Mint was tasked with producing the Buffalo nickels in their final year of mintage. Only 7 million of them were struck.
What's interesting about the 1938 Buffalo nickel is that they're more common in mint-state condition than in worn condition. This raises the price of circulated coins, even if there are signs of significant wear on them.
For example, in extremely fine condition, a 1938 D Buffalo nickel will be valued at $6—that's already 120 times greater than its face value! The price shoots up to $17.50 at AU58 and up to $200 for MS67 coins.
At an almost-perfect grade of MS68, you can even sell your 1938 D coin for an immense value of $4,000.
1938 Buffalo Nickel Value for D/D Mint Mark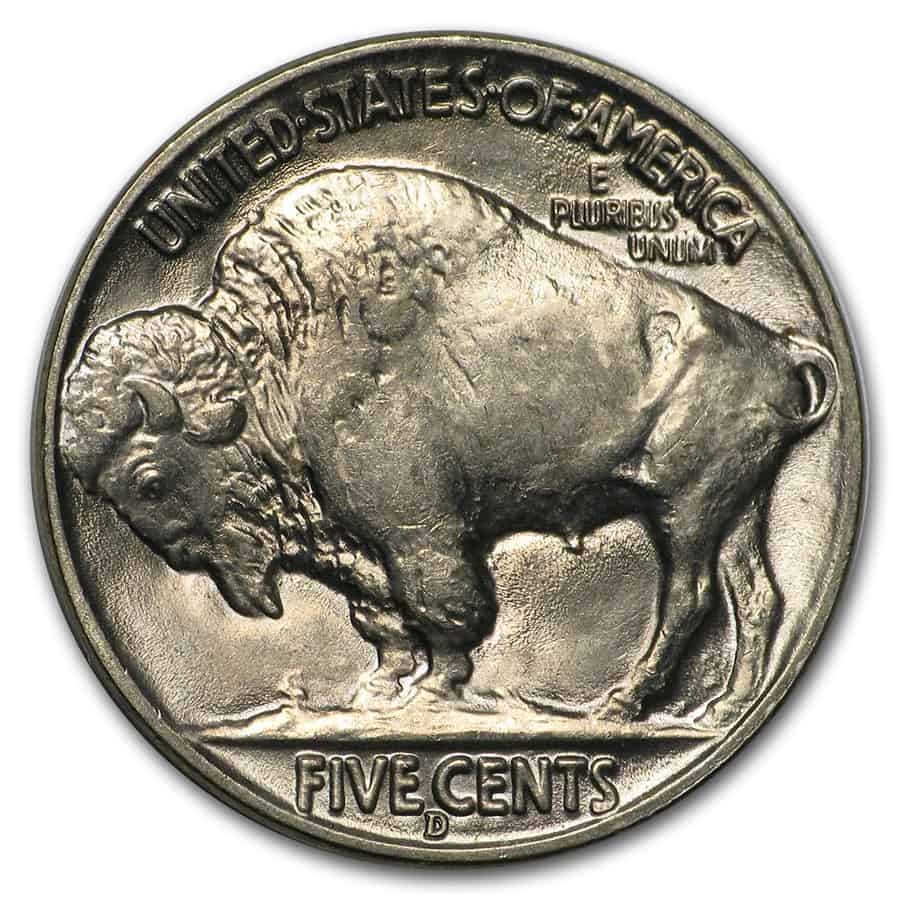 Yes, only Denver minted Buffalo nickels in 1938. But your regular strike 1938 D nickels are not the only ones out there. There are two other varieties born out of the Denver mintage that year. Both are distinguishable by their repunched mint mark.
When a coin has a repunch of the mint mark, it's either the same tiny letter that was stamped twice onto the planchet or another mint mark struck on top of the first as a correction. In the case of the 1938 Buffalo nickel mintage in Denver, both occurred, giving birth to two varieties.
The first variety is the 1938 D/D Buffalo nickel, where you see one D over another D where the mint mark is. This was possible to correct a mispositioned die on the first mint mark punch, but given how common this variety comes up, it could also have been due to a faulty machine.
There's even a 1938 D nickel variety that is known to have not two but three punches of the "D" mint mark. This error is incredibly rare, and only five known coins in existence have this odd and special error.
The D/D variety of the 1938 D nickel is much more valuable than the regular strike. In extremely fine condition, you can sell it for $10. In about circulated condition, the value lies between $15 and $27. And in mint state, you can sell your D/D coin for up to $6,000 (at grade MS68).
1938 Buffalo Nickel Value for D/S Mint Mark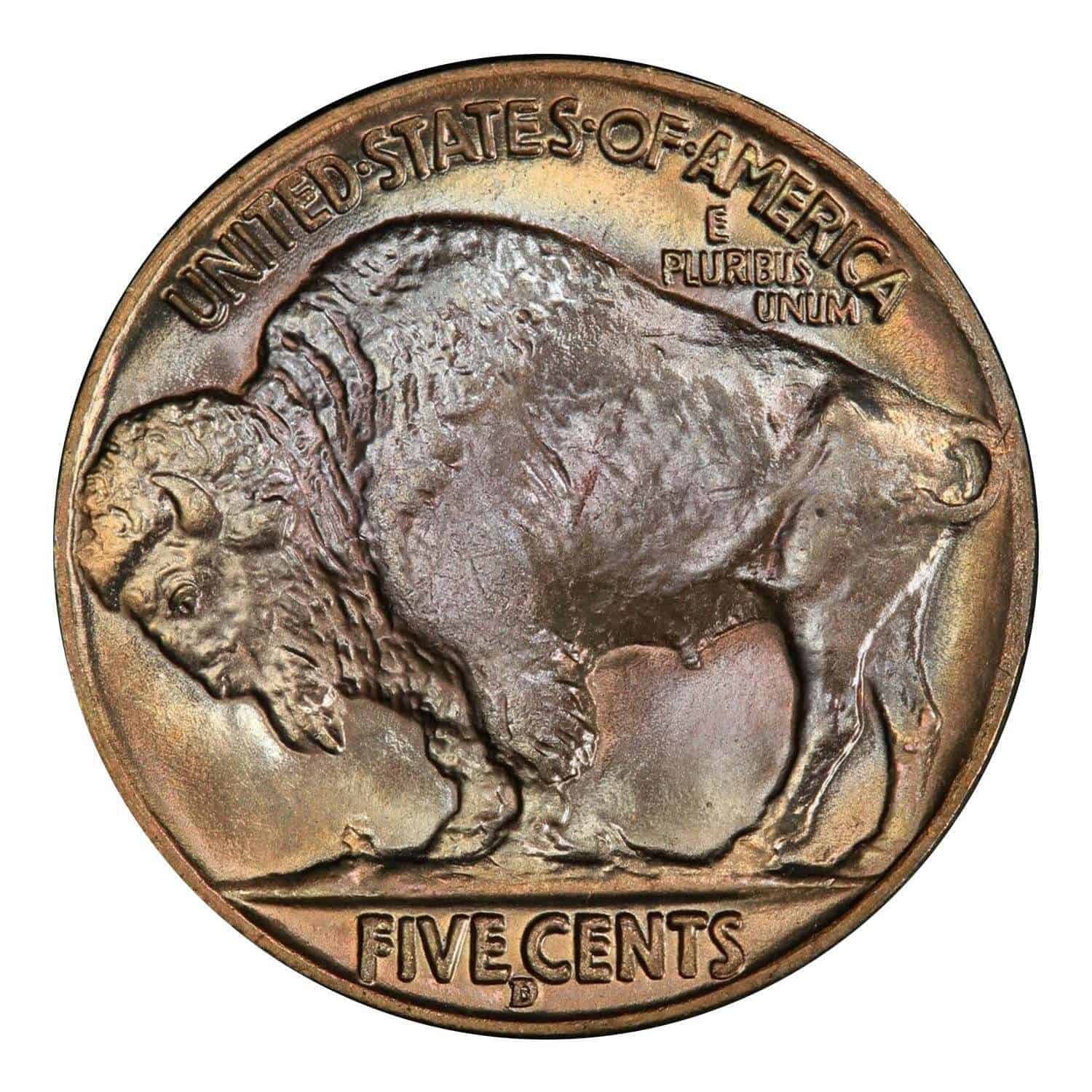 Another variety found in 1938 D Buffalo nickels is the D/S repunched error. In this type of coin, you'll see the "D" mint mark punched over what looks to be an "S" mint mark.
The 1938 D/S was the first ever repunched mint mark to be discovered by collectors. It was found by Robert Kerr and C.G. Langworthy, two coin collectors, in 1961—well over 20 years since the coins were minted.
It's believed that these coins were struck at the San Francisco mint and then brought over to Denver to be struck again with the "D" mint mark. This would have come after the order that Denver would be the only mint to produce Buffalo nickels in its final year.
Of all the varieties of the 1938 D Buffalo nickel, the D/S coin is the most valuable in the modern age across most grades. Even in extremely fine, circulated condition, you can expect to be able to sell your coin for $25. That's the equivalent of an AU58 in the D/D variety!
The value gets even more astounding in the mint-state grades. At MS62, the value shoots up to $70. The price doubles at MS64+, which is valued at $140. But in superb gem condition, they can be valued at $750 (MS67) to $6,000 (MS68).
Also Read: Top 110 Most Valuable Nickels Worth Money
History of the 1938 Buffalo Nickel
The Buffalo nickel was first introduced in March 1913. It was presented to then-president William Howard Taft, as well as over 30 Indian chiefs at a groundbreaking ceremony to commemorate the coin that honored the nation's Native American roots.
The coin was a successful attempt at having poetic, classical-looking coins in US mintage—a dream of Theodore Roosevelt's. It was also an attempt at curbing the crime and forgery that occurred when the Liberty Head nickels were in circulation.
James Earle Fraser took his design of the Indian chief seriously. Instead of merely sketching a Caucasian figure and putting Native American accents on him (like other designers of the time did), he sat with three tribal chiefs to capture their features accurately.
Twenty-five years later, this well-loved coin had finally run its course. It saw World War I, the Great Depression, and the start of America's rise to recovery after financial ruin. In 1938, it had its final run in the Denver mint before being replaced by the Thomas Jefferson nickel.
Also Read: Top 19 Most Valuable Jefferson Nickels Worth Money
1938 Buffalo Nickel Grading
The worth of a 1938 Buffalo nickel is always based on the condition it's in. While an expert should oversee the grading of rare coins, you can always check for wear to see if your coin lives up to mint-state standards.
To do that, look at the coin's high points to check for heavy wear. If the luster and sheen on the Indian chief's cheekbones and the bison's upper shoulder are still visible and the coin doesn't look worn in general, your coin has a chance at scoring a mint-state grade.
Having trouble figuring out if your 1938 Buffalo nickel is mint state or circulated? Learn how to tell the difference through this video by :
1938 Buffalo Nickel Errors
The repunched mint marks that make the 1938 issue of the Buffalo nickel so notorious aren't the only errors to have come up in these coins. Here are some other mint errors you might find on your 1938 Buffalo nickel that can jack up its value.
1. 1938 Buffalo Nickel 10% Straight Clip Error
When a coin has a straight clip error, you see a clean, linear line across the planchet's edge. The usual cause is a planchet being harshly struck out of the collar, leading to a straight edge that bows out, clipping the coin. The edge can be smooth or rough, but it must be straight.
An MS65 with a straight clip error that cut off 10% of the planchet is known to have been sold for a value of $630.
2. 1938 Buffalo Nickel Struck on a Defective Planchet Error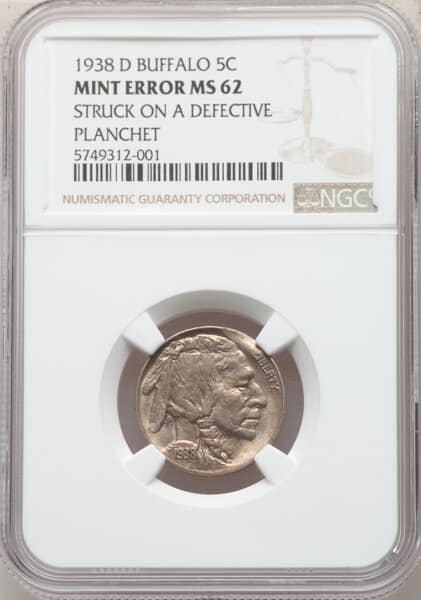 In 2020, an MS62 1938 D Buffalo nickel sold for $109 even if the value for that coin grade sits at just over $27. Why? All because it was struck on a defective planchet.
A defective planchet means that the circular piece of metal wherein a coin is to be minted is found to be damaged before the die even strikes. It's quite difficult to tell if it's a defective planchet at fault for mint errors on a coin, but a professional coin-grading service should be able to do the trick.
In the MS62 coin sold in 2020, it looked like there were cuds on the obverse's one o'clock (by the L in LIBERTY) and the reverse's five o'clock (by the "OINS" in "COINS"). It also looks like the reverse design was hollowed out instead of embossed. These errors were caused by a faulty planchet.
1938 Buffalo Nickel FAQs
What makes a 1938 Buffalo nickel valuable?
There are several reasons why the 1938 Buffalo nickels are worth a lot of value today.
The first is that they were the last batch of coins ever minted for the Buffalo nickel, later replaced with the Jefferson nickel. The second reason is that only so few were made, all in the Denver Mint only, making them quite scarce in comparison to other Buffalo nickels minted in different years.
And lastly, the 1938 Buffalo nickel is notorious for its repunched mint mark varieties (D/D and D/S). These errors make the coin more valuable than it would be if it had a single "D" mint mark.
How much is a 1938 Buffalo nickel worth today?
Without mint errors like a repunched mint mark or a clip on the planchet, a 1938 Buffalo nickel would be worth anywhere between $0.50 to $14,500 today.
Of course, the latter value is only given to super rare, near-perfect coins, specifically at a grade of MS68+. Circulated coins can probably be sold for up to $20, depending on their condition.
Is a 1938 nickel made of silver?
No, the 1938 Buffalo nickel has no amount of silver in it. Instead, it's composed of 75% copper and 25% nickel.