The Mercury dime—also known as the Winged Liberty dime—is one of the most beautiful and collectible coins in US mintage. Although it's quite small in size, its artistic design has had quite the appeal among coin collectors for over a century.
But how much are these dimes worth, particularly those minted in 1939? The simple answer is that they can go anywhere between a couple of bucks to thousands of dollars.
Curious yet about the 1939 dime? Today, we'll go through everything you need to know about the 1939 Mercury dime, its value, varieties, and interesting errors you might find on them. Keep scrolling to learn more!
1939 Dime Value Details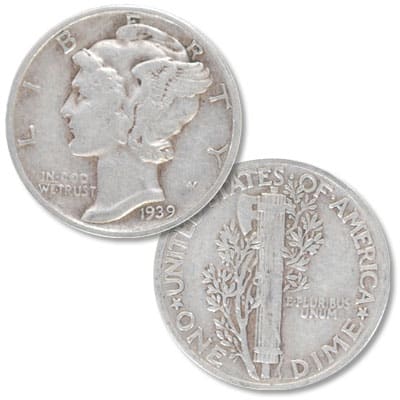 Category: Mercury Dimes
Mints: Philadelphia, Denver, and San Francisco
Total mintage: 102,674,000
Obverse designer: Adolph A. Weinman
Reverse designer: Adolph A. Weinman
Edge: Reeded
Diameter: 17.8 mm
Content: 90% silver, 10% copper
Weight: 2.5 grams
In 1939, three US Mints produced a total of 102 million silver dimes known as the Mercury dimes. As with the years before it, the 1939 issue had the iconic Winged Liberty design.
The obverse shows the side profile of Lady Liberty, who is looking to the left. She's adorned with what is known as a Phrygian cap, which symbolizes freedom. The cap has cute little wings on either side of them.
To the left of Lady Liberty's neck is the phrase "In God We Trust." And on the lower-right side of the coin, right below her truncated neck, is the date 1939. Above the date is "AW"—the initials of the designer, Adolph Weinman. Spaced out around the rim are the letters that spell LIBERTY.
The reverse of the coin is just as stunning. It depicts a fasces—a bundle of sticks that create the handle of an axe. It's enveloped by olive branches. Together, the fasces and the olive branches paint a picture of strength, hope, and peace.
The sticks in the bundles are held together by three sets of bands. When a Mercury dime is struck so well that all the bands show a complete split between them in distinct, uninterrupted lines, the coin is given a rare Full Bands designation. This can increase the value of the dime.
To the right of the fasces are the words "E pluribus unum." Around the reverse's rim, you'll find "United States of America" and the denomination "One Dime."
1939 Dime Value Chart
1939 Dime Value Chart
Mint Mark
Fine
AU58 About Uncirculated
MS64 Choice Uncirculated
MS67 Superb Gem Uncirculated
MS68 Superb Gem Uncirculated
1939 Dime Value for No Mint Mark (P)
$3.50
$7.50
$21

Full Bands: $70

$85

Full Bands: $785

$400

Full Bands: $6,000

1939 Dime Value for "D" Mint Mark
$3.35
$7.50
$22

Full Bands: $31

$75

Full Bands: $160

$450

Full Bands: $1,000

1898 Silver Dollar Value for "S" Mint Mark
$4
$17
$45

Full Bands: $190

$250

Full Bands: $3,000

$800

Full Bands: $13,000
1939 Dime Values and Varieties Guides
1939 Dime Value for No Mint Mark (P)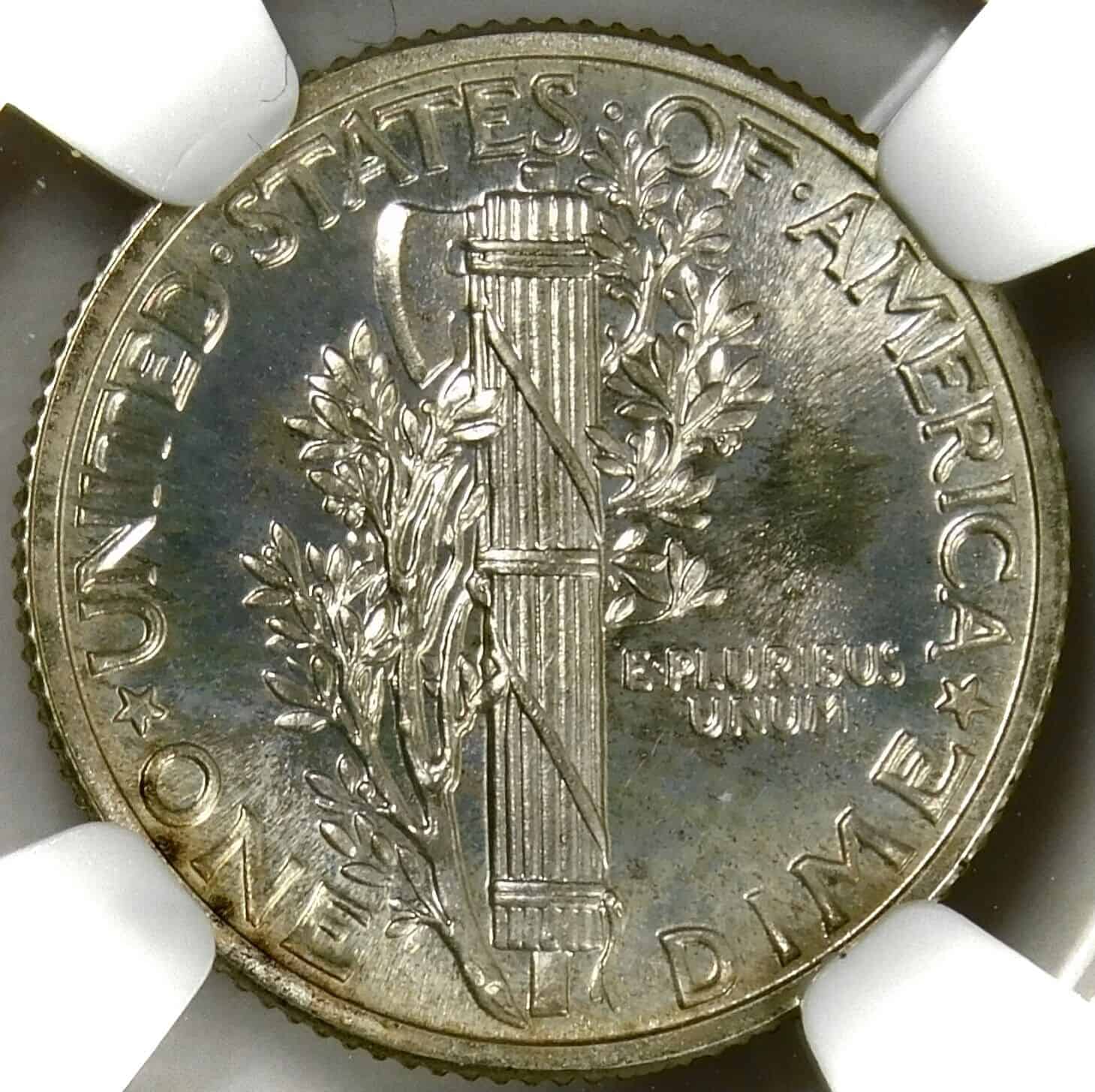 Type: Mercury Dimes
Edge: Reeded
Mint mark: No mint mark (P)
Place of minting: Philadelphia
Year of minting: 1939
Face value: $0.10
$ price: $2.50 (PO1) to $6,000 (MS68, Full Bands)
Quantity produced: 67,740,000
Designer: Adolph A. Weinman
Almost 68 million Mercury dimes were produced in the Philadelphia Mint in 1939. Most of these were released into general circulations, but many were preserved in their mint condition. Because of this, 1939 (P) dimes are quite common across all grades.
Circulated 1939 (P) dimes cost anywhere between $2.50 in poor to average condition to about $7.50 at a decent AU58 grade. In uncirculated, mint states, these dimes are most common in MS66 and MS67. These coins can be valued today at around $45 and $85, respectively.
What's frustrating about the Philadelphia issue of the 1939 Mercury dime is that even if they are plentiful in uncirculated grades, it's difficult to find coins that have Full Bands on the reverse.
Some believe that there was an issue with preparing the collar of the die set in the mint that year. This could have prevented coins from being struck well enough to gain the coveted Full Bands designation.
But when you do get your hands on a 1939 (P) dime with Full Bands, you'll be happy with their value. An MS64 dime is worth around $21. But with Full Bands, this price shoots up to around $70. The most valuable 1939 (P) dime with Full Bands would be an MS68 model, which costs approximately $6,000.
1939 Dime Value for "D" Mint Mark
Type: Mercury Dimes
Edge: Reeded
Mint mark: D
Place of minting: Denver
Year of minting: 1939
Face value: $0.10
$ price: $2.50 (PO1) to $1,000 (MS68, Full Bands)
Quantity produced: 24,394,000
Designer: Adolph A. Weinman
In the 30s and 40s, the Denver Mint had gotten quite the reputation for making the most lustrous, well-struck coins. The case was true in 1939 as well, when the Mint made almost 25 million Mercury dimes with bold, distinct lines in the design.
In heavily circulated conditions, the 1939 D dime might be valued from $2.50 to $4.50. In about circulated conditions, this price goes to around $50 for an AU50 up to $7.50 for an AU58.
But this issue is most common in mint states, specifically grades MS64 through MS67. This can get you anywhere between $22 to $75. If you're lucky enough to find a rare MS68 1939 D dime, you might be able to sell it for around $450.
However, being able to produce countless near-perfect coins has its downside too. Because Denver created the most well-struck dimes in 1939, D mint-mark coins with Full Bands aren't as rare. There are quite a lot of them, so their value isn't as high as the Full Bands coins struck in Philadelphia and San Francisco.
For example, a Philly-minted MS68 coin with Full Bands can be valued at $6,000. Meanwhile, the same grade and designation will only cost a coin $1,000 if minted in Denver.
However, if you chance upon a 1939 D Mercury dime with Full Bands in a near-perfect gem grade, you'll have hit the jackpot. The estimated value of an MS69 1939 dime from Denver sits at a significant amount of $10,000.
1939 Dime Value for "S" Mint Mark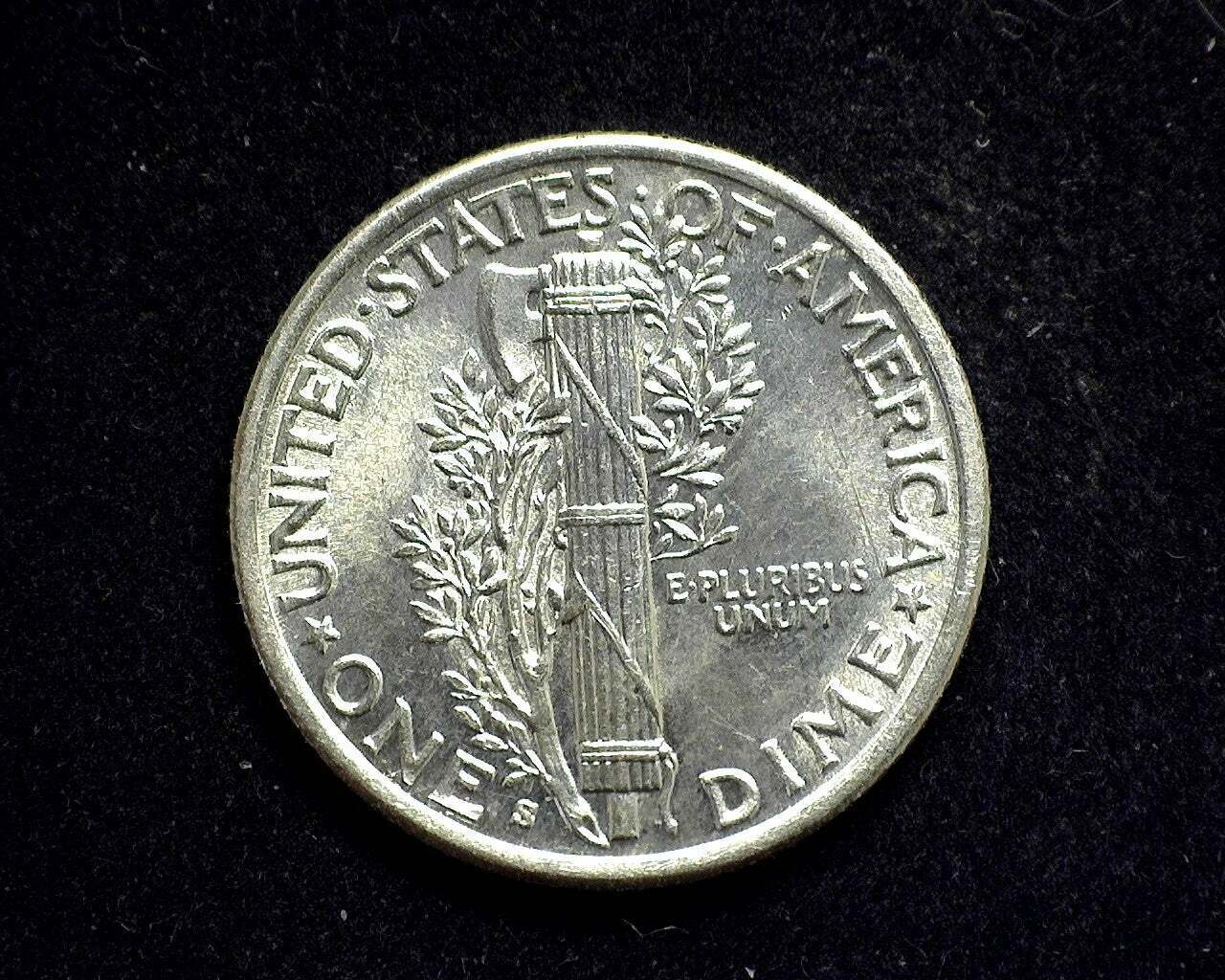 Type: Mercury Dimes
Edge: Reeded
Mint mark: S
Place of minting: San Francisco
Year of minting: 1939
Face value: $0.10
$ price: $2.50 (PO1) to $13,000 (MS68, Full Bands)
Quantity produced: 10,540,000
Designer: Adolph A. Weinman
Lastly, in the San Francisco Mint, over 10 million dimes were produced in 1939. This makes the San Francisco coins the scarcest of the three issues, both in mintage and in the occurrence of a Full Bands designation. That makes them the most expensive as well.
Fewer 1939 S dimes have survived compared to the dimes produced in other mints that year. But those that did make it out alive are most common in mint state. You'll find them relatively plentiful through grades MS65 to MS67.
In a superb gem uncirculated condition like MS67, these coins can be worth around $250. That's over three times the price of a Philadelphia- or Denver-minted dime in the same grade.
Not only are the 1939 S dimes rare, but they also only sometimes qualify for a Full Bands designation. This combination makes any Full Bands dime with an S mint mark and 1939 date very valuable.
For example, an MS68 San Francisco-minted dime can cost around $800, which is already a remarkable price. But with a Full Bands designation, the value increases to a whopping $13,000.
Also Read: Top 15 Most Valuable Indian Head Penny Worth Money
History of the 1939 Dime
When the Winged Liberty dime first appeared in circulation in 1916, it was immediately given the nickname "Mercury dime." Funnily enough, the Greek god Mercury is nowhere to be seen in this design. People mistook Lady Liberty for him, and the name stuck since.
It was designed by sculptor Adolph Weinman to replace the boring, plain-looking Barber dime. This new, immensely creative design was a symbol of liberty and peace while alluding to Greek and Roman culture. It was widely loved by the public.
Adolph Weinman wasn't assigned the task of coming up with the Mercury dime's design willy-nilly. He had won a design competition against fellow sculptors Hermon MacNeil and Albin Polasek.
A testament to Weinman's talent is that he also won the bid to design the half-dollar, which was graced by his iconic Walking Liberty design.
A staple in the average American's life during the Great Depression and both World Wars, the Mercury dime played a big role in the country when it was in circulation. Later in 1945, it would take its final curtain call at the mints before being replaced by another well-loved coin—the Roosevelt dime.
Also Read: Top 15 Most Valuable Roosevelt Dimes Worth Money
1939 Dime Grading
There's no one pattern to follow to grade your 1939 Mercury dimes. But here's a quick guide to check whether your dime is circulated or uncirculated:
Circulated Mercury dimes:
Heavily worn with lots of smooth areas, especially in the fasces
Letters and dates are readable but can be faint in some areas
Design elements that are detailed can look flat and worn off
Uncirculated Mercury dimes:
The original luster is intact and is super shiny with little to no contact marks
Lady Liberty and the fasces have distinct, bold lines that don't look smoothened out
It can be tricky grading mint-state Mercury dimes. Here's a guide on how to do it right:
1939 Dime Errors
1. 1939 Dime Repunched D Mint Mark Error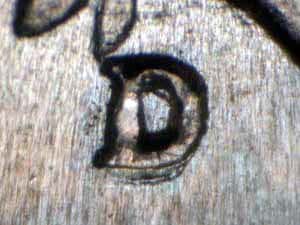 A repunched mint mark is an error wherein the mint mark of a coin is struck twice, one on top of the other. The second mint mark is usually smaller than the first, which is why it can be seen by the human eye.
These repunched mint marks can be due to a couple of reasons. It can be because the first punch was made in the wrong position, so an upright second strike is needed. Another reason would be to correct a wrong mint mark with the right letter, but this second reason is quite rare.
In the 1939 dimes, this error is most common in the Denver-minted coins. If you have a coin microscope, you might want to check if your 1939 D dime has a repunched mint mark. This can raise the overall value of your coin.
2. 1939 Dime Doubled Die Obverse Error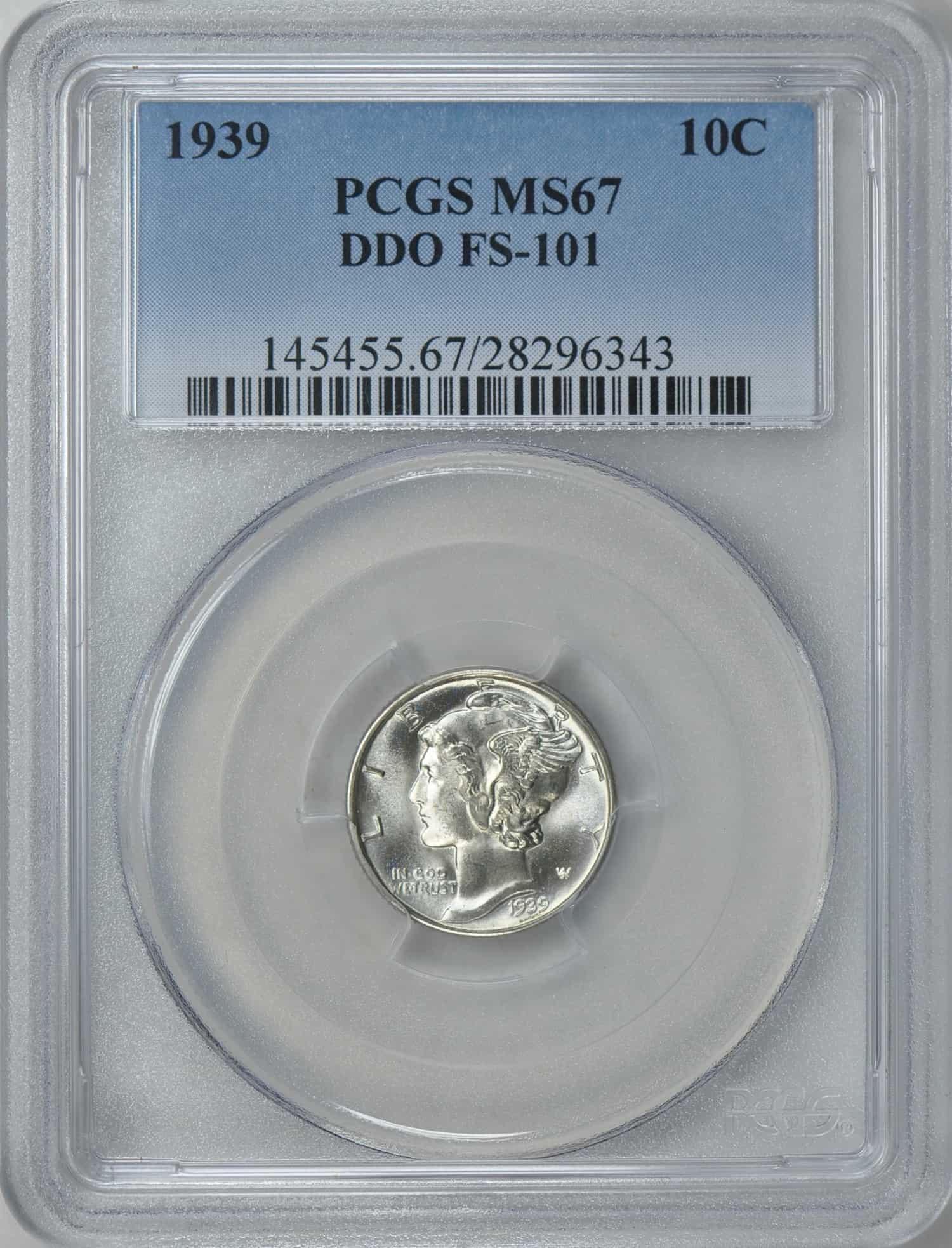 When a coin's surface is struck with a doubled die, it might look like a coin that was struck twice. But that's not the case. A doubled die is an error with the hubbing process of the die itself. That means that every coin struck by the damaged die will have that double image of the design.
In the case of the 1939 dimes, you'll notice this error the most in the date. Check the numbers of your coin to see any doubling. A proof-like MS65 coin with a doubled die obverse can sell for over $300.
Check out what these two errors look like on a 1939 dime by watching this video:
1939 Dime FAQs
What makes a 1939 dime valuable?
Many things make a 1939 dime valuable. Some factors include a mint-state condition or mint errors that raise the price of a coin. But what rings true across all 1939 dimes is that they're made of 90% silver. That makes them valuable even without rare varieties and errors.
How can you tell if a dime is rare?
You can tell a dime is rare if it's in pristine, mint-state condition. Those that are graded MS68 and above are incredibly rare and hard to come by, which means they're also very valuable when sold.
Another way to tell if a dime is rare is if its mintage date is rare. Among the rarest Mercury dimes are the ones minted in 1918, 1919, and 1942.
How can you tell if a Mercury Dime is real?
One quick and easy way to see if your Mercury dime is attracted to magnets. Coins should not be magnetic. If your coin reacts to magnets, it's likely a counterfeit.
You should also watch out for other signs of fake coins, such as radial marks where areas are supposed to be smooth, or the lack of mint marks for those that claim to be minted in Denver or San Francisco.