Are you interested in learning about the fascinating world of 1939 quarters? If so, you've come to the right place! This comprehensive guide will take you on a journey through the rich history of these coins and their value and rarity.
In this guide, you'll find information on the history and various varieties of 1939 quarters, including any errors that might have occurred during the minting process. You'll also find a handy value chart that can help you determine your 1939 quarter values.
1939 Quarter Value Details
Category: Washington Quarter
Mints: Philadelphia, Denver, San Francisco
Total Mintage: 86,537,590
Obverse Design: George Washington
Reverse Design: American eagle with outspread wings
Designer: John Flanagan
Composition: 90% silver; 10% copper
Diameter: 24.3 mm (0.9566929 inches)
Mass: 6.25 grams
Thickness: 1.75 mm (0.069 inches)
Edge: Reeded
ASW: 0.18 oz
Also Read: Top 15 Most Valuable Quarters In Circulation
1939 Quarter Value Chart
The chart below can help you figure out how much you might need to pay for a 1939 Washington Quarter based on its type and condition. All details were from the 2023 data of the Greysheet website.
1939 Quarter Value Chart
Mint Mark
MS63
MS64
MS65
MS66
MS67
1939 No Mint Quarter Value

$30.78

$40.50

$73

$115

$156

1939 D Quarter Value

$68

$84

$101

$148

$624

1939 S Quarter Value

$211

$250

$312

$468

$874

1939 P Proof Quarter Value

$148

$156

$164

$195

$484
1939 Quarter Value and Varieties Guide
1939 No Mint Mark Quarter Value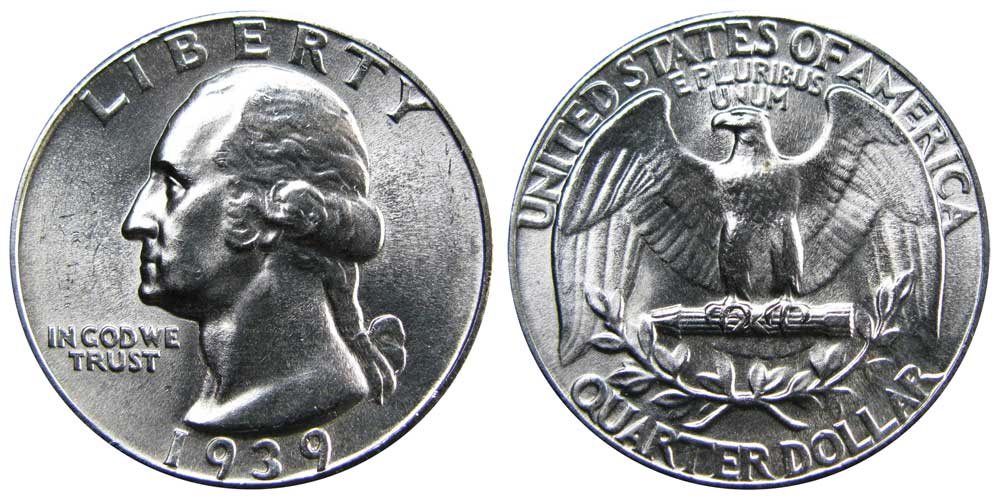 Type: Washington Quarter
Edge: Reeded
Mint mark: None
Place of minting: Philadelphia
Year of minting: 1939
Face value: $0.25
$ Price: $30.78to $156
Quantity produced: 33,540,000
Designer: John Flanagan
According to the Greysheet website, the top 3 most expensive 1939 P Quarters were sold at different auction houses and on different dates. All three coins are in almost perfect condition and have been certified by the Professional Coin Grading Service (PCGS) as MS68.
The highest sale occurred in 2019 at Legend Rare Coin Auctions for $5,052. The second-highest sale was sold in 2021 at Heritage Auctions for $3,360. Lastly, the third-highest sale occurred in 2022, also at Heritage Auctions, for $2,880.
1939 D Quarter Value
Type: Washington Quarter
Edge: Reeded
Mint mark: D
Place of minting: Denver
Year of minting: 1939
Face value: $0.25
$ Price: $68to $624
Quantity produced: 7,092,000
Designer: John Flanagan
The 1939 D Washington quarter is a coin that was expertly crafted by the Denver Mint. It is undervalued compared to other mint-marked issues and can be bought for a lower price despite being uncommon. The coin comes in different colors and conditions.
From the Greysheet website, the CPG retail price of the 1939 quarter is valued from $6.53 to $16,800. Meanwhile, the wholesale price ranged between $4.84 and $14,000.
The recent auction of the 1939-D Washington Quarter, Graded MS68 by PCGS, was nothing short of extraordinary. This rare coin was sold at the renowned Stack's Bowers auction house on August 25th, 2022, and the bidding was intense.
Experts in the field can confirm that the 1939 quarter value is impressive, but this particular coin exceeded all expectations. The lucky buyer had to fork over a whopping $14,400 to secure this gem.
The 1939-D Washington Quarter is a highly sought-after coin by collectors and investors alike due to its scarcity and historical significance. But to have one in MS-68 condition is truly remarkable, making it an even more valuable addition to any collection.
1939 S Quarter Value
Type: Washington Quarter
Edge: Reeded
Mint mark: S
Place of minting: San Francisco
Year of minting: 1939
Face value: $0.25
$ Price: $211to $874
Quantity produced: 2,628,000
Designer: John Flanagan
During the 1930s, people started collecting American coins by date and mint because rare coins with low mintage became very valuable. Collectors who hoped to find similar rare coins saved fresh rolls of new coins for decades, leading to relatively low mintages in excellent condition today.
One example is the 1939-S quarter, considered a semi-key date in the series and can often be found in good condition. If you have a 1939 Washington quarter in circulated condition, it could be worth between $6.53 and $728 for retail price. However, if you plan to purchase 1930 S Washington Quarter at wholesale price, they are valued at as low as $4.84 to as high as $560, depending on how many pieces you will avail.
The recent auction of the 1939 S quarter (MS67+) was a thrilling event, and the final price of $4,080 is a testament to the coin's exceptional value and rarity. The MS67+ grade indicates that the coin is in near-perfect condition, with no visible flaws or imperfections. The PCGS Secure certification adds an extra layer of security, assuring buyers that the coin is authentic and has not been tampered with.
1939 P Proof Quarter Value
Type: Washington Quarter
Edge: Reeded
Mint mark: None
Place of minting: Philadelphia
Year of minting: 1939
Face value: $0.25
$ Price: $211to $874
Quantity produced: 8,795
Designer: John Flanagan
If you want to know how much a 1939 Washington Quarter of any variety is worth, you should consider two things, according to the JM Bullion website. First, there were different types made each year, so knowing which 1939 quarter you have is important. Second, collectors care a lot about the condition of the coin. It will be worth more money if it's in good condition than if it's damaged.
So there are the top 3 highest sold 1939 quarters in auctions recently according to the data we gathered. Experts say they are of very good quality and real. The most expensive was sold for $7,050 in 2017, the second for $6,192 in 2019, and the third most expensive for $2,900 in 2016. People who collect coins indeed want these quarters and are willing to pay extra because they are genuine pieces!
Also Read: Top 16 Most Valuable Modern Quarters Worth Money
1939 Quarter Value History
Washington quarters were first designed in 1932 by John Flanagan and were made of 90% silver until 1964, and of course, the 1939 quarters were one of the quarter series with the same content.
During the Great Depression, the American economy gradually improved, but it wasn't until the US entered World War II in 1941 that the depression finally ended. Evidence of the improvement can be seen in the significantly increased quarter-dollar production of the Philadelphia Mint in 1939. In 1999, the design was changed again to feature each of the 50 states.
The Washington Quarter has remained in circulation, but it still attracts coin collectors who are keen to acquire it. The popularity of the 1939 Washington Quarter among collectors is due to the presence of silver in its composition. Since silver was removed from all US coins, owning a piece that contains it is considered a special privilege.
Although Washington Quarters are quite old, it is still possible to find many of them in excellent condition. Many nearly flawless gems of the 1939 Washington quarter exist and are easily found in MS66, MS67, and MS68 conditions. This is the main goal for most collectors, and well-preserved pieces fetch a much higher price than poorly maintained coins.
As part of the Washington Quarter series, it features the first president of the United States on the obverse side and the American eagle on the reverse side, showcasing the country's rich heritage and symbols. These quarters have a tiny golden iridescent tint. A circulated 1939 Washington quarter is valued between $6.53 to $16.20, but if sold in pristine, uncirculated condition, it could fetch up to $18,000.
Also Read: 10+ Rarest State Quarter Errors Lists (Worth Much Money!!!)
1939 Quarter Value Grading
Coin experts say that the value of a 1939 quarter can vary depending on its grade or condition. Different grades are assigned based on the coin's appearance, such as extremely fine, uncirculated, and proof. You can easily learn more about these grades and identify different 1939 quarter varieties by watching the video below.
If a 1939 quarter has an extremely fine grade, it may have slight wear. On the other hand, an uncirculated coin has no wear but may have marks. A gem uncirculated quarter has a strong luster, while a proof coin is free from any flaws.
Knowing the grades of a 1939 quarter can give you a good idea of its worth. So, if you have one of these coins, it's worthwhile to check its condition and grade to get an estimate of its value. As such, it's always a good idea to do your own research and consult with reputable coin dealers before making significant purchases or sales.
List of 1939 Quarter Value Errors
From die crack marks to denomination errors, explore the fascinating world of 1939 quarter value errors and their unique characteristics in this section.
1. 1939 Die Crack Error
The 1939 quarter coin sometimes experiences an error known as a "die crack." This type of error occurs during the coin-making process, which involves using a coin press to stamp images onto metal blanks. Coin presses use significant force to create the images, which can cause damage to the press over time.
When the press becomes damaged or worn, it can produce 1939 quarters with irregularities such as bumps or cracks. These defects can decrease the value of the quarters for collectors or for those who use them for transactions in circulation. This is why it is essential to maintain coin presses regularly to ensure that they produce high-quality 1939 quarters consistently. But then again, errors like this are what make the 1939 quarters valuable today.
2. 1939 Double Die Error
In this particular error, the design element on the 1939 quarter gets duplicated or overlapped because the machine that makes the coin wasn't aligned correctly. It's like when you accidentally write the same word twice in a row because you weren't paying attention. In 1939, some quarters were made with this kind of mistake, and they're now considered rare and valuable to collectors.
For some 1969 quarters with this error, the doubling can be seen in the ponytail and on the end of the log and leaves. Due to their rarity and uniqueness, these duplications can make the coin more valuable to collectors. There is also an odd lettering in the motto on this 1939 quarter from the Coin Community website, which is believed to be a result of the same double die error.
3. 1939 Denomination (Wrong Planchet) Error
From the Heritage Auction website, this 1939 quarter error is a denomination error because the quarter was struck on a planchet that was intended for a different denomination (a nickel).
When a coin is struck on a planchet that is not intended for that denomination, it can result in various visual differences from a normal coin, including differences in size, weight, composition, and design details, such as incomplete or stretched legends. These errors are highly collectible and can be quite valuable, especially if they are rare and in high-grade condition, like the Superb Gem 1939 Quarter from the Heritage Auction.
1939 Quarter Value FAQs
Q: Is a 1939 quarter pure silver?
A: Almost, but the 90% silver content and the rest is copper. But 90% is not bad, so one can claim that a 1939 quarter is silver. This means that the coin is very precious. In fact, the amount of silver in it weighs around 0.18084 troy ounces! Even though it's a small coin, it's worth a lot because of the silver.
Q: What 1939 quarter variety is worth more?
A: The 1939 quarters with a D or S mint mark, which means they were minted in Denver or San Francisco, are worth more than those without a mint mark. Specifically, the 1939 D quarter could be worth up to $18,000, and the San Francisco-minted 1939 quarter is worth around $874. For a more specific value of each variety, depending on its grade and mint marks, see our 1939 quarter value chart above.
Final Words
We hope that this review has been informative and helpful in understanding the 1939 quarter value. As the market for coins is constantly evolving, we encourage you to stay updated on our future coin reviews, like the 1939 quarters. Thank you for choosing us as your go-to source for valuable information on coins.