If you're just starting to get into coin collecting, you might be interested to learn about the value of the 1959 Nickel. While it may not be the most elusive or valuable coin out there, this humble five-cent piece still holds a special place in the hearts of coin collectors.
In this article, you will learn about the 1959 Nickel value, its history, the people responsible for its creation, the variations ever made, and some errors. Prepare your notes for this valuable lesson about the 1959 Nickel review.
1959 Nickel Value Details
Category: Jefferson Nickel
Mints: Philadelphia, Denver, San Francisco
Total Mintage: 27,248,000
Obverse Design: Thomas Jefferson
Reverse Design: The Jefferson Home
Designer: Felix Schlag
Composition: 75% copper; 25% nickel
Diameter: 21.2 mm (0.8346457)
Mass: 5 grams
Thickness: 1.95 mm (0.076 inches)
Edge: Smooth
Also Read: 15 Most Valuable Nickels Worth Money
1959 Nickel Value Chart
The Greysheet website has a detailed guide for different coins and we listed here the value chart for 1959 Nickel for your convenience. Let's take a look at the value from MS63 to MS67.
1959 Nickel Value Chart
Mint Mark
MS63
MS64
MS65
MS66
MS67
1959 Nickel No Mint Mark Value
$16.20
$24.30
$37.80
$195
$4,000
1959 D Nickel Value

–

$59
$130
$910
$2,500
1959 Proof Nickel Value
$0.60
$0 60
$1.50
$6.75
$24.30
1959 Nickel Values and Varieties
1959 No Mint Mark Nickel Value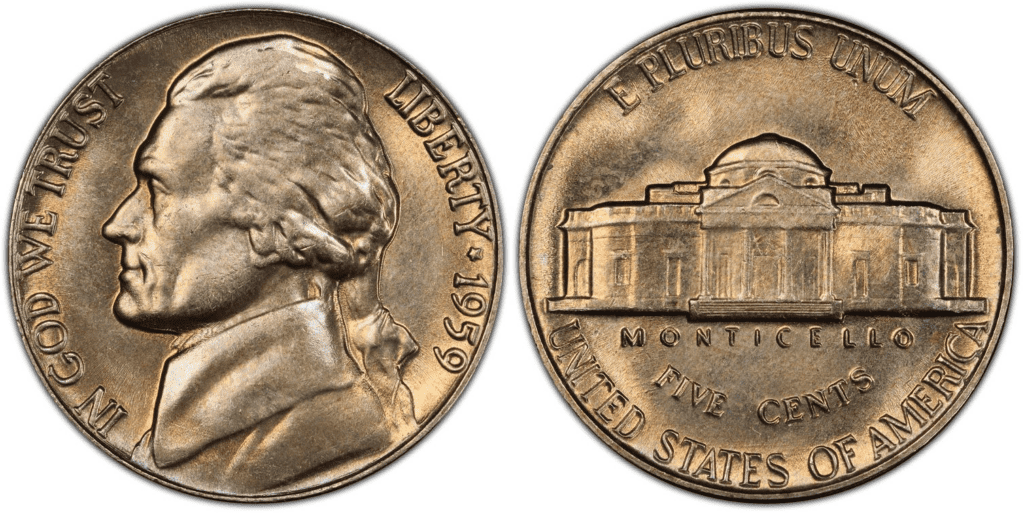 Type: Jefferson Nickel
Edge: Smooth
Mint mark: None (P)
Place of minting: Philadelphia
Year of minting: 1959
Face value: $0.5
$ price: $16.20 to $4,000
Quantity produced: 27,248,000
Designer: Felix Schlag
This particular coin is considered rarer than other nickels produced in the 1950s. While it is still possible to come across a 1959 nickel without a mintmark in your daily change, locating one can be challenging since keen collectors frequently remove pre-1960 Jefferson nickels from circulation.
One way to determine the 1959 No Mint Mark Nickel value is by its grade. In this case, a "Full Step" grading is required. According to Rarest.org, a "Full Step" grading, according to the Rarest.org, refers to the condition of the coin's reverse, which is the side of the coin showing Monticello, Thomas Jefferson's estate.
The grading indicates the number of visible steps on the staircase leading up to the building. Nickel with a "Full Step" grading must show at least five visible steps on the staircase, making it a more valuable coin.
In 2017, the highest-valued 1959 Jefferson nickel was sold at an auction for $9,694. It was assessed by the Professional Coin Grading Service as MS67 Full Steps.
1959 D Nickel Value
Type: Jefferson Nickel
Edge: Smooth
Mint mark: D
Place of minting: Denver
Year of minting: 1959
Face value: $0.5
$ price: $59 to $2,500
Quantity produced: 160,738,240
Designer: Felix Schlag
With a mintage of 160 million coins struck, the 1959-D nickel is more widespread than its Philadelphia counterpart, and numerous specimens remain in circulation to this day.
With the abundance of mintage, this variation of 1959 nickel has poor detailing and scratches. The flip side is rare coins with a grade of MS 65, and Full Steps can be worth thousands of dollars.
In 2007, a 1959-D nickel with a grade of MS66 Full Steps evaluated by Professional Coin Grading Service was sold for $3,910, establishing a new benchmark for this particular coin.
1959 Proof Nickel Value
Type: Jefferson Nickel
Edge: Smooth
Mint mark: P
Place of minting: Philadelphia
Year of minting: 1959
Face value: $0.5
$ price: $0.6 to $24.30
Quantity produced: 1,149,291
Designer: Felix Schlag
The 1.6 million mintage of proof version of this coin was minted by the end of 1959 without the mint mark. Due to the fact that proof coins are created particularly for collectors rather than for circulation (though they are still in circulation today), their production numbers are limited, which is why the mintage for this coin is low.
These coins were crafted with polished blanks and customized dies, producing exceptional strikes. Referred to as "proofs," these coins boast reflective surfaces and were exclusively sold in sets to coin enthusiasts.
Professional Coin Grading Service reported that a 1959-proof nickel graded as PR68 Deep Cameo has the highest record price of $7,475.
Also Read: Top 110 Most Valuable Nickels Worth Money
1959 Proof Nickel History
During World War II, there was a nickel shortage, a vital metal for the war effort. To conserve the metal, the United States Mint changed the composition of the nickel. The new "Wartime Nickels" comprised 56% copper, 35% silver, and 9% manganese. This allowed the government to save a significant amount of nickel for the war effort.
After the war ended, the composition of the nickel was changed back to 75% copper and 25% nickel. However, in 1959, the United States Mint decided to make some changes to the design of the Jefferson nickel, including changing the coin's composition slightly. The new Jefferson nickel comprised 75% copper and 25% nickel.
So, the 1959 Jefferson nickel is made up of the same composition as the pre-war nickel, but it is different from the wartime nickel, which had a higher silver content. Jefferson Nickels do not contain silver, but instead, are primarily composed of copper with a small amount of nickel, which provides them with a shiny, silver-like appearance.
The designer of the Jefferson nickel, Felix Schlag, was a German-born artist who moved to the United States. He won a $1000 design competition (selected by Nellie Tayloe Ross) held by the US Mint in 1938 to create the new nickel coin featuring a portrait of Thomas Jefferson. As part of the original design, Schlag was supposed to have his initials appear on the coin.
However, for some reason, during the production process, Schlag's initials were not included in the nickel when it was first released in 1938. It wasn't until 1966, nearly 30 years later, that the US Mint finally added Schlag's initials to the coin.
This means that for almost three decades, the designer of the Jefferson nickel went unrecognized for his contribution to the coin's design. His name wasn't properly credited on the coin until much later.
The 1959 Nickel features a portrait of Thomas Jefferson on the head's side, with the phrase IN GOD WE TRUST on the left and LIBERTY on the right. The mint date is located after the word Liberty, with a star before it. It does not have the shoulder cut-off's FS like coins made after 1966.
The reverse side features Jefferson's mansion in Charlottesville, Virginia, and The Monticello Mansion on the reverse side. Newer coins have an FS engraving, while older ones have a mint mark. The E PLURIBUS UNUM motto is on the upper rim, and the United States Of America is on the lower collar.
Also Read: Top 19 Most Valuable Jefferson Nickels Worth Money
1959 Proof Nickel Grading
1959 Nickel coins vary in value depending on their condition or grade. Poor condition is heavily worn, with only the outline of Jefferson's face and the word "Liberty" visible. Fair, About good, and Good conditions have progressively more visible details.
Very good condition has most details visible, while fine and very fine conditions have moderate to light wear, but all details are still visible. The extremely fine condition has light wear on high points with all details sharp. About Uncirculated condition has light wear on only the highest points and some luster. While the uncirculated condition has no wear and full mint luster, with a range of grades from MS-60 to MS-70.
To better understand how 1959 Nickels are graded and their value checks out this Youtube video from DC World Coin.
1959 Proof Nickel Errors
1. 1959 Nickel Doubled Die Error
Many people mistake any coin showing doubling as a doubled die, but this refers specifically to doubling the die during an impression. Truly doubled dies are rare; only extreme cases are worth significant amounts. Minor doubled dies, which are often obscure, typically do not fetch high prices.
This is the case with the 1959 nickel doubled dies, which have not been significant so far and are generally not worth much. The most common areas to find doubling on a 1959 nickel are in Jefferson's eye or in the lettering on the coin.
2. 1959 Nickel Off-Center Error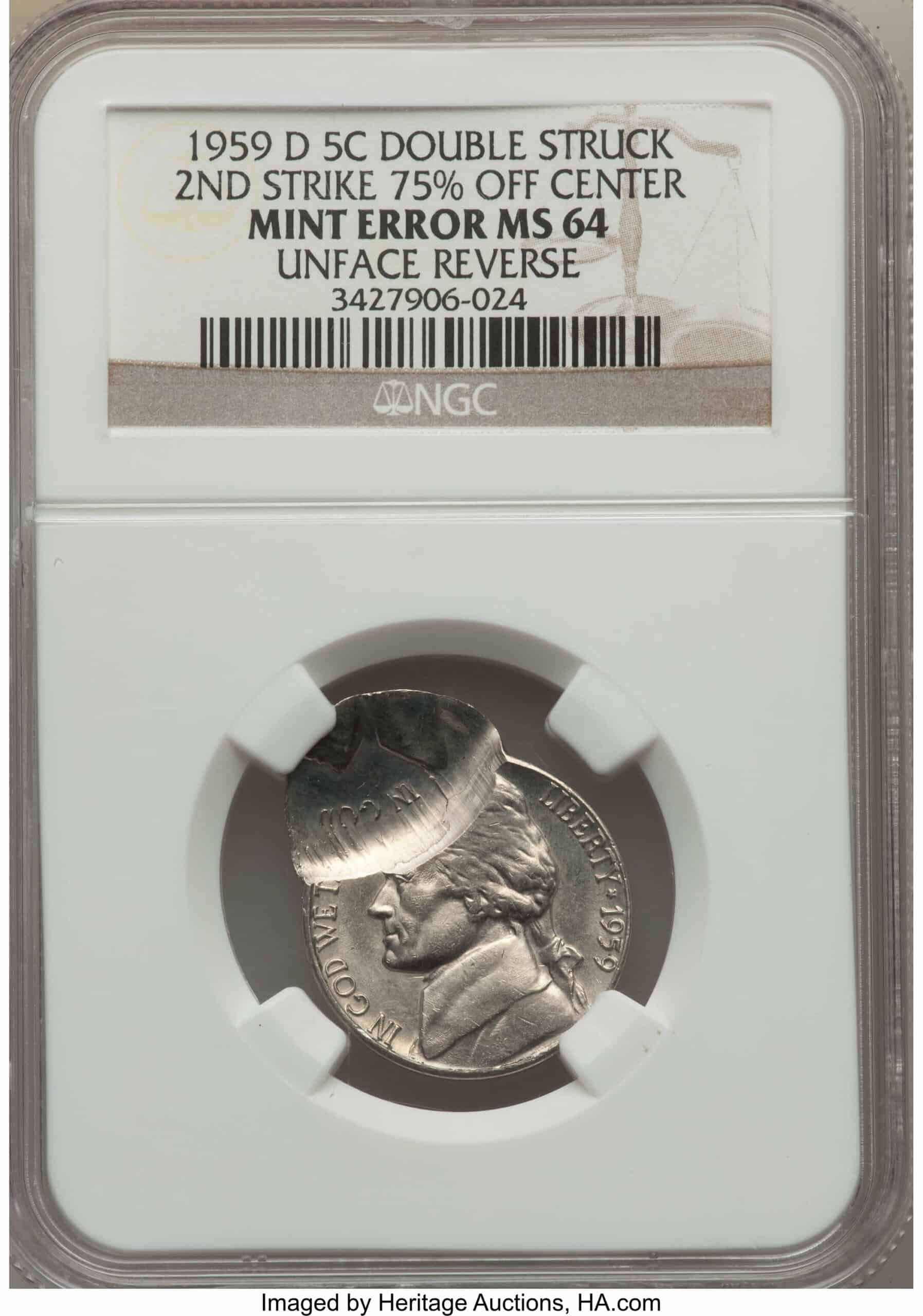 Worth: $10 to $200
Off-center error coins are popular and valuable. Only those with a 5% or more deviation hold significant monetary value. Off-center nickels from the late 1950s can range from $10 to $50, with the most valuable having a 50% off center, complete date, and mintmark. Depending on their extent and condition, these coins can be worth $100 to $200.
3. 1959 Nickel With Die Breaks & Die Cuts
Worth: $3 to $150
This 1959 nickel error features spider webs, squiggly lines, or flat metal mounds, which might indicate die cracks or die cuts. These errors and variations are sought-after by coin collectors who specialize in them. They arise when the coin-making die is damaged by age or use and leaves raised lines or abnormalities on the final coin. The error's value increases with the cracks' size and prominence.
4. 1959 Nickel Black Planchet Error
The 1959 Jefferson nickel has a flaw where the coin was not appropriately heated, causing it to look dark and discolored. Additionally, if anything foreign gets between the die and planchet during minting, it may create unwanted marks on the coin. For more rare errors, Couch Collectibles made this video for 1959 Nickels.
1959 Proof Nickel FAQs
Q1: What makes a 1959 nickel valuable?
The highest grade for a coin is MS70, and 1959 Nickels use the same grading system. So a 1959 nickel in MS 67 FS condition can be worth $6,000, while a PR 69 DCAM proof coin from the same period sold for $7,000.
Q2: What year nickels are worth money?
There are certain nickels from specific years that are considered valuable and can be sold for more than their face value. Some nickel years are 1880, 1885, 1919, 1920, 1926, 1927, 1936, 1937, 1942, and 1964.
Q3: What are the top 10 rarest nickels?
According to the Spruce Crafts website, the top 10 rarest and most valuable nickels ever are:
1937-D Buffalo Nickel–Three Legs.
1935 Buffalo Nickel–Doubled Die Reverse.
1918-S Buffalo Nickel.
1867 Shield Nickel–Proof With Rays.
Q4: What nickels are hard to find?
Among nickels, certain years and mint marks are considered rare or hard to find, and one of those years is 2009. According to the PGCS, the production of Jefferson Nickels in 2009 needed improvement, with only 39,840,000 produced in Philadelphia and 46,800,000 business strikes made in the Denver Mint.
The rarity of 2009 Jefferson Nickels only adds significant value if they are in MS65FS condition. In that case, 2009-P is worth $22, and 2009-D can fetch $30. In circulation, their value remains at face value.
Final Words
Did you enjoy our review of the 1959 Nickel Value? If you do, we encourage you to share if you may have any rare coins that you would like us to review. The world of numismatics is vast, and there are countless coins out there that are waiting to be discovered and appreciated.
By sharing your rare coins with us, you can help us create more informative and interesting reviews that will be of value to collectors and enthusiasts worldwide. So don't hesitate to reach out and share your collection with us!