1964 dimes were produced in extraordinary quantities, and the value is based on the current price of silver. It contains a high percentage of silver, hence the metal value.
The 1964 dime of the Roosevelt dimes that's still in production even today. However, do they worth anything?
That's what we are about to find out!
1964 Dime Details
Category: Roosevelt Dime
Mints: Philadelphia, Denver
Total mintage: Over 2.2 billion pieces
Observe designer: John R. Sinnock
Reverse designer: John R. Sinnock
Edge: Reeded
Fineness: 0.9
Diameter: 17.91 mm
ASW: 0.0723oz
Thickness: 1.3 mm
Composition: 90% silver, 10% copper
Weight: 2.5 grams
1964 Dime Value Chart
Mintmark
Good
Very Good
MS 60
MS65
1964 (P) Dime Value
$1.9
$1.9
$3.17

$7

1964 (D) Dime Value
$1.9
$1.9

$3.17

$7

SP64
SP65
SP66
SP68
1964 SMS Dime Value
$4,000
$5,250
$8,500
$20,000
PR64
PR65
PR68
PR70
1964 (P) Proof Dime Value
$10

Cameo: $14

Deep Cameo: $15

$12

Cameo: $16

Deep Cameo: $18

$18

Cameo: $28

Deep Cameo: $50

$315

Cameo: $650

Deep Cameo: $5,150
1964 Dime Values and Varieties Guides
1964 (P) Dime Value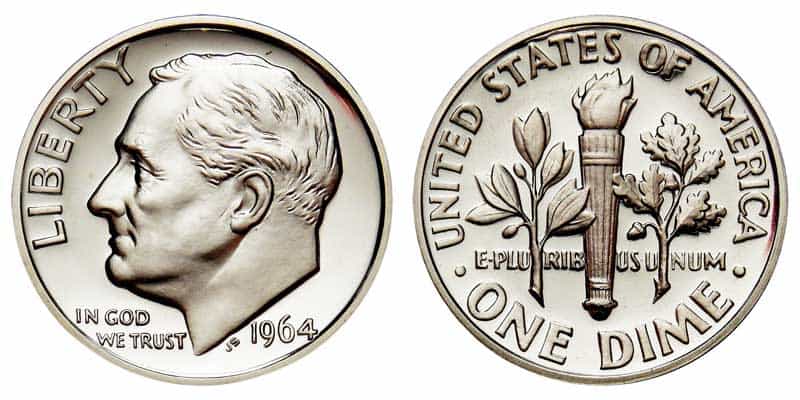 Type: Roosevelt Dime
Edge: Reeded
Mint mark: None
Place of minting: Philadelphia
Year of minting: 1964
Face value: $0.10
$ Price: $3 – $384
Quantity produced: 929,360,00
Designer: John R. Sinnock
Identifying the Philadelphia-minted 1964 dime is pretty easy, as it doesn't have any mintmark on the left side. To know a variety, just look at the base of the torch, therein lies your answer.
Over 924 million dimes were produced in Philadelphia, hence the available large quantities and easy to find today. The silver in the alloy of the 1964 dime is where the value is, and that's why collectors are particular about the condition of the coin before buying.
If a 1964 dime is in extremely fine condition, it will be valued at about $3. While the uncirculated 1964 dimes in the highest quality will worth around $4, and if it's at MS 65 or MS 67, they'll be valued at $15 and $50, respectively.
An auction was held in 2021, where a 1964 dime graded at MS68 (without full band designation), was sold for $384.
Note that, a coin with full band designation will definitely have more value.
1964 (D) Dime Value
Type: Roosevelt Dime
Mint mark: D
Place of minting: Denver
Year of minting: 1964
Edge: Reeded
Face value: $0.10
$ Price: $3 – $6,500
Quantity produced: 1,357,517,180
Designer: John R. Sinnock
You can spot the difference in the coins produced in Denver, by the "D" mint mark struck on the reverse. 1,357,517,180 pieces were minted, making it one of the most abundant coins on the market, meaning you can purchase a piece at silver base worth.
A 1964 dime in good condition can sell for $3, but if it's in mint condition, it'll go for a premium price.
Remember that as with all coins, value is tied to its condition and a full band designation is always more valuable.
Many of the dimes produced in Denver were saved in mint condition. Due to this, collectors have a lot of options to select from and choose which beautiful piece they'll place premium value on.
An MS67 Denver dime is worth about $30, but a full designated full band can sell for at least $300. In 2018, a full band designated MS68 Denver dime was sold for almost $6,500.
1964 SMS Dime Value
Type: Roosevelt Dime
Edge: Reeded
Mint mark: None
Place of minting: Philadelphia
Year of minting: 1964
Face value: $0.10
$ Price: $4,000 – $20,000
Quantity produced: 20-50 pieces
Designer: John R. Sinnock
SMS dimes also referred to as Special Mint Sets are one of the most valuable 1994 dimes to be produced, and that's because they were minted in a very small quantity.
To date, it's still unclear as to why these dimes were minted, as the proof dimes were also produced in the same year, 1964.
However, since they were minted before the production of proof dimes, they contained only one sample of every denomination for 1964.
These coins have no mint mark because they were minted in Philadelphia, and the only way to know the SMS dimes is through their unique appearance. They always have a satin finish, that appears glossier than the Philadelphia mints, but it's still less shiny than proof dimes. Also, because it was perfectly minted, it has sharp and clean edges.
The 1964 SMS dimes graded at SP68 are valued at $20,000, while the SP64 graded is valued at $4,000.
1964 Proof Dime Value
Type: Roosevelt Dime
Edge: Reeded
Mint mark: None
Place of minting: Philadelphia
Year of minting: 1964
Face value: $0.10
$ Price: $4 – $5,150
Quantity produced: 3,950,762
Designer: John R. Sinnock
You'd expect that all 1964 proof dimes will have the same look, but that's incorrect, as some pieces have a slight variation.
Depending on the time of the year a 1964 proof dime was minted, the pointed tail can either be blunt or pointed. Proof dimes minted towards the end of 1964 have a blunted number 9 tail, while those produced in the beginning have a pointed tail. However, regardless of these variations, they are all valued at the same price.
Proof dimes were minted in a much larger quantity than the SMS dimes, as almost 4 million dimes were struck. This means that at a fair price, you can buy a 1964 proof dime in good condition.
The worth of a proof dime is usually higher if it's a cameo or a deep cameo, as these attractive contrasts make them more valuable.
The worth of a cameo and deep cameo dime graded at PR64 will almost be the same value, of about $15. However, a deep cameo dime graded at PR70 is worth about $5,150, making it affordable for most collectors.
Also Read: Top 15 Most Valuable Indian Head Penny Worth Money
History of the 1964 Dime
Roosevelt dimes got its name from the man on the observe of the coin, President Franklin D. Roosevelt, the 32nd President of the United States.
The 1964 dimes were produced as a result of the low number of coins in circulation. Roosevelt's silver dimes were produced for three years, and legislation was passed to retain the "1964" trademark date on dimes produced after January 1st, 1965. After enough coins were minted with the 1964 date, then production stopped.
The dimes that were produced before the 1964 era were made of mostly silver with just a 10 percent addition of copper, and the last set of dimes to use this composition were those minted in 1964.
There were rumors concerning the value of silver, and during the years before 1964, the yearly price of silver skyrocketed from 91 cents an ounce to $1.29 in 1964. The coining of silver was going away, majorly because it was been hoarded by the public. People were hoarding silver coins with the hope to get profit from them if their value eventually increased again.
During this same time, the minting of dimes was increasing to combat and maintain a balance in the circulation of coins. This led to a huge mintage amount in 1964, as over 2.2 billion dimes were minted in Philadelphia and Denver. And all of these coins were minted in the space of three years, although they all maintained the "1964" date tag.
Unfortunately, this did not stop the hoarding of silver coins, and a Coinage Act had to be implemented in 1965. The Act authorized the production of dimes with copper clad in cupronickel, and this eventually stopped the hoarding of coins, as they had lesser value.
These dimes are lighter and weigh lesser than the standard 1964 silver dimes.
The 1964 dimes are considered special because they retained a date outside the U.S calendar and it also signifies the last era of the silver coins. All 1964 dimes are valued by the current silver worth.
Also Read: Top 15 Most Valuable Roosevelt Dimes Worth Money
1964 Dime Grading
The best way to know the value of your 1964 dime is to have a professional check it for you. But you can manually inspect as well to have a rough estimate. With the large number of 1964 dimes minted, it has to be in an excellent mint state to be priced above base silver value.
Certain variations increase the value of a dime, so be sure you know exactly what to look out for.
Check out this video to know the real value of your coin.
1964 Dime Errors
1. 1964 "D" Double Die Error
The double die error is definitely one you'll need to look out for in the Denver minted dimes. You'll notice that some letters are struck above each other on the reverse, and these letters are wider in dimension, enabling you to see the overlapping more clearer.
You might find it hard to notice it depending on the variety of "D" minted dimes you are with, nonetheless if you have a keen eye for details, you'll definitely notice.
In uncirculated and mint conditions with a grading of MS 65, the double die error dime is valued at $160.
Most dedicated collectors are always on the lookout for double-die error coins produced in Denver, as the value of the coin will be higher when the error is very visible.
The words you should look out for when checking your "D" minted dimes are; the United States of America, One Dime, and E Pluribus Unum.
2. 1964 "D" Dime Altered From Reeding
This error happened when a few reeding were removed from a coin, and it altered the design of the incoming designed coin that was being minted. You'll notice the error on the observed side of the coin, and this error coin was worth $348.
3. 1964 "P" Dime with Curved Cap S
After a particular coin has been minted, if it's not properly removed, it permanently attaches to the die and strikes repeatedly. This will cause the edges to have a curved-cap shape.
The particular coin with this error was graded MS 66 and it has a full torch designation, so it was valued at $460.
4. 1964 "P" Dime Struck on a Faulty Disc
This error happened in the Philadelphia minting when a dime was struck on a faulty metal disc, and the upper part of the disc was nowhere to be found, thereby reducing the weight of the dime.
The error coin weighed 2.2 grams and was graded MS 65. IN 2015, it was bought at the price of $306.
5. 1964 Copper-Nickel Clad Dime
The quickest way to recognize this transitional error coin is by weighing it, as it weighs 2.27 grams. 1964 was the last year that saw the production of silver dimes, and the mintage of copper nickel-clad dimes started the next year. This error coin was struck when the U.S mint was moving from producing silver to coins with copper-nickel clad.
Check out this video for more error coins.
FAQs
1. Are the dimes produced after 1964 worth anything?
Most of the silver coins minted after the 1964 series only have face values, but error coins are the exceptions.
2. What's the value of a 1964 silver dime currently?
As of the 9th of February, 2023, the 1964 silver dime was valued at $1.6225.
3. Are all 1964 coins silver?
Yes, all the American dimes that were minted in 1964 are 90% silver. The best way to tell is by looking at the edge of the coin. If it has solid silver stripes, then yes, it's most likely silver.
Conclusion
You should note that the worth of a 1964 dime isn't fixed, as it depends on more than one factor. Coins that are in mint condition have premium value, the same as coins that have full band designation. The best coins to have are those that come with rare errors, and fortunately, there's a handful of them in the 1964 dime series.
The SMS dimes are worth thousands of dollars, so if you are lucky, you might discover one in mint condition.