A 1967 penny is not particularly rare, but these coins are always worth more than their face value of a single cent. Its high copper concentration is worth about $0.02 or more if melted (which is currently illegal), but other details further multiply its value.
Nineteen sixty-seven pennies in "Extremely Fine" or "Uncirculated" condition are worth $0.23 to $1.16 or more for collectors, and SMS pennies from this year are worth about $20. Error coins or exceptionally well-preserved cents are worth much more if you take them to auction.
This guide explains the basic details behind the 1967 penny, including its history, appearance, general grading, and value. We also touch on the most common errors for this year and how they affect the cent's final price.
1967 Penny Details
Category: Lincoln Memorial Cent (1959 to 2008)
Mint: Philadelphia; Denver; San Francisco
Mintage: 3,050,530,444
Obverse Designer: Victor David Brenner
Reverse Designer: Frank Gasparro
Composition: 95% Copper; 5% Tin and Zinc
Weight: 0.1097 oz
The 1967 penny features Victor David Brenner's Lincoln profile on the front and Frank Gasparro's Lincoln Memorial design on the back.
The obverse design shows Lincoln looking to the right of the coin. The word LIBERTY is inscribed at his back, and the date 1967 is posted in front of his chest. IN GOD WE TRUST is printed along the top curve of the coin, right against the rim.
The reverse is often struck in better detail than the front, and you can see Lincoln's statue inside the Memorial on higher grade coins. Gasparro marked the design with his initials on the lower right side.
The inscriptions read UNITED STATES OF AMERICA on the top curve, E PLURIBUS UNUM above the monument, and ONE CENT in larger print along the bottom curve.
1967 Penny Value Chart

Mint Mark
Good
Fine
Extremely Fine
Uncirculated
Special Mint Strike
1967 No Mint Mark Penny Value
$0.02
$0.02
$0.23
$1.16
/
1967 SMS Penny Value
/
/
/
/
$20.00
1967 Penny Value and Varieties Guide
While there are only two 1967 penny varieties to talk about, the coins were minted at three mints this year. Nineteen sixty-seven was the final year of the Mint's Anonymous coinage designed to deter coin collection.
The Mint had also prohibited proof coins during this time, but still produced Special Mint Strikes that garnered more attention and held a higher value than circulating coins from that time.
1967 No Mint Mark Penny Value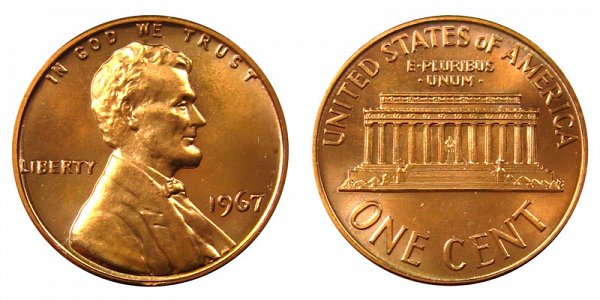 Type: Lincoln Memorial Cent (1959 to 2008)
Edge: Smooth
Mint Mark: N/A
Place of Minting: Philadelphia; Denver; San Francisco
Year of Minting: 1967
Face Value: $0.01
$ Price: $0.02 to $1.16
Quantity Produced: 3,048,667,100
Designer: Victor David Brenner/ Frank Gasparro
Mass: 3.11 grams
Diameter: 19 mm
The 3 million 1967 pennies minted were split between the Philadelphia, Denver, and San Francisco mints. While it's impossible to determine which one a coin came from, we know that:
Philadelphia produced 907,575,000 pennies
Denver produced 1,327,377,100 pennies
San Francisco produced 813,715,000
The high number of pennies from this year, combined with the lack of distinction between the mints, means that coins are often stuck with their melt value at "Good" or "Fine" grades.
More collectible grades are worth about $0.23 to $1.16, while Mint State coins rake in more at auction. A PCGS MS-67 no mint mark 1967 penny sold for $4,945 at a 2008 auction.
1967 SMS Penny Value
Type: Lincoln Memorial Cent (1959 to 2008)
Edge: Smooth
Mint Mark: N/A
Place of Minting: Philadelphia
Year of Minting: 1967
Face Value: $0.01
$ Price: $20.00+
Quantity Produced: 1,863,344
Designer: Victor David Brenner/ Frank Gasparro
Mass: 3.11 grams
Diameter: 19 mm
The Special Mint Strike coins from 1967 included the nickel, dime, quarter, half dollar, and penny. While proof production was halted, the Mint still put out small numbers of these coins in a nicer silky finish for collection purposes.
The SMS pennies do not have a mint mark, and one that ended up in circulation may be difficult to separate from regular business strike coins. Usually, the Special Mint Strike coins have a brighter brown color and a better overall appearance.
Collectors often sell them for $20, but a PCGS SP-68 SMS penny sold for $5,581.25 at a 2014 auction.
1967 Penny History
The 1967 penny features a long-standing portrait of sixteenth President Abraham Lincoln on its obverse and a newer reverse design of Frank Gasparro's showcasing the Lincoln Memorial.
The portrait design was introduced to replace the Indian Head cent at the turn of the Century. Theodore Roosevelt's Renaissance of American Coinage prompted the new design, and it followed previous designs Brenner had done.
Brenner disclosed in a letter that he envisioned Lincoln reading to a child when he made this design. Models were first submitted in January 1909, and, after several revisions, the portrait design was approved in July and August.
The Memorial reverse appeared in 1952 when the Mint considered replacing the Lincoln cent with a new design of the Mint Chief Engraver, Gilroy Roberts. Officials decided that the Eisenhower administration wouldn't appreciate replacing a Republican on the cent, and they put a halt on those plans.
In December 1958, Eisenhower's Press Secretary James Hagerty announced, to the surprise of most, that production of a new reverse design would start in January.
Gasparro had developed the design alongside the Treasury and with frequent contact with the Lincoln Sesquicentennial Commission. While the inclusion of the statue of Lincoln inside the memorial was disputed, it's worth noting that Gasparro had not seen the Memorial in person prior to creating the design.
The coin was officially released on February 12, 1959, on the 150th anniversary of Lincoln's birth, although some composition changes were made in 1962 to better stabilize the coin.
In 1964, the rising price of silver prompted the public to hoard silver coinage, and all currency experienced circulation issues during this time.
Much of the blame was put on coin collectors, and Mint Director Eva Adams decided to remove mint marks from coins to make them less desirable and enhance circulation for the next few years. The Mint also replaced its silver coins with clad pieces that would not be hoarded.
The 1967 penny was also affected by an aging die hub that left several coins with poorly marked features. The Mint waited until 1969 to create a new master die for all three mints that would ultimately sharpen features, move inscriptions further from the edge, and broaden letters.
The Lincoln Memorial design remained constant as copper prices rose in 1973, prompting a change in composition for the penny. It wasn't until the Lincoln Bicentennial cent that the design changed.
Also Read: Top 20 Most Valuable Old Pennies Worth Money (Penny Collection)
1967 Penny Grading
If you plan on selling or buying a 1967 penny, particularly one of high quality, make sure the coin is professionally graded using PCGS or NGC standards. The coin is assigned a grade along a 70 point scale to reflect its current condition, and it is assessed for errors and other details that affect the value of the coin.
You don't need to be a professional to develop your own opinion on coin condition. Understanding how to tell the difference between "Good" and "Fine" coins can help you spot a good deal quickly, and it's part of growing your numismatic skill set.
While the general penny grades below don't abide by any standard, they're useful in laid-back conditions.
Good
A 1967 penny in "Good" condition shows signs of heavy wear. Most details are gone, leaving behind flat forms of Lincoln and his memorial on the reverse. Legends and dates should still be present, but they're significantly worn down.
The Lincoln Memorial on the reverse lacks all the lines that help you discern what the building is. Its columns are gone, leaving behind a tall shadowy building and all inscriptions.
Fine
If a 1967 penny is in "Fine" condition, it has a greater degree of detail than the lesser coin, and the surface bears less discoloration from the years. High points like Lincoln's cheek are likely smooth, but lines bring out the details of his hair.
The Lincoln memorial has a greater separation of details, and reverse inscriptions are much more bold. While columns aren't quite etched in stark contrast anymore, you can actually tell what they were here.
Extremely Fine
The 1967 penny found in "Extremely Fine" condition is desirable by collectors. Time and handling have still noticeably worn the coin, but all details stand out in sharp contrast from each other.
High points like Lincoln's cheek and jaw still bear the majority of the wear, but they allow lesser details to stand firmly. These pennies have lost their original shine, but the details that matter are well-presented.
Uncirculated
"Uncirculated" coins are not perfect, but they're close to it. Many issues at this grade are indiscernible without a proper magnifying glass, and they only sit on the high points of the coin.
The coin clings to its original luster, and the beautiful copper on a 1967 penny shines brightly. Blemishes from age or handling may have slightly diminished the color, but not enough to block it out completely.
List of 1967 Penny Errors
The 1967 penny doesn't have an extensive list of recognizable mint errors, but its use of older die hubs caused a few issues and unique variations., including:
Die cracks and breaks
Double dies
BIE errors
Other errors may be present in certain coins from this time, but you should take care with any claims of rare features on a coin.
1967 Die Crack or Break Penny
Die cracks or breaks occur regularly during production, especially when you have a coin that's been using the same dies for decades. The 1967 penny's obverse hub was over 50 years old, so many coins show signs of die breakage.
These often show up as flat areas on the coin as they weren't struck with the design. While most are moderate errors that only increase value by $5 to $10, errors that occurred closer to the end stages of the die may command a greater premium.
1967 Double Die Penny
A double die penny was struck multiple times by the same die, resulting in multiple lines for the same design. The term "double die" is slightly misleading, as this error can occur three or more times as well.
Some lines are barely off the original, while others shift significantly for an easily detectable error.
Double die 1967 pennies may be worth $25 to $100 over their original value, but it mostly depends on the gravity of the doubling and the original condition of the coin.
1967 BIE Error Penny
The BIE error is technically a die crack issue, but it's popular enough to merit its own section.
A BIE error refers to a crack that shows up between the "B" and "E" in LIBERTY, causing the inscription to read LIBIERTY. The cracks show up regularly and look similar to the inscription font, and you may not even notice the error at first glance.
A 1967 BIE error penny is only worth about an extra $5 to $10 on its original value.
1967 Penny FAQs
Is the 1967 Penny Pure Copper?
The 1967 penny is not pure copper, but these coins have a higher copper content than modern cents. The 1967 penny is about 95 percent copper, and its melt value is about twice its face value.
Are 1967 Pennies Rare?
Nineteen sixty-seven pennies are not rare. Over 3 billion were put into circulation, and the lack of mint marks on coins in these years deterred collectors both in the part and in modern times. The most rare versions of these coins are those in "Uncirculated" condition or Special Mint Set coins.
How Much Is a 1967 Penny Worth Today?
A 1967 penny is worth at least its melt value, about $0.02, but those in better condition are worth $0.23 to $20 or more.