Almost a century has passed since 1927. In 2020, only around 2 million people in the US would have lived through that time. However, not only those 2 million people would have seen that time in history. A 1927 wheat penny you found somewhere would have also gone through that period of American history.
If you did stumble upon a 1927 wheat penny, you might be curious about its current value, varieties, history, grading, and other information about the coin. Well, you got this article right here to tell you more about it!
1927 Wheat Penny Value Details
The 1927 wheat penny is part of a series of coins called the Lincoln wheat cent, named after President Abraham Lincoln, the first real person to ever appear on an American coin, and the stalks of durum wheat found on the reverse of the coin.
Category: Lincoln Wheat Cent
Mints: Philadelphia, Denver, San Francisco
Year: 1927
Total Mintage: 185,886,000
Obverse Designer: Victor D. Brenner
Reverse Designer: Victor D. Brenner
Edge: Plain
Diameter: 19.00 millimeters (0.748 inches)
Composition: 95% copper, 5% tin and zinc
Weight: 3.11 grams
Also Read: Top 20 Most Valuable Old Pennies Worth Money (Penny Collection)
1927 Wheat Penny Value Chart
| | | | | |
| --- | --- | --- | --- | --- |
| Mint Mark | Good (G-4) | Fine (VF-12) | Extremely Fine (XF-40) | Uncirculated (MS-63) |
| 1927 (P) No Mint Mark Wheat Penny Value | $0.22 | $0.33 | $2.28 | $23 |
| 1927 D Wheat Penny Value | $1.42 | $3.06 | $8.54 | $93 |
| 1927 S Wheat Penny Value | $1.71 | $3.30 | $17 | $160 |
1927 Wheat Penny Values and Varieties (by Mint Mark)
1927 P No Mint Mark Wheat Penny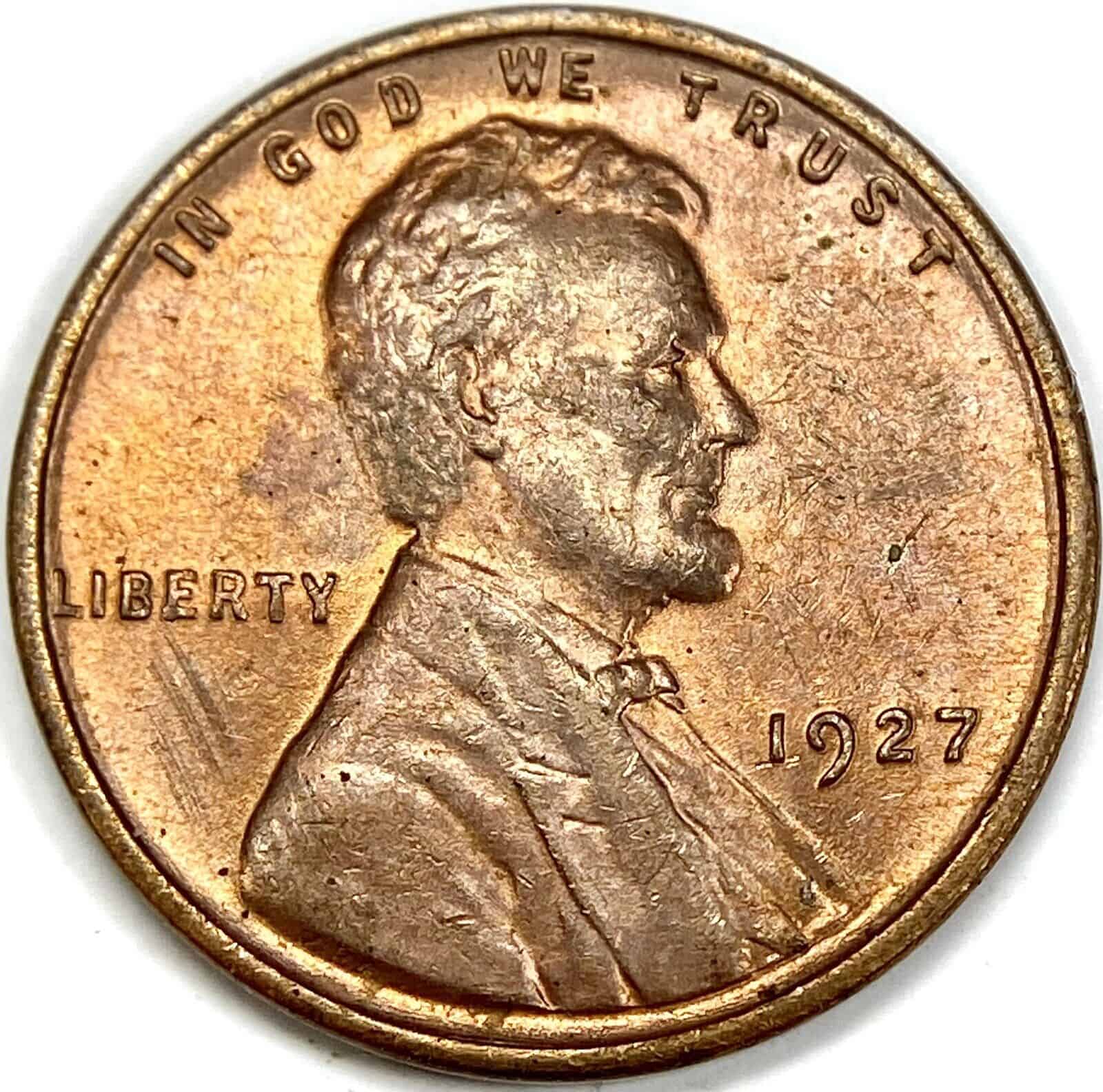 Type: Lincoln Wheat Cent
Edge: Plain
Mint mark: None
Place of minting: Philadelphia
Year of minting: 1927
Face value: $0.01
$ price: $0.22 to $75,000
Quantity produced: 144,440,000
Designer: Victor D. Brenner
As is usual with most dates, Philadelphia's mintage is the highest among all coins, with over 144 million coins minted in 1927, over 70% of the total mintage. This large population left plentiful coins for everyone, although collectors looking for high-grade gems would have a hard time looking for these.
A large portion of the surviving coins are in Brown condition, and the Red varieties are plentiful, too. Thankfully, some of these coins generally have a pretty good strike, and you can easily find those with a good impression.
Given their high mintage, it's no surprise that you can find a G4 coin at only $0.22, climbing up to $75 for an MS65 BN coin. RB and RD varieties can start around $22-$25 for MS60 coins, and you can get a good RB gem example with $150 for an MS66, before getting into rare coin territory with $8,000 for an MS68 RB. RD varieties can go for $5,500 for MS67+ before jumping to $75,000 for an MS68.
The current auction record price is $7,638 for an MS67+ RD piece.
1927 D Wheat Penny
Type: Lincoln Wheat Cent
Edge: Plain
Mint mark: D
Place of minting: Denver
Year of minting: 1927
Face value: $0.01
$ price: $1.42 to $57,500
Quantity produced: 27,170,000
Designer: Victor D. Brenner
Comprising almost only 15% of the total mintage, the Denver pennies of 1927 can call for a higher premium than the Philadelphia mintage. Sporting over 27 million pieces, plenty of them survived in circulated grades, and you'll be able to easily find good gems, too.
Starting this year, too, the Denver-minted pennies had good strikes, without the usual die erosion and die cracks found in the years prior. Mint State coins are also easy to find, although Red varieties can be hard to come across.
A G4 BN coin can start at $1.42, then reach $62 for AU-grade coins. Choice Uncirculated coins can go anywhere between $65 to $650 in all varieties. Gem examples can go $325 to $57,500 for an MS66 RD coin.
The current auction record price is $6,300 for an MS66+ RB piece.
1927 S Wheat Penny
Type: Lincoln Wheat Cent
Edge: Plain
Mint mark: S
Place of minting: San Francisco
Year of minting: 1927
Face value: $0.01
$ price: $0.05 to $50,000
Quantity produced: 14,276,000
Designer: Victor D. Brenner
With only less than 10% of the total yearly issue, 1927 S wheat pennies often score a higher premium than the rest of the coins. A good number of them, often in circulated grades, survived today, but uncirculated coins can be hard to find.
Although the 1927 issue fares better than the previous years, San Francisco-minted coins suffer from strikes using worn dies. Coins struck with matching fresh dies are rare, so they will easily fetch a higher price. On any other day, you're more likely to see a coin struck with a worn die on one side and a fresh die on the other.
Given the general quality of these coins, they fetch a low price at low grades, starting at $0.05. However, circulated grades can still go as high as $100, while uncirculated coins start from $115 to $250, depending on the color. BN coins can only go as high as $3,150 for MS65, $4,500 for MS65+ RB, and $50,000 for MS65+ RD.
The current auction record is an MS65+ RD coin, which sold for $36,000.
1927 Wheat Penny Varieties (by Color)
The Lincoln wheat penny coins are made of 95% copper. Copper, when exposed to the atmosphere, oxidizes with elements found in the air, such as oxygen and water vapor, which causes the color of the coins to gradually degrade as time goes on.
1927 Red Wheat Penny
Wheat pennies fresh from the mint will often exhibit a lustrous reddish-orange color. Over time, if the coin is properly preserved and 90% of the coin retains the original color, collectors will give them the Red (RD) designation. These specimens are highly prized by many collectors, making them command a high premium on the market.
Given that the only way a wheat penny would retain its original color would be by keeping it tucked away from circulation, an RD classification is usually only reserved for coins with a grade of MS60 or higher.
1927 Red-Brown Wheat Penny
When oxidation begins to react on the coin, the copper on the coin starts to turn brown. In situations less ideal than what is needed to retain an RD coin, some parts of the coin will turn brown, and some retain a bit of red. When 10%-90% of the coin retains the original color, the coin is designated as a Red-Brown (RB) coin.
Similar to the RD coins, only coins graded MS60 and above are likely to retain the original red color of the coin, so the RB classification is given only to those coins.
1927 Brown Wheat Penny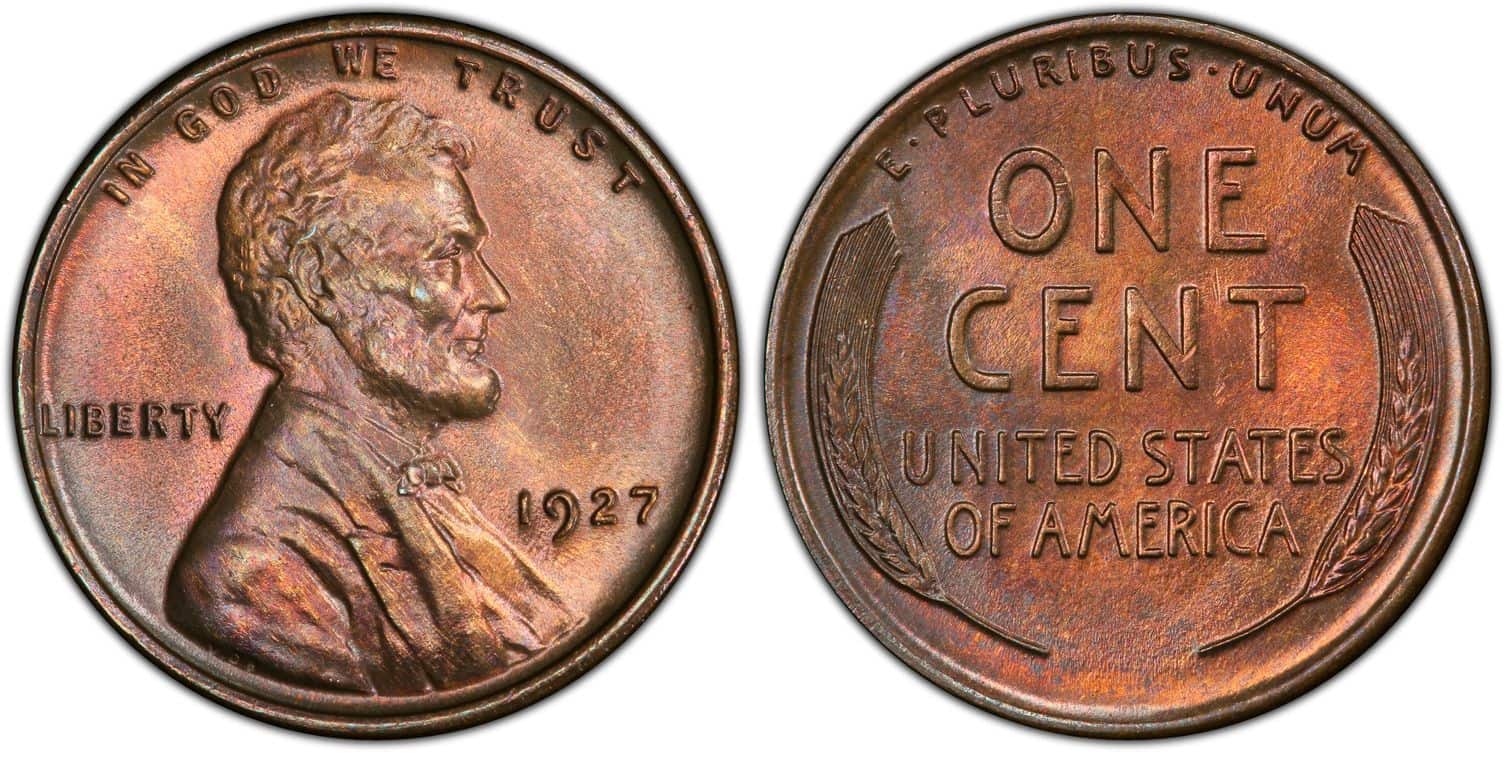 Coins that were thrown into circulation will likely have been exposed to the atmosphere for a sufficient amount of time to oxidize all the copper on the coin. Once the coin changes into a chocolate brown color on its entire surface, collectors will label them as Brown (BN) coins.
Mint State coins can also be found with this brown color, although they will not command as high of a premium as Mint State coins with a better color condition.
1927 Wheat Penny Value History
Minted from 1909 to 1958, the 1927 wheat penny is part of a series of coins called the Lincoln wheat cent. Its name comes from President Abraham Lincoln, the first person placed on a U.S. coin, and the stalk of wheat found on the reverse of the coin.
Before 1909, Theodore Roosevelt had initially announced his intentions of beautifying the American coinage. He originally consulted sculptor Augustus Saint-Gaudens, who designed several sketches for several coins. However, constrained by an 1890 act of Congress and the sculptor's death in 1907, he was not able to prepare designs for the cent.
Coincident with President Roosevelt's project, 1909 was the 100th anniversary of the birth of former President Abraham Lincoln. During this time, Lincoln was gaining admiration among the American public and Roosevelt wished to honor him who was a Republican like he was. Victor David Brenner, a sculptor who created a plaque of Abraham Lincoln before, was asked to design the cent with the likeness of Lincoln on the coin.
The design process of the coin was challenging for Mint Chief Engraver Charles Barber and Brenner. While Brenner, a sculptor with no experience in coin design, prioritized beauty, and artistry, Barber preferred practicality. The cent went through several revisions before they settled on the current one.
Aside from the Lincoln penny, the coin also goes by the name "wheat penny," referencing the ears of durum wheat found on the reverse of the coin. The Lincoln penny was also the first time the motto "In God We Trust" was inscribed on an American coin.
1927 Wheat Penny Value Grading
The Sheldon scale is a numerical scale that numismatists and coin collectors use to judge the condition of a coin. It ranges from 1 to 70, and it also accompanies qualitative descriptions, such as Good, Fine, Almost Uncirculated, Choice Uncirculated, and Mint State.
The 1927 wheat penny coins are also assessed based on their color conditions. They can be either Red, Red-Brown, or Brown. Red usually indicates a coin that was properly preserved so as to retain its original minted color. In contrast, Brown indicates major exposure to the atmosphere, and Red-Brown sits in the middle.
Lists of 1927 Wheat Penny Value Errors
1. 1927 Wheat Penny RPM Error
The repunched mintmark error refers to an error where the mintmark on the coin is struck more than once, and the stronger, later strike is not aligned to the first mintmark. Given that this is a mintmark error, you will usually only find these errors on D and S coins.
The 1927 issue had this error on some of the Denver-minted coins. The D mintmark, found between 9 and 2 of the date, has another D mintmark moved to the north. This is called a D/D North variety, meaning that there is a D mintmark over another D mintmark, and the weaker mintmark can be found north of the stronger mintmark.
The current auction record price is $1,175 for an MS64 RB piece.
2. 1927 Wheat Penny DDO Error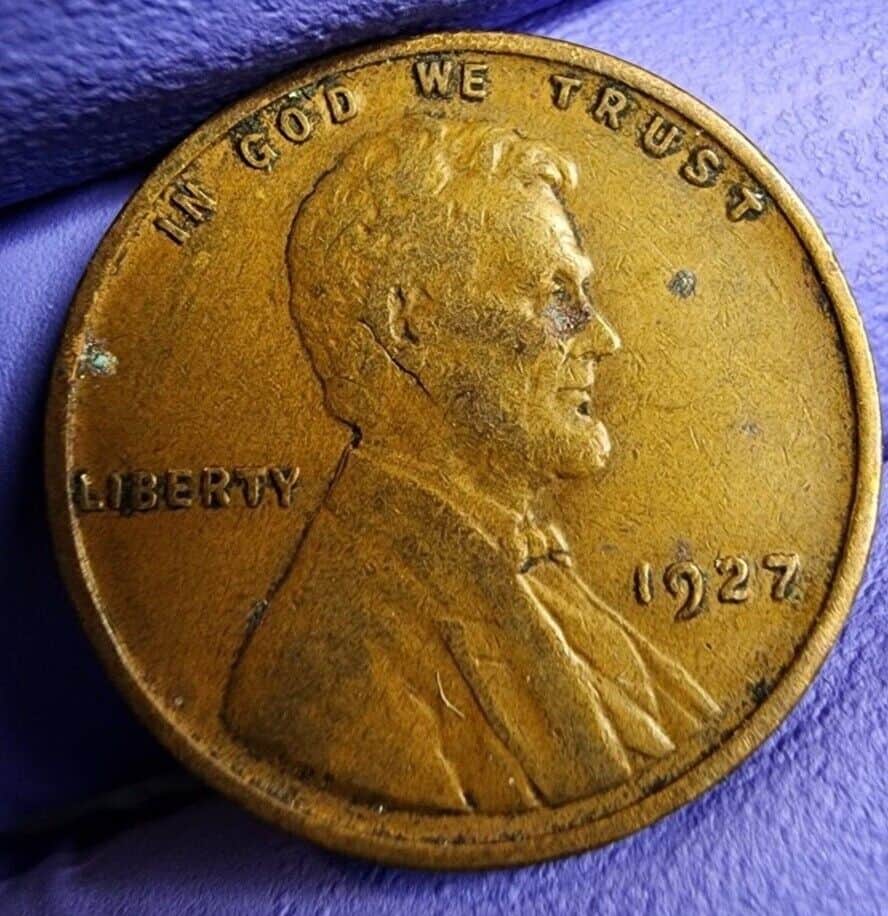 A doubled die obverse error refers to a manufacturing error on the die. Certain elements are duplicated, and the duplicate elements are usually offset from the original design that merges into one element. Note that this error does not indicate an error from the strike; the error is on the die itself.
The DDO error can be found on the 1927 P coins; you can spot minor errors on the LIB of LIBERTY, around some letters of IN GOD WE TRUST, and the 27 of the date.
The current auction record price is $2,613 for an MS64 RD piece.
1927 Wheat Penny Value FAQ
Is the 1927 wheat penny worth anything?
The value of a 1927 wheat penny can vary depending on many factors. First, you need to have the coin graded. The higher the grade, the higher the price. Part of the grading also determines the color condition of the coin: BN is usually the cheapest one, while RD coins command the highest premium.
You can sell a 1927 wheat penny for as low as $0.05, but coins that fared better in circulation can go as high as $100. If you have a Mint State coin, you're looking at north of $115, and if you snagged yourself a high-quality RD variety, you can get it auctioned for as high as $57,500.
How much is a 1927 wheat penny worth with no mint mark?
A 1927 wheat penny with no mint mark refers to coins minted in the Philadelphia Mint. With over 144 million pieces minted, they don't command a very high premium compared to other coins with mintmarks.
At the very least, they are worth more than their face value of $0.01, although they can climb as high as $20 for a well-preserved circulated coin. If you can get across a coin that did not go into circulation, you can set an asking price of $22 to $150, depending on the grade. If you can find a truly rare coin, it can be worth up to $75,000!