The 1937 half dollars—fondly called "Walkers" by coin collectors due to its image of a walking Lady Liberty—are among the prettiest and aesthetically appealing coins in US mintage history. Because of this, so many coin lovers gravitate towards it.
But how much is this half dollar coin worth? If you have a Walking Liberty half dollar dated 1937, you might be surprised as to how valuable it is today.
In this guide, we'll be touching on everything you need to know about the 1937 half dollar's value, from its pricing depending on where it was minted, to slight errors that make it even more valuable. Read on to find out more!
1937 Half Dollar Value Details
Category: Walking Liberty Half Dollars
Mints: Philadelphia, Denver, and San Francisco
Total mintage: 13,288,000
Obverse designer: Adolph A. Weinman
Reverse designer: Adolph A. Weinman
Edge: Reeded
Diameter: 30.6 mm
Content: 90% silver and 10% copper
Melt value: $7.64 (as of February 2023)
Weight: 12.5 grams
In 1937, the US minted a little over 13 million Walking Liberty silver half dollars. This was a very modest number. But Americans didn't need many half dollar coins anyway, thanks to the Wall Street crash that left the people without much money to spend in the early to mid-1930s.
Because so few of them were created, they're already valuable from the get-go. Add its fine silver composition and a few rarities into the mix, and you've got yourself a significantly valuable coin.
There are many mint-state Walkers in numismatic collectors today in grades up to MS66, but in 1937, MS68 coins were more plentiful. This adds to the attractiveness of hunting for 1937 half dollars.
Another reason why collectors love this coin is because of its beautiful design. On the obverse, you'll see the full figure of a young Lady Liberty covered in stars, stripes, and even branches of oak and laurel. She is walking towards the sun, which is dawning on the lower left of the coin.
The word "LIBERTY" was originally meant to be placed on the right of Lady Liberty. But at the last minute, the designer, Adolph Weinman, wanted to change it and put the word in an arc formation above her. Instead, the words "In God We Trust" was placed to her right.
The reverse, on the other hand, is just as majestic. It depicts the American Eagle perched on a mountain. On the leftmost edge, a mountain pine is seen growing from the rock.
Around the coin are the words "United States of America" on top, and "Half Dollar" at the bottom. The creed "E pluribus unum" is written on top of the mountain pine. Below the pine is the coin's mint mark, if it has one (D for Denver, S for San Francisco, and none for Philadelphia).
1937 Half Dollar Value Chart
1937 Half Dollar Value Chart
Mint Mark
Good
Extremely Fine
AU55 About Uncirculated
MS64 Choice Uncirculated
MS67 Superb Gem Uncirculated
MS68 Superb Gem Uncirculated
1937 Half Dollar Value for No Mint Mark (P)
$11
$17.50
$40
$110
$1,100
$17,000
1937 Half Dollar Value for "D" Mint
$11
$50
$140
$345
$3,250
$20,000
1937 Half Dollar Value for "S" Mint
$11
$40
$100
$300
$4,000
N/A
1937 Half Dollar Values and Varieties Guides
1937 Half Dollar Value for No Mint Mark (P)
Type: Walking Liberty Half Dollars
Edge: Reeded
Mint mark: No mint mark (P)
Place of minting: Philadelphia
Year of minting: 1937
Face value: $0.50
$ price: $10.50 to $17,000
Quantity produced: 9,522,000
Designer: Adolph A. Weinman
In 1937, the Philadelphia mint produced almost 10 million Walking Liberty half dollars—that's 75% of all the half dollars minted that year. Because of this, the no-mint-mark coin is the most common type dated 1937.
Even in average or good circulated condition, these half dollars are valued at around $11, which is 22 times its face value. In extremely fine condition, you can sell yours for around $17.50 today. In higher, circulated grades, the price increases to $40 for AU55 and $50 for an AU58+ coin.
1937 (P) half dollars are also very common even in mint-state, uncirculated gems, especially from grades MS62 to MS66.
An MS62 1937 (P) half dollar's value is estimated at $65. This price goes up to $1,100 at a brilliant coin grade of MS67. And at the near-perfect scoring of MS68, it can go up to an incredible worth of $17,000.
Of course, these prices can go even higher depending on the luster and eye appeal of the coin. For example, in 2013, an MS68 coin was sold at auction for over $35,000. That's over double its value today! Why? Because it was so clear and reflective that you can mistake it for a proof coin.
1937 Half Dollar Value for "D" Mint Mark
Type: Walking Liberty Half Dollars
Edge: Reeded
Mint mark: D
Place of minting: Denver
Year of minting: 1937
Face value: $0.50
$ price: $10.50 to $20,000
Quantity produced: 1,676,000
Designer: Adolph A. Weinman
Of the three issues of the 1937 half dollar, the coins minted at Denver are the most valuable across most grades. That said, the Walking Liberty coins produced in 1937 weren't as well-struck. But that doesn't deter collectors from splurging to get their hands on these coins.
At good, circulated condition, a Denver-minted 1937 half dollar is valued at $11—the same as its Philly-minted cousins.
But in extremely fine condition and above, the price becomes much higher than the Philadelphia coins. And AU55 from Denver, for example, is valued at $140, compared to the $40 price tag you would find on its Philly equivalent.
There are tons of mint-state 1937 D half dollars in existence, especially between grades MS63 and MS66. The prices for this coin can go anywhere from $285 to $850.
Unfortunately, the number of coins drops above that grade, making those near-perfect, superb gems very rare and therefore expensive when you find them at an auction.
If you're lucky enough to get your hands on an MS67 1937 D half dollar, you could potentially sell it for around $3,250. And if you have an MS68 coin on your hands, it can go for a whopping $20,000.
1937 Half Dollar Value for "S" Mint Mark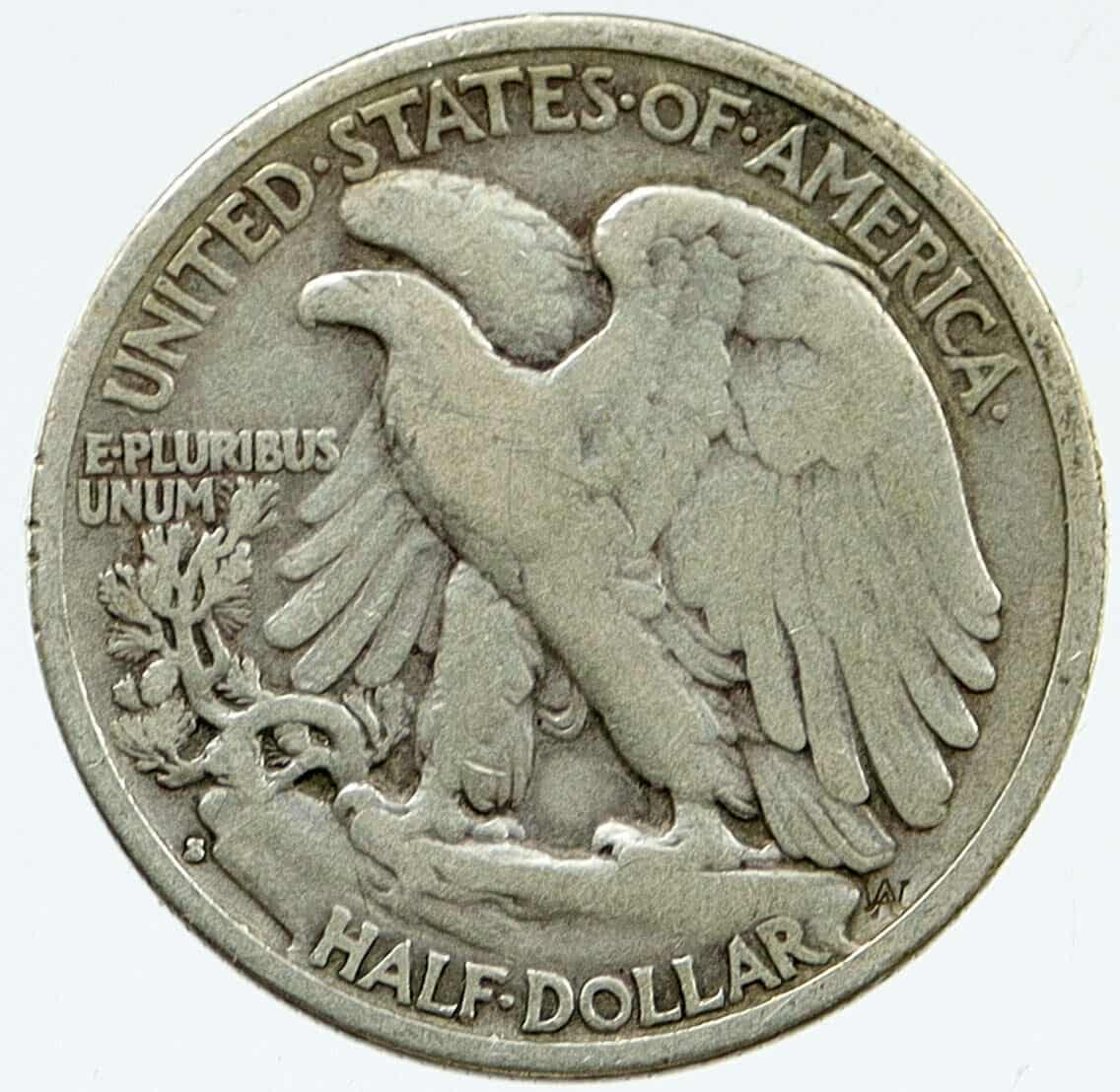 Type: Walking Liberty Half Dollars
Edge: Reeded
Mint mark: S
Place of minting: San Francisco
Year of minting: 1937
Face value: $0.50
$ price: $10.50 to $11,750
Quantity produced: 2,090,000
Designer: Adolph A. Weinman
America was not doing so well from the recession of the thirties. So, the 1937 issue of the half dollar in San Francisco was cut down by half from the previous year.
At 2 million coins minted, San Francisco still produced more coins than Denver by a hair, making the S mint mark coins slightly less scarce, and therefore less expensive. That said, they're still a lot more valuable than the Philadelphia-minted coins.
At AU55, a San Francisco-minted half dollar could cost $100, and at MS64, $300. These prices are in the middle of the Philly and Denver coins for those grades.
This changes at grade MS66 and beyond, at which the San Francisco coins become more valuable than the Denver ones. A case in point is the MS67 superb gem grade. A half dollar with an S mint mark is valued at $4,000. That's $750 more than the price for a Denver-minted one at that grade.
You can find plenty of mint-state 1937 S half dollars today, many of which are weakly struck but still beautiful to look at. At MS65, you can expect your coin to be valued at $525. This almost doubles at grade MS66, which puts your coin at $1,000.
Compared to the Denver and Philadelphia issues, this coin is especially rare at MS68. So rare that it's difficult to pinpoint an estimated value for it.
History of the 1937 Half Dollar
German sculptor Adolph Weinman won a competition thrown by the US Mint to prepare the designs for two coins—the dime and the half dollar. The latter of which would be given the Walking Liberty design, thus creating one of the most beautiful coins in US mintage.
This coin was first introduced in 1916 when America was about to be at war with Germany. So, the patriotic design full of hope and strength was welcomed by the public with open arms—so much so that there wasn't much discussion about the design.
Although there was minimal publicity and conversation about the new half dollar design, there was already huge public demand for it by early 1917.
The Walking Liberty coin may have been beautiful, but it had a problem with being weakly struck almost every time. In 1937, Assistant Engraver John Sinnock tried to improve the die design a bit to fix this problem, but to no avail.
Even then, this coin remains to be one of the most loved by coin collectors. In 2016—the anniversary of its first strike—it was even struck again in gold at the West Point mint, and then sold to the public.
1937 Half Dollar Grading
The value of your 1937 half dollar is greatly influenced by its condition. To check your coin's grade, look at the high points of the design to see how worn it is. This includes Lady Liberty's head, breast, and legs. On the reverse, check the forward wing of the American Eagle.
What you want is to find intense luster and fine texture in your coin. This means that it's likely in mint state and can be extremely valuable. When it's worn down and not as shiny, it probably means it's in circulated condition, which will be lower in value.
Here's how to thoroughly assess a 1937 Walking Liberty half dollar to determine its condition:
1937 Half Dollar Errors
1. 1937 Half Dollar Double Struck and Rotated In-Collar Error
It's one thing for a coin to be double-struck—meaning struck two times, creating a faint second image of the design on the planchet. But it's another thing to also be rotated in-collar.
That means the planchet moved around the collar of the die machine before the second strike was made. As a result, the second strike's design might be stamped at a completely different, rotated angle, giving it a unique look.
An AU58 1937 half dollar coin with this error is known to have sold for $575 at auction.
2. 1937 S Minor Lamination
Many mint errors increase the value of a coin. But other errors might lower its price. One example of this type of error is minor lamination, which has been found in a 1937 S half dollar.
When there's lamination on a coin, it means that its metal is starting to flake off, thanks to impurities in the metal. Sometimes, depending on how the lamination looks, the mint error increases the price of the coin.
But it doesn't happen all the time. In fact, in 2019, an MS64 1937 S half dollar was sold for $120—lower than its current value of $300—because of a minor lamination.
Look for more errors and rare grades on your 1937 half dollar coins with the help of this interesting video:
1937 Half Dollar FAQs
How much silver is in a 1937 half dollar?
A 1937 Walking Liberty half dollar coin is composed of 90% silver. The remaining 10% is made of copper.
How can you tell if a half dollar is rare?
Your half dollar is rare and likely very valuable if it's graded as mint-state. Half dollars with grades like MS67 and MS68 have been known to sell for over $20,000, making them extremely valuable.
Another thing that makes half dollars rare is strange mint errors that make them unique. Common coin errors you might see in half dollars include a double strike, an off-center strike, and coins made from misaligned dies.
What is the rarest half dollar?
The rarest known half dollar in modern times is the 1964 Kennedy half dollar, which had a grade of SP68 (a specimen coin in near-perfect and lustrous, silver-toned condition). Coin experts believe that there are only about five of these in existence, making them incredibly valuable.