You can find out everything you need to know about the 1948 quarter here if you've ever wondered if it's worth anything. Despite its total value and types or varieties, the 1948 quarter has not been fully explained.
This article will be all about providing you with a comprehensive understanding of the 1948 quarter, its place in history, and its potential as a financial investment. By considering all relevant factors, you can make informed decisions when evaluating the 1948 quarter for the purposes of buying or selling.
Without further ado, let's begin.
1948 Quarter Detail
Below are some of the essential details related to the 1948 Quarter.
Type: Washington Quarters
Mint: Philadelphia, San Francisco, Denver
Designer: John Flanagan
Composition: Silver
Fineness: 0.9
Edge: Reeded
Diameter: 24.3mm
Weight: 6.25g
Mintage: 35,196,000
Melt Value: $4.08
Also Read: Top 15 Most Valuable Quarters In Circulation
1948 Quarter Value Chart
| | | | | | |
| --- | --- | --- | --- | --- | --- |
| Mint Mark | Extremely Fine | MS63 | MS65 | MS67 | MS68 |
| 1948 (P) Washington Quarter | $8.77 | $12 | $30 to $456 | $114 to $174 | $2,818 to $4,600 |
| 1948 D Washington Quarter | $8.77 | $16 | $42 to $70 | $240 to $360 | $2,280 to $3,480 |
| 1948 S Washington Quarter | $8.77 | $12 | $30 to $86 | $149 to $408 | $13,200 to $23,500 |
1948 Quarter Value and Varieties Guides
It may seem quite surprising to learn that around 68 million such coins were minted in Denver, Philadelphia, and San Francisco. And out of all the three mints, the highest production of these coins took place at the Philadelphia Mint.
However, all in all, there have been three main varieties of the Washington quarter in 1948.
1948 (P) Washington Quarter Value
Type: Washington Quarter
Mint: Philadelphia
Designer: John Flanagan
Mint Mark: No mint mark
Composition of Coin: 10% Copper, 90% silver
Quantity produced: 35,196,000
Price: $7 to $20
Face Value: $0.25 (twenty-five cents)
The 1948-P Washington quarter, produced by the Philadelphia Mint, is quite a significant coin for the collector communities. With a total mintage of 35,196,000 coins, the 1948-P quarter became one of the most frequently encountered 25-cent coins in circulation during the 1948-1949 period. This high mintage contrasted sharply with the subsequent year's output, as the Philadelphia Mint produced a significantly smaller number of quarters in 1949.
The availability of the 1948-P quarters today spans a wide range of conditions, from circulated examples to higher-grade specimens such as those rated MS-66 by professional grading services. Due to their relatively common status, prices for these coins tend to start at around $7, making them an accessible and appealing option for both new and experienced collectors.
In addition to their historical significance, the 1948-P Washington quarters are also notable for their silver content, comprising 90% silver and 10% copper. This composition adds an intrinsic value to the coins, making them attractive to collectors and investors alike. As silver prices fluctuate, the value of these quarters may also change, adding another layer of interest to their overall appeal.
Collectors seeking to complete a set of Washington quarters or focusing specifically on the Philadelphia Mint's output will find the 1948-P quarter essential. Its relatively high mintage and availability across a range of conditions make it an accessible and affordable option for enthusiasts, while its intrinsic silver value and historical context ensure it remains an enduringly popular collectible.
1948 D Washington Quarter Value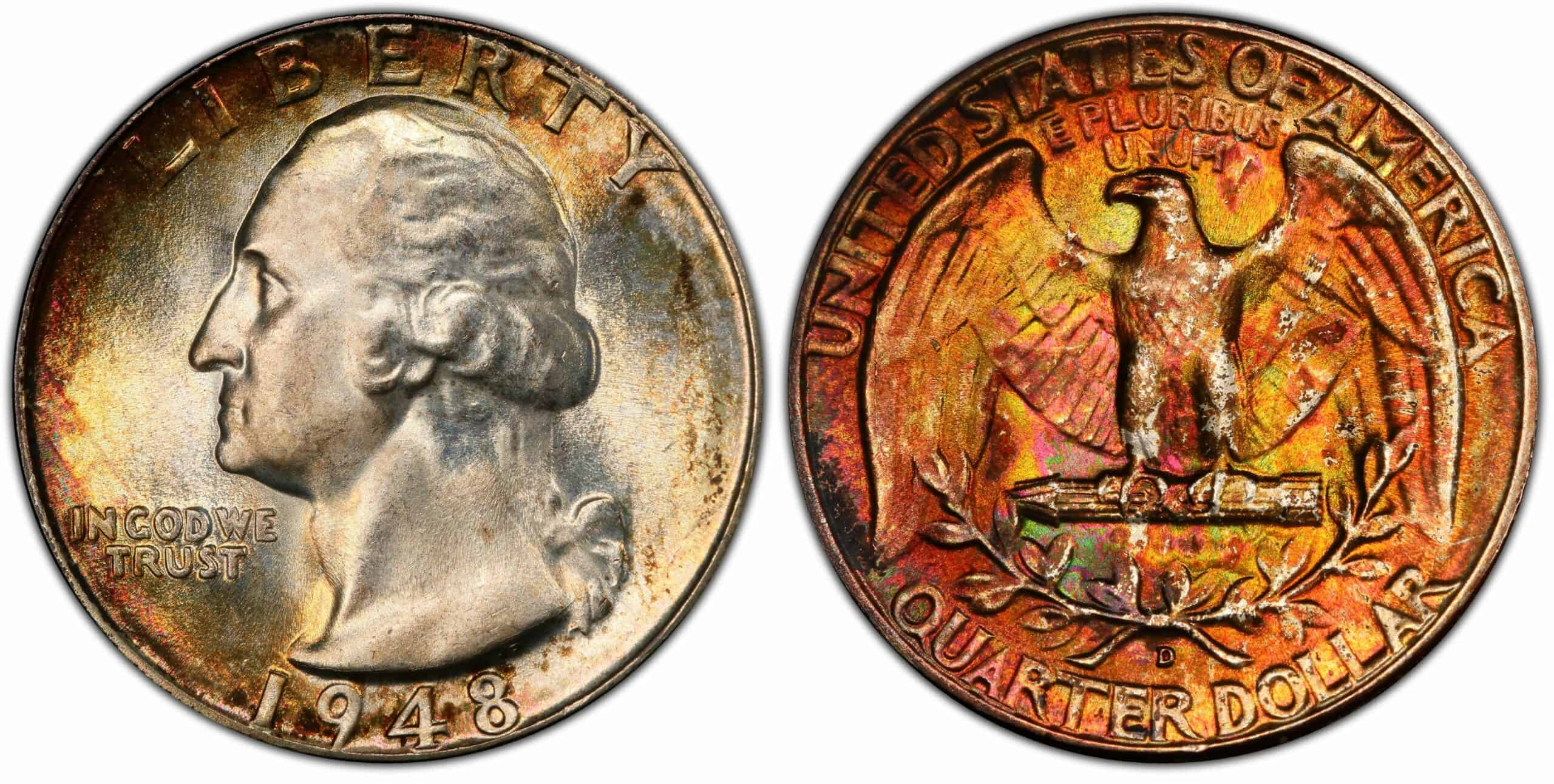 Type: Washington Quarter
Designer: John Flanagan
Mint: Denver
Mint Mark: D
Composition of Coin: Copper 10%, 90% silver
Weight: 6.30 g
Face Value: $0.25
Quantity produced: 16,766,800
Price: $7 to $20
The D mint mark appears on all 1948 quarters minted in Denver. It has a mintage of 16,766,800, this was the second high mintage at that time.
Denver Mint struck a second-highest number of 1948 D quarters after the Philadelphia Mint.
There was a peak in the Denver Mint's production of the Washington quarter as early as 1948, after which production began to decline from 1949 to 1951. Among all the 1948 quarter coins, the 1948 coins minted at Denver are considered to be the rarest one in the great state of the series. Price ranges for this specimen may range from as low as merely $7 to as high as $20 only.
1948 S Washington Quarter Value
Type: Washington Quarter
Mint: San Francisco
Mint Mark: S
Designer: John Flanagan
Weight: 6.30 grams
Composition of Coin: 10% copper, 90% silver
Quantity produced: 15,960,000
Face Value: $0.25
Price: $6 to $16
The San Francisco Mint produced the 1948 S Washington quarter. The S mint mark appears on all 1948 quarters struck in San Francisco. The San Francisco Mint produced 15,960,00 coins. The San Francisco mint didn't strike any further coins in the coming year. It could cost anywhere between $6 and $16. As far as the MS-66 grade is concerned, 1948-S is relatively standard.
Also Read: Top 16 Most Valuable Modern Quarters Worth Money
History of the 1948 Quarter
The 1948 Washington quarter was issued 70 years back and has been quite a valuable collectible for coin enthusiasts. Designed by John Flanagan, the 1948 quarter coin has a composition of about 90% silver and then there's about 10% copper. It weighs 0.1808 ounces and has a fineness of 0.9. It weighs approximately 6.30 grams with a diameter of 24.3 millimeters and a 180-degree orientation, it measures 24.3 millimeters, and the coin has reeds on the edge.
As far as the design goes, the coin features, George Washington's image on the obverse along with some inscriptions that you can easily read, including "1948", "LIBERTY," and "IN GOD WE TRUST."
There are additional elements like spread-winged bald eagles, arrows in its talon, and an olive branch underneath the arrows engraved on the reverse side. This symbolizes the United States' strength as the eagle represents war readiness through the arrows and peace through the olive branch. For the coin's reverse side, the inscriptions include "QUARTER DOLLAR", "E PLURIBUS UNUM" and "UNITED STATES OF AMERICA".
These coins were initially meant to be issued for only one year, but they have undergone many changes since the year of production. The silver content was higher at that time. After 1965, the US Mint began using copper and nickel as well.
Another thing to know as a coin enthusiast is to look for the perfect quality of 1948 quarters, and look for pristine condition to make sure that you have a coin with perfect luster. Generally, it is quite a challenge to find a higher grade or Mint State coin in this series because of the higher mintage.
Also Read: 10+ Rarest State Quarter Errors Lists (Worth Much Money!!!)
1948 Quarter Grading
Understanding the grading standards is essential when determining a coin's value and quality. Numismatists use the Sheldon Scale to evaluate coins. According to the Sheldon Scale, a P-1 is the lowest possible score, and a P-1 is the highest possible (MS-70). Coins are commonly graded based on their overall condition (Good, Fair, Excellent, etc.). Coin dealers and collectors had different understandings of these terms.
In the last category of the grading scale, the Mint State Perfect or MS70 refers to a flawless coin under 8x magnification. It is crisply struck and centered accurately on a new planchet. It is extremely rare to find a coin in such pristine condition. With its original luster and stunning aesthetic appeal, it retains its original beauty.
Even the MS69 or Almost Perfect Mint State shares that the coin should be exceptionally bright and lustrous with a flawless strike and a remarkable appearance. The coin is nearly perfect, with slightly beveled edges, strike errors, and contact labeling imperfections (all visible at 8x magnification).
List of 1948 Quarter Errors
There were several error coins produced for the 1948 quarter series.
Compared with San-Francisco and Philadelphia quarters, Denver Mint quarters were regarded as more attractive. There were, however, some San Francisco coins that had the appearance of proof coins. The dies were freshly polished, which caused this effect.
There was a lack of quality control in Philadelphia. Therefore, more 1948 quarters from Philadelphia mint were less detailed and appealing. The 1948 quarter coin errors included broad strikes, doubled-die strikes, off-center strike errors, planchet errors, strike-throughs, etc. Below are some of the details for a few significant errors in the 1948 quarter coins.
1. 1948 Quarter Double Die Obverse
One of the most noticeable errors in the 1948 quarter is the error, known as, S-over-S. It is caused when the mint symbol is accidentally struck twice over the coin surface. Consequently, the S mint mark appears doubled. On S-over-S, errors, on the other hand, appear to be uncommon in general. When you observe the inscription of "STATES," the final S appears to be connected with another inverted S. There are coins like this that sell for thousand dollars or more.
2. 1948 Quarter Off-Center Strike
An off-center strike occurs when the coin blank, or planchet, is improperly fed into the coining press. This error results in an off-center design with partial or missing details. Off-center 1948 Quarters are relatively scarce, and their value depends on the severity of the misalignment.
3. 1948 Quarter Clipped Planchet
A clipped planchet error happens when a portion of the coin blank is missing before striking, typically due to a malfunction in the blank-cutting process. Clipped planchet 1948 Quarters exhibit an irregular, curved, or straight edge with missing design elements, increasing their collectible value.
4. 1948 Quarter Die Crack
Die cracks occur when the coining die develops a crack or fissure. As a result, a raised line or series of lines appear on the struck coin, often resembling a spiderweb pattern. Die crack 1948 Quarters can range from subtle to pronounced, affecting their value accordingly.
5. 1948 Quarter Repunched Mintmark (RPM)
In 1948, mintmarks were punched manually, sometimes resulting in misaligned or doubled mintmarks. The repunched mintmark error is characterized by a partially or fully visible secondary mintmark overlapping or adjacent to the primary one. RPM 1948 Quarters are considered rare, making them highly sought after by collectors.
1948 Quarter FAQs
1. What is the value of a 1948 no-mint quarter?
The value of a 1948 no-mint quarter can vary significantly depending on its condition and rarity. Typically, the market value for such a coin hovers around $3.90. However, some collectors might be willing to pay up to $4 for a quarter with exceptional face value. In terms of melt value, which is based on the coin's silver content, it can reach as high as $4.
It is important to note that the value of a coin can increase dramatically if it is in uncirculated or mint condition. Collectors have sometimes spent thousands of dollars to acquire high-quality 1948 quarters. For instance, in March 2021, a 1948 Washington quarter was sold for an impressive $43,200. This price demonstrates the potential value of such coins when they are preserved in pristine condition. When assessing the value of a 1948 no-mint quarter, it is crucial to consider factors such as the coin's overall condition, rarity, and demand among collectors.
2. What is the current value of a 1948 Silver Quarter?
The current value of a 1948 Silver Quarter, specifically the Washington Quarter, ranges from $4.60 to $7, During the following year, 1949, no quarter coins were produced by the San Francisco Mint.per the NGC Price Guide in March 2023. This valuation is based on factors such as the coin's condition, rarity, and collector demand. However, its value can increase significantly when the quarter is found in pristine, uncirculated condition.
High-quality 1948 Silver Quarters have been known to sell for up to $4150 on the open market, making them an attractive and potentially lucrative investment for coin enthusiasts and collectors alike. It is important to remember that market conditions and collector interest can fluctuate, so it's wise to monitor trends and consult reputable sources when determining a coin's worth.
3. In 1948, what metals did the quarters consist of?
The silver content of the 1948 quarter is 90%, while the copper content is 10%. This item's actual silver weight (ASW) is 0.1808 ounces, and its purity is 0.9. A reeded edge may be seen on the 1948 25-cent piece. It is heavier than the quarter coins in circulation today, reaching 6.30 grams.
4. Does the 1948 quarter include any silver?
The silver content of the 1948 quarter is 90%, while the copper content is 10%. The real silver weight of this item is 0.1808 ounces, and its purity is 0.9. A reeded edge may be seen on the 1948 25-cent piece.