Planning to add something to your coin collection? Before doing the work, it's imperative to have an understanding of how old coins are appraised and how these have been modified throughout the years. So, in this article, we will focus on uncovering the 1974 quarter value, together with its varieties and errors.
On top of that, we will discuss some of the key features of the coin, from its minting locations to its physical characteristics. Without further ado, here are all the things that you ought to know about this Washington Quarter coin.
1974 Quarter Details
Category: Washington Quarter
Mintage: Philadelphia, San Francisco, and Denver
Total mintage: 1,157,228,868
Obverse designer: John Flanagan
Reverse designer: John Flanagan
Edge: Reeded
Diameter: 24.3 mm
Thickness: 0.069 inches
Composition: Nickel and copper
Weight: 5.67 grams
In 1974, over a billion Washington Quarters were created. The 1974 Quarter was produced from three US Mints, and these were in Philadelphia, Denver, and San Francisco. The design of the 1974 Quarter coins took into account the original creation drafted by John Flannagan, a distinguished sculptor.
From the category of the coinage itself, this gave emphasis to the first president of the USA, George Washington. He served the country from 1789 to 1797 and led the Continental Army during the American Revolution. He was also a prominent figure during the drafting of the U.S. Constitution.
The obverse side showcased a left-facing portrait of the former leader, along with two meaningful words―LIBERTY on the upper area and IN GOD WE TRUST on the left. The year of minting is also etched on the front side of the coin.
Conversely, the other side engraved an image of the American Bald Eagle with outspread wings. It has talons that clawed a bunch of arrows, both of which symbolize war. And just below the arrows are olive leaves and the QUARTER DOLLAR mark.
Other markings on the reverse side are the UNITED STATES OF AMERICA and E PLURIBUS UNUM. Although this particular Washington Quarter is part of the nickel-clad copper composition, there were certain specifications in the elements incorporated in the coin.
The 1974 Quarters used cupronickel, which is actually copper that comes with nickel and other key elements. Accordingly, there isn't any difference in the weight of these coins, which is 5.67 grams. Meanwhile, the thickness is around 0.069 inches and the diameter is 24.3 mm.
1974 Quarter Value Chart

Mint Mark
XF
MS65
MS67+
PR63
1974 No Mint Quarter Value
$0.30
$5.7
$2,115
―
1974 D Quarter Value
$1
$9.1
$1,450
―
1974 S Quarter Value
―
―
―
$4.5
1974 Quarter Value and Varieties
There are three varieties of Quarter coins produced in 1974, and these were based on the locations where the pieces were struck. For quarters minted in Philadelphia, there are no mint marks while those generated in Denver have D and S for San Francisco.
During this year, Philadelphia had the highest number of quarter coins, followed by Denver. Meanwhile, the coins struck in San Francisco were all proof. Hence, these were only limited to around 2 million. Although all these coins were produced in the same year, the value of the quarters varies accordingly.
Several factors affect the valuation of the coins, from the type of coin to its current condition. To better understand this, let's discuss each classification one by one, starting with the 1974 Quarter No Mint.
1974 No Mint Mark Quarter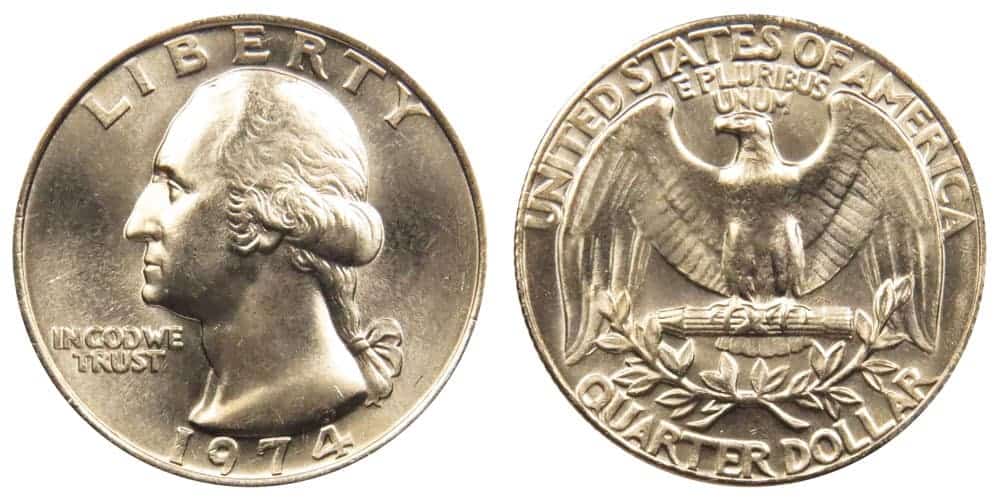 Type: Washington Quarter
Edge: Reeded
Mint mark: None
Place of minting: Philadelphia
Year of minting:1974
Face value:$0.25
$ price:$0.25 to $2,115
Quantity produced: 801,456,000
Designer: John Flanagan
In the past, the US Mint in Philadelphia did not use any mint mark for the coins that they produced. And this was evident during the year 1974 when more than 800 million coins were generated. The general price of 1974 Quarter No Mint starts at $0.25, which is the current face value.
However, the worth of the coin can easily ascend, especially those that were graded with MS. For instance, an MS65 is estimated to be around $5.7. On the other hand, a certain sale in 2020 recorded an MS67+ coin priced at $2,115.
1974 D Quarter
Type: Washington Quarter
Edge: Reeded
Mint mark: D
Place of minting: Denver
Year of minting:1974
Face value:$0.25
$ price:$0.25 to $9.13
Quantity produced: 353,160,300
Designer: John Flanagan
More than 350 million coins were struck in Denver, and most of these were distributed for public use. As a result, there are only a few thousand that are in mint condition. Circulated coins are generally worth the same as their face value, which is only $0.25.
However, if you have an extremely fine piece, it could be worth $1. Meanwhile, an MS65 can be bought for up to $9.1. And of course, higher-grade coins can be considered rare items. In fact, experts estimated an MS67+ quarter for $1,450.
1974 S Quarter
Type: Washington Quarter
Edge: Reeded
Mint mark: S
Place of minting: San Francisco
Year of minting:1974
Face value:$0.25
$ price:$0.25 to $9.13
Quantity produced: 2,612,568
Designer: John Flanagan
The last minting location was in San Francisco, where a total of 2,612,568 coins were produced. The reason for the limited amount was that these specific Washington Quarters were not meant to be circulated. Proof coins that were struck in San Francisco were designed for collectors.
And if you look closely, the physical attributes of proof coins are highly impressive. These have polished surfaces and more well-defined features because of the usage of specific dies to create a more beautiful outline. Likewise, proof coins are typically struck twice to provide a more striking look.
Because of these unique aspects, the 1974 S quarters are normally pricier compared to the other two variations. A fine condition coin would sell between $2 to $5 and a piece that is graded with PR63 can reach up to $4.5. There was even a PR70 coin that was valued and traded for $10,925.
Also Read: Top 15 Most Valuable Quarters In Circulation
1974 Quarter History
The Washington Quarter is a long-running coinage that commenced in 1932. It served as a replacement for the Standing Liberty Quarter. So, in 1931, the US Congress declared a competition for the new Quarter design to commemorate the 200th anniversary of the birth of George Washington.
And it was John Flanagan's work that won the contest. At first, the Washington Quarters were supposed to be circulated for only one year. But with immense acknowledgment from the public, it was continuously produced and even lasted for many decades.
Over the past years, there have been several changes in the composition to keep up with the supply of materials as well as the current economy. And the 1974 Quarter is part of the clad composition, consisting of both copper and nickel.
Before the clad composition, Washington Quarters were actually made of silver and copper. This was changed in 1965 because of the restricted supply of silver, hence the Coinage Act of 1965. So, from 1965 to 1974, copper and nickel became the primary elements of the Washington Quarters.
The 1974 Quarters were the last Washington Quarters minted before the Bicentennial coins were struck. To prepare for these relevant coins, there were no quarter coins released in 1975. Quarters that were created in 1975 were combined and circulated in 1976.
As a result, the total number of coins released in 1976 was very high. Philadelphia and Denver had over 800 million each. On contrary, San Francisco minted both uncirculated and proof coins, totaling up to 15.9 million. Some of these coins were nickel-clad while others are silver-clad.
Also Read: Top 16 Most Valuable Modern Quarters Worth Money
1974 Quarter Grading
When it comes to grading a 1974 Quarter or any other coin, it's crucial to consider different aspects. These include whether the coins are circulated or uncirculated. Likewise, coins with higher MS grades and proof coins with faultless features are definitely valuable and enjoyed more by collectors.
Also Read: 10+ Rarest State Quarter Errors Lists (Worth Much Money!!!)
List of 1974 Quarter Error
There were a couple of production errors during the 1974 mintage of Washington quarters. One of the reasons for the manufacturing flaws is the high mintage. During this year, the production reached more than a billion coins.
But when it comes to errors, these actually improve the value of the coin. Some coins with unique features are appraised at a higher price compared to standard ones. Therefore, it's important that you have a certain knowledge of the errors to give you a clearer grasp of the current valuation.
1. 1974 Quarter Off-center
If you come across a 1974 Quarter with an off-center design, you're a bit lucky because the worth of this coin is a bit higher than the normal Washington quarters. Most of these range from $20 to $50 or even more, especially if these are in mint state.
Off-centers transpire when the die is not struck on the spot. As a result, the designs are generally closer to the edge. More so, the grading of these coins takes into account the off-center percentage. Coins with higher off-center are more valuable, as long as the year of minting is still visible.
2. 1974 Quarter Struck on Silver Planchet
1974 Quarters were generally struck on a planchet made of nickel and copper. However, there were claims that some coins used a silver planchet by accident. This was in relation to the Bicentennial coins that were produced between 1975 and 1976.
During this two-year period, the US mints generated not just nickel-clad coins but also silver-clad pieces. And it was said that some coins had silver elements on the surface. And if you find a piece of this rare Washington Quarter, make sure to have it assessed by an expert.
It's because some could actually be counterfeit items. Meanwhile, authentic ones with this production error can be valued at a thousand dollars or even more.
3. 1974 Quarter Clipped Planchet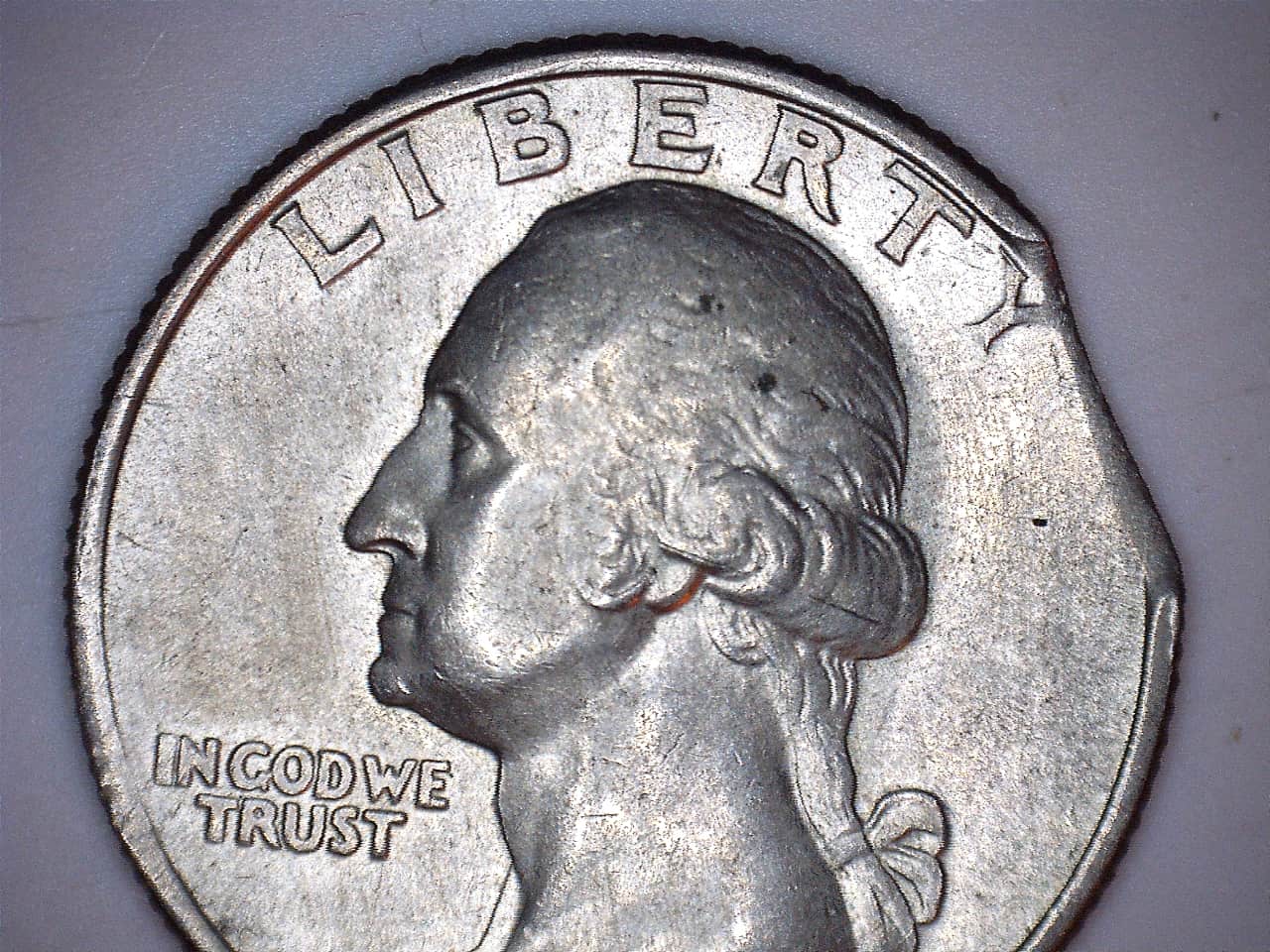 Some 1974 Quarters had clipped planchet issues. These were coins that appeared to have a deformed edge or broken surface. A clipped planchet occurs due to incorrect placement of the metal sheet, resulting in flaws on the surface.
Just like the off-center error, the bigger the clip error, the higher the value of the coin. But of course, the minting year should be evident for it to be worthy of grading. The current value of these coins on eBay is around $14, and most of these were from Philadelphia Mint.
1974 Quarter FAQ
1. Is a 1974 quarter worth anything?
Yes, a 1974 Quarter can actually be more than its face value. If the coin is in mint condition, it could be worth between $5.7 to $9.1. Higher grades may even be sold for around $1,450 up to $2,115. Therefore, it's vital that you thoroughly check the condition of the coin because this can be a rare piece!
2. What is rare about a 1974 quarter?
One of the aspects that make the 1974 Quarter distinct is the fact that some coins produced during this year were made of silver and copper instead of the usual nickel and copper combination. And if you have this piece in your possession, you're lucky because this is definitely one of a kind.
3. How much is a 1974 quarter?
The value of a 1974 Quarter is significantly reliant on a series of factors. Circulated ones in good condition typically follow their face value. However, uncirculated coins are sold higher, around $0.30 to $1. Moreover, MS-graded quarters are in-demand, hence the pricier rate.
Some could even be sold for over a thousand dollars or more, depending on the MS grade. And proof-coins, which are very attractive for collectors, are definitely expensive.
4. How much is a 1974 quarter worth with a mint mark?
Both Denver and San Francisco engraved their mint marks on the coins. So, if you appraise coins, you simply look for the mint marks on the obverse side of the coins.
1974 D quarters can be sold from $1 up to $9.1, though pieces that have retained their original luster with minimal contact marks can be priced at $1,450. On the other hand, the value of a 1974 S Quarter starts at $4.5 and may soar up to ten thousand dollars, especially if you've got a mint condition with sharp designs.