In this article, we will explore the significance of dimes in the history of a nation, using the 1969 dime as an example. It's always fascinating how something as little as dimes hold importance in the history of one's country. The 1969 dime is a prime example of this, as it reflects the critical events in the United States during that year. The dime's unique designs and variations make it a valuable piece of history.
We will examine the 1969 dime values, its remarkable history, and how it was created. We will also look at the rarities and varieties of the dime, which are known to impact its worth in today's market.
1969 Dime Value Details
Category: Roosevelt Dimes
Mints: No Mint Mark
Total Mintage: 145,790,000
Obverse Design: Franklin D. Roosevelt
Reverse Design: Torch of Liberty with Olive Branches
Designer: Chief Engraver John Sinnock
Edge: Reeded (115 reeds)
Diameter: 17.9 mm (0.70 inches)
Thickness: 1.35mm (0.00135 inches)
Composition: 75% Copper and 25% Nickel
Weight: 2.27 grams
1969 Dime Value Chart
Here is a value chart based on the 1969 Dime's condition from NGC Coin Explorer:
1969 Dime Value Chart

Mint Mark
Extremely Fine
58
65
67
1969 P Dime Value
$0.15
$0.25
$15
$250
1969 D MS Dime Value
$0.15
$0.25
$10
$35
1969 D MS (Full Torch) Dime Value

–

–

$50

$625

1969 S (Prooflike) Dime Value

–

–

$4

$8.50
1969 Dime Values And Varieties Guides
1969 No Mint Mark Roosevelt Dime Value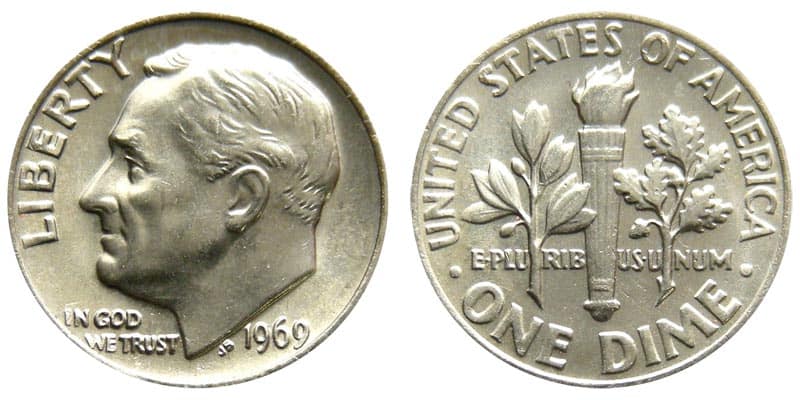 Type: Roosevelt dime
Edge: Reeded
Mint mark: None
Place of minting: Philadelphia
Year of minting: 1969
Face value: $0.10
$ Price: $0.15 – $250
Quantity produced: 145,790,000
Designer: John Sinnock
The 1969-P (No Mint Mark) Roosevelt Dimes had a high circulation of over 145 million but are rare in MS67 and even rarer with Full Bands designation, with less than a dozen known examples. No higher-graded coins have been certified by PCGS.
A 1969 Roosevelt Dime in average condition is worth approximately 10 cents, while one in mint state condition could be valued at around $6. This estimation is not based on a standard coin grading scale but rather on the coin's condition compared to others circulated in 1969. If the coin is certified as a mint state by one of the top coin grading companies, it could fetch a higher price at auction.
Collectors have gotten proof versions of the Roosevelt Dime series since 1950. It's relatively easy and inexpensive to put together a complete set of these proofs (without varieties) in good condition, making it a good option for beginners who want to collect 10-cent pieces.
1969 D Roosevelt Dime Value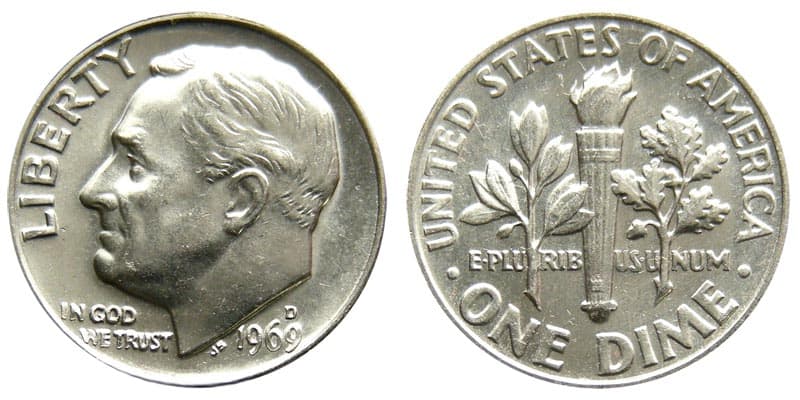 Type: Roosevelt dime
Edge: Reeded
Mint mark: D
Place of minting: Denver
Year of minting: 1969
Face value: $0.10
$ Price: $0.15 – $35
Quantity produced: 563,323,870
Designer: John Sinnock
1969 (D) Roosevelt Dime is a coin made by the US Mint with a clad composition, meaning the outer layer is a mixture of copper and nickel, while the inner core is solid copper. Unless there are exceptional circumstances, such as rare mint errors or varieties, this coin's value is equivalent to its face value of 10 cents.
1969 (S) Roosevelt Dime Value
Type: Roosevelt dime
Edge: Reeded
Mint mark: S
Place of minting: San Francisco
Year of minting: 1969
Face value: $0.10
$ Price: $4 – $215
Quantity produced: 2,934,631
Designer: John Sinnock
The 1969-S Roosevelt Dime is highly sought after by collectors and was minted in San Francisco back in 1969. This iconic coin is a must-have in any coin collection due to its unique and shiny appearance and the frosted-like design that appears to be floating. Its highly reflective finish adds to its allure, making it a true classic among coin enthusiasts. For this reason, this variation of the 1969 Roosevelt Dime is undoubtedly one of the most popular coins among collectors.
Also Read: Top 15 Most Valuable Indian Head Penny Worth Money
1969 Dime Value History
The Coinage Act of 1965 resulted in a change in the dime's composition. It was made up of 90 percent silver and 10 percent copper previously, but now it is a copper "sandwich" coated with an alloy containing 91.67 percent copper and 8.33 percent nickel. The new composition was selected because it had similar weight and electrical features to the old one but contained no valuable metals.
Since 1968, mintmarks have been placed above the date on dimes. Except during 1965-1967 when no mintmarks were used, and Philadelphia did not have a mintmark until 1980. In 1982, a few dimes were mistakenly produced without the "P" mintmark, making them more valuable. In 1996, to celebrate the 50th anniversary of the dime's design, a "W" mint-marked dime was produced at the West Point Mint and included in mint collections, with 1,457,000 dimes released.
The Roosevelt Dime was first minted in 1946 to honor President Franklin D. Roosevelt and his efforts with the National Foundation for Infant Paralysis (or March of Dimes) to eradicate polio. This coin replaced the Mercury Dime or the Winged Liberty Dime.
The design, created by John R. Sinnock, features Roosevelt's bust on the obverse side with the motto "In God We Trust" and the word "Liberty" to the left of the portrait, Sinnock's initials, and the year of mintage.
The reverse side features an upright torch representing liberty with olive branches and the words "E Pluribus Unum," "United States Of America," and "One Dime."
The design faced controversy due to rumors that the initials "JS" were those of Soviet leader Joseph Stalin. The dime has undergone minor modifications over the years to compensate for wear and meet demand, but there are no rare dates in the series.
When it was first made, the coin had 90% silver, but later they changed it to a different material. The design has remained relatively unchanged since its introduction, except for eliminating silver in 1965.
One of the many fascinating things about the 1969 Dime was that it was minted during a time of great social and political upheaval in the United States.
This was the year of the Apollo 11 moon landing, the Woodstock music festival, and the Vietnam War. In addition, the United States was in the midst of a numismatic renaissance, as the hobby of coin collecting was growing in popularity.
Older dimes with the familiar Franklin D. Roosevelt design may have 90% silver, and these are most likely to be found in pocket change. Check the coin's edge to determine if it is silver—a solid silver stripe means silver, and a copper stripe represents clad. A muted silver line with small amounts of copper means it may be 40% silver.
The 1969 Dime represents a time of change and transformation in American history and serves as a fascinating artifact of this era.
Also Read: Top 15 Most Valuable Roosevelt Dimes Worth Money
1969 Dime Value Grading
The condition of a coin is an important factor in determining its value, and the same is true for the 1969 dime. The most widely used grading system for coins is the Sheldon scale, which ranges from 1 (poor) to 70 (perfect).
Check out this YouTube video to learn about 1969 dimes. It covers the coin's rarity and current market value.
A 1969 Dime that is in uncirculated condition (i.e. never used in commerce) will typically receive a grade of MS-60 or higher, while a circulated coin may receive a grade ranging from AU-50 to XF-40.
Lists of 1969 Dime Value Error
Like many coins, the 1969 dime has several error varieties that are highly sought after by collectors. These errors can significantly increase the value of a 1969 dime and add a level of excitement to collecting.
1. 1969 (D) Roosevelt Dime Double-strike Error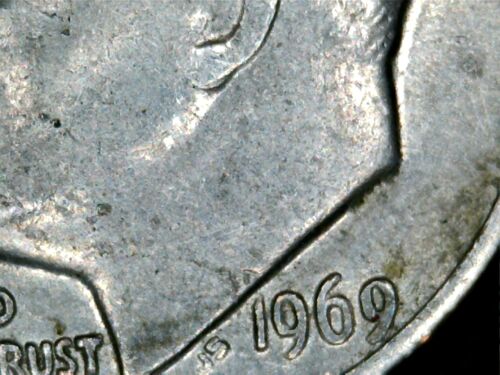 Estimated Price: $100
A 1969 dime from the Denver mint has a unique error, where the details were placed on the wrong planchet resulting in a double-strike with a 90% off-center detail. It also has straight clips on its sides.
Collectors or miners would find this error coin interesting. Selling or purchasing this coin in excellent mint condition is highly recommended as they are very rare and valuable.
2. 1969 (D/D) Roosevelt Dime Repunched Error
Estimated Price: $100
Collectors highly value punched Roosevelt dimes because of a rare error that can occur in the top right of the letter "D," which prevents them from being released into circulation by the mints. Due to this error, the dimes were produced in limited numbers, resulting in a high level of rarity if sold in today's market.
Normally these coins are taken out of circulation. Still, a few 1969 dimes from the Denver mint with this mistake were put into circulation in small numbers. Because of this, they are very rare and can sell for at least $100 if in perfect condition.
3. 1969 (D )Roosevelt Dime Missing Clad Layer Error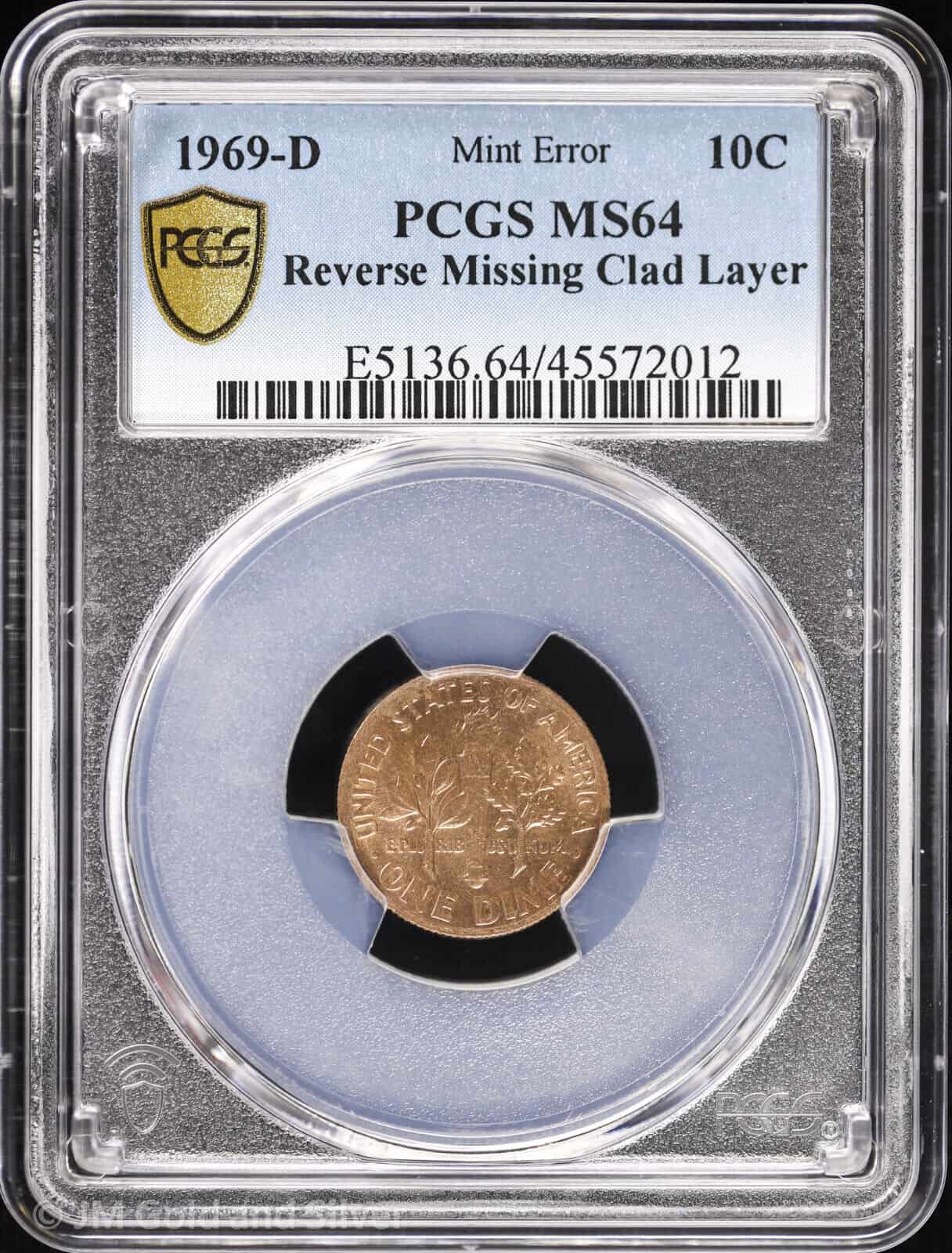 Estimated Price: $50 to $62
In 1969, the United States Mint produced Roosevelt dimes missing the nickel-clad layer on either the obverse (front) or reverse (back) side of the coin. This error caused the dime to have a copper appearance rather than the silver-colored appearance of a regular dime.
The missing clad layer error occurred during the minting process when the nickel-clad layer failed to bond properly with the copper core of the dime. As a result, some dimes were struck with only a copper core and no nickel-clad layer.
4. 1969 (D) Roosevelt Dime Off-Center Error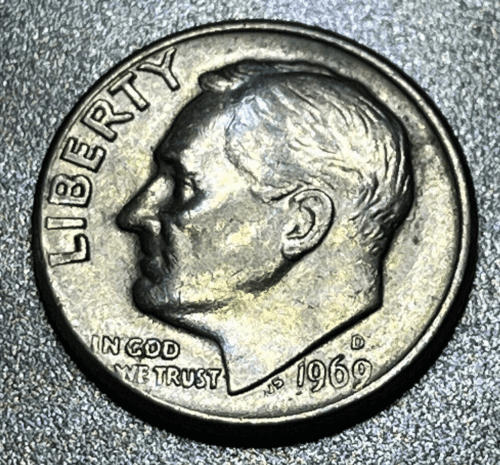 The coin has a rare defect where it was struck at an angle (8:30 angle), causing part of it to wrap around the obverse die. This resulted in the obverse layer being separated from the rest of the coin, leaving a mirror image on the untoned reverse with a light gray-gold color.
Other 1969 errors that possibly be in existence are:
Clipped Planchet
Blank Planchet
1969 Dime Value FAQs
1. What is special about a 1969 dime?
According to the Coin Appraiser, The 1969-D Roosevelt Dime is considered special because its unique composition sets it apart from other dimes minted before and after it. This dime comprises three layers, consisting of a pure copper core sandwiched between two outer layers of copper-nickel alloy.
2. How can you tell if a dime is a proof?
You must closely examine its surface to see if a dime is proof. Unlike regular coins, proof coins are struck twice, giving them a refined finish. This results in a much shinier and clean-looking surface that reflects light better. As a result, you should look for a mirror-like background on the dime's surface to determine if it's proof.
3. Does a 1969 dime have silver?
To determine if a 1969 dime is silver, you must check if it was minted in Philadelphia or another location. If it was minted in Philadelphia, it is not silver but a blend of copper and nickel.
4. What year of a dime is valuable?
The 1964 clad Roosevelt dime is the most valuable year of the dime. It is considered rare, and only a few specimens exist, and they are worth four figures or more, as reported by the Greysheet News.
Conclusion
In conclusion, the 1969 dime is a fascinating piece of American history that continues to spark interest and curiosity among collectors. Its value may vary based on its condition, mint mark, and varieties. Still, the 1969 dime will remain a part of a genuine coin collector no matter how time has passed. If you have one, it's time to check for its variety and error. Who knows, you might be keeping in the dust something that will change your life!