Do you have a 1973 quarter and would like to know if it is worth anything for coin collectors? Perhaps you would like to start collecting coins yourself and would like to know if 1973 quarters are a good place to start. Whether you are looking to buy or sell a 1973 quarter, you need to know what quarters minted that year are worth.
In this article, we explore the value of the 1973 quarter from averages to record sales. We have also included a description of the coin, its history, and errors to look out for that can make the coins significantly more valuable than their face value.
1973 Washington Quarter Details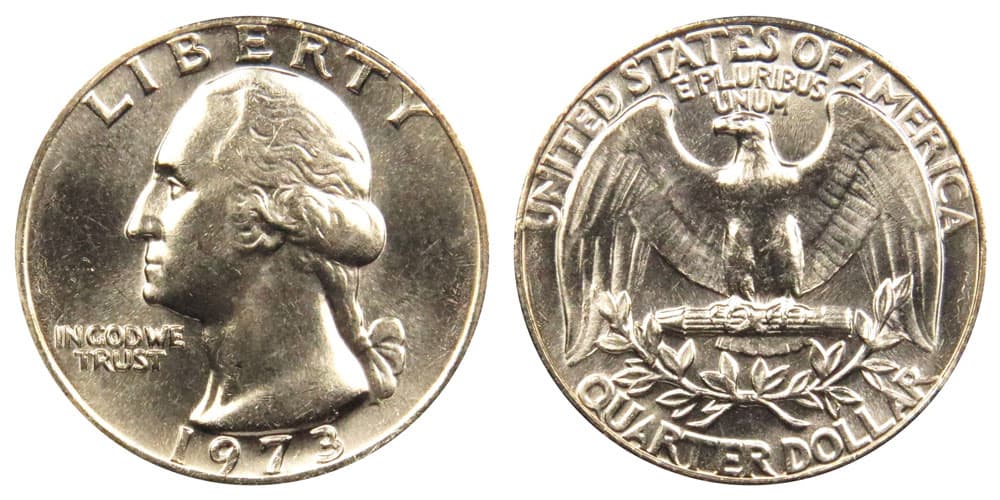 Category: Washington Quarter
Mints: Philadelphia, Denver, San Francisco (proof)
Total mintage: 582,661,739
Designer: John Flanagan
Edge: Reeded
Diameter: 24.3 mm (0.95669 inches)
Thickness: 1.75 mm (0.06889 inches)
Weight: 5.67 grams (0.2 ounces)
Composition: 91.67% Copper – 8.33% Nickel
Face Value: $0.25
Melt Value: 0.0556
The Obverse of the 1973 Washington Quarter
On the obverse of the 1973 quarter is a left-facing portrait of the first President of the United States George Washington, which gives the coin its name. Washington's hair is tied back with a bow in a style that was fashionable in his day. Above his head is the inscription "Liberty" and in front of his throat is "In God We Trust". The year of the issue, 1973, is below the portrait.
The placement of the phrase "In God We Trust" was mandated by an act of Congress in 1955. While all words are in capital letters, the date is in a slightly smaller font than the other inscriptions. The mint mark, when there is one, is located on the obverse next to the bow in Washington's hair.
The Reverse of the 1973 Washington Quarter
The reverse has an image of a bald eagle perched on a branch looking left. Its wings are spread and it is clutching arrows in its talons. Beneath its feet, are two olive branches. On the reverse are the words "United States of America" and "Quarter Dollar" together with the phrase "E Pluribus Unum", meaning "Out of many, one", the motto of the United States.
The design on the reverse of the Washington quarter was inspired by the Great Seal of the United States. The olive branches symbolize peace and the arrows are symbolic of the readiness of the United States to defend itself. The bald eagle itself is a symbol of freedom and strength and it is the national bird of the United States.
Also Read: Top 15 Most Valuable Quarters In Circulation
Value Chart
1973 Washington Quarter Value Chart

Mint Mark
MS60 – MS64
MS65/ PR65
PR67 – PR69
PR70
Most Valuable
1973 No Mint Mark Washington Quarter Value
$1 – $5
$6.81
–
–
$1,486 MS67
1973 D Washington Quarter Value
$1 – $5
$6.81
–
–
$2,750 MS68
1973 S Washington Quarter (Proof) Value
–
$4.50
$6 – $8
–
1973 S Washington Quarter CAM (Proof) Value
–
$4.50
$7 – $12
–
$5,875 PR70 DCAM
1973 S Washington Quarter DCAM (Proof) Value
–
–
$7 – $35
$2,250
1973 Quarter Value and Varieties Guide
1973 No Mint Mark Washington Quarter Value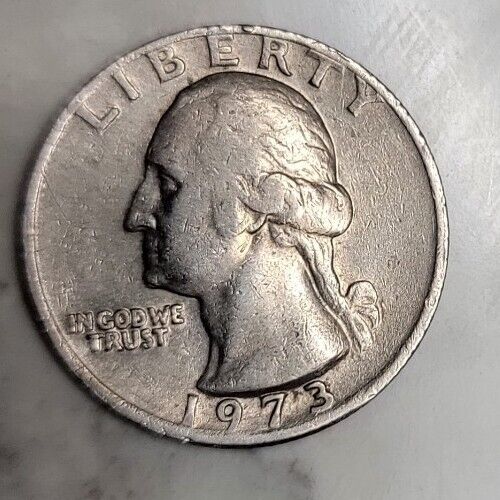 Type: Washington Quarter
Designer: John Flanagan
Edge: Reeded
Mint mark: None
Place of minting: Philadelphia
Year of minting: 1973
Face value: $0.25
Price: $1 – $6.81
Quantity produced: 346,924,000
In 1973, Philadelphia produced the largest number of Washington quarters. You can identify them from the absence of a mint mark. On the quarters minted in Denver and San Francisco, the mint mark is near the bow in Abraham Lincoln's hair. With close to 350 million 1973 Washington quarters minted in Philadelphia, most of the coins are not valuable.
Circulated 1973 no-mint mark Washington quarters are not worth more than their face value and most can be bought for 25 cents. However, quarters that are still in mint state are more valuable. For example, an MS65 graded no-mint mark dollar will be around $6. The highest amount paid for a 1973 no-mint mark quarter was $1,486 in 2013 at a Great Collections auction.
1973 D Washington Quarter Value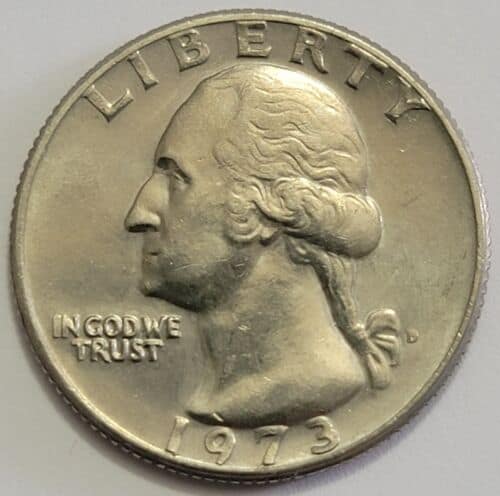 Type: Washington Quarter
Designer: John Flanagan
Edge: Reeded
Mint mark: D
Place of minting: Denver
Year of minting: 1973
Face value: $0.25
Price: $1 – $6.81
Quantity produced: 232,977,400
While fewer 1973 Washington quarters were minted in Denver, the sale prices are very similar to those of the no mint mark variety. At least when dealing with lower-grade coins. At the top end, collectors may be prepared to pay more for a 1973 D Washington quarter compared to ones with no mint mark.
The most expensive 1973 D Washington quarter was sold in 2022 on an eBay auction. It was graded MS68 by the Numismatic Guaranty Company and sold to a collector for $2,750. An MS64-graded coin sold for a far more modest $633 in a Heritage Auctions sale in 2006.
1973 S Washington Quarter (Proof) Value
Type: Washington Quarter
Designer: John Flanagan
Edge: Reeded
Mint mark: S
Place of minting: San Francisco
Year of minting: 1973
Face value: $0.25
Price: $4.50 upwards
Quantity produced: 2,760,339
In 1973, the only Washington quarters produced in San Francisco were proof specimens. These are coins intended for coin collectors and not designed for circulation. The proof coins can be identified from the S mint mark located on the obverse near Washington's bow.
Despite having been designed for collecting, 1973-proof quarters in average condition are not worth much money. It is only when the coin is marked CAM or even better DCAM that the values start to climb. PR70 DCAM proofs are typically valued at over $2,000. The most expensive 1973 S was sold at Heritage auctions in 2017 for $5,875 and graded PR70 DCAM.
Also Read: Top 16 Most Valuable Modern Quarters Worth Money
History
The Washington quarter has been issued by the United States Mint since 1932 when it was first issued to commemorate the bicentennial of George Washington's birth. The preparations for the bicentennial jubilee began already in 1924 when Congress formed the US George Washington Bicentennial Commission.
The Committee announced a competition for the design of the new coin, with the condition that the design had to use Jean-Antoine Houdon's sculpture of George Washington. There were no conditions set for the reverse design. The winner was Laura Gardin Fraser, a sculptor.
However, Treasury Secretary Mellon did not approve the design and chose a design by John Flanagan instead. Over the years, there have only been some minor changes to the Washington quarter's design. Today, the Washington quarter is still produced by the United States Mint. It is widely used in daily commerce but also collected by many coin collectors.
Also Read: 10+ Rarest State Quarter Errors Lists (Worth Much Money!!!)
1973 Washington Quarter Grading
All coins, including the 1973 Washington quarters are graded based on their condition using a scale known as the Sheldon Scale. The scale ranges from 1 to 70 with 70 reserved only for the perfect coins with no visible signs of wear and no flaws.
The scale uses a set of criteria such as the presence of any dents or scratches, the amount of detail present on the coin, and overall appearance. Coins are graded by professional coin grading services. In the United States, these services are performed by, for example, the Numismatic Guaranty Corporation (NGC) or the Professional Coin Grading Service (PCGS).
Cameo and Deep Cameo Proof Coins
The terms cameo and deep cameo are terms used to describe the contrast between the background and the design on certain proof coins such as the 1973 S Washington quarter. A cameo-proof coin exhibits a frosted, matte finish on elements of the design such as the lettering or the portrait, and a reflective finish on the background, which creates the contrast.
On cameo proofs, the contrast is usually quite subtle, with a thin visible layer of frost on the design elements. On deep cameo-proof coins, the contrast is much more pronounced. The elements in the design are deeply frosted and may appear almost white and the background is reflective and mirror-like.
This video from Numismatic Stacker delves deeper into determining cameo coins.
1973 Washington Quarter Errors
1. 1973 Washington Quarter Doubled Die Error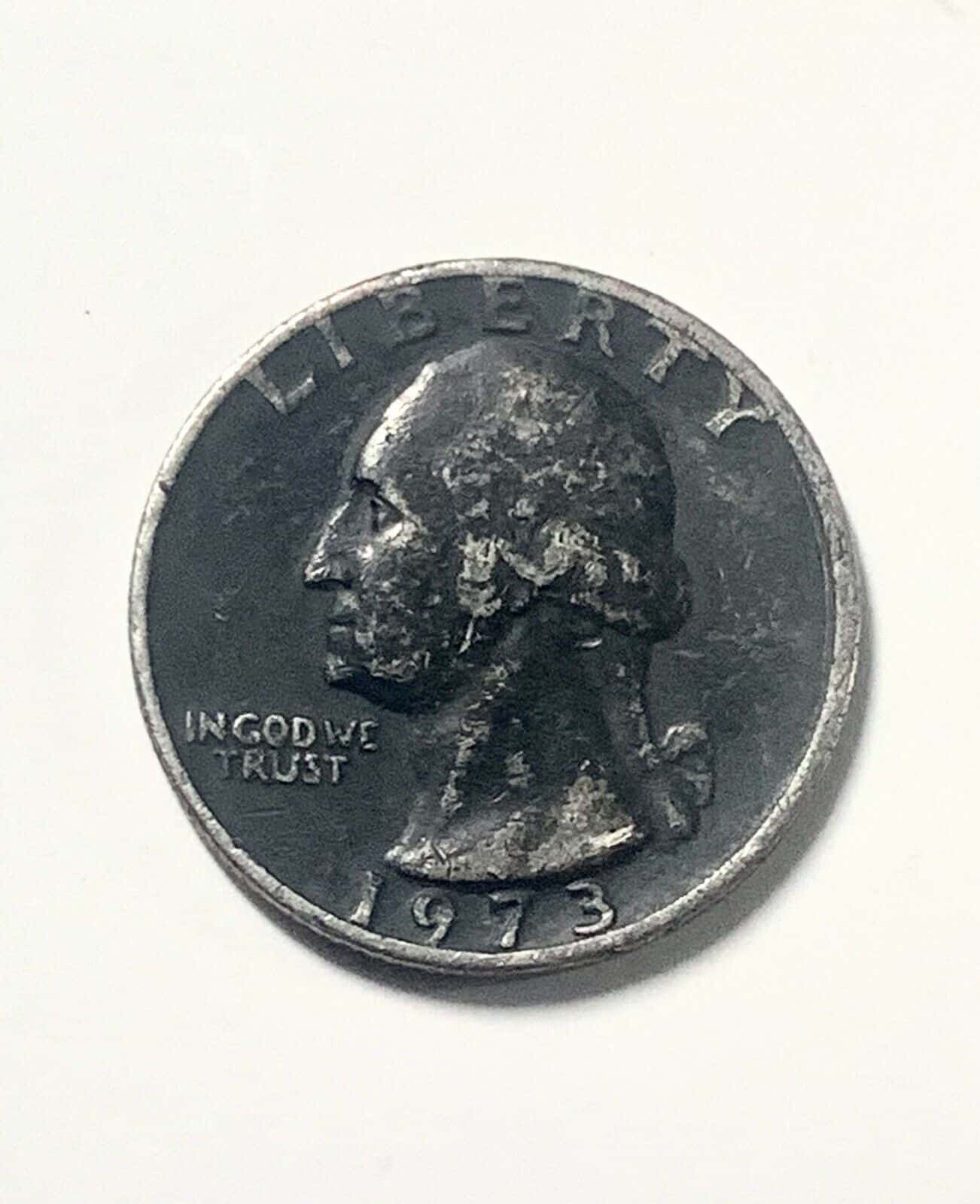 Coins with a doubled die error can be worth a lot of money. There are not that many 1973 quarters with doubled die error out there. The exact value of a quarter with a doubled die error depends on the severity of the error among other factors but you can expect a 1973 quarter with doubled die error to be worth $25 to $50 and sometimes much more.
2. 1973 Washington Quarter Off-Center Error
Sometimes coins may be struck with the image off-center. This can occur when it is struck outside of the retaining collar or when the dies are not aligned properly. Some off-center errors are minor with only a few percent, while others are more drastic.
Coins with over 50% off-center image and the date and mint mark, if applicable, still visible tend to be valued the highest, potentially upwards from $200. 1973 quarters with a less drastic off-center error are often valued between $20 and $30.
3. 1973 Washington Quarter Smooth Edge Error
The 1973 quarters should always have a reeded edge so if you find one with a smooth edge, you are looking at a quarter with an error that could raise the value of the coin. Sometimes the edge has simply worn out due to extensive wear, but other times, the smooth edge is caused by an error called a broad strike.
If the coin is wider than it should be, you are most likely looking at a coin with a broad strike error. 1973 quarters with a smooth edge due to broad strike error are valued from $20 to $30 in most cases.
4. 1973 Washington Quarter Flip-Over Double Struck Error
This is a rare error when the coin was punched once when it was inside the coining chamber. Then it was flipped over for some reason and struck again. There are only a few known 1973 quarters with this error and they can be worth hundreds if not thousands of dollars for collectors.
5. 1973 Washington Quarter Wrong Planchet Error
Wrong planchet errors occur when coins are struck on a planchet intended for a different type of coin or a different denomination. There are a few examples of this among the Washington quarters from 1973. These are the quarter struck on a five-cent planchet and the quarter struck on a proof dime planchet.
Errors caused by the use of a wrong planchet can increase the value of the coin significantly and sometimes they may be worth hundreds, perhaps thousands of dollars. However, the exact value depends on a range of factors, such as the overall quality of the coin and the rarity of the error, not just the presence of the error.
6. 1973 Washington Quarter Die Crack Error
As the die gets old it starts to show signs of wear and tear. Errors caused by old and cracked die are known as die crack or cracked die errors. Errors caused by cracked dies vary in shape and size.
They can be on any part of the coin's design and can be barely noticeable or quite prominent, affecting the appearance of the coin. The value of 1973 with a die crack error will depend on the size and location of the imperfection as well as other factors.
1973 Washington Quarter FAQs
How rare is a 1973 quarter?
The 1973 quarter is not considered rare as there were over 520 million of them produced. However, 1973 quarters with errors or in mint condition are not as common and therefore will be more valuable.
Does a 1973 quarter have silver in it?
The 1973 quarter does not contain any silver. The US Mint stopped using silver in 1965 because of rising silver prices. Instead, the 1973 quarter has a copper-nickel composition.