Looking to determine the 1960 quarter value? This article has a chart that can help you determine its worth, as well as its varieties guide and known existing errors that may be worth more than its face value of 25 cents. We'll also explain how this coin is graded and give you a quick history lesson. Use our guide to help you discover more fascinating things about that fantastic coin in your hand! In fact, it's more than just a coin. Find out here how and why.
Category: Washington Quarter
Mints: Philadelphia, Denver, San Francisco
Total Mintage: 93,855,926
Obverse Design: George Washington
Reverse Design: American Eagle with outspread wings and clutching logs
Designer: John Flanagan
Composition: 90% silver; 10% copper
Diameter: 24.3 mm (0.9566929 inches)
Mass: 6.25 grams
Thickness: 1.75 mm (0.069 inches)
Edge: Reeded
ASW: 0.18 oz
Also Read: Top 15 Most Valuable Quarters In Circulation
1960 Quarter Value Chart
Check the table below to find out how much your 1960 quarter might be worth based on its condition. Keep in mind that each coin's price value may vary depending on its varieties, errors, and demands.
1960 Quarter Value Chart

Mint Mark
MS63
MS64
MS65
MS66
MS67
1960 No Mint Quarter Value

$7.99

$10.69

$24.30

$101

$624

1960 D Quarter Value

$7.99

$10.69

$33.75

$94.00

$3,750

1960 P Proof Quarter Value

$6.02

$6.70

$10.80

$16.20

$20.25
1960 Quarter Value and Varieties Guide
Now that you have a glimpse of the possible value of 1960 quarters let's understand each variety and unique features that set them different from other silver coins minted in the same year.
1960 No Mint Mark Quarter Value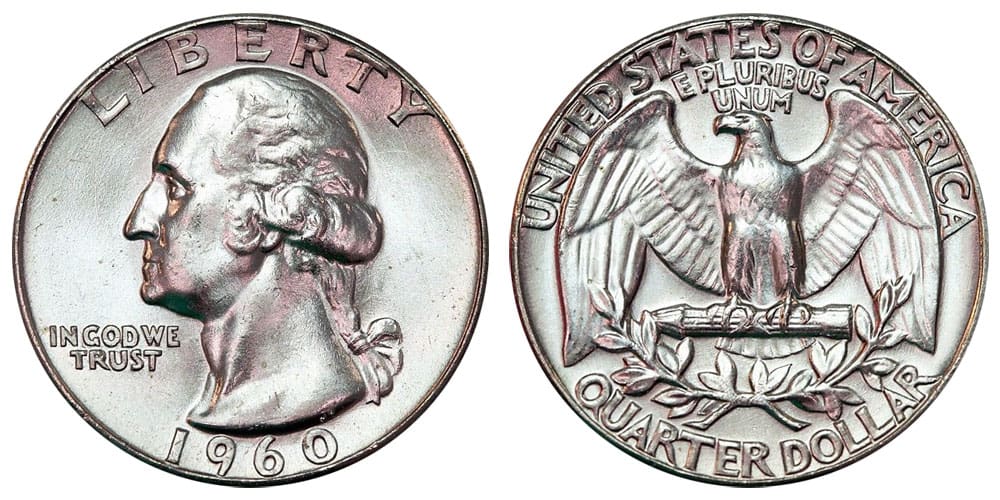 Type: Washington Quarter
Edge: Reeded
Mint mark: None
Place of minting: Philadelphia
Year of minting: 1960
Face value: $0.25
$ Price: $7.99to $624
Quantity produced: 29,164,000
Designer: John Flanagan
On March 25th, 2021, an auction was held at Stack's Bowers Auction House, where a 1960 Washington Quarter was sold at $5.040. This particular coin was graded as MS-67+ by PCGS, indicating its excellent condition. It was the highest-rated 1960 quarter ever sold in an auction.
The 1960 quarter's initial design, crafted by John Flanagan, featured a profile of George Washington on the obverse and an eagle on the reverse.
If you find a 1960s quarter without a mint mark that is worth more than its face value, you have a choice to make. You can sell it to a coin dealer for money or keep it to add to your collection. There's nothing you should do, so it's up to you. However, if you decide to sell it, make sure to find a trustworthy dealer.
1960 D Quarter Value
Type: Washington Quarter
Edge: Reeded
Mint mark: D
Place of minting: Denver
Year of minting: 1960
Face value: $0.25
$ Price: $99to $3,750
Quantity produced: 63,000,324
Designer: John Flanagan
The 1960-D quarter is considered rare above the MS 66 grade because most of the Mint State coins are heavily marked with bag marks. These coins were damaged due to the excessive trading of BU bags in the 1960s. Only a few minor RPM varieties are known to exist, despite a large number of dies being used to produce this issue.
On March 29th, 2021, the David Lawrence Rare Coins auctioned off a 1960-D quarter that had received an MS67 rating. This means that the coin was in exceptional condition, with very few blemishes or signs of wear. The winning bid for this particular quarter was $2,200, which was the highest price paid for this type of quarter in that quarter's specific rating and year of production.
Another uncirculated 1960-D Quarter can be worth up to $4000 in the open market, according to the NGC Price Guide of 2023.
1960 P Proof Quarter Value
Type: Washington Quarter
Edge: Reeded
Mint mark: None
Place of minting: Philadelphia
Year of minting: 1960
Face value: $0.25
$ Price: $$7.99 to $624
Quantity produced: 1,691,602
Designer: John Flanagan
In 1960, the Philadelphia Mint made a small number of special quarter coins called "proof coins" for collectors. They made only 1.6 million of them, which is much less than the regular coins they made. Proof coins take more effort and time to make, but they look better and have more details than regular coins.
On October 13th, 2020, a 1960 25-cent coin graded as PR69 was sold in an auction by Heritage Auctions at $144. This coin is considered to be the highest quality of its kind known to exist, with a proof rating of 69 out of a possible 70 points.
This means the coin has virtually no imperfections visible to the naked eye and is impeccable. The sale of this coin is noteworthy as it represents a rare opportunity for collectors to acquire a highly sought-after piece of numismatic history.
Also Read: Top 16 Most Valuable Modern Quarters Worth Money
1960 Quarter Value History
The Washington Quarter coin bears the likeness of the first President of the United States, was first minted in 1932 and has since been in circulation for several decades.
The 1960 quarter is a type of coin that was made by the United States Mint during the early 1960s. This coin was worth 25 cents, equivalent to one-fourth of a U.S. dollar, and was frequently used in everyday transactions during that time.
The front side of the coin, also known as the obverse, features a portrait of the first president of the United States, George Washington. "Liberty" and "In God We Trust" are inscribed on this side of the coin. The word "Liberty" represents the country's commitment to personal freedoms, while "In God, We Trust" reflects the belief that the United States is a nation under God.
On the back side of the coin, also known as the reverse, is an image of an eagle with its wings spread, clutching logs. The eagle symbolizes freedom and strength, while the arrows and olive branches represent the country's ability to defend itself and its desire for peace.
The 1960 quarter is an important part of American history and numismatics (the study of coins and currency). Many people collect coins, including the 1960 quarter, as a hobby or for investment purposes.
In 1960, the production of US silver quarters ceased, making them some of the last ones to be minted. These quarters hold value not only as numismatic coins but also as silver bullion.
Initially composed of 90% silver, the Washington quarter underwent a material transformation in 1965, when it began to be composed of a copper-nickel clad alloy. Over time, the coin's reverse side has also undergone several modifications, featuring designs such as the Colonial drummer boy in 1975 and 1976 and a series of 50 State Quarters designs beginning in 1999.
Certain Washington quarters are highly prized by collectors, such as the 1932-D and 1932-S quarters, which are notoriously rare and difficult to acquire. Conversely, some Washington quarters are more commonly available.
The 1982 and 1983 Washington quarters are considered scarce in uncirculated conditions, as no official uncirculated sets were produced during that period. Furthermore, due to economic challenges during that era, collectors often spent their uncirculated rolls of quarters.
Also Read: 10+ Rarest State Quarter Errors Lists (Worth Much Money!!!)
1960 Quarter Value Grading
According to the Coin Study, the worth of a 1960 quarter relies on its state. If a quarter appears like it's never been used and looks clean and shiny, it's worth the most money. Quarters with some wear are worth less because they may have lost some details, like George Washington's picture.
1960 Quarters with even more wear are worth even less because they may have flattened areas on Washington's hair. However, even if quarters are very worn, they can still be worth something if they have all the essential details.
Check out the video about the 1960-quarters value depending on its rarity and condition.
List of 1960 Quarter Value Errors
Various errors occurred during the process of minting quarters in 1960, although these were not widespread. These errors may happen in either of the three minting states: Philadelphia, Denver, or San Francisco.
1. 1960 Quarter Double Struck Error
In 1960, the United States Mint produced a series of Washington quarters that contained errors in the mint marks. The Denver Mint was the primary culprit for these errors, as they used a different mint mark punch than the one used by the Philadelphia Mint.
One of the errors that occurred was when the mint mark was stamped twice instead of once, which created the appearance of a doubled or split mint mark. This mistake was caused by the die shift during the minting process. The double mint mark is more common in Denver-minted coins and less so in Philadelphia-minted coins.
2. 1960 Quarter Die Crack Error
A 1960 quarter die crack error is a mint error that occurs during coin production. As the die strikes the planchet repeatedly, it can develop tiny cracks or fractures that grow over time. These cracks can cause a vague impression or leave a raised line or ridge on the coin's surface.
In some cases, the cracks in 1960 quarters can become so severe that they cause pieces of the die to break off, leaving large holes in the coin. Die crack errors are more common on older coins produced using older machinery or struck multiple times due to a malfunction in the coining press.
3. 1960 Quarter Missed-Match Die Error
Another 1960 Washington Quarter error has a proof design on the reverse side and a business strike design on the other, which is different from what you typically see. This happened because the people making the coin used two different types of dies by mistake. Because of this error, the coin became a rare and unique find that collectors really value.
Since this is a rare error case, we suggest asking a trusted coin grading service to confirm whether your 1960 quarter with the same error is real and valuable.
Other 1960-quarters errors that may appear in the open market or be sold in the auction at a higher price in the future are off-center strike, repunched mint mark, doubled die strike, folded planchet, weak strike, and cud error.
1960 Quarter Value FAQs
Q: Is a 1960 quarter all silver?
Not all, but 90% of it, yes, and the other 10% of the 1960 quarter are made of copper. However, starting in 1965, the US Mint stopped using silver in the production of quarters, which means that modern quarters are mostly composed of copper and nickel.
Q: How much is a 1960 quarter worth today?
As of March 2023, the NGC and Greysheet Price Guide suggests that a 1960 Washington Quarter in circulated condition may hold a value of around $6.02 to $7.99. If the coin is in excellent, uncirculated condition, it could fetch up to $3,750 to $4,000 if sold on the open market.
When buying or selling old coins like the 1960 Washington Quarter, two things are important to consider: the condition of the coin and its type. Well-preserved coins cost more than those in poor condition, and different types of quarters were minted each year, affecting the asking price.
Conclusion
In conclusion, the 1960 Washington quarter is a true gem in the world of coin collecting, with its historical significance, value, and unique varieties and errors. So be sure to check your pocket change and use this guide as your guide in finding the right 1960 quarter value.
Also, keep yourself up-to-date with the latest coin reviews by checking out our future reviews or exploring our library of published coin reviews you may be interested in. Who knows, your next treasure could be just waiting to be found, and we can't wait to hear all about it!