A coin worth adding to anyone's collection is the Franklin half dollar. It was a series abundantly minted every year, but despite that, it's still a perfect piece for novice coin enthusiasts.
Generally, the series numismatic value is not that high for coins in good condition. However, its 90% silver content makes them worth much more than their face value. While coins in good condition don't sell for high prices, perfect coins can still sell for thousands of dollars.
Here we'll check out exactly how valuable these coins are and give you a little history of the coin. Read on to find out more!
1960 Half Dollar Details
Type: Franklin Half Dollar
Quantity Produced: 25,931,414
Designer: John R. Sinnock
Edge: Reeded
Shape: Round
Coin Diameter: 30mm
Coin Thickness: 1.8mm
Coin Weight: 12.5g
Year of Minting: 1960
Mint Mark: None/D
Place of Minting: Philadelphia and Denver
Face Value: $0.50
$ Price: $8 – $28,200
The Franklin half dollar series is interesting for collectors as the coins can be easily found in good condition, but those in the highest levels of mint state can be very rare. There are many reasons for this, with the biggest being that these coins have often been traded solely for their high silver content.
For 1960 Franklin Half Dollars with lower grading, they're still quality pieces but are very much affordable.
On the coin's obverse (the head side), you will find a central figure of Benjamin Franklin, the Founding Father. You will also find the inscriptions of "LIBERTY" and "IN GOD WE TRUST" along the coin's rim. Then to the right of Franklin's image is the date.
On the coin's reverse, you will see an image of the cracked Liberty Bell at the center. The design for this Franklin Half Dollar was created by chief engraver John Sinnock in 1948. He based his project on the work of Jean-Antoine Houdon, who had created a Benjamin Franklin bust.
Unfortunately, Sinnock passed before completing his project. So, Gilroy Roberts took over and completed the remaining elements needed for the design.
The 1960 Franklin Half Dollar was the last series created entirely with 90% pure silver. That means each coin in the collection is considered a rare silver issue. Because of the increasing cost of silver, millions of coins were melted over the years.
One way to boost the value of any Franklin Half Dollar is by the FBL or Full Bell Lines designation. The designation is only provided by 3rd-party graders to uncirculated examples.
FBL signifies that a specific coin has an above-average strike because even its finest details were completed. To receive this designation, the Franklin Half Dollar has to be uncirculated while featuring uninterrupted and intact lower bell bands.
Its requirements are so strict that even a little nick or light spot will disqualify the piece from receiving an FBL designation.
For most of the half dollars, achieving an FBL designation is challenging since many coins were weakly struck. Generally, weak strikes leave parts of the bell lines interrupted or incomplete.
Collectors typically set a higher value on Franklin Half Dollar coins with FBL since it signifies minimal wear and strong strikes. There are some dates that see double the value in the same grade compared to the non-FBL standard strikes.
1960 Half Dollar Coin Value Chart
| | | | | |
| --- | --- | --- | --- | --- |
| Coin Grade | Good | 63 | 65 | 67 |
| 1960 Half Dollar | $8 | $30 | $300 | $8,000 |
| 1960 D Half Dollar | $8 | $30 | $300 | $8,000 |
| 1960 Proof Half Dollar | $8 | $10 | $50 | $500 |
1960 Half Dollar Value and Varieties Guides
You can see a big difference in those struck by the two mints operating during this period. The Denver mint created three times as many half dollars as the mint in Philadelphia.
Identifying these mints can be done by checking for a mint mark. At that time, branch mints used mint marks, while the Philadelphia mint did not.
Despite being a large difference between the number of coins struck at each mint, they have a very similar value level, as Philadelphia still produced over six million coins.
Now, we will list the 1960 Half Dollar coin varieties, including their specifications and brief details. Continue reading to learn more about the coins.
1960 Half Dollar Coin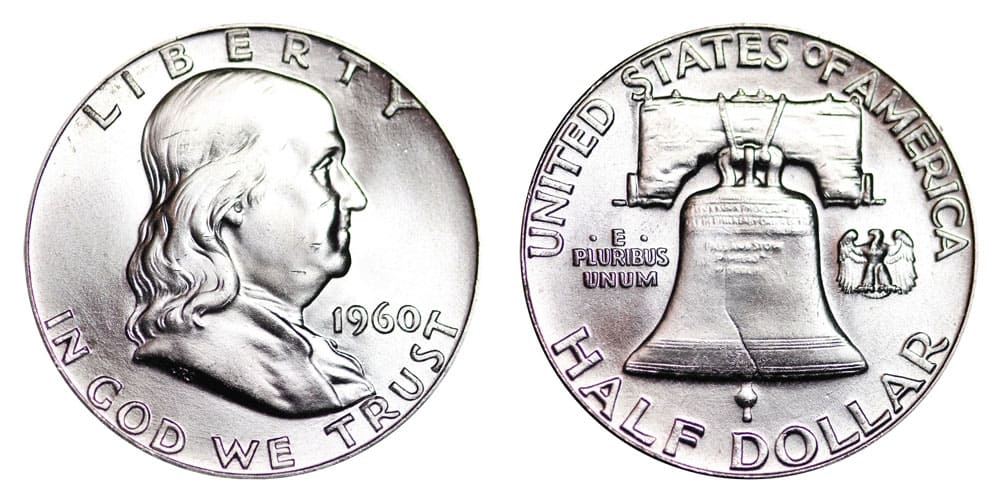 Type: Franklin Half Dollar
Edge: Reeded
Mint Mark: None
Place of Minting: Philadelphia
Year of Minting: 1960
Face Value: $0.50
$ Price: $8 – $8,000
Quantity Produced: 6,024,000
Designer: John R. Sinnock
The Philadelphia mint struck 1960 Half Dollar coins with more than six million total mintages. As mentioned earlier, the Franklin Half Dollar became a popular piece due to its 90% composition of silver.
Most of the half dollars produced after these specific coins had little to no silver content. So, the Franklin Half Dollar is more of a niche coin series, making it an affordable and accessible collection for enthusiasts.
Since there are no mint marks above the Liberty Bell, the 1960 Half Dollars were minted in Philadelphia. In 1960, the mint only created 6,024,000 samples of the Franklin Half Dollar. The mintage figure is lower than most dates in the earlier Walking Liberty Half Dollar series, which sometimes had tens of millions produced.
Despite the lower number of mintages, these coins are still fairly easy to find today. However, if your coin is just in very good condition, then it won't be worth much more than its melt value, which is around $8.
1960 D Half Dollar Coin
Type: Franklin Half Dollar
Edge: Reeded
Mint Mark: D
Place of Minting: Denver
Year of Minting: 1960
Face Value: $0.50
$ Price: $8 – $8,000
Quantity Produced: 18,215,812
Designer: John R. Sinnock
In 1960, the Denver mint was the lead producer of Franklin Half Dollars with 18,215,812 struck. These are abundant coins with a worn condition, and their primary value is the silver content present.
The value of a large coin with 90% silver shifts as prices rise and decline. And to determine if it's a Denver coinage, you can identify it by finding the D mint mark on its reverse. As mentioned above, good-condition coins are rarely worth much more than their silver value.
The huge valuations come from having coins in perfect, or very close to perfect condition. We mentioned more about grading below, but it's very hard to find any of these coins above an MS rating of 66.
Even for a good MS66 rating, there are plenty of coins that sell for over $3,000. If you ever get your hands on an MS67 coin, then you can expect a very high price. The exact valuation is very difficult due to how scarce they are, but $8,000 would be expected.
The record for a 1960 half dollar is $28,200, which was sold in 2016. With these prices, you can expect the coin to be extremely close to perfection, even when checked under a microscope.
1960 Proof Half Dollar Coin
Type: Franklin Half Dollar
Edge: Reeded
Mint Mark: None
Place of Minting: Philadelphia
Year of Minting: 1960
Face Value: $0.50
$ Price: $31 – $4500
Quantity Produced: 1,691,602
Designer: John R. Sinnock and Lewis
From 1950 to 1963, the Philadelphia Mint produced proof coins. While the series is still affordable for most collectors, finding boldly struck specimens can be surprisingly challenging, with some issues being extremely scarce.
All proof coin dies for the Franklin Half Dollar series were prepared by the U.S. Mint in Philadelphia. Prior to 1971, Proof coin die preparation consisted of a process that resulted in inconsistent cameo contrast on proof coins.
This was particularly true of proof Franklin half dollars. Only the first few hundred coins made from a set of coin dies have a cameo contrast between the field and devices.
In proof, formats without cameos or deep cameo surfaces are quite common to about PR68 condition. Any sample showing deep cameo surfaces is scarcer than the non-cameo or non-deep cameo samples.
The samples with deep cameo surfaces are scarcer overall and are rarer in higher grades of PR68 to PR69 deep cameos.
PR67 coins don't have the highest value, as they can still be quite easily found. At the auction, their price has ranged from $20 to $450, with most selling for somewhere in the middle of those figures.
However, the price skyrockets when you get to a PR69 grading. You can expect them to sell for a minimum of $1,000, but many have gone for over $10,000. The record is a PR69 coin that sold in 2008 for $27,600.
1960 Half Dollar History
The first Franklin Half Dollars were issued in 1948. However, there were still large numbers of Walking Liberty half dollars in circulation as a result of inflated wartime production. For this reason, the Mint produced a limited number of the new Franklin types for the first several years.
Yet by the late '50s, the master dies for the Franklin Half Dollar became severely worn. After using it for decades, the coins produced ended up having extremely soft details, even on brand-new Mint State pieces.
That changed for the coins issued in 1960 since the U.S. Mint decided to modify the master dies. Due to this decision, the mint returned the series' detail and removed the soft and mushy '50s devices.
During the 1960 production, the obverse of the Franklin Half Dollar received a makeover. It gave a clear restoration of Franklin's fine hairlines. In 1952, these wore off the original master hub and were absent in 1959 on currency strikes.
The reworked master dies renewed sharply defined details, specifically the bust of Franklin on its obverse. But despite the reworking, the new reverse rendering of the Liberty Bell was lacking a few well-cut lines.
Because of such an occurrence, a lot of the Mint State samples did not acquire the Full Bell Lines designation. Plus, many of the Philadelphia 1960 Half Dollars exhibited light grease stains or minor bag markings. This is why it's extremely challenging to acquire superb Mint State samples.
1960 mintages by the Denver and Philadelphia mints were more than adequate to satisfy the booming economic demands of the nation. This is even after about 600,000 half dollars were eliminated from circulation for melting and recoining in that year.
The Franklin Half Dollars were produced for only 16 years since the series abruptly ended by the end of 1963. This was when John F. Kennedy was assassinated, which led to the production of a new half dollar that memorialized the late president.
1960 Half Dollar Grading
Grading your coin is a term used in the hobby to describe judging its condition. To arrive at a grade, a close inspection of the surface quality is performed. The process also includes checking the wear and damage on the piece.
Both regular and proof coins are then rated on a scale of 1 to 70, with 70 being coins that are completely perfect, even under a microscope. Regular coins are called MS coins (min state), whereas proof coins have the letters PR before them.
List of 1960 Half Dollar Errors
All coin series in history have their set of errors and varieties, and the Franklin Half Dollar series is no exception.
1. Double Die Error
Franklin Double die errors are fairly common, but they still add value to your silver half dollar. When the planchet is struck more than once, the DDO (Double Die Obverse) and DDR (Double Die Reverse) errors occur. Examine the edges of the numbers, letters, and profiles on the coins for double die errors.
2. Strike Through
These errors are common on Franklin half dollars. It occurs when another object comes between a blank and a die during striking and then creates a strike-through coin. The outline of that object is pressed into the surface of the blank.
Examples include hard objects like metal shavings, staples, and other coins, while soft ones include cloth or grease.
The hard objects leave sharp outlines that occasionally adhere to the blank. This occurrence results in the production of a coin called retained strike-through.
3. Clipped Planchet
A metal strip going through the blanking machine results in a misfeed. The punches overlapping the metal's leading edge cause a straight clip.
There are times when the punches strike an area of the strip that overlaps the hole left by the earlier strike. It then results in a curved clip.
1960 Half Dollar FAQs
1. Is 1960 Franklin half dollar silver?
Yes, the 1960 Franklin Half Dollar is made of 90% silver, just like other Franklin halves minted from 1948 to 1963. This has led many Franklin half dollars to be melted down for their silver value, which is currently around $8 per coin.
2. What makes a Franklin half dollar valuable?
Franklin half dollars are composed of 90% pure silver, which raises the value of these coins far above their face value. Other coins in this series are valuable to the scarcity of coins that are in near-perfect condition.
3. Are Franklin half dollars a good investment?
Aside from having a rich history, the Franklin Half Dollar coins are a good investment. Since they're relatively affordable, it's ideal to start with these coins when you begin your coin collection. Last but not least, they have a high intrinsic value like other coins minted before 1965.