Have 1983 quarters always fascinated you? Are you considering collecting these coins? If so, we wrote this article for you. In it, we are going to discuss the 1983 quarter value, its history, key features, varieties, and errors.
1983 Quarter Details
Category: Washington Quarters
Total Mintage: 1,294,620,570
Minting place: Philadelphia, Denver, San Francisco
Weight: 5.67 g
Diameter: 24.3 mm
Edge: Reeded
Face value: 25 cents ($0.25)
Composition: 8.33% nickel and 91.67% copper
Engraver: John Flanagan
The 1983 Quarter's Obverse Design
This coin's obverse features an image of George Washington facing left. Under his chin, the words, "IN GOD WE TRUST" are written. Above his head, along the coin's top rim, the word "LIBERTY" is written.
This inscription starts from the left of Washington's forehead to the back of his head. Along the coin's bottom rim, just below where Washington's neck cuts off, the date 1983 is engraved. This entire design was the work of a sculptor called John Flanagan.
The 1983 Quarter's Reverse Design
The most noticeable feature of the 1983 quarter's reverse side is the image of an eagle with outstretched wings; this is at the design's center. This eagle is standing on a bundle of arrows that are arranged with sharp tips on the right.
Below this bundle is a wreath made of olive branches. This wreath extends to the sides of the perch. Also, it's just above a legend with the writing "QUARTER DOLLAR" along the bottom rim of the coin.
There's also a legend along the top rim of the coin that says "UNITED STATES OF AMERICA".
This starts on the side of the eagle's left wing and ends on the side of its right wing. Beneath this legend and just over the eagle's head, the coin has the words "E PLURIBUS UNUM".
The 1983 Quarter's Other Features
The 1983 quarter has a reeded edge and a diameter of 24.3 mm. More importantly, it has a composition of 91.67% copper and 8.33% nickel.
This was achieved by applying a layer of 75% copper and 25% nickel over a pure copper center. This gives the resulting coin a mass of 5.67 grams.
Also Read: Top 15 Most Valuable Quarters In Circulation
1983 Quarter Value Chart
1983 Quarter Value Chart
Condition
1983 P Quarter
1983 D Quarter
1983 S Quarter
XF45
$0.25
$0.25
N/A
MS63
$14
$10
N/A
MS65
$46
$38
N/A
MS67
$600
$1,300
N/A
PR64
N/A
N/A
$5
PR67
N/A
N/A
$6
PR69
N/A
N/A
$16
PR70
N/A
N/A
$37 to $80
1983 Quarter Value and Varieties Guide
1983 P Quarter
Type: Washington Quarters
Mint Mark: P
Minting place: Philadelphia
Year: 1983
Edge: Reeded
Mintage: 673,535,000
Designer: John Flanagan
Face value: 25 cents ($0.25)
Current value: $0.25 to $600
%Composition: 8.33% nickel and 91.67% copper
Mass: 5.67 g
Diameter: 24.3 mm
In 1983, the Philadelphia mint produced 673,535,000 quarters. Each of these had a "P" mint mark on the obverse side, behind Washington's neck, just after the ribbon in his hair. This is one of the first coin types to bear the Philadelphia mint mark.
Since this mint facility was the only one in the country for years, it didn't originally see the point of using a mint mark. However, with the opening of the Denver and San Francisco facilities, the Philadelphia one decided to start using a mint mark.
It first used a "P" mint mark in the nickels minted from 1942 to 1945. However, it never did this again until it produced the 1979 dollars with this mark. And from 1980, they decided to put a mint mark on all their coins going forward except cents.
So this mark didn't even make the 1983 quarters special or scarce. Many of them are still available today because of their high mintage. As such, you can get a low-grade version for as little as 25 cents.
However, an MS67 can go for around $600. Some even go for above $2,500.
1983 D Quarter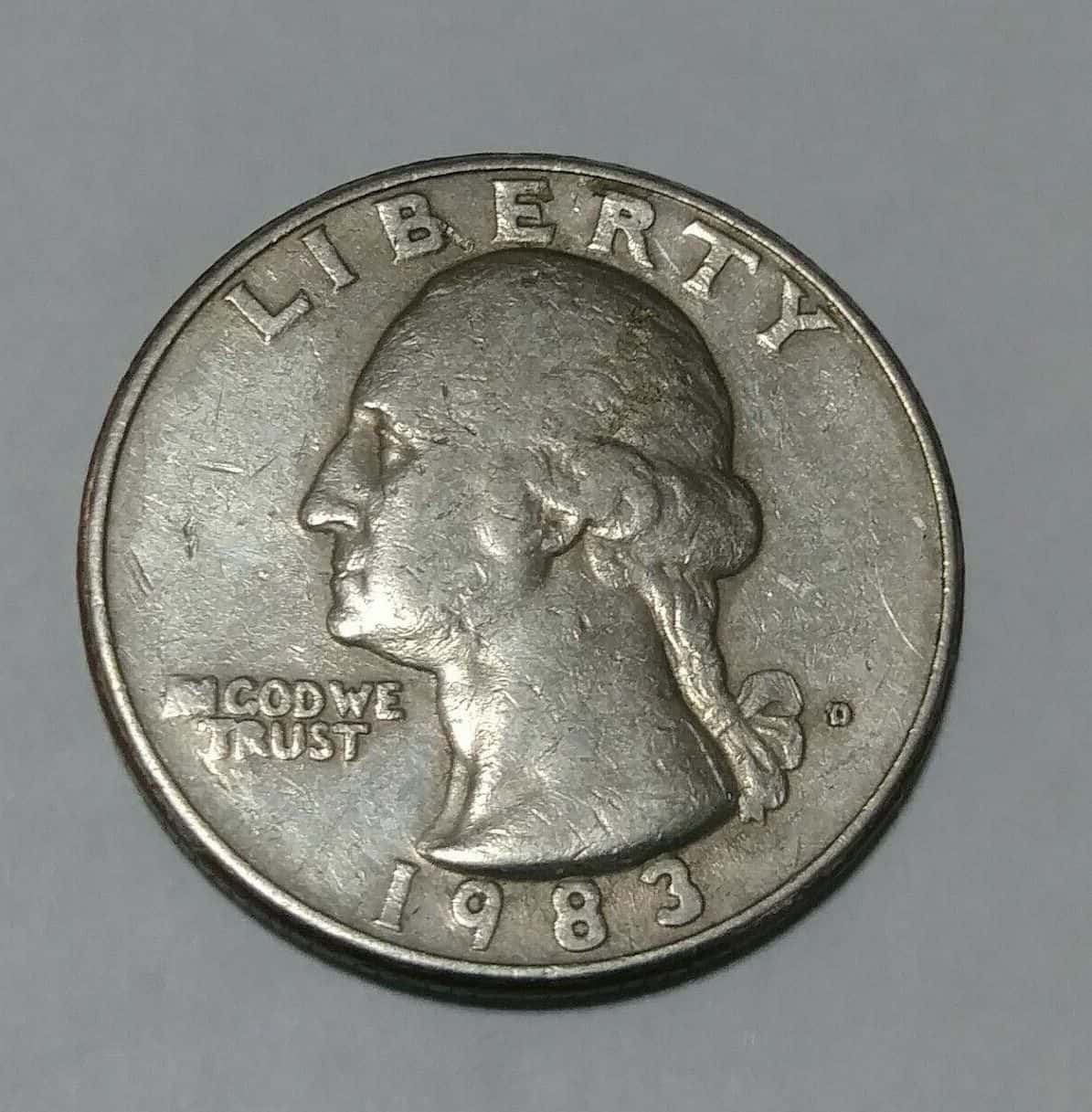 Type: Washington Quarters
Mint Mark: D
Minting place: Denver
Year: 1983
Edge: Reeded
Mintage: 617,806,446
Designer: John Flanagan
Face value: 25 cents ($0.25)
Current value: $0.25 to $1,300
%Composition: 8.33% nickel and 91.67% copper
Mass: 5.67 g
Diameter: 24.3 mm
In 1983, the Denver mint produced 617,806,446 quarters. Each one of these had a "D" mint mark on the obverse side behind Washington's head. Since these coins have a high mintage, they are still readily available today.
The low-grade ones are available at as little as 25 cents per piece. But the high-grade ones are rarer and more expensive. An MS67 can go for as high as $1,300.
1983 S Quarter
Type: Washington Quarters
Mint Mark: S
Minting place: San Francisco
Year: 1983
Edge: Reeded
Mintage: 3,279,126
Designer: John Flanagan
Face value: 25 cents ($0.25)
Current value: $5 to $80
%Composition: 8.33% nickel and 91.67% copper
Mass: 5.67 g
Diameter: 24.3 mm
In 1983, the San Francisco mint produced 3,279,126 quarters. All of these were proof coins and they had an "S" mint mark. The mint mark is located behind the neck of the Washington image.
These coins have been bought by several collectors over the years and have the designation of deep cameo. This is the highest designation a proof coin can get. Despite this, these coins are readily available today at affordable prices.
This is because of their high mintage. You can get a PR64 one for a mere $5. You can get a PR70 one at $37 to $80.
1983 Quarter History
The 1983 quarter belongs to a series of coins known as Washington quarters. The first coin of this series was minted in 1932 and was supposed to be used for that year alone. However, Washington quarters are still minted today.
They were originally launched to commemorate 200 years after Washington's birth. But this wasn't the original plan for the 1932 quarter. The half dollar of that year was the one meant to bear Washington's image. This is what the Bicentennial committee wanted.
However, Congress chose to replace the Standing Liberty quarter instead and place an image of Washington on its obverse. To bring the new design to life, the Bicentennial committee decided to hire a sculptor called Laura Fraser.
She was chosen because of a medal she had previously designed that bore Washington's image. However, she never got to make the 1932 quarter designs; the treasury secretary eventually chose a design by John Flanagan.
This design was minted on planchets with a composition of 90% silver and 10% copper. Ultimately, the mint maintained this composition until the year 1964.
But because of the increase in silver prices that year, the mint decided to reduce the silver content in its coins. This led them to start creating Washington coins with a copper core and a top layer of copper and nickel in 1965.
This method created coins with 8.33% nickel and 91.67% copper. This is still the composition used for quarters today. As a result, these coins are lighter; they weigh 5.67 g while the ones from previous years weighed 6.25g.
Keep in mind though; the mint still produces proof silver coins that it sells in sets. Composition aside, the design of the Washington quarter has also changed severally over the years.
For instance, the 1975 and 1976 quarters feature a reverse design with a drummer. Other reverse designs were also produced from 2010 to 2020. These featured US sites and gave the resulting coins the name America the Beautiful Quarters.
In 2021, these coins were replaced by coins with a reverse design featuring Washington. The mint has even laid plans to further produce new designs every year until the year 2030.
However, the quarter's obverse design will still feature Washington even beyond 2030.
Also Read: Top 16 Most Valuable Modern Quarters Worth Money
1983 Quarter Grading
Grading 1983 quarters or any other Washington quarters will require you to have some training or money to pay a professional agency. Keep in mind though; professional agencies will not accept coins contaminated with chemicals like polyvinyl chloride (PVC).
List of 1983 Quarter Errors
1. 1983 Quarter Finned Rim
A finned rim is an error that happens when excessive striking pressure is used on one side of the coin or its entirety. It usually looks like a flange around the rim of the coin. This is created because excess metal escapes to the gap between the collar and the die neck.
Such flanges can either occur on one side of a coin or both. Either way, this error adds value to a coin.
2. 1983 Quarter Reverse Indent
A full indent error occurs when one planchet is struck on top of the other, resulting in a coin made of two coins stuck together. They can be stuck together on either the reverse or obverse side.
If it's the reverse side that's stuck, the error is known as a reverse indent error. This error is very valuable in coins, especially when it's combined with other errors.
For instance, an MS63 1983 P quarter with a finned rim and a reverse indent sold for over $310 at Heritage Auctions.
3. 1983 Quarter Overstruck on an Amusement Token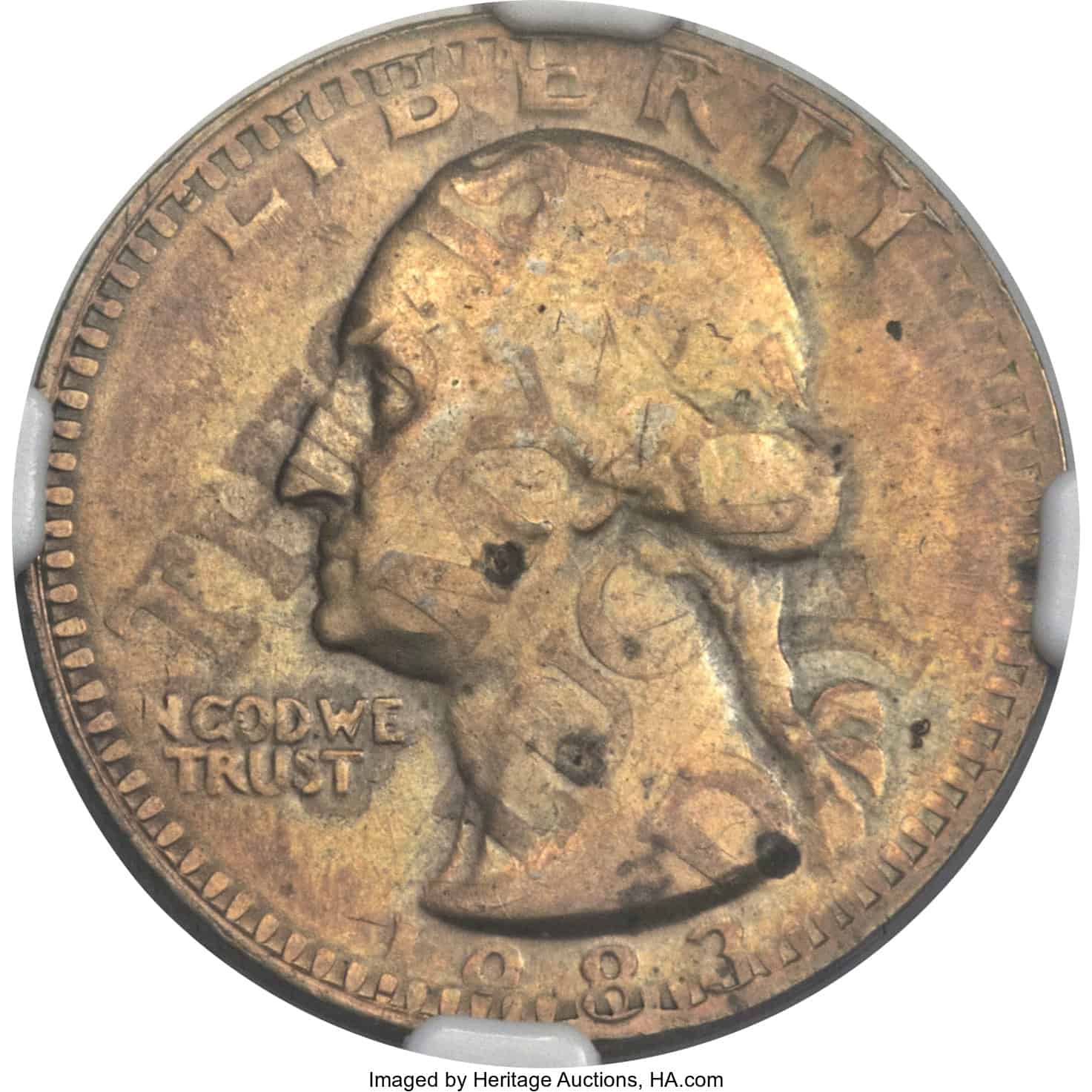 This is a unique error present in only one 1983 quarter. This coin was struck on an amusement token instead of a blank. It is the only coin to have ever been struck on an amusement token to date.
The most similar error seen is one where a few half cents were struck on TAL tokens. Some people even speculate that someone at the mint made this coin on purpose. One of the most interesting things about this coin is that you can still see the details of the token.
These include the words "THIS IS MY LUCKY DAY" written diagonally across the obverse. Ultimately, this NGC MS65 P quarter sold for almost $16,000 at a January 2014 auction.
4. 1983 Quarter Spitting Eagle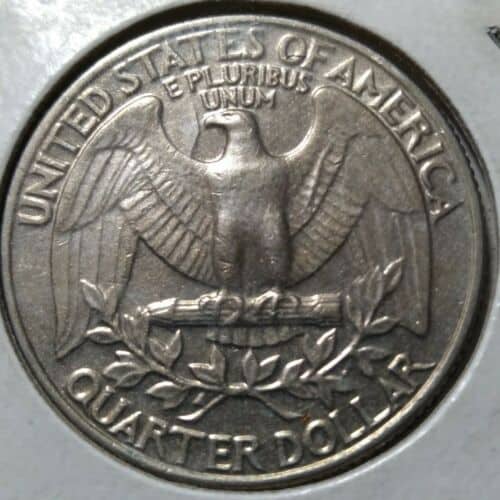 1983 quarters with this error have a vertical line on their reverse side starting from the eagle's beak to its feathers. This line usually forms when two dies clash without any planchet between them.
This error is only present in 1983 quarters minted in Philadelphia. Also, several grading agencies have recognized the 1983 P spitting eagle as a variety of the 1983 quarter. As such, it's more expensive than ordinary 1983 quarters. It can cost you up to $500.
5. 1983 Quarter Struck on a Nickel
This is an error that occurs when the mint strikes a 1983 quarter design on a blank made for a nickel. Any coin that results from this will be smaller and lighter than it should be. Some coin design elements may not even be able to fit on it.
But it will be more expensive than an ordinary quarter. For instance, an NGC AU58 1983 P quarter that was struck on a nickel ended up weighing 5 grams and sold for over $180.
6. 1983 Quarter Struck Off Center
When a coin is struck off-center, the design ends up towards one side of the coin and the whole of it doesn't fit. Generally, the more off-center the design is, the more valuable the coin.
A 1983 P quarter that is struck 70% off center can go for over $150.
Also Read: 10+ Rarest State Quarter Errors Lists (Worth Much Money!!!)
1983 Quarter FAQ
Is there a rare 1983 quarter?
Most 1983 quarters aren't rare or excessively valuable. Most of them will cost you from $0.25 to $100. And the type of mint mark your coin has isn't a great indicator of value either.
If your focus is value, you're better off looking for mint-state coins that have an error. These are hard to find but can sell for thousands of dollars. If you think you've found one, ensure you get a professional agency to grade it for you.