The 1984 half dollar features one of America's most beloved presidents, and it's rarely seen in circulation today. While these coins remain plentiful in collectible conditions, they carry a premium price over their usual face value.
A 1984 half dollar from either the Philadelphia or Denver mint is worth anywhere from $0.50 to $3.38 or more. Proof coins are worth about $4.63, but all varieties go for more at auctions. Condition has the greatest effect on the value of these coins.
We explore the smaller details of the 1984 half dollar and explain why the coins are often tagged with these prices. Keep reading to learn more about the different mints, how to grade the Kennedy half dollar, and what errors actually increase the value of the coin.
1984 Half Dollar Details
Category: Kennedy Half Dollar (1964 to Present)
Mint: Philadelphia; Denver; San Francisco
Mintage: 55,356,268
Obverse Designer: Gilroy Roberts
Reverse Designer: Frank Gasparro
Composition: 91.67% Copper; 8.33% Nickel
Weight: 11.34 grams
The front of the 1984 half dollar hosts a profile of John F. Kennedy, 35th President of the United States, based on the portrait for his presidential medal. Inscriptions read LIBERTY spaced along the top ⅔ curve of the coin, IN GOD WE TRUST under Kennedy's head, and 1984 along the bottom curve.
The mint mark is indicated just below his neck, in between the '8' and the '4'.
The half dollar's reverse resembles the presidential seal and features a "heraldic" bald eagle with a shield over its body. The eagle holds an olive branch on the left and a bunch of arrows on the right.
A ring of 50 stars encircles the eagle. The coin reads UNITED STATES OF AMERICA along the top curve of the coin, on the other side of the stars, and lists the HALF DOLLAR denomination on the bottom curve.
The county's Latin motto E PLURIBUS UNUM is printed on a small banner above the eagle's head.
1984 Half Dollar Value Chart

Mint Mark
Good
Fine
Extremely Fine
Uncirculated
Proof
1984 P Half Dollar
$0.50
$0.75
$1.00
$3.38
/
1984 D Half Dollar
$0.50
$0.75
$1.00
$3.38
/
1984 S Proof Half Dollar
/
/
/
/
$4.63
1984 Half Dollar Value and Varieties Guide
When looking at the Kennedy half dollar as a whole, no single issue is particularly rare. Instead, value is heavily weighed by the condition of the coin and any other minor details.
The 1984 half dollar was produced in high quantities, and many of the original circulating coins remain today. Collectors were quick to snatch up Proof coins from this year, but even special edition coins are only worth a few times over the face value of the coin.
The 1984 half dollar is not scarce enough to command a regularly high market value, and they lack the silver composition of the preceding design to bolster value. If you find yourself with a well-preserved coin, it's better to hold onto it or take it to auction after professional grading.
1984 P Half Dollar Value
Type: Kennedy Half Dollar (1964 to Present)
Edge: Reeded
Mint Mark: P
Place of Minting: Philadelphia
Year of Minting: 1984
Face Value: $0.50
$ Price: $0.50 to $3.38
Quantity Produced: 26,029,000
Designer: Gilroy Roberts; Frank Gasparro
Mass: 11.34 grams
Diameter: 30.6 mm
The half dollars minted in Philadelphia are easily identified by the 'P' mark between the numbers of the date on the obverse. Prior to this, the Philadelphia mint did not mark its coins.
This mint produced the second highest number of half dollars in 1984, but the difference is negligible. When you see the coins at expos or conventions, they're usually marked around $3 or $4 in "Uncirculated" condition.
Auctions see the coins go for much more. The current record is a MS-671984 P half-dollar that sold at a 2014 Heritage Auction for $1,116.25.
1984 D Half Dollar Value
Type: Kennedy Half Dollar (1964 to Present)
Edge: Reeded
Mint Mark: D
Place of Minting: Denver
Year of Minting: 1984
Face Value: $0.50
$ Price: $0.50 to $3.38
Quantity Produced: 26,262,158
Designer: Gilroy Roberts; Frank Gasparro
Mass: 11.34 grams
Diameter: 30.6 mm
The Denver mint saw the highest production of half dollars in 1984, and it marked over 26.2 million coins that year. Because this is only 200,000 more coins than the Philadelphia mint, and they're of similar quality, the coins only sell for about $3 or $4 (depending on the market).
Auction houses have seen a different reception of the coins. In October 2016, Heritage Auctions set the reigning record for this mint. An MS-67 1984 D half dollar sold for $3,760.
1984 S Proof Half Dollar Value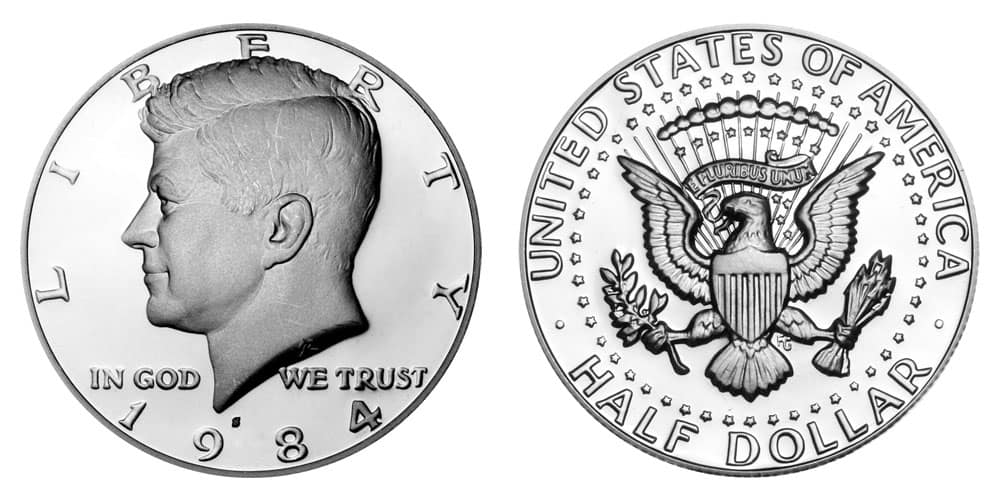 Type: Kennedy Half Dollar (1964 to Present)
Edge: Reeded
Mint Mark: S
Place of Minting: San Francisco
Year of Minting: 1984
Face Value: $0.50
$ Price: $4.63
Quantity Produced: 3,065,110
Designer: Gilroy Roberts; Frank Gasparro
Mass: 11.34 grams
Diameter: 30.6 mm
Proof coins are usually worth more than their business strike cousin, and the 1984 S proof half dollar is no exception. These often sell for $4.63 on the current market, although collectors regularly scoop them up for more when they're available and in need.
Surprisingly, an AU-53 1984 S proof half dollar holds the auction record for this specific mint and year. The coin sold in February 2019 at a Heritage Auction for $12,600.
Also Read: Top 19 Most Valuable Mexican Coins Worth Money
1984 Half Dollar History
The Kennedy half dollar had a tumultuous beginning. Within hours after the assassination of JFK in Dallas on November 22, 1963, Mint Director Eva Adams called Chief Engraver Gilroy Robers to explain how seriously they were considering putting the fallen president on a larger silver coin.
Just five days later, the project was authorized. Window Jacqueline Kennedy decided it was best to put him on the half dollar, as she didn't want to replace George Washington on the quarter.
Mint sculptors Roberts and Frank Gasparro had previous works that had been approved by Kennedy, and the designs were quickly modified for the new half dollar. The Mint approved the trial strike, and Jacqueline and Robert F. Kennedy were also invited to offer their approval.
Congressional approval is needed for any coin design change within 25 years of the last one, but this wasn't an issue. In early December, Representative Henry Gonzales introduced the bill that would allow the Kennedy half dollar.
This was endorsed by President Lyndon Johnson, who shared that he had read several letters from the public that agreed with the plan. Ultimately, the bill passed on December 30, and the first dies were completed on January 2, 1964.
The Denver mint began striking proof coins at the end of the month, and Philadelphia followed the next week. The Mint quickly increased production after coins released in March were hoarded, and this particular coin rarely sees circulation.
Some early coins were melted down, but the silver content was reduced from 90 percent to 40 percent, then eliminated completely for the composition we see in the 1984 half dollar.
Also Read: Top 16 Most Valuable Old Chinese Coins Worth Money
1984 Half Dollar Grading
Good
A "Good" Jefferson half dollar lacks the details you see at higher grades. When coins reach this point, they more resemble silhouettes of their original design than beautifully detailed engravings.
Even with a "Good" 1984 half dollar, you should be able to distinguish the words and key details like the date or mint marks.
Fine
"Fine" 1984 half dollars have heavier wear on the high parts, including the jawbone, the flesh of the cheek, and certain parts of the hair. While the hair is still well outlined, the coin has obviously been handled.
On the reverse, high points of the arrows, the central tail feathers, and the right wingtip bear the most wear. Details are not as obvious as with higher grades.
Extremely Fine
An "Extremely Fine" 1984 half dollar may have trace wear on high points such as the cheekbone, jaw, and the hair below the part, but it strongly resembles an untouched coin.
The central tail feather of the eagle on the reverse is another area where wear lands a half dollar in this category, but the coin otherwise retains most of its mint luster and looks phenomenal to most eyes.
Uncirculated
"Uncirculated" 1984 half dollars have no traces of wear, but they may have minor blemishes. Their original mint luster still shines bright, but time may have spotted or toned the surface.
Commonly overlooked areas include low relief details, but high points of the cheek and jawbones are often the first affected by wear that disqualifies an uncirculated coin.
Also Read: Top 11 Most Valuable Canadian Coins Worth Money
List of 1984 Half Dollar Errors
The 1984 Kennedy half dollar doesn't have many widespread errors, but these coins are susceptible to common errors seen in most denominations throughout the years. While coin grade has the greatest effect on value, these errors may add a few extra dollars.
There are two ways to approach 1984 half dollar grading.
If you're looking at coins as a hobbyist, evaluating your own collection, or just starting out training your eye, you should begin by assigning them a general "bucket" grade.
These are widely up to interpretation, but help you distinguish half dollar quality between coins. We expand on this below.
If you're more serious about grading, or you want to purchase or sell a coin (especially one of a high grade), you need professional grading such as PCGS or NGC services.
Trained numismatists closely evaluate coin condition and assign a grade along a 70 point scale to accurately place the coin. They may also verify mint errors that increase the value of the coin, or even disqualify counterfeits.
Some errors identified in the video include:
Broadstrike: an error that occurs when the coin's die collar is loose, resulting in a flatter, broader, less circular version of the coin when struck
Double struck: usually a coin that is struck twice (although they may be struck more); the coin is normal on the other side, while the double struck side shows obvious doubling of details
Off Center: one of the most prevalent errors; occurs when the coin is struck while improperly aligned, resulting in a degree of loss of design; higher loss is more desirable, but the coin must have its year and mint mark
Rotated Die: occurs when the die rotates, usually 90 degrees, for an improper orientation on one side; designs are not seamlessly apparent when coin is flipped
Post-mint damage may emulate some errors, like a clipped planchet. Make sure you verify high-value errors before considering them true, and therefore valuable.
Also Read: Top 10 Most Valuable Foreign Coins Worth Money
1984 Half Dollar FAQs
How Much Is a 1984 Half Dollar Worth?
A 1984 half dollar coin is worth between $0.50 and $3.38 depending on the condition of the coin. Some may pay a bit more than face value, usually $0.60 to $0.75, for circulated coins, but most collectors are looking for mint state 1984 half dollars.
What Makes a 1984 Half Dollar Rare?
A 1984 half dollar with a high grade, particularly mint state or proof coins, is rare. While it's not uncommon for these coins to have a bit of circulation without much wear, coins of the highest grading are worth the most.
Furthermore, a 1984 half dollar with a confirmed mint error is often worth more than its usual value. Errors do not affect worth as much as quality does.
Are 1984 Half Dollars Silver?
Nineteen eighty-four half dollars are not silver. Half dollar coins from 1964 to 1970 were made using silver, and are referred to as "Kennedy Silver Half Dollars". After these years, the U.S. stopped producing silver coins of any denomination.
What Is a Business Strike 1984 Half Dollar?
A business strike 1984 half dollar is a coin created for commerce instead of collection. The U.S. Mint recognized the collectibility of Kennedy Half Dollars and punched both types to give the coins more breadth in circulation. Business strike coins are usually less valuable than proofs.