Are you planning to complete your collection of the Washington Quarter series? Stay on this page as you get to know about the coins released in 1987. Here, you'll get a thorough knowledge of the 1987 Quarter value, along with its physical characteristics, varieties, and mint locations.
Likewise, we will provide you with a detailed history of the coin and list down the major errors during its production. So, let's kick off with the key information of this quarter coin through our informative coverage below.
1987 Quarter Details
Category: Washington Quarter
Mintage: Philadelphia, San Francisco, and Denver
Total mintage: 1,242,321,905
Obverse designer: John Flanagan
Reverse designer: John Flanagan
Edge: Reeded
Diameter: 24.3 mm
Thickness: 0.069 inches
Composition: Nickel and copper
Weight: 5.67 grams
A total of 1,242,321,905 coins were struck during the year 1987, which was slightly higher compared to the previous year with over 1 billion coins produced. And all these were minted in the usual US Mints―Philadelphia, San Francisco, and Denver.
The 1987 Quarter coins have the standard design of other Washington Quarters. Designed by the well-known sculptor, John Flanagan, these coins feature an imprint of George Washington on the obverse side.
Aside from the image of the first president of the US, the coins also showcased two relevant US inscriptions "LIBERTY" and "IN GOD WE TRUST". You'll also see the year as well as the mint location on the front section of the coin. Quarters that were struck in Philadelphia, however, do not have mint marks.
On the other side of the coin, there's the American Eagle, which is a remarkable symbol of the country's power and freedom. More so, the words "UNITED STATES OF AMERICA", "E PLURIBUS UNUM", and "QUARTER DOLLAR" were also added to the reverse side.
Just like all Washington Quarters, the 1987 coins come with a reeded edge and a weight of 5.67 grams. This is pretty much lighter than pieces struck between 1932 to 1964, which weigh 6.25 grams. The reason for their difference is due to the variation in the composition of materials.
Older Washington Quarters contained silver while coins that were struck from 1965 onwards no longer have this relevant metal. Instead, these were made of copper and nickel, making them lighter and cheaper. However, the value of a 1987 Quarter is actually higher than its face value.
Not only that but there are lots of things to be considered when appraising the worth of a coin. To better understand the valuation, continue reading below.
1987 Quarter Value Chart

Mint Mark
Not graded
MS66
MS67
Proof
1987 P Quarter
$0.25 to $10.00
$60
$135
―
1987 D Quarter
$0.25 to $6.65
$30
$420
―
1987 S Quarter
$0.25 to $4.52
―
―
$18.75 to $85
1987 Quarter Value and Varieties
While most Washington Quarters that were minted since 1965 were considered not that valuable, the coins produced during 1987 were pretty much on demand by many collectors, especially the uncirculated ones in mint condition. Hence, its value is quite higher than other quarter coins.
However, circulated ones are, unfortunately, not considered to be collectible. This means the current worth is the same as the face value, which is $0.25. But, there are some that may settle around $0.35 to $1. On contrary, uncirculated yet graded coins can have a better value, ranging from $0.25 up to $10.
MS coins, on the other hand, are those that are being priced higher. For instance, a Philadelphia-minted coin with MS66 can be bought for $30 while a Denver-produced piece is normally appraised at $30. And of course, the higher the grade, the better value you'd get.
Accordingly, all coins minted in San Francisco were meant to be uncirculated. Why? It's because these were proof coins, which were typically designated for collectors. Because of this, the typical price range of a 1987 S Quarter is $18.75 to $85. It may even go up, depending on the surface features.
1987 P Quarter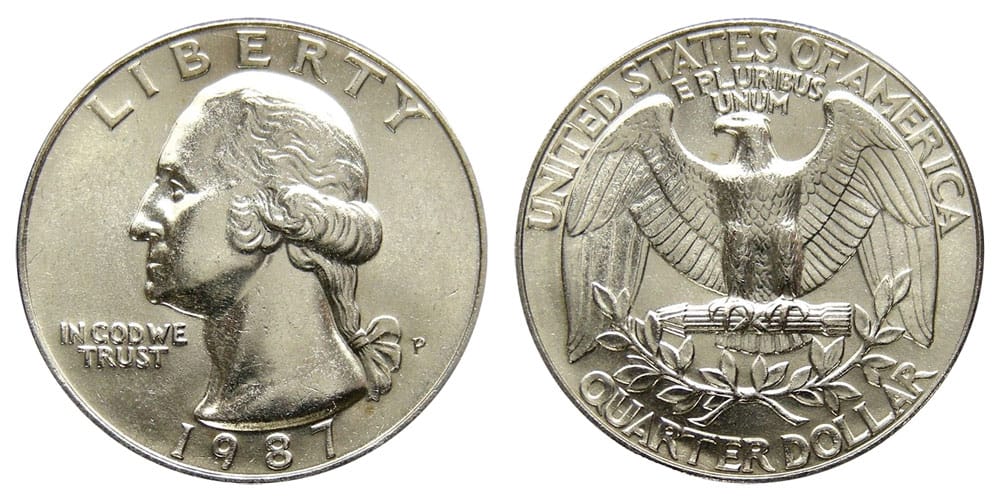 Type: Washington Quarter
Edge: Reeded
Mint mark: P
Place of minting: Philadelphia
Year of minting:1987
Face value:$0.25
$ price:$0.25 to $135
Quantity produced: 582,499,481
Designer: John Flanagan
The Philadelphia Mint generated a total of 582,499,481, and most of these, if not all, were circulated pieces. Because of the abundance in supply, the value of these coins isn't that high, unless these were uncirculated pieces in very great condition.
In fact, circulated ones in the average state rarely attain a value that is more than its face value of $0.25. Meanwhile, graded coins have better worth. The estimate often starts from $60, though it still varies, depending on the MS grade. The highest recorded grade was MS67 and it was priced at $135.
1987 D Quarter
Type: Washington Quarter
Edge: Reeded
Mint mark: D
Place of minting: Denver
Year of minting:1987
Face value:$0.25
$ price:$0.25 to $420
Quantity produced: 655,594,696
Designer: John Flanagan
Denver had the biggest number of quarter coins struck in the said year, with over 655 million pieces. Unlike Philadelphia-minted coins, quarters produced in Denver have a specific mint mark (D) on the obverse side. Most of the coins were used in the market, hence being circulated by the general public.
And when it comes to circulated pieces, these are generally not impressive among collectors, except if this coin has a certain feature that makes it unique. This could be having a coin in mint condition or perhaps an error that highlights its inimitability.
But generally, non-graded 1987 D Quarters are estimated to be around $0.25 to $6.65. On the flip side, graded coins may be purchased at $30 while some can reach up to $420.
1987 S Quarter
Type: Washington Quarter
Edge: Reeded
Mint mark: S
Place of minting: San Francisco
Year of minting:1987
Face value:$0.25
$ price: $0.25 to $85
Quantity produced: 4,227,728
Designer: John Flanagan
San Francisco Mint produced more than 4 million proof coins in 1987. These were pretty much valuable considering their type. Proof coins are generally those with the finest quality, hence not circulated in the market.
Since these were uncirculated pieces, most of them were allocated to collectors. Hence, finding these coins may not be a walk in the park. And if you get one, the normal price range would be around $18.75 to $85.
Also Read: Top 15 Most Valuable Quarters In Circulation
1987 Quarter History
The year 1987 had an impressive number of Quarter coins produced from three minting locations, specifically in Philadelphia and Denver. These Washington Quarters used the original design that was initiated back in 1932, which signaled the start of the production of these coins.
The Washington Quarter series was originally created to celebrate George Washington's 200th anniversary. The quarters were then widely acknowledged by the public, becoming very popular even for collectors. More so, the series comes with an impressive variety of rare coins that make it very valuable.
So, aside from being standard, circulated coins, these were considered highly collectible. And over the years, there were three minting areas that struck these coins. Philadelphia and Denver are two of the top minting locations in the US.
San Francisco, on the other hand, is also a renowned US mint, though it's designated to strike a limited number of coins. Since 1968, the place only produced proof coins, which were not meant for circulation. These were generally for collectors, so the starting value of these coins is a bit higher than the others.
As to the history of the coin composition, in 1987 Quarters used copper and nickel, which were already the main content of quarter coins ever since the approval of the Coinage Act of 1965. This supplants the Act of 1792, removing the usage of silver in the production of quarters, dimes, half dollars, and dollars.
With the significant change in the composition, the value of Washington Quarters was also impacted. These aren't as valuable as earlier coins with 90% silver. Still, many people love to complete this series because of its historical relevance.
Also Read: Top 16 Most Valuable Modern Quarters Worth Money
1987 Quarter Grading
The appraisal of 1987 Quarter coins takes into account a number of factors, including the availability in the market as well as the condition of the coin. More so, errors during production also affect the valuation of coins in general.
List of 1987 Quarter Error
While errors are usually on the negative side of the spectrum, these are actually one of the main elements that add up to a coin's value. Therefore, it's pivotal to learn the errors during the production of 1987 Quarters for you to have an idea of the things that you need to look closely at when collecting coins.
1. 1987 Quarter Off-center
When a production process undergoes a misaligned die, one of the results is having an off-center design. This is quite a common error, especially when the mint generates millions of pieces. And more often than not, the off-center is only on one side.
But even with the impurities, coins with this kind of error sell higher than standard coins. Just make sure that the year can still be found to make it collectible.
2. 1987 Quarter Double Rim
Misalignment of the die also leads to the possibility of coins having double rims. The rim of a coin is actually the elevated section that encircles the entire perimeter of the sides. It should be noted that the rim is different from the edge of the coin.
So, when the die is not properly positioned, it can result in having two rims. Although this kind of error is not that visible, experts still know how to check them. And when it comes to the estimation of worth, errors like these add up to the entire value of the coin, along with its current condition and availability.
3. 1987 Quarter Double Die Reverse
There were some 1987 Quarters that showcased doubling on the inscriptions found on the reverse side. Accordingly, this error occurred in the Denver Mint, affecting several coins, both circulated and uncirculated pieces.
4. 1987 Quarter Die Clash
Another issue that was reported during the 1987 production of quarter coins was the die clash error. This happens when the dies for both obverse and reverse sides knock each other even without the planchet. Because of this occurrence, there are unusual lines that appear to be cracks on the surface.
Some coins also have distorted imprints or images due to the error. Because of the rarity of the coin's physical characteristics, this type of coin is widely hunted by coin connoisseurs. And of course, the value of this coin is way higher than the common 1987 Quarters.
Also Read: 10+ Rarest State Quarter Errors Lists (Worth Much Money!!!)
1987 Quarter FAQ
1. How much is a 1987 quarter worth?
When assessing the value of a coin, it's important to know whether it's circulated or not. Likewise, the appearance has a significant impact on the worth of the coin too. According to experts, non-graded 1987 quarters range between $0.25 to $10.00. For graded ones, these can reach as much as $420.
2. What makes the 1987 quarter valuable?
Although 1987 coins are not that pricey compared to coins produced before 1965, there are still a couple of aspects that make this coin valuable. For one, if you've got a coin that was produced in San Francisco that is in mint condition, you're lucky because these can be considered rare with a better value.
More so, coins with errors acknowledged by experts are considered highly collectible. However, if the coin is a circulated one, unfortunately, you can't expect a value that is higher than its face value.
3. How much is the 1987 D Quarter worth?
1987 D Quarters are coins that were minted in Denver. Circulated ones are often appraised following their face value. On the other hand, ungraded pieces may sell between $0.25 to $6.65 while mint state coins have a worth of at least $30. For MS67 quarters, some experts trade these for $420 or even more.
4. How much does a 1987 quarter weigh?
Made of 91.67% copper and 8.33% nickel, 1987 Quarters weigh only 5.67 grams. The weight is a bit lighter than Washington coins minted before 1965. It's because of the elimination of silver in the composition of coins.